Welcome to CaffeStreets.com! We're so glad you've stopped by. Now that you've explored the site this far, we wanted to take this opportunity to tell you a bit more about who we are, why we created this site, and how we go about making it what it is!
Our Team
Overall, our team spans a range of tastes and interests, and we try to incorporate that into our guides. We'll try to always include something for everybody, whether you're a hardcore french press drinker or someone who prefers a creamy macchiato.
Owen Richardson – Managing Editor, Content Manager
Owen has been working in coffee professionally since 2014. After being passionate about brews and working odd jobs in coffee shops through college, he eventually took a barista course and interned at a small roasting company. Now, he's been making a living as a freelance coffee blogger and writer. We rely on Owen to give us advice on roasts, beans, oils, and all manner of intricate details that true coffee lovers care about.
Kai Ernst- Writer & Product Researcher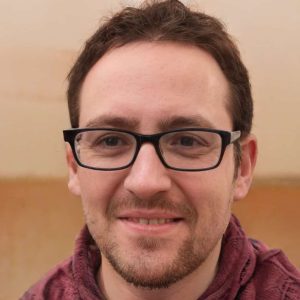 Kai Ernst is our resident gadget nerd. Where Owen gets his kicks smelling beans and visiting growers, Kai likes nothing more than getting his hands on a cool new brewer, perfecting the process, and geeking out over design details that could be improved or tweaked. Kai's take on coffee brewers is always the primary source for our reviews, although we all try out the ones which rise to the top of our rankings, to see how people who aren't gadget engineers can figure them out.
Leila Willis – Writer & Product Researcher
Finally, meet Leila! She's our main style editor, proofreader, web guru, and generally the person who makes it all come together. Leila brings the important and often-neglected perspective of someone who's not a barista, and doesn't have any mechanical aptitude, but is still passionate about coffee. So, while the other members of the team get down in the nitty-gritty details, Leila keeps it real, and makes sure that what we're plugging and what we're saying make sense for the average person who just wants a great cup without having to take a course.
Why We Started This Site
Coffee sites can be snobby as heck, as you'll know if you've ever visited one. It comes across in the way they're written, and in the products, they plug. They can be full of unexplained jargon, and quite elitist so that the average coffee drinker who isn't a connoisseur can't get anything useful there.
They're also quite unreliable in some ways. They recommend products because they have marketing tie-ins, not because the products are actually the best out there. Or, they'll recommend things that are so exorbitant that nobody can afford them, without any alternatives for those of us who aren't loaded.
Most of all, though, we created Caffe Streets' Reviews because we'd never found a truly great site that offered both well-researched product reviews and real-world information that the average coffee drinker and the aficionado could both enjoy.
How we Test & Evaluate Coffee Products
For those readers who are interested, here's a behind-the-scenes look into how we choose the products that we feature in our buying guides. We look at a range of criteria:
Taste Results
First and foremost, it has to be about taste! It doesn't matter how good-looking or easy-to-clean a coffee maker is if you can't get a great cuppa from it. So, we try a range of brews to see whether we can get a good result with each. We look at the texture, the flavor profile, the consistency of the brew throughout the grounds–it's seriously detailed. Then we compare notes to see what we've established as the weak and strong points on a given setup.
Ease of Use
Following right on from taste, we think it's super important that you be able to achieve excellent results without a lot of effort or a steep learning curve. So, with that in mind, we look at things like controls and menus on electric systems, or the ergonomics on a manual setup. We'll tell you whether you need to worry about timing, temperature, and all those other factors on your own, and whether your new coffee maker will do them for you. We want our readers to know exactly what they're getting when they buy a model we recommend!
Durability & Reliability
As with any purchase, you want to invest in something that'll last you for years of use. That's why we inspect all the coffee makers we review very carefully. We'll give you the low-down on the build quality, and we'll let you know if we think there's a flaw or if the manufacturer has cut corners. We also try and give a perspective on how long a given model ought to last (as a rough estimate, of course). We've also gone to town reading online reviews and buyer comments on any setup we recommend, to make sure we're not just testing a lucky model when everyone else has got lemons.
Cleaning Procedure
Just as making a cuppa should be stress-free, you should be able to drink your brew without the worry of a massive cleanup hanging over your head. That's why we prioritize easy-cleaning on the models we recommend. In most cases, the models we've chosen for our buying guides rinse or wipe clean. Many can also go in the dishwasher!
Range of Functions
Especially as you go up the price scale, you should be able to expect a range of different functions from your coffee maker. One thing that really screams "value" to us is a setup which does several different things. We'll be sure to mention what each of our recommendations does and doesn't do in our reviews.
Cost
While prices fluctuate too much for us to be able to give exact figures, we'll give you a sense of what price range each of our picks fits into, and how it compares to other models in our buying guides/on the market.
One thing we pride ourselves on doing is giving an honest perspective as to whether a given model is really worth the money, and what kind of coffee drinker will really be able to get their money's worth.
When we recommend expensive models, we'll be sure to let you know why we think they're worth the investment. And when we think you can get the same functionality on a cheaper model, that's what we'll recommend!
If you're interested in getting in contact with us – visit this page.