Updated: August 8, 2023 by Mary Nguyen
Did you know that more than a billion people drink coffee every morning? Speaking as one of those people, I do not get out of bed in the morning for anything less than the classic — a cup of coffee made from the best dark roast coffee beans!
There's just something about the rich, smoky aroma of a dark roast that just perks me up. And when I get a hit of that full-bodied flavor of that first sip — whoo, boy!
So if you take my advice and you want to try out this specific type of coffee, I have ten amazing types of dark roast coffee beans from various brands that you should look into. In this review, I will talk about each of these coffee beans in great detail and give you all the information that you need on them. If this sounds interesting and you are up for a great little taste test, I suggest you keep reading!
TOP PICK

My top pick for best dark roast whole coffee beans is Peet's Coffee Organic French Dark Roast. I think that you will love it, especially if you are into coffees that have a rich, powerful taste. The beans are organic, meticulously grown, and dark roasted – all things that would make your cup of coffee even better!
Here Are the Best Dark Roast Coffee Beans
Peet's Coffee is one of the most famous coffee companies, and that is for a good reason. They have some of the best, freshest beans that not only taste good but also have an amazing smell. You will love brewing coffee with their beans, especially their French dark roast beans!
Key Features
Hand-roasted beans
Organic beans
Latin American origin
Considering that these beans are grown on high altitudes, they take a lot longer to fully mature. That means that they have a hard, dense flavor that you will love if you are into stronger flavors.
Pros
Strong aroma
No bitterness
Cons
Could be a bit too strong for some people
These coffee beans with smoky, dark chocolate flavor are recommended for people looking for a stronger cup of coffee. I recommend the whole beans as they stay fresh for longer, but you can also get this blend in ground beans!
Known as one of the darkest roasts from Starbucks, these coffee beans are somewhere between the espresso roast and the French roast. When you brew your first cup of these beans, you will notice a nutty aroma.
Key Features
Caramelized sugar notes
Sweet, intense flavor
Arabica beans only
The flavor of these beans is a slight bitterness with a hint of sweetness. Do not let the weak aroma fool you – the coffee tastes a lot better than it smells!
Pros
Great taste even without sugar or creamer
Cons
There is a good reason why Starbucks is one of the most famous coffee brands in the world, and beans like these confirm that. I recommend you give this roast a try – you will not regret it.
Kicking Horse is a coffee company that has been around for about 25 years. The owners started their coffee business with one simple wish: to create coffee beans that are fresh and taste really good. If you take into consideration the number of different roasts they have right now, I would say that a lot of people would agree they made their wish come true.
Key Features
Bold, earthy flavor
Vanilla and dark chocolate aroma
Available in whole and ground beans
You can brew these coffee beans however you like – they are great on a drip, cold brew, pour-over, or even French press. The taste is amazing, and you will find that the finish is quite enjoyable as well.
Pros
Fairtrade beans
Climate Pledge Friendly
Cons
Smell might be a bit too strong
Just like you see in the name, this coffee really kicks ass! It comes at a somewhat higher price, but it is worth it if you are into stronger, slightly bitter-tasting coffee.
These Subtle Earth coffee beans are completely organic, Arabica beans that come directly from the Marcala region of Honduras. I know that Colombian beans are considered to be the best, but trust me, you will not be disappointed by the taste of these Marcalan beans.
Key Features
Fairtrade beans
Organically grown
Roasted in small batches
This dark roast is amazing. Not only is it organic and Fairtrade, but it is also vegan-friendly, keto-friendly, gluten-free, non-GMO, nut-free, and low acidity.
Pros
Rich aroma
Natural sugary taste
Cons
Beans could get bland after a short time
For coffee beans that are grown organically, these beans sure do have a strong taste. I recommend trying this roast out, and if you find the taste too strong, you can always go for the medium-dark roast which is very similar.
This French roast from the company San Francisco Bay is a mixture of Arabica beans from different regions of the world, all carefully selected by hand to give the best taste ever. If you decide to try this roast out, you should expect your coffee to have an intense flavor with citrus and floral notes.
Key Features
Full-bodied beans
Kosher
Grown on organic farms
This company not only produces some great coffee beans but has also helped the planet by restoring several thousand acres of rainforest over the past few decades. I will always support companies like that – plus, it does not hurt that the beans really do taste great!
Pros
No bitterness or acidity in taste
Dark, strong, and rich flavor
Cons
Beans can be a bit sticky and oily
Coming at a great price, this SF Bay roast is something that you have to try. It is great when used in a French press, drip, espresso machine, or pour-over!
I know that a lot of people judge the quality of a coffee brand by the price, but that is not always the case, and this dark roast from Real Good Coffee Co proves just that. Even though their French dark roast is almost 20% cheaper than competitors' coffee, it has an amazing flavor and an even better aroma!
Key Features
Grown and packaged responsibly
Suitable for all types of coffee brewers
Beans come in recyclable packaging
I recommend the whole beans because they stay fresh for a lot longer, but there are also two other options that you can choose from – K-cups and Nespresso pods. Once you place your order with the company, they will bring the beans right to your front door!
Pros
Packaged in air-tight bags
Rich flavor with no bitterness
Cons
Beans are a bit sticky and oily
A full-bodied roast that isn't bitter, having a cup of these beans will change your life forever. The amazing taste is something you cannot miss, and the price factor is also something that you can't overlook!
Another very affordable yet great-tasting coffee, the Olde Brooklyn Italian dark roast is something that you must try at least once in your lifetime. This company roasts coffee beans in small batches that they send all over the United States, so you can bet on your roast being as fresh as possible.
Key Features
Small batch roasting
Great packaging
Blend of best coffee beans
I love this brand because instead of focusing on their earnings, they focus on the quality of the coffee and making the customers satisfied with the products they offer.
Pros
Bold taste and great aroma
Guaranteed refund if you do not like the beans
Cons
Beans become stale once you open the package
What could be better than a mixture of beans from Colombia, Brazil, and Guatemala? With Olde Brooklyn's coffee, you get all of that in just one cup of coffee!
This dark roast from Koffee Kult is the cleanest, most smooth-tasting coffee that you have ever tried. The beans have a bold but earthy flavor, and they are always fresh and pure.
Key Features
Beans are roasted right before packaging
Package can be resealed
Cocoa and cinnamon notes
The beans that this company uses are Arabica beans, and they usually come from Colombia, Brazil, or Sumatra. Once imported to the United States, they are roasted in Florida and shipped right to your home.
Pros
Unique aromatic taste
Fairtrade
Cons
Some consumers have noticed slight acidity in the taste
This dark roast from Koffee Kult is a great choice for you if you are into coffees with a bold flavor. It smells great, and you can bet on the beans being fresh every time you purchase them!
I never expected Amazon's dark roast to be as good as it actually is, but I guess we all make mistakes! This dark roast has a rich flavor with a mild finish. You are bound to love it!
Key Features
Expertly roasted
Bold and full-bodied
Also available in ground beans
These beans come from Central and South America. They come to the manufacturing company and are only roasted before they are shipped to your house, which means that they are really fresh when they arrive!
Pros
Smoky, chocolate notes
Great value
Cons
Might not taste good for everyone
Even though these coffee beans have a lot of great reviews, they might not be suitable for everyone's taste. If you are looking for something clean, smooth, and rich in taste, then this is the perfect dark roast for you.
Coming at the most affordable price compared to the other blends on this list, this Copper Moon Coffee is going to blow your mind. The beans come from five different continents, and they are roasted in small batches. This means that the coffee flavor will be a lot stronger and a lot fresher as well!
Key Features
Sustainably grown
Kosher
Allergen-free
The coffee that you prepare using these beans will have an earthy aroma with herbal and almond notes. It is considered to be one of the best coffees with Sumatra beans – if you have never tried this type of bean before, you are in for a pleasant surprise.
Pros
Suitable for espresso machines and French presses
Company donates some of the earnings to charity
Cons
Beans might not be that fresh
If you would like to try some Sumatra coffee beans, I recommend trying these beans out because they are considered some of the best on the market right now!
What is Dark Roast Anyway?
Visually, dark roast beans are those that have been taken far into the roasting process so as to get a deep brown to almost black color. The beans will have a certain sheen due to the oils that have been drawn out.
What this brings flavor-wise is a deep toasty flavor, a level of bitterness and smokiness. It is the most familiar, the one that would give you the taste and aroma that you associate with coffee. Great dark roasts could give you more complexity and introduce some hints of nuttiness, as well as chocolatey, caramelly flavors.
In addition, the acidity of dark roast beans tends to be quite low due to having been literally roasted away, along with much of the beans' fruitiness. This creates contributes depth and smoothness to the final brew.
This coffee may come to you with different names — French roast, Italian roast, continental, espresso. There may be different qualities associated with each of these names, but they are all dark roast.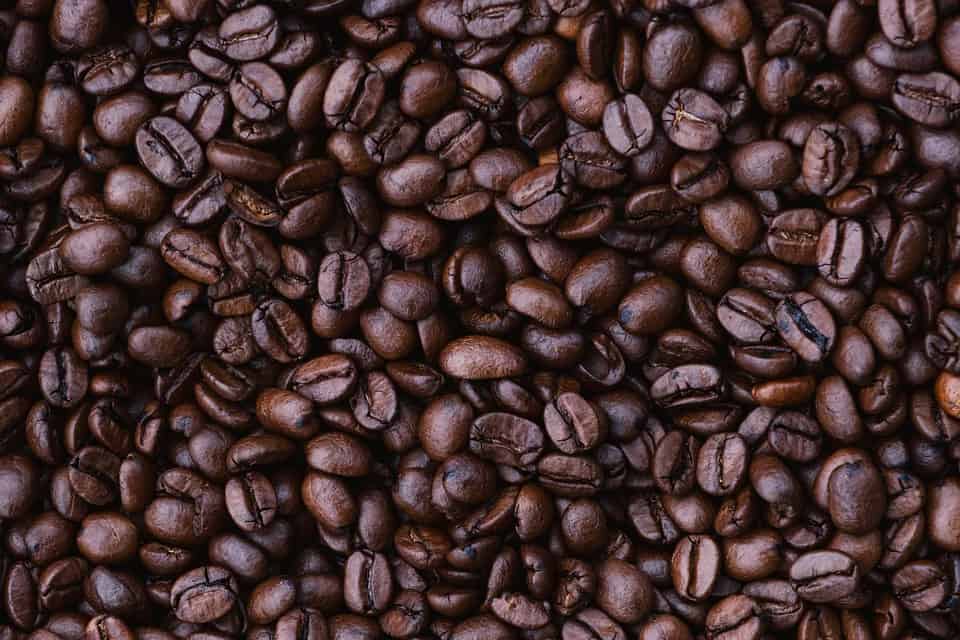 How to Pick the Best Dark Roast Coffee Beans
Your criteria for picking dark roast coffee beans will be pretty much the same as what you use to choose any kind of coffee beans with any roast level: roast date, origin, robusta.
If you are exploring dark roast whole beans, you will be glad to know they are flavorful in ways that is comforting and enlivening. Usually, the flavor you get from these beans is strong on the smokiness and toastiness, but smooth, with a bit of bitterness and some dark chocolate undertones.
Roast Date
When you go to the store and you are trying to choose between the many brands that produce dark roast whole coffee beans, the first thing you should check for is the production date. The fresher the coffee beans are, the better your coffee will taste. So, you should look for beans that are no older than 3 weeks.
Roast Level
Yes, there are different levels under the umbrella of a dark roast! There's the Viennese in which beans are taken to 430 to 440 degrees Fahrenheit (227 °C), and beyond that up to 455 °F (235°C) is the very popular French Roast. And taking the beans to an even higher temperature will give you the super dark Italian roast, which truly borders on charred already. It's good to stay in Viennese and French levels.
If you're looking to make espresso, Viennese dark roast is your best bet.
Coffee Species, Varieties, and Subvarieties
Another thing you should check for is the actual beans that go in the bag. These beans usually come from a small handful of coffea plant species: Arabica and Robusta — which you may be already familiar with,  and the lesser-known Liberica and Exelsa which are usually used as mixers.  Simply put (or maybe too simply?), Arabica is known for aroma, Robusta for body and caffeine content, Liberica for its floral smokiness, and Exelsa for fruitiness.
However, as you explore the wonderful world of coffee, you may discover certain varieties and sub-varieties of each of these species, as well as hybrids thereof, that farmers in different parts of the world cultivate. And these give you an exciting multitude of flavors and coffee experiences, and you will develop and take note of your favorites.
This criteria is all about your tastes and preferences, and therefore very personal to you in particular. But if you are new this universe, it is safe to start with pure Arabica and its varieties, and explore from there.
Origin
Then, another thing you should check for is the origin of the bean. Certain coffee varieties do well in the soil and climate of specific parts of the world. Hard types of beans grown in the higher altitudes of Indonesia, Colombia, and Central America, do well in dark roasts as they can stand up and hold their own with the intense heat. I always look for beans from those locations — from reputable producers, of course.
FAQs About Dark Roast Beans
Are dark roasted coffee beans stronger?
You might think that the darker the roast, the stronger the coffee tastes, but that is not the case. With dark roasted beans, the taste is a bit strong, but it is not as strong as it is with light roasted beans. This is because the lighter roasts contain more caffeine.
Is dark roast less bitter?
If you compare dark roast to light roast, I would have to say that the bitterness is stronger in the former than the latter. As I said, lighter roasts have more caffeine and less bitterness.
You should know that between the different types of beans, the Arabica beans are less bitter, so they are the perfect choice for people who want to drink dark roasted coffee that is not extremely bitter.
Lovely, Dark, and Deep
Well, you and I have finally reached the end of this guide. I hope that you learned a lot about coffee beans in general and the promises of how dark roast will satisfy you for miles.
I urge you to try the Peet's Coffee Organic French Dark Roast Whole Coffee Beans whenever you can. The Copper Moon Coffee Sumatra Dark Roast Whole Coffee Beans is just as good but comes at a lower price.
I hope that you loved reading about these ten whole coffee beans as much as I loved writing about them. Let me know in the comments which one is your favorite and why. I cannot wait to read all about it!