Updated: August 6, 2023 by Alex Carpenter
There is nothing better than waking up to a nice cup of coffee, something that smells amazing and tastes even better—something that makes you want to get out of bed after only one sip. I want nothing short of the best medium roast coffee to start my day. That's the one thing that gets me going in the morning and keeps me energized throughout the day.
I agree with the saying that coffee is always a good idea. For me, there is nothing better than having coffee no matter if it is alone or a cup with friends, decaf or full of caffeine, whole bean or ground, medium or dark roast. I spent years searching for the best-tasting coffee, just to come up with top options that I believe everyone should try.
Yes, I know there are some special, pricey coffees that might be worth the money, but I want to focus on more affordable options that everyone would be able to purchase and try. This is why my list will contain coffee beans that you can easily find in most shops and that are very affordable but still delicious. So, I would love for you to try these coffee beans out. But before you do that, let me tell you more about them and why they're so great!
TOP PICK
My top pick for medium roast whole bean coffee is the Starbucks Breakfast Blend. This specific blend has been around for more than 20 years and is one of the best-tasting options if you are looking for something that is less roasty and a bit more toasty.
The Best Medium Roast Coffee Beans Are
Before I get right into the detailed reviews, I want to tell you some of the key features of my 5 favorite coffees and their ratings from Amazon:
I know the comparison chart does not provide enough information on these amazing coffees, but that's why I'll give you an in-depth review of each one of these coffee beans. Once you read the reviews, you will know exactly why only these five products have earned a spot on this list as opposed to all the other options available on the extra-competitive coffee market. So, let's get to it!
It's safe to say that a lot of people think of Starbucks when they think of coffee. This is one of the most famous companies in the world, all because of their amazing coffees. There are a lot of different blends to choose from, but their medium roast breakfast blend in whole beans takes the top spot and is the best overall choice on my list as well.
Key Features
Also available in ground beans
100% Arabica beans
Smooth and rich flavor
This breakfast blend is the perfect thing to start your day. When you want to prepare your coffee, the company advises using cold, filtered water only.
Pros
Convenient-sized packaging
Fresh coffee aroma
Cons
Might be a bit too strong for some people
This Starbucks breakfast blend is something you have to try. From the perfect new packaging to the amazing smell and taste, you're bound to love everything about this coffee from the moment you first taste it.
As one of the company's signature blends, this Big Bang medium roast with whole coffee beans will amaze you with its bold, vibrant, and full-flavored taste. Made from premium beans, this coffee has a fresh citrus note that makes its taste even better!
Key Features
Also available in k-cup pods and ground beans
Widely available
Blend of beans from different origins
For the best taste, you should consider consuming the coffee within 30 minutes of making it. You should brew your coffee with cold, filtered water and the pristine coffee beans from Peet's.
Pros
Mellow, smooth taste
Suitable for people who like a more acidic taste
Cons
It is not entirely organic
This Big Bang blend from Peet's coffee is amazing if you are looking for something that's available at most shops and that comes at a very affordable price. If you don't mind a more acidic taste, you will absolutely love these coffee beans!
Lavazza is a company with quite a long tradition, and that would not have been the case if their coffee was not as amazing as it is. If you are an espresso fanatic, you should look no further than this super cream blend. By the way, you can also use it in cappuccinos and several other coffees!
Key Features
Nut-free coffee beans
A combination of natural Arabica, washed Arabica, and Robusta beans
I would recommend preparing coffee with these beans using an espresso machine. You will get that traditional espresso taste without the bitterness. And don't be afraid to experiment with the machine settings before you find the ones that fit your taste best!
Pros
Strong taste that is not bitter
Quite affordable
Cons
Inconsistent taste and quality
This blend from Lavazza is suitable for people who are looking for a milder-tasting espresso—if you are more into those stronger, bitter-tasting coffees, this might not be the best choice for you.
I love it when a company listens to what their users say, and that is exactly why I love the Read Good Coffee Co. They always take into consideration what their consumers say about their coffee and make improvements where they are needed. They are completely dedicated to giving their users the best-tasting coffee, and their best-tasting blend to this day has to be the Donut Shop medium roast whole coffee beans!
Key Features
Completely recyclable packaging
Suitable for all coffee brewers
Variety of flavors available
Aside from the donut shop flavor, there are a few other amazing flavors that you should also look into. There's the breakfast blend, which is a light roast, while the French roast and the organic are dark roasts. All of their blends are fresh, tasty, and of premium quality.
Pros
Grown, sourced, and packaged responsibly
They ship right to your door
Cons
I recommend trying these coffee beans out because they come at a very affordable price but still have amazing taste. Once you are done with them, remember to recycle the packaging!
These Kicking Horse coffee beans might be the last option on my list, at the same time coming in at the lowest price compared to the others, but they are so amazing and have a lot of benefits.
Key Features
Chemical-free beans
Certified organic
Certified Fairtrade
I love that this company is climate pledge-friendly. Even though purchasing this type of coffee makes just a small contribution to our planet's well-being, it is still a contribution that should not be overlooked!
Pros
Cons
Loses its freshness quickly
Widely available all over the country, you should go out and get yourself some of these coffee beans and enjoy the fruity cocoa flavor!
These beans are so good, they have made it to our roundups for the best coffees for brewing with a pour-over, with a French press, and for making espresso.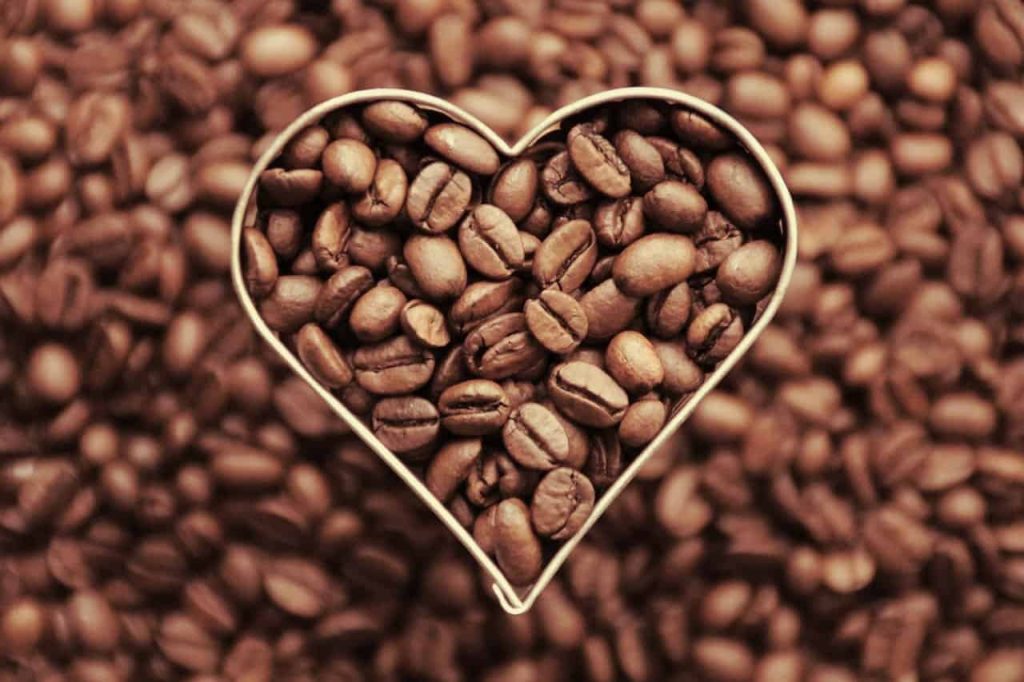 How to Choose the Best Medium Roast Coffee Beans
About Roasts: Light vs. Medium vs. Dark
This review focused on medium roast coffee, which is a golden middle between the light roast and the dark roast. If you are a person who likes a rich flavor that is not too strong or too mild, you will love the medium roast beans. At the same time, this type of roast helps contain the antioxidants in the coffee beans that are good for your health.
Second, you have the light roast, which is perfect for people who prefer a more acidic-tasting coffee. This roast is also more caffeinated, while the beans stay rich in antioxidants just like they do with the medium roast.
Finally, you have the dark roast, which is often considered the healthiest option. It can help with weight loss, restore your red blood cells as well as your vitamin E levels, and also help your tummy feel better if you're a bit under the weather. What more would you want from a cup of coffee than to help your entire body be better and feel better?!
When I first developed an interest in coffee, I had no idea what the difference was between ground and whole beans and why there were three types of roasts to choose from. Not knowing this could be a problem, especially if you are still looking for your signature taste, so I want to tell you more about the different states of coffee beans and what they are all about.
What Is the Difference Between Medium Roast and the Other Roasts?
When coffee beans are medium roasted, they have a nice brown color that is not that light but also not that dark. Unlike dark roasted beans, they will not have an oily surface and will feel dry to the touch.
The reason why I recommend medium roast more than the other two types of roasts is that this roast preserves the taste of the coffee beans the most. You can expect the beans to have slight caramel notes when you first try them. The taste will also be intense but not that acidic.
Medium roasted beans have an acceptable taste for both people who like stronger flavors and those who want their coffee to have a sweet taste. You can never go wrong with this type of roast, so I recommend giving it a try!
FAQs on the Medium Roast Coffee
Before I wrap up this review, I would like to mention a question that's been asked very often when it comes to whole coffee beans that are medium roasted:
Is the second crack medium roast?
Roasting coffee beans at home can be a bit difficult, but there are some benefits to knowing how to do it. Once you purchase the fresh beans, you can prepare them for roasting and make them fit your taste buds best.
If you want to prepare medium roast beans, you need to put the beans to roast and wait until you hear the first crack. Then, wait for a bit longer before taking the beans out. You remove beans immediately after the first crack if you want them to be lightly roasted, while waiting until you hear the second crack will bring them to a dark roast.
Time to Enjoy the Best of the Mediums
If you read to this point, you know exactly which coffee beans are best if you are into the whole medium roast beans. The Starbucks Breakfast Blend Medium Roast Whole Bean Coffee is something you have to try while the best affordable yet still tasty option is the Kicking Horse Coffee Three Sisters Medium Roast Whole Bean Coffee.
No matter which one of these coffees you decide to try, you will not make a mistake. Write in the comments which of these coffees you have already tried and which you would love to try in the future. I cannot wait to read your comments!