Updated: May 9, 2022 by Owen Richardson
Not all coffee beans are created equal. While there are several types of coffee beans that taste amazing no matter how you brew them, there are many specialized beans more suited for specific brew methods. That is why I have compiled a list of the best coffee beans for a French press.
So if you own one of these nifty coffee brewing machines, get ready to discover a whole new world of delicious beans to use while you brew up your coffee at home. There is nothing quite like a fresh home-brewed cup of liquid gold, am I right?
If you are yet to make a flavorful brew using your French press, you may be using the wrong coffee beans. By simply switching up your beans, you can considerably improve the taste of your brew. Sounds pretty easy, but it is not all there is to it.
Supporters of the French press brewing method are usually coffee aficionados with a craving for high-quality coffee. These homebrewers can be quite adamant about the rich and flavorful coffee notes from this brew method.
While your beans are the first step to an improved brew, you also need to ensure your grind size is right as well as consistent. If you don't know all this yet, don't worry. I will be covering it all as we explore the best beans for your French press.
TOP PICK
My ultimate top pick for the best coffee beans for French press is, without a doubt, the VALHALLA JAVA Whole Bean Coffee, simply because it is the world's strongest coffee offering bold flavors. The company is also committed to sustainable coffee as an added benefit to this flavorful coffee.
Here are the Best Coffee Beans for French Press
Image
Product
Features
Price
#1 VALHALLA JAVA Whole Bean Coffee


Medium to dark roast

Fair Trade

Blended coffee

#2 illy Classico Whole Bean Coffee, Medium Roast


Medium roast

100% Arabica Blend

Whole beans

#3 Laughing Man Dukale's Blend, Whole Bean Coffee, Medium Roast


Arabica coffee

Fair Trade

Medium roast

#4 Lavazza Organic ¡Tierra! Whole Bean Coffee Blend, Light Roast


Light roast

Climate Pledge-Friendly

USDA certified organic

#5 Subtle Earth Organic Coffee - Medium-Dark Roast - Whole Bean


Whole bean

Medium roast

Certified organic

#6 Kicking Horse Coffee, Grizzly Claw, Dark Roast, Whole Bean


Climate Pledge-Friendly

Dark roast

Fair Trade

#7 Gevalia Traditional Mild Roast Whole Bean Coffee


100% Arabica

Light roast

Slow roasted

#8 SF Bay Coffee Fog Chaser Whole Bean 2LB (32 Ounce) Medium Dark Roast


Whole bean

Dark roast

100% Arabica

#9 Stumptown Coffee Roasters, Homestead Blend Whole Bean Coffee


Certified organic

Whole-bean blend

12-ounce bag

#10 Great Basin Coffee Co. Bristlecone Blend Whole Bean Coffee


Medium to dark roast

Blended coffee

Whole beans
Even though you can technically use any of your favorite beans in your French press, I recommend a bold dark roast to truly enjoy the rich flavors of the coffee. In addition to the roast level, you will need to be mindful of the grind size.
Choosing ground beans is okay as long as they are a medium to coarse grind. Grinds that are too fine will slip through the mesh of the French press and cause unpleasant gritty-tasting coffee. Here are some of the top-rated beans to use in your French press.
These are the best whole coffee beans for French press. This bold medium to dark-roast coffee is perfect for the rocker who stays up all night. Coffee enthusiasts enjoy a strong wake-up call with this blended coffee. The beans are labeled as organic and Fair Trade, portraying the sustainable practices used to grow and harvest these beans.
Key Features
Medium to dark roast
Fair Trade
Blended coffee
This coffee was created with guitarists in mind, giving an edgy take to this coffee. The blend has been expertly refined to produce sophisticated flavors for even the strictest coffee critics. Enjoy a unique take on coffee with this blend that has been sourced from Indonesia and Central and South America.
The blend is smooth and earthy, providing those strong flavors that shine through when brewed using a French press. The bag is labeled as the strongest coffee in the world, which is justified by the strong caffeine content of this blend.
Pros
Certified organic
Artisan roasters
A smooth and earthy taste
Sophisticated flavors
Cons
The caffeine content could be seen as either a pro or a con depending on how much caffeine you are looking for. If you are hoping to make an espresso-like drink in your French press, then these beans are a good choice.
A great go-to coffee bean is the illy Classico Coffee beans. This meticulously sourced coffee blend is made up of 100% Arabica beans. Unlike other blends that use cheaper beans as a filler, this blend is created using only the finest beans.
Key Features
Medium roast
100% Arabica Blend
Whole beans
This company is all about sustainability and finding the best practices to use when sourcing coffee, and they have been named the World's Most Ethical Coffee company seven times in a row (possibly more by the time you read this).
The coffee consists of nine premium Arabica coffees expertly blended right before they are roasted, cooled, and packaged for you. In this blend, you will experience flavorful caramel and chocolate notes.
Pros
Named "World's Most Ethical Coffee"
Pressurized packaging for optimal freshness
Consists of nine quality Arabica coffees
Expertly blended
Chocolate and caramel notes
Cons
A bit pricey
Only small sizes available
Since this coffee comes in whole beans, enjoy grinding them up freshly right before brewing in your French press.
This Laughing Man blended coffee is a tribute to Dukale, who inspired the creation of this blend. The beans, sourced from Africa and Indonesia, offer a fruity whole-bean coffee for you to grind up at home. Hugh Jackman created this company to give back while providing coffee lovers with flavorful brews.
Key Features
100% Arabica coffee
Fair Trade
Medium roast
The beans are sourced using Fair Trade practices, so you can enjoy a bold medium roast without any guilt. The blend produces a strong chocolate flavor with hints of plum and can be found in a ground variety if you don't want to grind your own beans.
Pros
Whole beans
Hints of chocolate and plum
Ground option available
Large 1.12-pound pack
Hugh Jackman's company
100% of profits donated
Cons
Some experience shipping problems
Slightly bitter
Buying a pack of Laughing Man coffee means you are giving back. The company partners with several charities, and the proceeds are all donated to those who need it the most. A lot of the profits are sent back to Fair Trade coffee farmers to help sustain them.
While a light roast isn't always recommended for a French press, Lavazza made this one with this brewing method in mind. Not only is it great for a French press, but the company is also committed to sustainability with a Rainforest Alliance seal as well as a Climate Pledge-Friendly certification.
Key Features
Light roast
Climate Pledge-Friendly
USDA-certified organic
The beans are a premium-grade blend of Arabica beans sourced from Africa as well as Central and South America. Caffeine lovers will enjoy this brew; one cup will produce a generous amount of caffeine for those early mornings. The company is well-known and trusted by many coffee enthusiasts.
The beans can be bought in bulk if you are purchasing for an office or a coffee shop. These large 2.2-pound bags come in a six-pack to keep you well-stocked up.
Pros
100% Arabica blend
Committed to sustainability
Family-owned
Well-known company
High caffeine content
Cons
Strong chocolate flavor
Roasted in Italy
Since the company is situated in Italy, the beans are roasted there. This may reduce the freshness slightly, but it will be worth it when you grind them up at home for a fresher cup of joe.
This family-owned company offers a unique coffee experience with quality Arabica beans sourced from Honduras as part of the Sharing Certified Program, offering coffee farmers in lesser developed countries a better share of profit.
Key Features
Whole bean
Medium roast
Certified organic
The beans are tested by graders and roasted in small batches to ensure quality before shipping out. The company has regional roasters based around the U.S to ensure each shipment is as fresh as possible. The company values premium coffee and never uses Robusta beans in its blends.
Pros
100% Arabica
GMO-free
Refundable
Low acidity
Small-batch roasted to order
Cons
Some roasting inconsistencies
A slightly burnt smell
While the bag of ground coffee may give off a slightly burnt smell upon opening, the beans are not actually burnt. The company is also committed to quality, so any problems with an order will be addressed, and replacement bags or refunds will be sent out upon assessment.
These dark-roasted beans are full of bold flavors with a rich, chocolaty feel. The ground beans give off hints of cacao nibs, roasted hazelnuts, and brown sugar. These decadent beans are roasted in the heart of the rocky mountains.
Key Features
Climate Pledge-Friendly
Dark roast
Fair Trade
Sourced from Central and South America, these beans are Fair Trade to benefit all involved, from the grower to the coffee drinker. Enjoy a sustainable brew with these delicious ground coffee beans. The grind may be coarse, but it is on the finer side, so they can be used in a French press.
Pros
Kosher
Shade-grown
Arabica
Certified organic
Great for dark roast lovers
No unwanted bitterness
Cons
Labeled as a coarse grind
Small bag size
This brew is great for those who are searching for a bold dark roast, but even light roast lovers will be pleasantly surprised, as there is no unnecessary bitterness in this roast. Enjoy a responsible coffee with this brand.
This light-roast Gevalia is a great option to enjoy a complex flavored brew in your French press. This rich Arabica coffee comes in a 12-ounce bag, offering a perfect size to keep your beans fresh.
Key Features
100% Arabica
Light roast
Slow roasted
In addition to these traditionally roasted beans, the company has 10 flavors to choose from, offering consumers a large variety of coffees. The coffee also comes in uniquely designed coffee bags that are resealable to lock in the freshness.
You can enjoy a smooth and well-balanced cup of joe when trying out these beans. Enjoy subtle but tasty, fruity and caramel-flavored beans.
Pros
Well-balanced, mild roast
Subtle fruity flavors
Resealable bag
Ten flavors of coffee
Cons
The beans are a bit pricey
Enjoy a full-bodied, flavorful cup of joe with these premium Arabic beans that are gently roasted to highlight their mild and fruity flavors.
Enjoy locally roasted delicacies with these dark roasted delights. The San Francisco Bay beans offer bold coffee flavors with hints of toffee, sweet mandarin, and milk chocolate. These 100% Arabica beans are sourced from Central and South America to provide an eccentric blend of flavors.
Key Features
Whole bean
Dark roast
100% Arabica
The family-owned company is committed to sustainability and only sources beans from farmers who use best practices when growing and harvesting their beans. Once the raw beans have arrived at the roastery, they have already been checked twice for quality control.
After the beans are roasted, they are tested to ensure they meet the company's standards. These beans are then quickly sealed into airtight packaging to retain optimal freshness before being shipped to your door.
Pros
Sustainably grown
Kosher
Family-owned company
Each roast is tested before shipping
Shade-grown
Cons
You have full control with these whole beans; you can grind them up to the perfect size for your French press brew. A bold dark roast is waiting for you with the kosher beans roasted locally.
These certified organic beans are curated with a bold espresso in mind, making it a great option for your French press. You can simply grind up the whole beans to a medium/coarse grind and brew a strong coffee to enjoy. Surprise your taste buds with notes of cherry, orange, and milk chocolate.
Key Features
Certified organic
Whole bean blend
12-ounce bag
The company boasts a certified B corporation label, proving its commitment to sustainability and social responsibility. The beans are sourced from quality coffee growers who pay careful attention to the entire coffee process, from cultivation to harvesting.
Pros
Creamy milk chocolate flavor notes
Certified B corporation
All roast level options
Single-origin or blend options
Bag displays "roasted on" date
Cons
Freshness may be lacking due to shipping
These beans pack a punch of caffeine, and this is why they are perfect for espresso. However, using a French press is fairly similar, and some coffee enthusiasts will even use it to create an espresso-like brew, so these beans are top-notch for your brewing method.
The Great Basin Coffee company is a Utah-based roasting company that roasts quality coffee beans every week to ship them out fresh to you. The beans are roasted in small batches to ensure an even roast.
Key Features
Medium to dark roast
Blended coffee
Whole bean
This medium to dark roast is perfect for French press brewing, and there are larger size options if you would like to buy in bulk. Available in a 2.2- or 5-pound size, you can buy these beans for an office setting. The blended beans are full of chocolate and plum flavors with a medium body. There are also other roast levels available.
Pros
Various size options (12-ounce, 2.2- or 5-pound)
American-owned company
Small-batch roasted
Cons
While Robusta beans are not as premium as the Arabica variety, this blend is mostly made up of premium Rwanda Red Bourbon beans with Colombia Supremo, and lastly, India Specialty Robusta beans. Enjoy flavorful beans ready to be added to your French press and brewed for optimal enjoyment.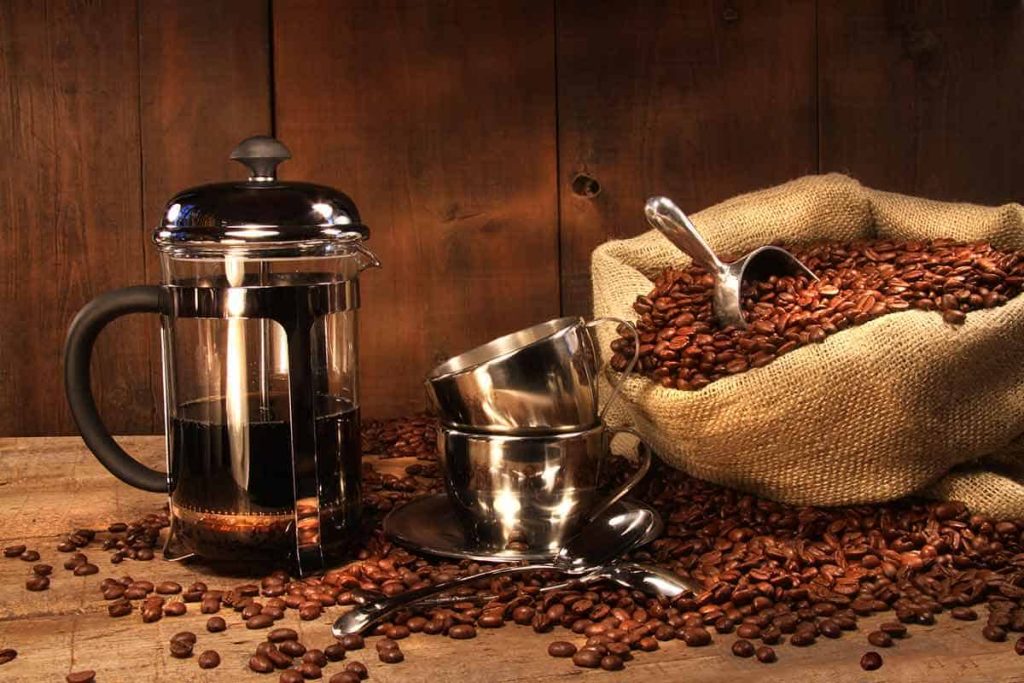 How to Choose the Best Coffee Beans for a French Press
Roast Level
When it comes to brewing coffee, the roast level is very important. This factor is usually determined based on the preference of the coffee drinker. If you ask a true coffee lover what their preferred roast level is, they are likely to have a firm favorite.
However, certain brew methods are best paired with the right roast level, as any coffee lover will concede. Since roast levels determine the flavor and the intensity of the coffee, it will be a factor with the brew method.
Light roasts usually have a very subtle flavor profile that shines well in pour-over brews, whereas the bold flavors of medium to dark roasts shine best in a French press or espresso brew.
While it will not be a true espresso, you can even make an espresso-like drink using a French press. Just make sure to pour the bold brew into a demitasse before drinking.
Single-Origin or Blend
Another consideration when choosing the right beans for your French press is whether you want to go for a single-origin or a blended coffee. In short, the best type for a French press is single-origin coffee.
Single-origin coffees are just as the name implies — they originate from one place. This means if you are searching for an authentic Columbian Supremo, that is exactly what you will get, as long as the bag states single-origin on it.
Blended coffee is usually a method of saving money for roasters by filling the bag with cheaper Robusta coffee. The Robusta variety offers a flat flavor but contains more caffeine than the Arabica variety. The bag is then topped off with premium Arabica beans to improve the flavor a bit.
When you are brewing using a French press, you will be able to taste the complete flavor profile of the roast. If there are lower-quality beans tucked away there, you will definitely notice them.
The Right Grind Size for a French Press
When making coffee with a French press, you absolutely have to get the grind right. Getting those precious beans will be for naught if you don't. A French press requires a medium to coarse grind, not only because it helps the flavors extract at the optimal rate but also to prevent finer grinds from slipping through the mesh.
Using a French press to brew your coffee may take a bit of practice to get the elements correct. If you notice a gritty or sandy taste in your French press brewed coffee, then your grind is too fine. If the coffee comes out bland, you either need to increase your brew time or try a slightly smaller grind size.
When buying beans for a French press, you can look for whole beans to freshly grind up at home using a burr grinder.
French Press Coffee Beans FAQs
Can I use my French press to froth milk?
Surprisingly a French press is not only good for making bold coffee, but it can also be used as a nifty milk frother if you don't have one at home. To froth up your milk, you can add your warmed-up milk to the press and close the lid. Then start pumping the handle up and down until the milk doubles in size.
Just be sure to hold the lid down firmly and don't overfill it with milk since it will increase in size as you pump it. However, if you often use frothed milk, you should consider buying a proper milk frother.
Can you make an espresso using a French press?
While there is no way to make a true espresso other than using an actual espresso machine, you can come pretty close using other brew methods. One of these methods uses the trusting French press.
You will make the espresso-like drink as you would make a normal French press with only a few changes. The grind size will need to be finer (but not too fine that it slips through the mesh), and you will give an extra half pump before pushing the plunger all the way down.
What is the best grind size for a French press?
As a coffee-lover, you will know that grinding coffee beans at home is the best way to enjoy a fresh brew. However, you will now need to know what grind size to use. A medium to coarse grind is best for French press brewing as the grinds will be big enough to not slip through the mesh filter.
The Best French Press Coffee Beans Goes to…
Purchasing quality French press beans is all about taste preference, freshness guarantee, and roast level. Balancing these considerations will help you brew up the perfect cup of bold coffee for your early morning or late-night caffeine needs.
I would recommend buying the VALHALLA JAVA Whole Bean Coffee, not only because the beans are the perfect roast level and full of bold flavors but also because of the company's commitment to ethical practices.
Once you have chosen the right beans to try in your French press, be sure to check out the best grinders to freshly grind up your beans at home.