Updated: September 20, 2021 by Owen Richardson
Ah, the pour-over brewing method, a favorite to create a tasty brew. Choosing the best beans for pour-over coffee can help you enjoy this method even more. This brewing method offers the perk of filtering your coffee, which removes oil from the beans to prevent high cholesterol.
Choosing the right beans will help you relish this artisanal brew method while savoring the subtle yet tasty flavors of these premium beans. Along with the right blooming techniques and pouring motion, you can experience bursts of flavor with your pour-over.
If you are new to the pour-over method, you are in for a treat. Brewing your coffee using this method gives you a lot of control over your coffee. Once you follow my guide for the best beans for pour-over and fine-tune the method to your preferences, you will enjoy a full-bodied, rich cup of joe bursting with perfectly balanced flavors.
TOP PICK
To give you a spoiler, the best whole beans for your pour-over are the Fresh Roasted Coffee, Costa Rican Tarrazu, Medium Roast beans. The complex flavors, which taste like chocolate and sweet honey, are perfect for the pour-over brew method.
Here are the Best Coffee Beans for Pour-Over
Image
Product
Features
Price
#1 Fresh Roasted Coffee, Costa Rican Tarrazu, Medium Roast


Single-origin

Kosher

Sustainably sourced

#2 The Mentalist Medium Dark Roast


100% Arabica

12-ounce bag

Certified clean coffee

#3 Kicking Horse Coffee, Three Sisters, Medium Roast


Arabica

Fair Trade

Shade-grown

#4 2LB Don Pablo Signature Blend - Medium-Dark Roast


GMO-free

Arabica

Medium to dark roast

#5 SF Bay Coffee Organic Rainforest Blend


Certified organic

32-ounce bag

Medium roast

#6 Volcanica Ethiopian Coffee, Yirgacheffe Region


16-ounce bag

Organic

Fresh roast

#7 Copper Moon Guatemalan Antigua Blend


2-pound bag

Light roast

From Guatemala
Choosing any beans for your morning cup of coffee should always be based on your own taste preferences. However, it is exciting to explore new coffees that could become your favorites.
I have selected a few of the highly-rated beans available for you to choose from to expand your coffee knowledge and tastes. It's time to be adventurous and try some new coffees, or if you prefer sticking to what you know, choose the ones closest to your favorite beans.
These freshly roasted beans are perfect for pour-over brews as the single-origin flavors will be highlighted. You can enjoy complex flavors characterized by notes of chocolate and sweet honey. These beans are also kosher and sourced in a sustainable manner.
Key Features
Single-origin
Kosher
Sustainably sourced
Fresh Roasted Coffee is roasted and packaged locally using an environmentally friendly roaster after the company has used best practices when sourcing the beans from Costa Rica. The roast may be medium, but the company promises coffee beans full of complex and tasty flavors for your brew.
The roasting process is not only good for the environment — it cuts down carbon emissions — but it also retains the flavors of the beans to give you the best coffee experience.
Pros
Roasted and packaged locally
Environmentally friendly roaster
Medium roast full of flavors
Chocolate and sweet honey flavors
Resealable packaging
Cons
While the price tag on these beans may be a turn-off for some, they are definitely worth it. Full-bodied with strong flavors, these beans burst with rich, aromatic coffee flavors to satisfy any coffee drinker.
These pure Arabica beans offer a coffee full of complex flavors in this 12-ounce bag of purely delicious beans. The beans are certified clean as the company ensures best practices are used throughout the entire sourcing and roasting process.
Key Features
100% Arabica
12-ounce bag
Certified clean coffee
The company is certified by the Rainforest Alliance, produces organic beans, and ensures the coffee farmers are financially stable. The coffee beans are washed and dried using sustainable techniques and grown in high altitudes to produce quality flavors.
The beans offer subtle but tasty orange, plum, and cinnamon flavors with cocoa hazelnut notes. While the beans are medium to dark roast, they are still suitable for a pour-over with the complex flavors they offer.
Pros
Rainforest Alliance
Best practices used
Sustainable washing and drying techniques
Grown in high altitudes
Plum, orange, and cinnamon flavors
Cons
When you buy from The Mentalist, you will be supporting a sustainable company that looks after the coffee farmers while offering complex flavors for coffee lovers.
Kicking Horse Coffee is not only the best budget option on this list as the price is fair for a 2.2-pound bag of beans; it is also a company that cares about the entire supply chain. The Kicking Horse company is committed to sustainable practices that benefit the coffee farmers who harvest these quality beans.
Key Features
Arabica
Fair Trade
Shade-grown
These beans are certified shade-grown, kosher, and organic, offering coffee consumers a clean cup of coffee with complex flavors to tantalize their taste buds. The beans produce cocoa and stone fruit flavors, giving you a well-rounded cup of joe.
The beans are sourced from Indonesia, Central, and South America and then roasted in the shade of the Rocky Mountains, producing deep flavors.
Pros
Kosher
Socially and environmentally sustainable
Organic
Complex and well-rounded flavors
Stone fruit and cocoa flavor notes
Cons
These beans are great for your pour-over brewing and the environment — the company ensures best practices are used throughout the entire process.
This family-owned company is committed to quality with these GMO-free Arabica beans sourced from Colombia, Brazil, and Guatemala. The beans may be a medium to dark roast, but they still retain the complex, natural  flavors of the beans, which shine in a pour-over brew.
Key Features
GMO-free
100% Arabica
Medium to dark roast
The company is all about quality, sothe beans are refundable if you have any problems with your purchase. The beans are low in acid, which is perfect for coffee consumers who struggle with stomach problems, and the smooth flavors will delight your taste buds.
The beans are slow-roasted to order, giving customers a bag of freshly roasted beans packaged to lock in freshness and flavor. The company has set up their own coffee farms in Colombia and are hands-on through the entire growing, harvesting, and roasting process.
Pros
Refundable
Low acidity
Smooth flavors
Slow-roasted to order
Cons
You may need to let the coffee "breathe" for a few days
By supporting this company, you are supporting a family-owned company that cares about coffee farmers while ensuring sustainable practices throughout the process. The company also refrains from using the less-flavorful Robusta beans in their coffee bags, giving you a premium Arabica blend for your brew.
The SF Bay company is a proud, family-owned American company that roasts the beans freshly in the USA. The 32-ounce bag provides coffee lovers with medium roasted, organic beans full of delicious flavors for your pour-over coffee.
Key Features
Certified organic
32-ounce
Medium roast
The beans are all premium Arabica varieties, ensuring a quality bag of beans for your brew. The company imports sustainably grown coffee from Central America to roast in San Francisco before packaging the beans in quality packaging to ship freshly to your door.
These beans offer full-bodied dark berry and dark chocolate flavors with hints of jasmine for your brew. The company also has several decaffeinated, flavored, and caffeinated beans for you to try out.
Pros
100% Arabica
Kosher
Family-owned company
Sustainably grown coffee
Full-bodied flavors
Dark berry and dark chocolate flavors
Hints of jasmine
Cons
The roast may be closer to a dark roast
Enjoy coffee beans full of flavor as you sip on your cup of sustainably sourced beans, knowing that your purchase helped support coffee farmers in Central America. You can be sure of receiving quality beans — the company checks the beans twice before sending them out.
Committed to the entire coffee beans process, Volcanica Ethiopian Coffee offers this medium to light roast bag of beans packed full of tasty blackberry, blueberry, and lemon flavors. The beans are certified organic to offer buyers a clean cup of coffee to savor.
Key Features
16-ounce bag
Organic
Fresh roast
The certified Fair Trade company is committed to ensuring coffee farmers are treated fairly and receive a fair price for their harvested beans. The company is also Rainforest Alliance-certified to make sure the entire process from harvest to roast is responsible and sustainable.
Coffee enthusiasts will receive premium coffee beans from a company committed to both the producers of coffee as well as the consumers of the coffee beans. The company produces over 130 premium coffees for you to try.
Pros
Fruity and wine flavors
100% Arabica beans
Notes of blackberry, blueberry, and lemon
Medium to light roast
Fair Trade
Rainforest Alliance-certified
Cons
The strong lemon flavor is not for everyone
These beans are tasty and full-bodied, stemming from a sustainable company built on respect for the growing, harvesting, and roasting process. This medium to light roast perfectly highlights the complex flavors in your pour-over brew.
Copper Moon is a family roastery based in Indiana offering coffee enthusiasts a truly unique experience with out-of-this-world flavors. The company sources coffee from 17 different countries, and all of the beans are organic and Fair Trade certified. The beans are roasted in single batches to ensure optimal flavors.
Key Features
2-pound bag
Light roast
From Guatemala
While these beans are sourced from Guatemala, the company offers blends and single-origin beans from multiple countries in both whole bean and ground form for you to select the perfect one for you. Copper Moon is a movement to ensure global coffees reach your doorstep to share the flavors of coffee from around the world.
The company also started its own SEE program, which is a sourcing program focused on the social, economic, and environmental impact of coffee. This program aims to ensure best practices are used within these three tenets when sourcing premium coffee from around the world.
Pros
Organic
Fair Trade
Globally sustainable coffee
The company created the SEE program
Family roastery
High-grade coffee
Cons
Flavors may be too subtle for some
The beans are perfect for a pour-over coffee as they are lightly roasted and full of delicious flavors for your cup of coffee. You will also be supporting a company committed to protecting the Earth while offering out-of-this-world flavors.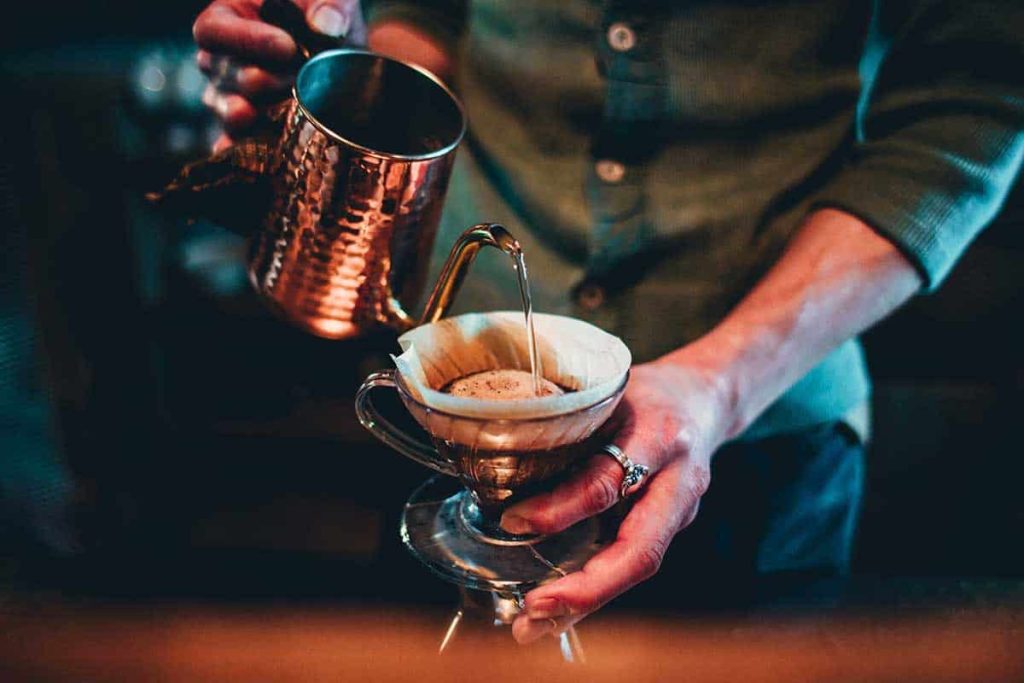 How to Choose the Best Coffee Beans for Pour-Over Coffee
Bean Flavors
The flavor of the beans you choose is an important consideration when selecting beans for your pour-over coffee. This gentle brew method allows you to taste the flavors of the bean, including the subtler flavors.
This is why you should opt for a light roast, as the complex flavors will come through with this method. Dark roast beans release more oil during the roasting process, and this loses some of the subtle flavors and may lead to a boring cup of coffee if you are using the pour-over brew method.
Roast Levels
When choosing coffee beans for your pour-over, you should take note of the roast level of the beans. Each coffee lover will have their own preference when it comes to roast level based on their taste preferences.
However, using the pour-over method highlights the subtle flavors of the coffee, so some experts will recommend using a light roast for this brew. Light roast coffee offers subtle fruity and floral flavors that shine through when brewed using certain methods.
A medium roast offers less acidity than a light roast with a caramelized and toasty flavor. Dark roasts, on the other hand, offer bold flavors that are characterized as chocolatey, earthy, and nutty.
Try to stick with a light or medium roast when using pour-over for your coffee. However, if you are a true dark roast fan, you may still enjoy the bolder, toasty flavors of the dark roast. Make sure you do the right grind for a pour-over brew.
Whole Bean
While the pour-over method requires ground coffee, it is always better to purchase whole beans and grind them at home. Grinding your own beans not only gives you fresher coffee but also gives you control over the grind size and consistency.
If you have a proper burr coffee grinder, you can expertly grind up your beans to the right size and consistency before you brew your coffee.
FAQs
What is the best grind size for pour-over coffee?
When you are brewing your coffee using the pour-over method, you should use a medium to fine grind to get the best results if you are using a cone-shaped pour-over setup. Otherwise, you should use a medium to coarse grind, which is similar to the French press grind but slightly smaller.
Does pour-over coffee contain more caffeine?
No, pour-over coffee does not contain more caffeine than other brew methods. The caffeine content depends on how much coffee you use in your brew and the type of coffee beans you are using. Arabica beans contain less caffeine than Robusta beans, so this will determine how much caffeine you are consuming.
Can you use pre-ground coffee for pour-over coffee?
Since pour-over requires ground coffee, you can use pre-ground coffee, but it is recommended to buy whole beans and grind them yourself at home. This will ensure you are getting fresh coffee for your pour-over and gives you control over your grind size and consistency.
The Best Coffee Beans for Pour-Over Coffee Goes to…
Finding a good bag of beans for your pour-over is hopefully much easier with these tasty and flavorful bean options. Remember to choose the right bean for you based on your flavor preferences while still staying open to try new flavors and roasts.
Fresh Roasted Coffee Co.'s Costa Rican Tarrazu, Medium Roast is my top pick because it is not too expensive and offers a flavorful cup of coffee. The pour-over method lets the flavors of these beans shine to perfection.