Updated: August 13, 2023 by Mary Nguyen
Let's face it, all that hype about organic coffee is hard to ignore. In fact, many coffeeholics have been lured to this "healthy" side, and going by their experiences, the extravagant claims might actually be true. But how can you be sure that what you buy qualifies as the best organic coffee beans?
It takes blood, sweat, and tears to earn that coveted Certified Organic badge. Only a few brands have it. The majority don't, so you have to be diligent about checking. Later in the guide, I take you through what organic is all about and how to spot the bad apples.
In the meantime, let's check out what I found to be the most organic whole bean coffees with well-deserved badges. It took extensive research and thorough testing to settle on these ten.
TOP PICK
If not with its exquisite taste and delicate aroma, Death Wish Valhalla Java Whole Bean Coffee will win you over with its after-effects. You have a healthy, smooth, rich brew with a sweet, chocolatey, nutty taste that's sure to awaken your inner strength. And should you fail to experience all that, Death Wish assures you of a full refund.
The Best Organic Coffee Beans Reviewed
If names were right, then these beans would be a problem. Death Wish? Surely, that sounds like aggressive coffee, right? But what you get from these beans is the exact opposite: inspiration, an elevated mood, great feelings, and above all, wonderful coffee filled with nutty chocolate notes.
Key Features
Sourced from Indonesia and South and Central America
Dark roast coffee
USDA and Fair Trade certified
Here's a fun fact about the Valhalla Java: It was made for Legendary guitarist Zakk Wylde, and he fell in love with its heavenly aroma and intense flavor. However, the cherry on the cake is how the brew made him feel: fresh, energized, empowered, and ready to conquer the world.
The experience is nothing less even for the average coffee enthusiast. Right from the first sip, you will feel proud holding a smooth and rich drink that doesn't even need sugar or cream to be complete.
Pros
High-quality Arabica and Robusta coffee beans sourced from several coffee havens across the world
Valhalla Java whole beans are marked by richness and fullness of flavor
Death Wish actively takes part in activities that promote social and environmental awareness
Sweet, chocolatey, and nutty with a smooth finish
Full refund in case the beans fail to impress you
Low acidity level, making it more healthy and vibrant
Cons
Right now, Death Wish Valhalla Java has thousands of positive ratings. In fact, it has the highest ratings I have ever seen for organic whole beans. Coffeeholics worship its greatness, and you wouldn't be wrong to follow suit. It's no doubt the healthiest and best-tasting organic coffee.
Subtle Earth isn't just whole bean coffee. It's pure Arabica with low acid, a quality you want if you have a sensitive stomach. These beans are grown at a higher altitude to achieve the highest quality and are also shaded to minimize the use of pesticides. Talk about killing two birds with one stone! But that's not all; there's more.
Key Features
Originates from the Marcala region in Honduras
Certified organic by California Certified Organic Farmers (CCOF)
Medium-dark roast
Low acidity with a smooth finish
Swiss Water Process certified
If you think that the aroma of this coffee would be dull because of its mild flavor profile and low acidity, you are wrong. Subtle Earth coffee beans have a pleasant aroma, almost close to what you would get from almonds or baked bread. And looking at all the flavor notes it packs, the taste isn't anything short of smooth and bold.
Don Pablo doesn't just care about how their coffee is grown and processed but also the environment. In place of chemicals, they use vermiculture. They also recycle the pulp from the cherries by turning it into fertilizer.
Pros
Beans are roasted in small batches, unhurried, to intensify their flavor
Roast to order policy ensures you get the freshest coffee beans
Rich in flavor with a variety of notes: honey, milk, cocoa, caramel, and chocolate
Easier on the stomach due to its low acid levels
Despite the slight caramelization, you get a rich and deep flavor
Well-designed bag that lets gas escape, keeping the beans fresh
Cons
Some people have complained that the medium-dark roast is too strong for their taste, but the majority of buyers seem to be fine with it
Given its excellent price, this product provides the ultimate value for your money. You are guaranteed certified quality whole beans that deliver on all their promises.
Cameron's pulled out all the stops for this coffee, from ethically growing it and handcrafting the beans to roasting the output in small batches. You can feel the precision in every step. The result? Rich, dark, and smooth coffee you could use to brew that desired cup of Joe.
Key Features
Superior grade Arabica coffee beans sourced from farms deep in South America
Dark roast
Shade-grown
USDA certified
Fair Trade certified
Imagine coffee that's smooth with optimal freshness but not bitter at all. That's what you get from Cameron's roasted whole beans. Shade-grown coffee obviously conforms to good taste. But it is also loved by many because it promotes conservation.
As if that wasn't enough for Cameron's, they went the extra mile and joined the Rainforest Alliance, a movement that is all about preservation and restoration of natural forest cover.
Pros
Cameron's filters their selection of Arabica coffee beans to 10% of the best to ensure you have quality, sweet-tasting coffee
All of Cameron's coffee is sustainably grown, making them environmentally friendly
Despite being a dark roast, these coffee beans pack a punch of flavor
Small batch roasting helps to deepen the flavor
Cons
Lack of a vacuum seal limits the duration for which the beans can stay flavourful, so you have to use them as soon as possible
One thing we can all agree on is that these whole coffee beans are grown to the highest organic standards, giving them an authentic rich flavor that is free of bitterness. If that's what you wish to experience without spending a fortune, go for it.
Coffee from the Chiapa region never disappoints. Fresh Roasted Coffee Organic Mexican Coffee Beans lives up to the same promise. With your first sip, you will immediately notice its fruity flavor balanced with a fresh, delicate aroma.
Key Features
Grown in Tapachula, Chiapas, Mexico
100% Arabica coffee beans
Medium roast
USDA certified
Fair Trade certified
Medium acidity
Right after the beans are handpicked, they are taken to organic farms in Mexico where they are sun-dried to protect the flavor. They are then shipped to the US for roasting. No synthetic substances are used in any of these processes.
A full-body flavor isn't the only exciting thing to note about this coffee; the taste is distinctive, satisfying, and lingers in your mouth for longer.
Pros
Medium roasted yet flavourful with a nutty finish and notes of brown sugar and pear
Use of Loring roasters helps strengthen coffee flavor and quality while preserving the environment
Coffee beans are packed in resealable one-way valve bags to keep them fresh for as long as possible
Sun-dried and wet-processed to lock in the flavor
Cons
Even though they're light roasted, a few users say the beans taste darker in comparison to other brands in the same category with similar specifications
Take this chance to enjoy one of Mexico's finest whole beans. Order today and it will quickly be shipped to you to protect the freshness.
Picture a cup of coffee that kicks brain fog and anxiety away then energizes you and awakens your inner hero. Count on the Original Whole Bean Coffee beans to do that and more, including supplying nutrients to your body.
Key Features
Hand-harvested in Central America
Medium roast
Rainforest Alliance certified
Tested for toxins
Certified clean
When it comes to health, Bulletproof went all out. It took them over a decade to identify toxic formations that robbed the beans of their performance. Eventually, they were also able to find a reliable source of high-quality beans that delivered on their promise.
Here's the best part: You have a recipe that is filled with more than just coffee. The Original Whole Coffee Beans includes brain octane, unsalted butter, and MCT oil, all to help you take charge of your health.
As for the notes, you have more than enough, from cinnamon to sweet plum and orange. That's not to mention the cocoa hazelnut finish!
Pros
Grown in high altitude regions where the soils are rich and fertile enough to produce healthy beans
Ideal for people on a keto diet as it helps them achieve the required fat levels
Formulated to make you feel good mentally and physically
Tested for all kinds of toxins, making it safe to drink
Cons
Slightly high in calories
This isn't like every other whole coffee bean out there. These beans are more suited to enthusiasts who are passionate about their health.
Being Java Planet's best-selling coffee speaks volumes about these coffee beans. Add to that their Tampa Sustainability award, and it all becomes clear why coffeeholics love this brand and all its products, including the Colombian organic. It
Key Features
100% organic Arabica whole coffee beans sourced from Colombia
Medium-dark roast
Shade-grown
Low acidity
Fair Trade certified
Rainforest Alliance certified
Even though it's a medium-dark roast, the Columbian organic locks in the original rich coffee flavor while also letting you enjoy the full-body flavor rendered by the roasting process.
You will immediately notice the allspice and hibiscus notes, and as you continue to taste your brew, the flavor will transform into dark chocolate.
Pros
Grown in high altitude regions (around 1700 meters) to make them healthy, flavourful, and environmentally-friendly
The date the beans are roasted is printed on every bag to help you pick the freshest beans
Roasted in small batches to achieve the ultimate coffee flavor
Mild acidity but with bold flavors, making it sweet and healthy
Available on a subscription basis to ensure you never run out
Cons
If you despise dark roast, the flavor might put you off
It is worth stocking this coffee in your cabinet. No matter how you brew it, you are assured a great-tasting cup of Joe.
In case you are eager to know who the Organic Three Sisters are, here are their names: Smooth, Savoury, and Seductive.
Kicking Horse got its name from the trio of Canadian Rockies where these beans are roasted. The medium roast is a blend of light, medium, and dark roasted coffee beans. It's reassuring to know that the consistency has been dependable for over twenty-five years, only getting better with time.
Key Features
100% Arabica coffee beans sourced from Indonesia and South and Central America
Medium roast
Shade-grown
Fair Trade certified
Every coffee lover who's used these beans before will tell you about their terrific aroma: fruity, sweet, and peppered with hints of dried fruit, chocolate malt, and toasted coconut. It's so exciting to brew and exactly what you would want to wake up to.
The taste doesn't disappoint either. It's complex and well-rounded with notes of cocoa, sweet tobacco, and stone fruit.
Pros
Grown and cultivated under a canopy of shady trees to make them healthy
Roasted in the towering Rocky Mountains of Canada for a deep, delicious taste
Expect a smooth, fresh blend filled with flavor and a sweet aroma
Kicking Horse supports lots of environmental and cultural initiatives to promote conservation
Cons
Since it is a coffee blend, it is unsuitable for lovers of single-origin coffee beans
Because it's a unique blend, this is the coffee you would want to try if you are looking for something new and vibrant.
Real Good could have settled on just making great-tasting coffee like most coffee producers, but they didn't. They went the extra mile to make sure you have well-priced coffee that is also gentle on the environment.
Key Features
Single-origin coffee from South and Central America
100% Arabica
Dark roast
Suitable for any coffee brewer
USDA certified
Another thing the brand believes in is simplicity. There are no fancy advertisements and packages, just pure specialty Arabica coffee beans to spice up your morning. As soon as you open the bag, the overwhelming hints of South Asian spices will lift your moods.
Brew it and you will experience an assortment of flavors ranging from bell pepper and cedar to lemony acidity.
Pros
In addition to growing and processing the beans organically, Real Good packs them in 100% recyclable bags
Beans work with all kinds of coffee brewers
Comparatively cheaper than most of their competitors
Single-origin coffee beans that yield a bold, delicious taste
Full refund in case you are dissatisfied
Cons
Most of the complaints are shipping-related, but thanks to the excellent customer service by Real Good, nearly all of them have been effectively addressed
Considering the quality, the price makes this one of the best value-for-money whole beans you can buy.
Any coffee aficionado most definitely knows about Volcanica. My guess is you do as well. But even if you don't, this is a chance to learn about one of their best-selling beans. Ethiopian Yirgacheff is one of their most fruity and floral coffees, cultivated from special micro-lots of Ethiopia.
Key Feature
Gathered from the wild coffee trees of Yirgacheffe Ethiopia
Single-origin 100% Arabica coffee
Medium roasted
Bright acidity
Fair Trade certified
Yirgacheffe mostly earns its fame and value from the bold and sophisticated flavor. Add to that the bright acidity and lingering pleasant aftertaste, and you have the perfect gourmet experience.
The beans yield flavor notes of blueberry, blackberry, and lemon with undertones of strawberry and cinnamon.
Pros
A distinct, deep, exotic flavor
Beans are roasted on demand to ensure you always have the freshest bag
Valencia have a subscription option in case you want a regular supply of their Ethiopian Yrigacheffe
Volcanica has clear ethical and environmental standards
Cons
Relatively more expensive
Looking for the ultimate gourmet coffee experience? If so, the Ethiopian Yirgacheffee might just be what you are looking for.
One sip of a brew made from these delicious low-acid medium roast coffee beans is enough to turn you into a loyal customer. And that's not just my opinion but that of thousands of users who wake up to its delicate, pleasant aroma and super smooth chocolatey caramel flavor.
Key Features
100% Arabica beans grown and cultivated deep in the green mountains of central America
Tested for toxins
Medium roast
Low acidity
USDA certified
Rainforest Alliance certified
After harvest, the manufacturer only hand-picks the best and biggest beans of the lot to ensure you have high-end coffee beans.
Lifeboost is so confident in the beans that they extend you up to 30 days after purchase to try out the beans and return them for a refund if you are not pleased with the taste.
Pros
Grown in the shady mountains of Nicaragua to optimize nutrient absorption and richness of flavor
Sun-dried and washed with spring water to lock in the flavors and retain their purity
Low acidity makes them a healthy option for those with gastrointestinal issues
Tested for all kinds of toxins, making it absolutely safe
Cons
Fresh and delicious, this medium roast has been ethically grown and carefully processed to enhance your life. Even though it's high-priced, you get value for your money.
What to Consider Before Buying Organic Coffee Beans
First things first: What does "organic" mean exactly? You have seen it slapped on so many coffee titles by now to imply that the coffee is free of chemicals, but is that all? Let's find out.
Organic Definition
Even though what qualifies as organic varies from country to country, the defining factors are pretty much the same. Some of them include:
Methods used to grow the coffee
Methods used to process the coffee
Transportation method
Seed sources
Environmental friendliness of the farm
Back to the earlier definition of chemicals. It's true that organic also implies being free of chemicals such as pesticides and synthetic fertilizers to antibiotics. Other qualifying factors include:
That said, let's look at the most important information you should know about the term "organic."
USDA Organic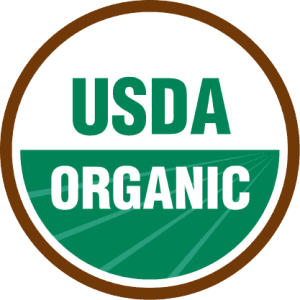 USDA organic is the certification issued to crops that are grown to specific US organic standards. It doesn't matter where the crop comes from; it has to meet these requirements for it to earn the USDA badge.
The list of allowed and banned substances is long and applies to the methods used to grow and process the crop as well as soil components. Farmers are also required to keep a clean and complete record.
Farm inspections are done every year to ensure continued compliance through designated certified agencies across the world.
Other relevant certifications outside the United States that equally matter include:
Bird-friendly certification (environment)
Rainforest Alliance certification (environmental protection)
Fair Trade (responsible brand, empowers farmers and workers, and conserves the environment)
Still, there's more for you to know before settling down on what you believe to be the best organic coffee to buy.
Acidity Level
Without acidity, coffee beans would be so flabby in taste. This is what makes it an essential quality.
However, be careful not to abuse high acidity coffee as this could lead to teeth damage, stomach burns, and a bitter aftertaste. Coffee that is low in acid, on the other hand, has minimal side effects.
Decaffeination Method
Decaf has its health benefits, and some drinkers actually prefer its taste. Do you prefer it? If so, then you should pay extra attention to how coffee beans are decaffeinated.
Some producers use chemical solvents. While they may be effective, their downside is that they are tied to so many diseases.
Enter the Swiss water process. This method uses only three things to decaffeinate coffee beans: time, temperature, and purified spring water. As you can already tell, it's chemical-free and healthy, which makes it organic.
Now, I know you are wondering what criteria to use in the case of locally grown coffee. If you choose to buy your organic coffee straight from the farmer or local coffee shop, use the same rules regardless of if the product is certified or not.
Center your questions around the chemicals used in growth and processing, fertilization methods, farm records, environmental friendliness, etc.
Frequently Asked Questions
Are Organic Coffee Beans Better?
Organic coffee has unique qualities that set it apart from its non-organic counterparts. They include:
It is grown in soils filled with natural nutrients which makes them more healthy
They taste way better than coffee grown using alternative methods since no chemicals are used
By purchasing organic coffee, you support sustainable farming methods
Can You Make Coffee with Whole Beans?
Yes, it's possible to brew a cup of coffee without grinding your whole beans, but there's a catch. Coffee beans take an incredibly small surface area compared to ground coffee, so the brewing process will automatically take a longer time.
Is It Better to Buy Whole Coffee Beans or Ground?
What differentiates the two is flavor, freshness, and scent. Whole coffee beans score high in these three areas compared to ground coffee. However, you will have to grind them properly which requires time and a bit of expertise. If you find that inconvenient, then you are better off with ground coffee.
Certified Wholesome
Hopefully, you understand all the relevant information there's to know about organic coffee and you know which one to go for based on your tastes and preferences.
One option you can never go wrong with is the Death Wish Valhalla Java Whole Bean Coffee. For the sublime coffee and an experience you will cherish, this coffee satisfies. You get the best of both worlds: Arabica and Robusta. Plus, it's one of the healthiest options in its category.
The rest of the options won't disappoint you either, so explore to your heart's content.