Updated: November 9, 2023 by Mary Nguyen
How you like your coffee entirely depends on you. However, the debate of the whole bean vs ground coffee remains one of serious concern among coffee aficionados.
It makes you wonder: does it really matter what kind of coffee you buy? It all yields the same product in the end. Well, no, actually. The type of coffee you use has a huge impact on the flavor profile and the texture of how your brew turns out.
Every coffee enthusiast will tell you that you should buy whole beans and grind them at home to get the best-tasting coffee.
Now you must be thinking, is that really true? Or is it just something people say for the sake of it?
To make sure you're making the right choice in terms of your coffee raw material, let's break it down for you.
Main Differences Between Whole Bean vs Ground Coffee
The main differences between whole bean vs ground coffee are:
Whole beans are still fresh when you purchase them, whereas ground coffee can be stale by the time it arrives at your grocery store due to the increased exposed surface area.
You can use a grinder to grind your beans to suit whatever brewing method you use, whereas pre-ground coffee can only be used for extraction methods that match the grind size.
The aroma and the flavors of fresh ground are far more superior, whereas pre-ground coffee has a subpar aroma and flavor.
With whole beans, you can control the grind to adjust the taste of your coffee, whereas with ground coffee you're stuck with the flavor you get.
I recommend you try the Lavazza Super Crema Whole Bean Coffee Blend. If you'd rather buy pre-ground coffee, I think you'd like Starbucks Ground Coffee – Pike Place Roast. Read on to learn more about them.
Whole Bean vs Ground Coffee Products Compared
While purchasing whole beans might be a better idea for a lot of reasons, it doesn't make all ground coffee bad. Here are some top choices for both categories:
Whole Beans
The Lavazza Super Crema Whole Bean blend yields full-bodied coffee with notes of brown sugar and roasted hazelnut flavors. The blend comprises an exquisite combination of Arabica and Robusta beans. It brings together the sweet notes of Arabica and the bold flavors of Robusta. A match made in heaven!
Key Features
60% Arabica, 40% Robusta
Medium roast
Caffeinated
Roasted in Italy
Taste profile: Medium light
I like this coffee for its fancy coffee vibe without needing anything fancy at all. It pairs well with milk or cream but works well black too! Be sure to grind it right, without over extracting it. As espresso beans, they're dry when you grind them and they do not clog up your grinder.
However, it could be a little underwhelming for some people. The flavor profile, albeit good, might not be as complex as some coffee drinkers prefer it.
Pros:
Consistent flavors
Non bitter
The creamy, velvety texture
No oiliness
Cons:
The Lavazza Super crema beans do a good job at producing a creamy, well-rounded coffee. It's great for people who like simple coffee without all the fancy schmancy. But for more advanced coffee drinkers, there might be better options out there.
Overall Rating: 4.6/5
Freshness is probably your top concern if you're using whole beans to make your coffee. Well, with the Eight O'clock beans, you get exactly that. It's great for those who like a bold flavor with consistency.
Key Features
Medium roast
Caffeinated
Kosher certified
100% Arabica Beans
I like that this coffee delivers well in terms of freshness and flavor. It has those notes of sweet fruitiness some coffee drinkers love, without the bitterness a lot of people dislike. Another appreciable thing is the company uses their profits to support the coffee farming community to benefit them and make the practice more sustainable.
However, even though this coffee is marketed as a medium roast, the flavors lean towards those of dark roasts.
Pros:
Fresh
Well-balanced flavors
Great for coarse grind
Works for both, hot and cold brew
Cons:
Too bold for a medium roast
Coffee addicts know a fresh coffee when they taste one, and this one brings you just that. It's bold, it's fresh, and it works well for all types of grinds! What's not to like? However, if you like a medium-light flavor profile, this might be too strong for you.
Overall Rating: 4.6/5
These 100% organic, shade-grown Arabica beans are bound to give you the best tasting cup of joe you can ask for! These can be used for a French press, pour-over, espresso, and even cold brew. Best if ground just before use.
Key Features
Caffeinated
Medium roasted
Kosher certified
Flavour notes: Tart red currant, sugar cane, and milk chocolate, with a honeyed berry body
If you're otherwise known as a coffee snob, you know consistency is key to any good brand of coffee beans. With these kicking horse beans, you're getting a deliciously rich coffee with low acidity and a smooth finish. To maximize the richness of the coffee, it's best to invest in a good burr grinder and make sure to freshly grind your beans each time.
However, it is a tad bit more expensive compared to other options in its league. And sadly, the packaging does not justify the cost. The bag isn't resealable, which can greatly impact the freshness of the coffee. So, be sure to have a good airtight storage solution at hand.
Pros:
Good flavor profile
Consistent quality
Freshness retained
No bitterness
Cons:
If you're insanely particular about the tastes of your coffee and how it turns out, you might feel at home with these Kicking Horse Coffee beans. They're consistently good; what more can one ask for?
Overall Rating: 4.5/5
Ground Coffee
If you want the signature Starbucks taste without having to go to the store or without the hassle of having to grind the beans, the Pike Place Roast ground coffee is your best bet. It's ideal for people who love a dark roasted, bold flavor but don't want to  entirely switch to espresso or French press.
Key Features
100% Arabica beans
Medium roast
Caffeinated
Notes of cocoa and toasted nuts
I like that it has that full-bodied well-roasted flavor to it. So, it tastes strong, without tasting bitter. It comes as pre-ground beans so you don't have to inconvenience yourself with a grinder.
However, it might taste borderline bitter to those who aren't used to the usual Starbucks flavor profile.
Pros:
Pre-ground
Bold flavor
Easy to brew
Cons:
The Starbucks Pike Place grounds are not for everyone but they make a mean cuppa for those with a taste of bold, strong coffee. Some even say it's the best Starbucks flavor there is!
Overall Rating: 4.7/5
Love the coffee at Dunkin's but can't afford to get it every single day? Fret not! Their original blend of ground coffee is here to save the day. And fortunately, the coffee tastes pretty similar to what you get at the store … given that you're brewing it right.
Key Features
Medium roast
100% Arabica Beans
Caffeinated
Original flavor
Somedays, you just crave moderation and want a coffee that's not too overwhelming or underwhelming but just plain ol' good. This is what this ground coffee yields. People who like Dunkin's coffee claim it's the best coffee they'll ever have, and that might be true once you get a hang of their well-balanced flavor.
However, being pre-ground does alter the flavor and freshness of coffee over time. You might notice a progressive deterioration in flavor as time goes by.
Pros:
Smooth tasting
Less acidic
Great for cold brew
No bitter after-taste
Cons:
Flavour dilutes over time
Might be too light for some
If you like coffee but don't necessarily like the bitterness, this Dunkin's pre-ground original blend might be great for you. It's nothing too extraordinary, but great for an everyday drink.
Overall Rating: 4.7/5
Made with 100% organic Arabica beans sourced from Hawaii, this ground coffee is exactly what you need to get hooked onto caffeine. It comes in a variety of flavors; caramel crunch and vanilla macadamia nut as fancy options, plus a dark roast and medium roast variety for the routine drinkers.
Key Features
5 flavors to choose from
Caffeinated
100% Arabica beans
Harvested using sustainable farming practices
Drinking coffee solely for the flavor isn't all that uncommon. For a delicious, fragrant cuppa, these grounds are perfect. It makes great-tasting coffee that you keep coming back for. The flavored ones taste just right, without the artificial feel some flavored coffees can have.
However, being sourced from Kauai, they can grow stale by the time they reach you.
Pros:
Good variety
Great taste
Sustainable farming
Cons:
Can lose freshness over time
Uses artificial flavors
If the taste is your first priority when it comes to coffee, these Kauai coffee grounds are hands-down the best. Flavor-wise, it doesn't get any better than this. It can lose its freshness pretty quick, but you might just finish a bag by the time it does.
Overall Rating: 4.5/5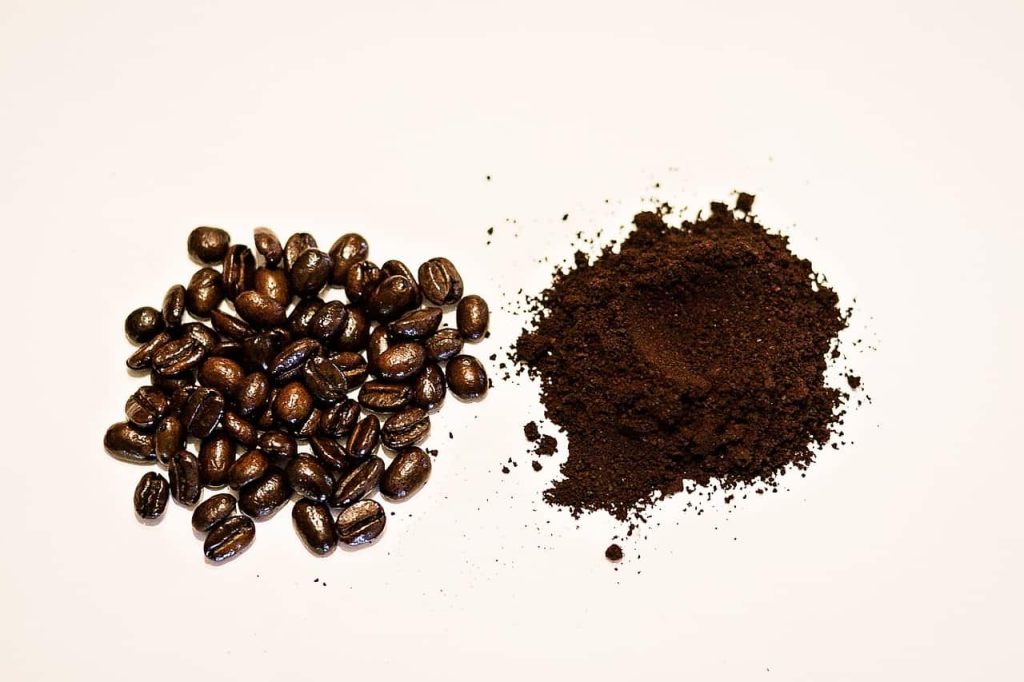 Factors to Consider When Choosing Between Whole Bean vs Ground Coffee
When choosing between whole coffee beans and pre-ground coffee, here are some factors to consider:
Freshness
The freshness of your coffee raw material greatly determines how it tastes. Fresh coffee will hold its true flavors while old coffee can grow rancid and stale due to environmental exposure. Since the bean has less surface area exposed, it ages less rapidly while pre-ground coffee is more likely to grow stale.
Winner: In terms of freshness, whole beans are ideal!
Affordability And Convenience
In terms of pricing, a bag of whole coffee beans and ground coffee might cost similarly. However, you need to invest in equipment to properly grind your coffee, thus increasing the cost. And let's not to mention the costs that go into maintaining your grinder.
Winner: Ground coffee might be better for your wallet and your time.
Flavor
This is usually dependent on personal preference. But if you're a true coffee snob, you know the unique flavor profile that comes from freshly ground coffee is unmatched. Plus, you can alter the type of grind to alter the taste of coffee to get what you want.
Winner: Whole beans all the way!
FAQs
Is ground coffee the same as whole beans?
In theory, yes. However, ground coffee comes pre-ground from the factory/store while whole beans are freshly ground before you brew it, making it fresher.
Is whole bean coffee more expensive than ground?
Typically, a bag of each cost similar. However, high-quality whole beans tend to be more expensive.
Is coffee made from whole beans healthier?
Since whole beans retain more freshness, they have a higher amount of antioxidants. They're also less likely to suffer environmental damage, making them somewhat healthier.
So, Which One Will You Choose?
When it comes down to choosing between the two, it is really a matter of personal preference.
While whole beans might be a better choice for a superior flavor and retained freshness, it might not be the right choice for everyone.
For some, a good cup of coffee is just their daily dose of caffeine. In which case, they might not consider it worth their time to grind fresh coffee every day. They'll be alright with getting what they want from pre-ground coffee.
While for most coffee snobs, the right flavor makes all the difference. So they can't imagine making stale or rancid coffee.
A lot of people also lack the time and patience required to grind fresh coffee every single day.
That being said, both whole beans and ground coffee have their pros and cons. It's important to figure out which factors matter more to you and which ones you can compromise on. Remember, there is no right or wrong choice here!