Updated: November 11, 2023 by Mary Nguyen
On a hot summer's day, there is nothing quite like an ice-cold brew to satisfy your caffeine craving. Because making your own cold brew is so easy, there isn't much point in buying an expensive one from your local barista — if you have stashed the best coffee for cold brew at home.
Drinking your coffee cold offers a refreshing beverage while still enjoying the rich flavor you love so much. Choosing this brew method also creates a sweeter-tasting coffee. While the cold brew method does require long extraction times, it also leaves the bitter taste behind in the grounds instead of in your cup.
This less acidic drink will be easier on your stomach as well, while maintaining the strong coffee flavors. So why don't more people enjoy delicious cold brew coffee at home? Most people I talk to say cold brew is too watery and, sometimes, even bitter.
Since I already explained that this method should not be bitter, what exactly goes wrong and turns a sweet, refreshing cold brew into a bitter, unpleasant drink? If this has happened to you, you may not be using the right type of coffee for your cold brew.
So, all that's left to ask is what are the best coffee beans for cold brew? Let's find out why these top six picks are my favorite cold brew coffee bans.
TOP PICK
Spoiler alert! My ultimate top pick is Coffee Bros Cold Brew Coffee Blend because I really like the chocolatey smoothness.
Here are the Best Coffees for Cold Brew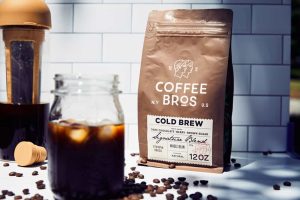 The Coffee Bros Cold Brew is a dark chocolate, berry, and brown sugar infused medium roast with a balanced flavor profile.
Key Features
Roasted To Order
Sweet And Smooth
100% Arabica Beans
Coffee Bros is one of the new and more serious coffee companies focusing on ensuring every roast brings out the maximum flavor without any burning or bitterness. The chocolate and brown sugar flavor notes are the perfect choice for a smooth refreshing cold brew.
Pros
Always Freshly Roasted With Roast Dates
Beans And Roast Chosen Specifically For Cold Brew
Has A Nice Chocolatey Sweet Finish
Resealable Bags
Cons
Only Medium Roast Available
They Don't Sell Pre Ground Beans
Coarsely grind your coffee with a coffee grinder then add one part coarsely ground coffee to four parts room temperature water. Stir, cover, and steep for up to 24 hours before straining with a filter to make a cold brew concentrate.  Add one part concentrate to three parts water or milk for a refreshing cold brew.
Enjoy rich Columbian flavors with this supremo dark roast coffee. The label explains that the beans are the highest quality from Columbia, full of well-balanced flavors and slightly sweet and bold flavors without much acid.
Key Features
16 oz natural kraft bag
Supremo dark roast
Resealable bag
The beans are freshly roasted in Brooklyn to guarantee fresh flavors and the roasters specialize in small-batch roasting. This artisanal coffee is then ground into a coarse grind and packaged in a three-layered foil-lined bag to keep the grounds as fresh as possible.
Pros
Freshly roasted
A smooth and bold blend
Coarsely ground
Ethically sourced beans
Fair-trade coffee beans
Artisanal roaster
Cons
Very bitter if brewed for hot coffee
Could be a bit pricey
Enjoy the taste of Columbia with these locally roasted, artisanal beans, perfect for your cold brew.
The Java House liquid pods are great for both warm or cold brews. Simply pop a pod into your Keurig for a smooth hot beverage or tear open the pod and mix with cold water. You can have it both ways with the Java House dual-purpose pods.
Key Features
Single-use pods
Decaf coffee
100% Arabica beans
The pods are packed full of flavors producing a fruity blend without any bitterness. The blend consists of hints of cocoa, walnut, and molasses. The 100% Arabica beans are perfectly steeped in small batches to provide optimal flavors for your cold brew.
Sometimes decaffeinated is the way to go if you've had too much caffeine for the day already. These pods are your solution! However, they do come in a caffeinated variation, too.
Pros
Dual-purpose pods
Easy-to-use
Short brew time
Inexpensive
Cons
Might be a bit weak for some
Small pod size
Enjoy a smooth brew with these simple dual-purpose pods. You won't have to wait hours for your coffee to brew, as it has already been done for you. Simply peel back the tab, pour it over ice, add water, and enjoy.
If you don't have a Keurig, you can still make decaf cold brew with our picks for the best decaf coffee beans.
Kicking Horse offers a medium roast delight with these whole beans that are sourced from Africa and Central and South America. Kicking Horse is committed to roasting quality coffee and sourcing beans that are grown in an environmentally and socially responsible manner.
Key Features
Whole beans
Climate pledge-friendly
Medium roast
The beans can be ground with a good quality burr grinder and brewed using a French press, pour-over, drip machine, espresso, or your icy cold brew. The flavor profile includes sugar cane and milk chocolate notes with a tart red currant and honeyed berry flavor.
Pros
Certified organic
Fair-trade
Brew cold or hot
Kosher beans
Cons
Not roasted locally
Could be less fresh due to shipping distance
Drink up the Kicking Horse coffee without any guilt as the beans are 100% certified organic, fair-trade, shade-grown, and Kosher. The beans are roasted in the Rocky Mountains and shipped to you full of bold and delicious flavors.
You can also try their dark roast and decaf variations if you would like a stronger coffee or a decaf drink for the evenings.
Cold Brew Lab is all about quality, and this is why their coffee is USDA organic certified and free of chemicals. You will receive a freshly roasted bag of a proprietary blend of medium and dark roasts to create a smooth cold brew coffee with well-balanced flavors.
Key Features
Custom-crafted specifically for cold brews
100% organic Arabica coffee
Proprietary roast blend
Cold Brew Lab is located in the heart of New York and offers a signature cold brew roast designed for your chilled coffee needs. You can choose between pre-ground beans or whole beans to grind them freshly at home. Either way, the beans are just right for the long brew times of your cold beverage.
Pros
Whole beans and extra coarse grind options
Low-acid levels
Speciality-grade
Columbian Supremo
Roasted and shipped from New York
Cons
Packaging is a bit flimsy
Pricier than othes
You can buy this full-bodied flavored coffee in different flavors such as hazelnut, pumpkin spice, chocolate mocha, and more. Enjoy deliciously roasted cold brew that is all about quality with Cold Brew Lab in New York.
The French Vanilla cold brew coffee is full of flavor with hints of chocolate and a strong French vanilla flavor for adventurous cold brew lovers who enjoy the extra flavor in their coffee. Enjoy as a sweet dessert or any time you crave a delicious caffeinated cold beverage.
Key Features
Resealable bag
Specially crafted
French vanilla flavor
Sourced from Columbia, the beans are specially crafted for cold brews. You can enjoy nutty undertones when you sip on your freshly brewed coffee with this flavored cold brew. Pre-ground to a coarse grind, they are ready to be brewed and enjoyed.
Pros
Nutty undertones
Columbia Supremo
100% Arabica
Coarse grind
Don't need to add sugar
Chocolate flavor notes
Cons
Not much information on the packaging
Few bag size options
You won't need to add anything to this coffee, as they are sweet enough to skip the sugar. Sip on a delicious cold brew after simply brewing the coarse grinds in cold water before filtering and pouring over ice.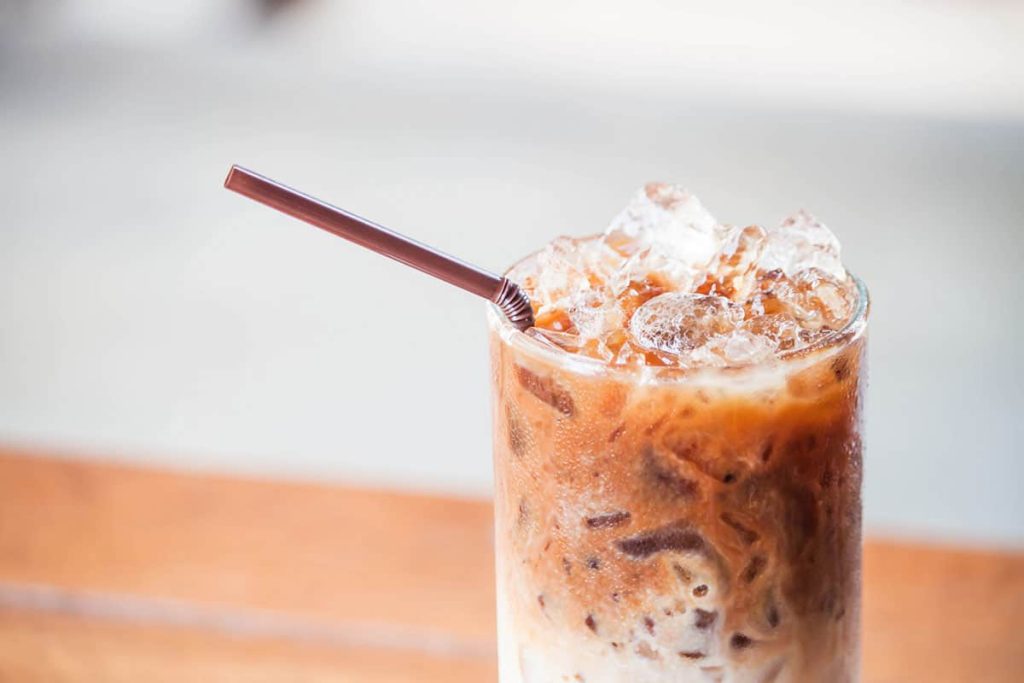 How to Choose the Best Coffee for Cold Brew
You may be wondering why a cold brew requires different beans to coffee brewed with hot water. The simple answer is two-fold: the balance of flavors and the grind size. Since the brew time is very long (12 hours, to be exact), you want to be sure you are extracting rich and bold flavors.
The grind size is the most important, as a fine grind will over-extract, resulting in an unpleasant brew that tastes gritty from all the leftover grounds. You will need a coarse grind size to reach an optimal extraction rate during the brew time.
While there are many reasons to use a quality burr grinder to grind your own beans at home, this is not always possible. Buying cold brew grounds means you will be getting the correctly sized and consistent grounds for your brew.
Price
The first thing to consider when buying the best coffee for cold brew is the cost. You should check your budget before choosing your cold brew coffee. If you plan on regularly brewing up the coffee, you will need to balance this with the amount of coffee you will be using and the price of your favorites.
Roast Level
You can use any roast in your cold brew, and you should select the roast level based on your preference. Each roast level will present you with quality flavors in your cold brew. The dark roast offers rich and earthy flavors producing a strong brew, and often comes with chocolatey or nutty flavors.
The medium roast is well-balanced with the right aromas and less bitter taste compared to the dark roast. You will need to brew this for slightly longer than the dark roast for optimal flavor extraction.
The light roast has subtle and delicate flavors that don't always come through in a cold brew. If you prefer hints of coffee rather than a bold flavor, this roast may be best for you. However, it will need the longest brewing time to extract those flavors.
Single-Origin vs. Blend
While the jury is still out on whether a single-origin or a blended coffee is best for the cold brew, this one is up to you to decide. Coffee blends are usually used in hot brews to carefully balance flavors and reduce the acidic notes.
You don't need to worry about acid or bitterness with a cold brew, so the pure single-origin coffee taste will shine through. Enjoy the bold flavors of the coffee without the bitterness. However, coffee blends can also produce great-tasting cold brews. This one is up to you, so try them both and choose what tastes best to you.
Grind Size
The grind size is the most important element to note when buying coffee for a cold brew. Due to the long brew time, the flavors need to slowly extract without over-steeping. The coarsely ground coffee beans are the perfect size for this.
If you use finely ground beans, your brew will taste too bitter. You will also get a gritty feel when sipping on your brew.
FAQs
Are coffee beans for cold brew different from normal coffee beans?
There isn't always a difference between coffee beans made for hot and cold brews. However, some companies have created specially blends for cold brews.
Apart from these specially crafted beans, you can use any grounds based on the roast level you enjoy. Just make sure you use coarse ground coffee to extract the right flavors.
How do you make cold brew coffee?
Making cold brew coffee is surprisingly easy, and all you need are your coarsely ground beans and a pitcher to brew the coffee in. Once you have chosen your ground coffee, place it into your pitcher and add water.
Depending on the bean, you may use a ratio of one to four: one cup of ground beans to four cups of water, while other coffees require a ratio of one cup to three cups of water.
Cover your pitcher and let your coffee brew for at least 12 hours. By this time, dark roasted coffee will be done, but medium and light roast may need 15 or 24 hours for optimal flavor extraction.
Filter out the grounds and pour over ice to enjoy it cold.
Is a cold brew easier on your stomach than regular coffee?
Yes, when brewing regular coffee, the heat extracts the acid that can upset your stomach if you are sensitive to acid. The cold brew method doesn't extract the acid, so in addition to the less bitter flavor, you won't be drinking as much acid as you would with a regular coffee.
Now that you are ready to enjoy some cold brews, why not find the best cold brew maker for easier brewing?
Ready to Cold Brew
Cold brewing your coffee is a fun way to enjoy your caffeine even when temperatures are soaring. You can sip on a delicious cold brew any time of the year, though, and once you find your top bean for your cold brew, you will be all set.
My ultimate favorite is Coffee Bros Cold Brew Coffee Blend with their perfectly roasted fresh beans and sweeter coffee notes.
The packaging is also important to me, so I appreciate the resealable bag that provides optimal freshness for my coffee beans.