Updated: July 20, 2022 by [email protected]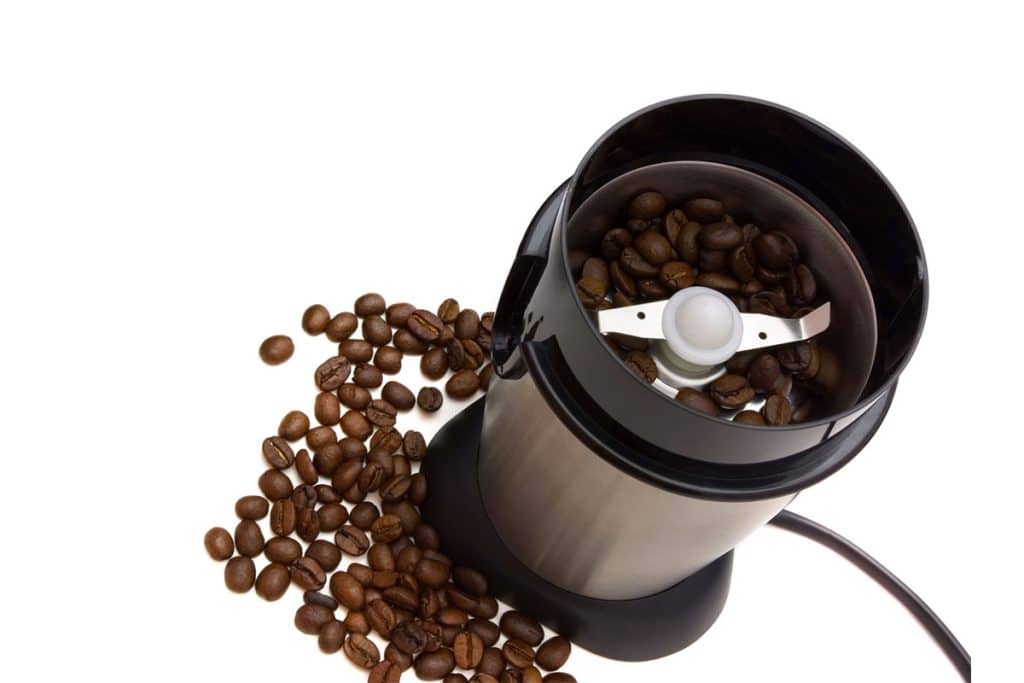 Once you've developed a taste for coffee, you'll know you can't have good coffee without good beans. And those beans have to be roasted in a way that brings out the best in them. Finally, they have to be ground to a level of fineness that is appropriate for the kind of coffee maker that you have — from espresso fine to French press coarse.
Needless to say, freshly ground is the best way to go, because once ground coffee has oxidized, it won't taste or smell quite as good anymore. Because of this, having your own grinder is an absolute must.
So if you're looking for a new grinder, read on for our roundup of the best of the best coffee grinders for you to choose from.
TOP PICK
Baratza Virtuoso+ is our top pick for the best coffee grinder. It towers over its competitors because of its exceptional performance and clever features. Every grind level delivers quality outcomes and you have a ton of features that make the grinding easier and smoother.
My Best Coffee Grinder Reviews
Small but mighty! That's how I'd sum up this Baratza grinder. It's for good reason that the Virtuoso+ has approval from the Speciality Coffee Association and coffee connoisseurs. It grinds to perfection no matter the level you choose, leaving you with consistent uniform coffee grounds, but that's not all!
Key Features
Electric conical burr grinder
Hopper Capacity: 8oz
40 grind settings
40-second digital timer
LED-backlit grounds bin
Thermal cut-off
Virtuoso+'s 40mm conical stainless steel burrs can grind beans for almost all brewing methods except cold brew and Turkish coffee. A 550 RPM motor powers it, ensuring faster grinding with no extra heat and static build-up to deal with.
The digital display and timer make brewing easier. Dial in the setting of your choice from the 40 options available, set a grinding time (between 40 seconds and 1/10th of a second), and let the machine work its magic.
An LED light illuminates the bin, making it possible for you to tell the batch size and whether the grounds are of good quality.
Pros
Enough grind settings for almost all brewing styles and to experiment with
Easy to operate even for newbies
Quiet enough not to distract or wake everyone else up
Thermal cut-off helps to protect the motor in case it starts to overheat
Large hopper for serving several people
Can be maintained the same way as commercial grinders to lengthen its lifespan
Cons
The hopper is made of thin plastic, so handle it with care
Baratza Virtuoso+ has been around for a long time, yet it remains the best-rated coffee grinder. It is an almost perfect grinder for the adventurous coffee user who wants to understand how to grind and is eager to experiment with various brewing styles.
Of all the great things about the grinder, its settings tower over the rest. There are settings to suit all the brewing styles in the coffee world, including Turkish coffee, and as the name suggests, the grinder is intelligent enough to grind the beans without you being heavily involved in the process.
Dosing iQ, the grinder's most clever feature, gives you absolute control over the dosing and grind time, making it easier for you to find the most perfect grind for your brewing style.
Key Features
Electric conical burr grinder
18-ounce hopper
60 grind settings
LCD display
Dosing iQ
The stainless steel conical burrs in this grinder can grind your coffee beans to a super-fine texture or make it as coarse as sea salt. Whatever brewing method you want to try, count on the machine to have a setting for it between its 60 options.
Even better, the grinder has presets for methods such as French press and espresso, but you may have to familiarize yourself with the rest of the settings before using them confidently.
A 450 RPM motor minimizes grinding heat while making sure the process is fast and smooth. As the machine does its job, you can have the grounds collected in a portafilter, gold-tone filter, sealable grinds container, or paper filter.
Pros
An LCD screen and clearly labeled dials make the grinder easy to use
Plenty of control over the grinding process
Tons of grind settings to experiment with for the eager coffee user
More than one option to grind your beans directly into makes the grinder versatile
Cons
The controls take time to get used to but it's nothing you can't handle
Breville is no stranger to the coffee world. They make lots of coffee appliances that are just as great as this smart grinder. If you would love a well-equipped burr grinder that's reasonably priced and an ultimate value for the money, look no further.
Hario Skerton Pro gets you fully involved in the grinding process. It may take some of your efforts away but the outcome compensates for that. Count on it to produce a uniform consistent grind for your intended brewing method in less than two minutes.
Key Features
Manual grinder
Ceramic conical burrs
3.5-ounce glass hopper
The ceramic conical burrs on this grinder can be adjusted to a fine or coarse setting, after which you can rotate its easy-fit sturdy handle to produce a grind of your choice. Baristas and average coffee users alike love it for its simplicity and speed.
It's easy to underestimate the hopper size but the interesting fact about it is that it can hold enough grounds to make up to eight cups of delicious fresh coffee. Also, most of its parts are detachable, making it easy for the user to clean and maintain.
Pros
Ceramic burr grinders make the smooth, consistent grind needed for a well-balanced brew
Great for people with families because of its capacity
Relatively affordable
Easy to adjust the settings and grind
Easy to clean and maintain
Cons
Takes a while getting used to, but once you do it will be smooth sailing
When in need of a budget grinder that can rival the expensive automatic models, this is the go-to option. It has been refined over the years, making it more effective at producing uniform grinds in a shorter time.
Fellow Ode sets itself apart from other grinders in many ways, from using flat burrs and a boxy compact stylish design to having a single dose hopper for bean freshness. It may not be as digitized as the first two options, but it gets the job done to the user's satisfaction with ease.
Key Features
Electric flat burr grinder
31 grind settings
2.8-oz hooper
Auto-stop
Single-dose grinding
Fellow Ode's 64mm flat burrs can produce ground for a variety of brewing styles, from French press and Aeropress to pour over and cold brew. Since the 31 grind settings are limited to medium and coarse levels, though, it is less versatile. For instance, it's unable to produce the finer grounds required for espresso or Turkish coffee.
The hopper on this machine may be small, but that is because you will grind the exact amount of beans you need for brewing. Your brew will therefore be fresh as opposed to making more than enough and having to use stale grounds thereafter.
Just like the other grinders, operating this grinder is as simple as loading the coffee beans and pressing the grind button.
Pros
Built from solid metal to give it a longer lifespan
Compact enough to fit in tight kitchen spaces
Stylish design makes it a perfect fit for most interiors
Easy to operate for all kinds of users
Relatively quiet grinding makes it convenient to use at home in the morning
A grinder knocker button helps you knock grounds that have spilled over back into the bin
Cons
Cannot produce grinds fine enough for espresso but you have a host of other options to choose from
The Fellow Ode Grinder's minimalist design makes it a favorite for users in need of a simple grinder calibrated for standard brewing methods.
Here's a grinder that differs from its electric counterparts in many ways, but not in performance. Expect to use some effort because it works manually, but the results won't be different from what comes out of the more expensive grinders. You also get full control over the grinding process, which is a plus if you are eager to experiment with different brewing styles.
Key Features
Manual ceramic conical burr grinder
18 manual settings
Capacity: ½ cup
The JavaPresse manual grinder uses ceramic conical burrs designed to last five times longer than their stainless steel rivals. You have up to 18 settings to choose from, and a removable hand-crank to help you prepare coffee grounds for every style of coffee.
It will take about 2-5 minutes to make enough grounds for one to two cups of coffee, a fact that makes it great for people living alone. If you have a bigger family or plan to serve several people, the grinder wouldn't be as convenient because more effort and time will be needed.
Pros
Requires less effort if you are preparing grounds for a few cups
Enough grind settings to cover the majority of brewing methods
Easy to operate for all kinds of users
Portable enough to be carried around
Easy to clean because the parts are detachable
Built-in window to help monitor the grounds
Cons
Smaller capacity makes it unsuitable for serving a large number of people
For its low price, the JavaPresse Manual Coffee Bean Grinder offers more than enough. It's the cheapest grinder on our list but just as capable as the rest at making consistent coffee grounds. If you are starting out or on a budget, this is the ultimate option for you.
How to Pick the Best Coffee Grinder for You
Even if you've got a good brand of coffee beans, beautifully roasted, you still won't get that blissful brew if they don't have the right grind. Here are some things to consider when choosing a grinder.
Type of Grinder
Two common grinder types you will see often are blade and burr. One is celebrated, and justifiably so, while the other has been on the receiving end of criticism from coffee connoisseurs and barristers.
Blade Grinders
These grinders have a rotating blade that spins to crush your beans. It works the same way a blender does, but it's not as effective when it comes to coffee beans. Blades cannot produce a uniform consistent grind.
Some of your coffee grounds will be fine while others are coarse, and this will lead to uneven extraction, eventually causing your brew to be unbalanced, bitter, or too flat. You will also need to sharpen blade grinders at some point. Even though they are the cheapest grinders, this is the trade-off. Also, the heat produced by the blades could burn the beans which will cause your coffee to have unpleasant bitterness.
I would personally just use this type of grinder fo grind spices.
You could get one if you cannot afford a burr grinder but sooner or later, go for an upgrade in order to experience balanced, delicious coffee.
Burr Grinders
Burr grinders have two revolving sharp abrasive surfaces that chop the beans into pieces to produce the grind you desire. Two kinds are available: conical and flat burrs.
Conical grinders have a v-shaped base that fits into a ring with angled edges. Beans are crushed in between them to your desired grind level.
Flat burr grinders, on the other hand, have rings that face each other and lie horizontally. Beans drop between the rings where they are ground before being released into a hopper.
Even though experts argue that the two have varying levels of effectiveness, the bottom line is that both make consistent uniform grounds, no matter the level. They may be big and loud, but that's the price you have to pay for great-tasting coffee.
It's therefore not surprising to see that burr grinders generally cost more than their conical counterparts. You may be paying more but the quality of grind compensates for that.
Check out our roundup of our favorite burr grinders here.
Manual vs Electric
Manual grinders are hands-on, meaning you need to face them when you have time on your hands and are full of energy. The majority resemble a pepper grinder, most often with a protruding arm on the top that has to be rotated to grind your beans.
Their biggest advantages are that they are cheaper, portable, and give you plenty of control over the grinding.
Electric grinders come in many forms. The level of control, functionality, and size varies from model to model. Have in mind your desired brewing method and preferences before settling on one.
If you're interested in a coffee maker with a built in grinder, check out our article here.
Grinder Settings
Coffee burr grinders have settings and micro-settings, but they vary from model to model. Some only have settings for the standard brewing styles while others have way more than that, catering to all brewing methods.
You have to make sure that the grinder has a setting(s) for your preferred brewing method(s). For example, espresso needs very fine grounds while other methods such as cold brew or French press work best with a coarser grind.
Blade grinders unfortunately lack grind settings. Processing your beans for longer gives you a finer grind and vice versa. It takes time and effort to fully understand how to get your desired grind.
Hopper Size
Only burr grinders have a hopper. The options on our list can accommodate between 2.8 and 18 ounces.
A larger hopper would be convenient if you have a family, coffee shop, or find yourself in situations that require you to serve more than a couple of people. Smaller hoppers, on the other hand, are great for people living alone or not anticipating circumstances where they may need to serve several people at once.
Some models will have a portafilter holder, saving you the trouble of having to delicately transfer grounds from a container into a portafilter.
Extras
Coffee grinders work in different ways.
Some have a pulse button that you have to press and hold to grind the beans. Auto-grind options are the simplest. You only press a button and the grinder works its magic. Timed grinding is the other kind that is simple. Set the time and the machine will do the rest.
Other extras include a safety lock, programmable grinding, LCD display, and touch screens, just to name a few.
All these additional features often influence the cost of the unit, so you will want to weigh available options to determine which has the most value to you.
Frequently Asked Questions
Do you really need an expensive coffee grinder?
Expensive doesn't always mean great; however, there are some expensive models that offer a better grinding experience than their cheaper rivals. From more grind settings and digitized selection to faster grinding and stylish design.
Most of the cheaper grinders operate manually and use a blade grinder, which isn't as effective at producing top-quality coffee grounds. They also take a bit longer to complete the grinding.
How long do burr grinders last?
How long the burrs in your grinder last will depend on two things: One, how well you take care of and clean the grinder, and two, how often you use it. Generally, ceramic burrs last longer than steel burrs because they are harder. Assuming you grind regularly, the former should be able to last up to 7 years while the former can serve you for around 5 years.
When should I replace my burr coffee grinder?
It's not recommended that you sit and wait for 5 or 7 years to elapse before you replace your grinder. There are several factors that could fast-track their lifespan and force an earlier replacement. Here are the signs that you should replace the burrs in your grinder:
The edges feel dull
Your machine struggling to grind
Coffee coming out more slowly
Inconsistent coffee grounds
Grounds coming out in clumps
Final Word on Coffee Grinders
Even though it costs more, the Baratza Virtuoso+ is worth every penny. Like the rest of the options, it uses burr grinders and has enough settings to match the requirements of most brewing methods. What sets it apart is the huge hopper capacity, digitized operations, and extras that elevate your brewing experience.
Before you settle on it as your ultimate choice, remember to put into consideration the factors I mentioned to you earlier. Each of the other grinders is equally capable but suited for different circumstances. For instance, the JavaPresse Manual Coffee Grinder would suit you well if you are a newbie on a budget but curious to explore various brewing styles.
All the best in your search!