Updated: September 20, 2021 by Owen Richardson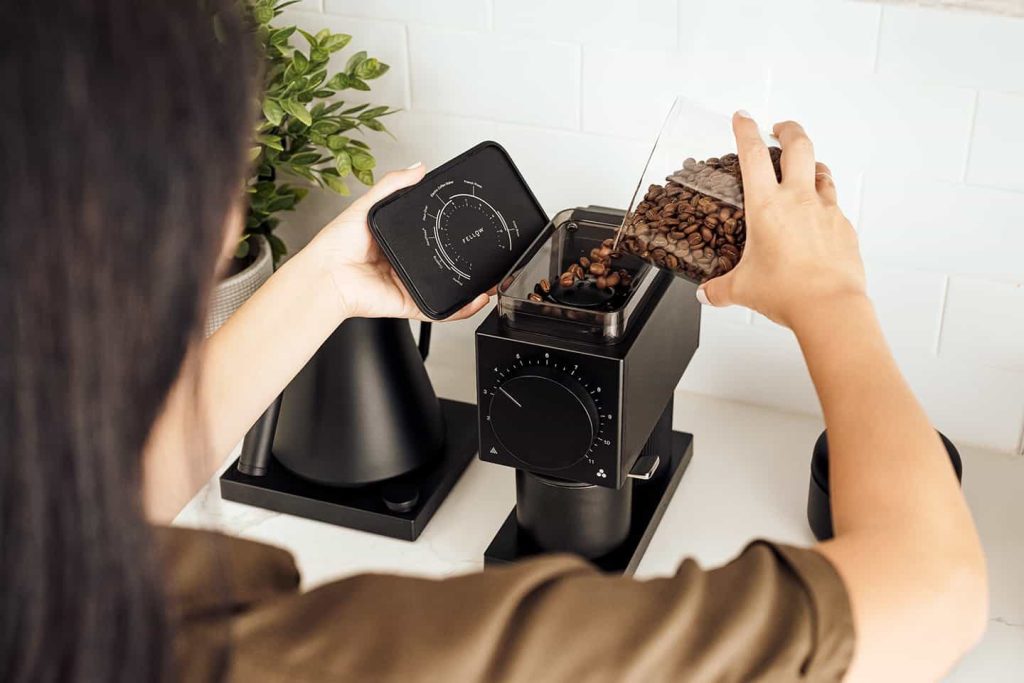 The coffee grinder you should purchase depends on your priorities. Do you want something that looks gorgeous on your countertop and makes a good ice breaker for house guests? It can certainly spur conversation the morning after a hot date! Or is silence more important?
If you prefer to wake your foggy brain with that scintillating aroma, as opposed to a loud bang and rattle, you may prefer a quieter coffee grinder. This Fellow Ode grinder review will dig into various aspects of the coffee grinder so you can see whether it suits your needs.
This review will look into functionality, features, convenience, after-sales service, and other shopping considerations. You'll also learn some of the less desirable aspects of this Fellow Ode coffee grinder. Based on looks alone, it makes a great gift for the men in your life.
Before you dig into the details, you should know this isn't the right grinder for espresso lovers. It has 11 grind settings that expand to 31 when you include the micro-steps, but the texture and consistency suits a moka pot at best; it's not sufficiently fine for true espresso.
About the Fellow Ode Grinder
Ode can only be understood better by delving further into what it is composed of. Take a look:
Material and Design
Ode is a high-quality burr grinder that has an incredibly well-thought-out design and made with high-grade materials for its components to maximize its performance, from professional-grade stainless steel burrs and aluminum body to a plastic base and load bin. Each plays a special role in streamlining the coffee-grinding process, as you will find out shortly.
What's clear on your first look at this grinder is that the Fellow went for a minimal design, with the use of a single dose hopper and a single button and giant knob for your grinding operations.
Then we have the striking aesthetics, defined by its clean lines, dull yet relaxing color, and absolutely visible adjustment settings.
64mm Stainless Steel Flat Burrs
Ode features 64 mm flat burrs made from pure professional-grade stainless steel. These burrs are big and similar to what you would find in a commercial grinder like the Baratza Forte. That would explain why  it churns out a precise particle size and delivers better grind quality and consistency in a shorter time and with minimal heat generation.
Fellow's Smart SPeed PID motor optimises the burr performance by keeping the RPM constant throughout the grinding process. From this, you get consistent grind quality and coffee that tastes sweet.
Settings
Too many grinders try to be "jacks of all trades" only to end up being masters of none. Ode took the wiser route, choosing to only focus on perfecting your daily brew i.e  French press, aeropress, cold brew, pour over and the like.
The grinder comes with a total of 11 settings. Counting the subsettings in between brings the count to 31. You can therefore vary the coarseness of your grind as you wish. Even better, there's a guide just underneath the hopper lid, complete with the numbers to use for the outlined seven brew methods.
All these settings can be accessed from its giant dial. Actually, there's only one button on this entire grinder (besides the dial) so chances of you getting anything wrong are almost zero.
Minimal Noise
What's your coffee-making morning experience like? Noisy, tedious, and just too much of a chore? Ode might just be what you need for a complete transformation. It's quiet, almost to a fault.
No more rattling from a noisy gearbox. It eliminates that and also packs a host of other noise reduction features that quiet it further, like the auto stop, which shuts the grinder off as soon as the last bean has been completely ground.
Other well-thought-out details you will find so useful include:
A magnetic base in the receptacle that ensures it sits on the right spot for perfect grinding
A steel tab that knocks extra grinds back into the receptacle, saving you from any mess
My Fellow Ode Grinder Review
The Fellow Ode coffee grinder joins other Fellow products like the Stagg kettle, Clara French press, or Carter coffee mugs. Its sleek physique is matte black aluminium, and it has a single-dose capacity of 30g (roughly 1 ounce). Odes have 64mm flat burrs and a magnetic canister.
Fellow Ode Features and Benefits
The Fellow Ode coffee grinder is an award-winning device that looks good and works great. Check out some of its key selling points:
It's Compact
Not only does the Fellow Ode have an aesthetic design that appeals to mannish (or gender-neutral) tastes, it also takes up minimal countertop space. The grinder has a linear silhouette and is less than 5 inches wide, with its height and depth staying well under 10 inches. It weighs 12.7 pounds.
It's Convenient
To work your Fellow Ode grinder, press the power button and turn the grind setting dial. That's it. No fancy features, no complex connectors—just load and go. To shake loose the grounds, you can press the 'knocker' on the side. It gives a glossy accent to your grinder.
It's Solid
You might be drawn to a modern grinder with detachable, dishwasher-friendly parts, but the Ode is cast out of a single block with beautifully balanced symmetry. Its weight is well distributed with safely rounded corners, so while it does rattle as it grinds, it won't topple.
My Opinion
I would personally purchase this grinder just because of its sleek, clean lines that look great in a minimalist kitchen. Function-wise, that massive dial is a true blessing for sleepy eyes and fumbling fingers, and the magnetic coffee canister is super useful as well.
Ode grinders are best if you want a quick single-serve to rev up your lagging mind and body.
Now for the downsides. Its protective lid isn't spill-proof, and there's a persistent humming that is heard even after it stops grinding — but this goes on only in the first week, and disappears afterward. My biggest beef would probably be the static buildup that traps and/or spits out beans and grounds.
None of these are deal breakers for most users, but it helps to know the downsides before you decide to buy.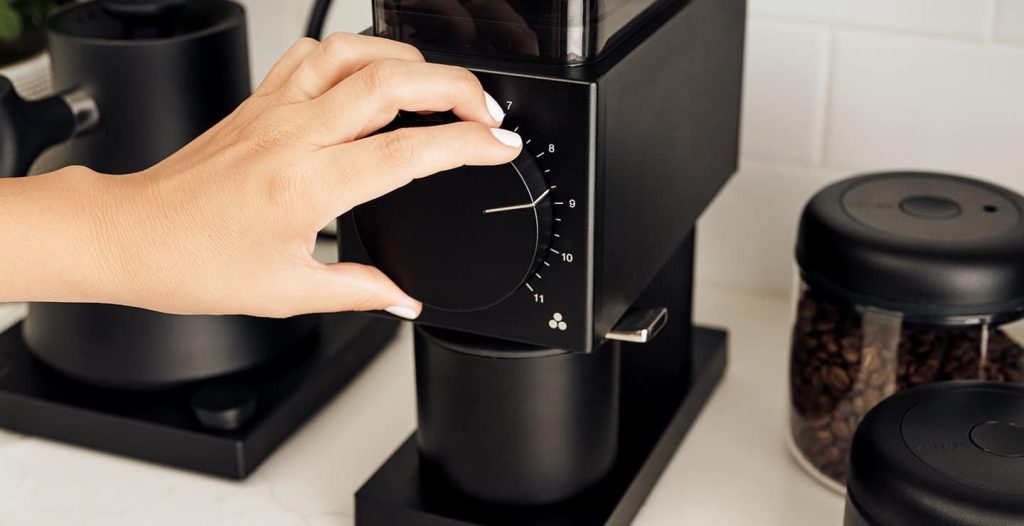 What Other Users Think of Fellow Ode Grinders
Fellow is a young brand so it doesn't have the heritage of its rivals, but it's also a design-led brand built with millennials and zoomers in mind. Here's what they love about their Odes:
The Ode is simple to use with only three controls (power, grind, knock)
It doesn't hog the countertop or wake your partner
It's a quick grinder that takes 10 to 15 seconds per dose
The matte black tone hides any greasy smudges from coffee bean juices
There's a rough grinding guide printed inside the hopper lid
The Fellow Ode brew grinder comes with a Type B plug. It's a 140W machine that needs 120V to function, and with multiple global retailers, you can have it shipped from anywhere.
A Quick Look at the Fellow Brand
Fellow was founded by Jake Miller in 2013. It began as a KickStarter project to design the brand's Duo Coffee Steeper. The company is driven by a thirst for coffee—but also exploration and collaboration. That's the ethos behind the Fellow Store + Playground.
FS+P is the brand's primary retail outlet. Visitors can experiment with variants and enjoy weekly texts from Fellow Drops.  The interactive set-up allows you to take classes, chat with coffee experts, sample featured roasters, and engage in customized coffee brewing demos.
Fellow Ode Brew Grinder Review Summery
Pros
It has a broad, sturdy base
Its design is modern, stylish, and compact
It won 2021's 'Best New Product' SCA Award
The grinder has flat stainless steel burrs
Its auto-stop kicks in when it's done grinding
The canister has 'fins' for easy pouring
Cons
Static holds coffee grounds to the sides
It's relatively expensive
Excess residue makes this grinder messy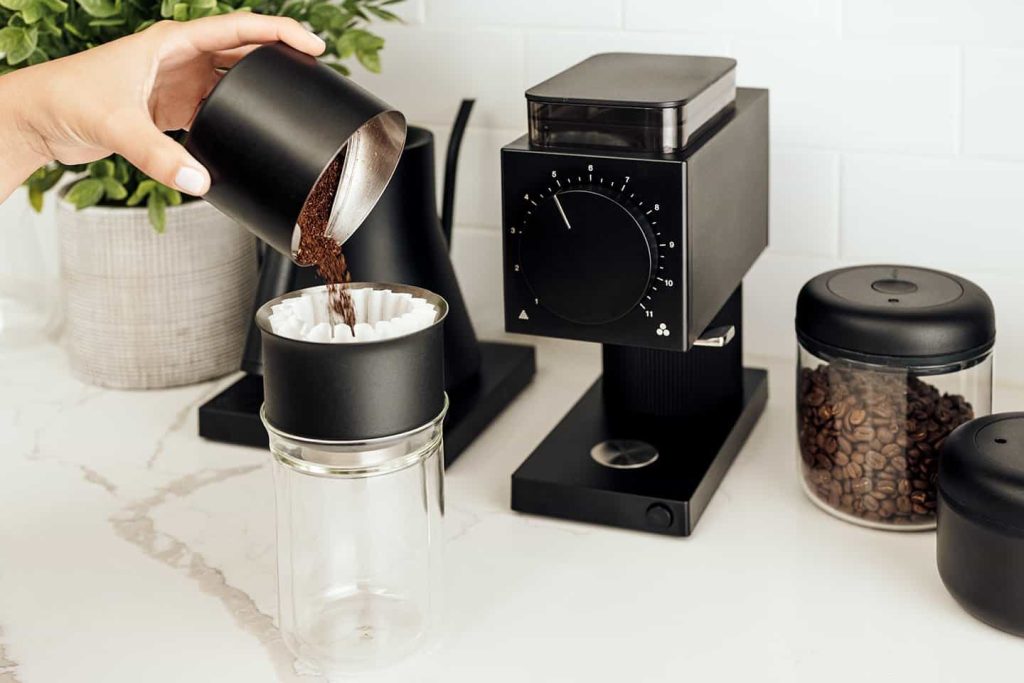 FAQs About Ode Brew Grinders
You've made it through this Ode brew grinder review, but you might still have questions. Here are a few primers; reach out in the comments if you have more!
Can I find spare parts for my Fellow Ode coffee grinder?
Yes. The website offers a wide range of replacement parts and you can order them online. You can also buy spares from many of the brand's international retailers and distributors. Some of these replacements might be covered by your warranty, so they might even be free!
Does the Ode come in other colors?
Unfortunately not, but if you want a pop of color in your coffee cabinet you can mix and match other Fellow products. Their kettles, travel mugs, and coffee containers come in various shades including clear, off-white, metallics, glossies, pastels, and rich reds or greens.
What products go well with my Fellow Ode grinder?
You can use your Fellow Ode grounds in any kind of coffee maker (except espresso) so you should get a coffee machine that suits your chosen caffeine category. Fellow offers several coffee kettles including electric and stove top models. Try their Eddy steamer if you like frothy drinks. Their Atmos vacuum-sealed coffee canisters are also a popular purchase. If you're set on espresso, grab their Prismo and pair it with an AeroPress to get finer grounds. Fellow filters are good to have as well, and you can buy them in packs of 45 to fit your Stagg.
It depends. Some coffee accessories seem designed to upsell, but the Shimmy solves one of the issues raised by the Ode. As you read earlier, the flat burrs on this grinder don't suit Turkish coffee or espresso, but if you want to sift out finer particles for your pour-over or percolated beverage, the Shimmy comes in handy. It's a lifesaver if you have a blade grinder, as it can block out some of the uneven micro-chunks for a smoother cup of coffee.
Should You Buy a Fellow Ode Grinder? The Verdict
The reason this grinder is so good is it maximizes your furfurylthiol, the sulphuric compound that gives roasted coffee its distinct scent. Because the Fellow Ode grinder only holds one dose you can only grind as much as you can drink, so you'll always have the freshest cup.
Other reasons to invest in a Fellow Ode grinder include:
Minimalist masculine aesthetics
Relatively quick and quiet grinding process
Large dial for easy grind selection
One-year product warranty
That said, as good as the Fellow Ode grinder is, 30g of grounds will only take you so far. So you may need a bigger capacity if you have a roommate (or more than one!) that matches your appetite for caffeine. Either that, or take turns running the grinder before breakfast.