Updated: August 9, 2023 by Mary Nguyen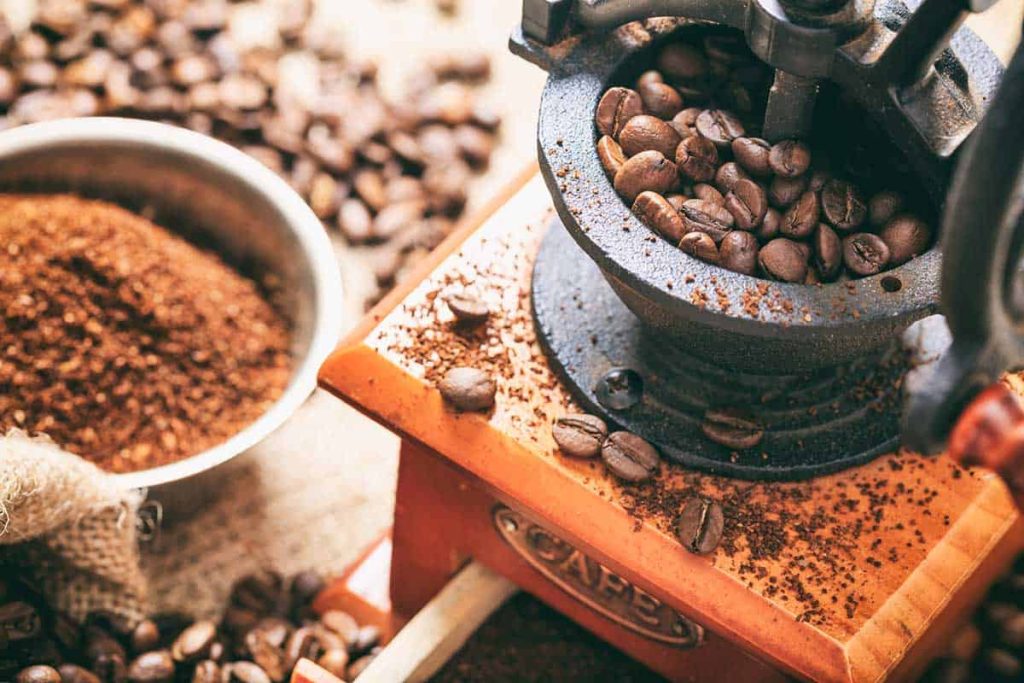 If you're reading this, chances are you're as much of a coffee enthusiast as I am! As coffee lovers, we know the true value of a good coffee grinder. The type of grind that results in the excellent brew we all love. So, the question arises, conical burr vs flat burr grinder? Which one works better?
Burr grinders are superior to blade grinders because they actually work with a pressure mechanism, resulting in a finer, more even grind. But when looking at burr grinders, which is better: a conical burr or a flat burr? It's important to choose wisely; a bad coffee grinder will result in an uneven grind, messy extraction, and ultimately: a bad cuppa.
If you're in the market for a new burr grinder and confused between the conical and the flat burr grinders, we got you covered! I have compiled my research to help you avoid getting the wrong product.
Main Differences Between Conical vs Flat Burr Grinders
The main differences between a conical burr and a flat burr grinder are:
A flat burr grinder results in a more uniformly sized grind, whereas a conical burr grinder produces a bimodal grind
A flat burr grinder is more prone to heat retention, whereas this isn't an issue with the conical burr grinder
The chances of coffee retention are greater with flat burr grinders, whereas they're less with conical burr grinders
Flat burr grinders might be noisier whereas conical burr grinders as known for a quieter operation
Flat burr grinders (like this gorgeous Fellow Ode Brew grinder) are expensive whereas conical burr grinders are more affordable
Conical vs Flat Burr Grinders Compared
Conical Burr Grinders:
If you want a coffee grinder that's consistent and reliable, this is it. It's designed with commercial-grade 40mm conical burrs and the option to choose between 40 different grind settings.
Key Features:
Small footprint
Front-mounted pulse button
Easy on/off switch
40 grind settings
Alloy steel conical burrs
This grinder is easy to use, easy to clean, and pretty efficient! It's perfect for medium-coarse to medium-fine grinds and can even work well for finer grinds if you're using the right type of beans. The noise levels are relatively low compared to other grinders.
The only problem I noticed was that it doesn't have the usual timer function. You need to figure out how long you have to run it by simply guesstimating or working from experience. Also, you need to give it time to adjust to newer settings; it won't happen instantaneously.
Pros:
High-quality construction
User-friendly
Consistent grind
Versatile grind
Easy-to-use pulse button
Cons:
No timer
Might not last long
This is a reliable coffee grinder that offers grind consistency, user friendliness, and functionality. No wonder it has such a high rating. Yes, it does have the downside of not having a timer, but it's not a deal breaker!
Overall Rating: 4.6/5
If you're a fan of classic, old-school coffee and want a manual option, this might be the one for you. It's a stainless steel manual coffee grinder with a ceramic conical burr and a built-in grind selector that lets you choose your own perfect grind size!
Key Features:
Stainless steel body
Durable ceramic conical burr
Grind selector with up to 18 click settings
No batteries or power source required
Easy to assemble and disassemble
I like that this grinder is small enough to be travel-friendly yet holds the appropriate amount of beans you would need for a couple of sessions in the aero-press.
The grind is pretty consistent for a manual grinder, plus you can easily adjust the size according to what you want with the click settings. You can find more on the recommended click settings for your desired type of grind online.
However, since it's not electrical, it's obviously less efficient. While it takes minimal effort, it does take quite a bit of time to grind. So if you don't have that kind of time to spare daily, this grinder might not be for you. Another thing I noticed was a plastic part that sits inside the conical burr that may be prone to breakage with consistent usage.
Pros:
Pretty consistent grind
Perfectly sized for personal use
Affordable
Easy to clean
Cons:
The bottom half slips easily
Time-consuming for a finer grind
As far as manual burr grinders go, I feel like this one is as good as it gets. It's lightweight, portable, and gets the job done. While the grind might not be as consistent as electrical ones, it's pretty good.
The only major drawback is the amount of time it takes for you to grind using this. The timing goes up if you're looking for a finer grind for espresso etc.
Overall Rating: 4.3/5
If you want a good, basic electrical conical burr grinder, this might be perfect for you. It features a durable 40mm stainless steel conical burr that helps create a consistent grind. You can choose from up to 15 grind settings as per your liking.
Key Features:
Stainless steel conical burr
15 grind settings
One-touch start
Can contain up to 110grams of bean at one time
This is a pretty excellent grinder that results in a super consistent grind. It's easy to choose between the size with the rotational dialer. The one-touch timer remembers your last setting so you don't have to adjust it each time.
It's also less noisy and less messy than other conical burrs, thanks to the metal grounds bin and the low RPM motor.
The timer is confusing in the sense that you don't know how long to grind to get your required quantity since it doesn't work by the usual 'number of cups'. It's also kind of tricky to clean; grounds tend to build up affecting functionality.
Pros:
Durable
Easy to use
Consistent grind
Less noisy
Aesthetic appeal
Cons:
Confusing timer
Relatively slow
This is a well-built, user-friendly coffee grinder that is nearly perfect in every sense. The timer settings might be confusing to figure out at first but nothing you can't get right after a few tries. For the price, this is as good as a coffee grinder can get
Overall Rating: 4/5
Flat Burr Grinders
If you're here solely for a good brew, this flat burr grinder is what you need. It comes with 64mm burrs that produce consistent grinds. Those are perfect for French press, cold brew, and pour-over.
Key Features:
64mm burrs
Auto-stop function
High-precision dial with 11 settings
Reduced noise
No hopper
Not only does this flat burr grinder look aesthetically pleasing, But it also performs exceptionally well. It comes with the option to choose from 11 different settings, which are divided into 31 steps to assure a highly precise grind.
In terms of grinding, it does so consistently with minimal noise. Oh, and it looks super sleek and modernistic, which is always a plus.
However, coffee retention is an issue with this grinder. It does create a bit of static during grinding too that requires additional time during cleanup since grinds might fly around the machine.
Pros:
Looks great
Efficient
Consistent grind
Highly precise grind settings
The magnetic grind cup aligns perfectly
Low noise levels
Small footprint
Cons:
Retains coffee
Not suitable for fine grind
Creates static during grinding
This grinder has been a favorite for many, and for good reason. It does an excellent job at producing a coarse grind and does so with extreme finesse, making minimal noise. The aesthetic appeal of the grinder is an added bonus. However, the cleanup post-grinding might be a bit of a hassle for some.
Overall Rating: 4.5/5
If you want to try a flat burr grinder that's easy to use and does the job well, this one's it. It features a metallic flat burr coffee grinder that allows for 12 grind settings. So you can grind coffee fine for espresso or coarse for French press.
Key Features:
Metallic flat burr
12 grind settings
Timer set according to number of cups
Can accommodate up to 8 ounces of coffee bean at once
Comes with an embedded cleaning brush
One-touch operation
I like that this grinder is built to be compact yet gets the job done pretty well. You can adjust the coarseness as per your liking, and thanks to the flat burr, you get a uniform grind each time. You can choose between 2 to 12 cups when grinding for a more accurate estimate. It's easy to use and relatively easy to clean. And lastly, the construction is pretty sturdy, and it's meant to last long.
However, the fact that you need to clean it after every session makes it kind of impractical for those short on time.
Pros:
Easy to use
Easy to clean
Consistent grinds
Portable design
Durable built
Affordable
Cons:
Needs frequent cleaning
There's a bit of static cling
For the price, this is an ideal flat burr grinder for personal use. While it might not accommodate a large capacity of beans at once, it performs quite well within its capacity. It's simple and straightforward to use and clean and is overall a great budget-friendly option.
The static client is a minor issue, not something that would shock you or affect the quality of the coffee. However, it does make the cleaning a bit of a hassle as it leaves the coffee grounds spread about on the counter and the grinder.
Overall Rating: 4.3/5
This is one of the best flat burr coffee grinders you can get if you can afford it. It features 54mm professional-grade, ceramic flat burrs for highly precise grinds. You can choose between 220 grind settings on this electrical grinder!
Key Features:
54mm ceramic flat burrs
220 grind settings
Programmable settings
Preset for up to 3 types of grinds
Metallic portafilter holder
This grinder is as high-end as grinders can be. It assures you performance, durability, and consistency every single time. It is ideal for fine grinds such as one that you need for espresso. The grind settings are easy to adjust, and you can even save them for the next time.
However, if you're looking for a coarse grind for French press, etc., this machine might not be very suitable for the job.
Pros:
Reliable
Consistent grind
Excellent fine grind
Well-built
Relatively quiet
Cons:
Slightly bulky
Poor coarse grind
Expensive
If you primarily need a coffee grinder for fine grind suitable for espresso or such, this coffee grinder is ideal. It's less noisy and easier to use compared to other grinders. The construction is solid and should easily last for a while.
However, the price is something that might not feel justified to everyone.
Overall Rating: 4/5
Criteria for Picking a Grinder
While you're buying a new grinder, here are a few things you must keep in mind.
Grind Consistency
Inconsistent grind largely affects the taste of your coffee. Since some particles are small and some are big, the large ones are left under-extracted, while the small ones can be over-extracted. This results in an off-tasting coffee that will not taste to your liking.
Conical Burr Grinder Consistency
The conical burr grinders tend to produce a bimodal grind with two distinct sizes: small and large. Although, the grind remains consistent for the most part with high-quality burrs.
Flat Burr Grinder Consistency
Flat burrs generally produce a homogenous grind, set according to your preference. This is credited to the perfect alignment flat burrs can achieve.
Winner
So when it comes to consistency, Flat Burr Grinders are a clear winner.
Coffee Retention
Leftover grinds in your grinder can be a nuisance. They not only hamper the dry-coffee weight but also contaminate your freshly ground coffee with old, stale coffee. It's important to choose a grinder with low levels of coffee retention.
Conical Burr Grinder Retention
The conical burrs are placed in a way that requires less mechanical force for the grinds to push out instead of staying in the machine, and this process is also somewhat aided by gravity.
Flat Burr Grinder Retention
A flat burr is placed in a way that ground coffee needs to be pushed out sideways and out. This requires quite a bit of mechanical energy to happen, which often grinders fail to provide, leading to retained coffee in the grinder.
Winner
Conical burr grinders win when it comes to lower levels of coffee retention.
Convenience
At the end of the day, no matter how consistent or efficient your grinder is, it will be of little use to you if you can't figure out how to use it. To avoid this, choose a coffee grinder that's designed to be user-friendly. However, it has little to do with the burr type and more to do with the overall design of the grinder.
Conical Burr Grinders
They're usually built with a low RPM motor and, as a result, tend to be less noisy, less staticky, and easier to clean up. They're also relatively less expensive.
Flat Burr Grinders
Flat burr grinders tend to heat up quickly and are known to have higher levels of retained coffee and static during grinding. This can lead to difficulty during cleanup. Flat burr grinders also tend to be expensive.
Winner
Although either burr type can do well with the right type of design, I feel that conical burr grinders are generally more user-friendly.
FAQs
Which is better? Flat burr or conical burr grinders?
Flat burr grinders are consistent in their grind but are also costlier. They tend to be messy and can overheat due to lack of proper ventilation. On the other hand, conical burr grinders do not produce a consistent grind but are comparatively cheaper, cooler and easier to use. It depends on what factor matters more to you.
Is a burr grinder worth it?
Compared to a blade grinder, a burr grinder is more effective at grinding the beans consistently, which is best for better-tasting coffee.
Conclusion
Now that we've discussed in detail the virtues of a burr grinder and the differences between the two kinds, the question remains: which one should you go for?
Well, there is no one correct answer to this. The best coffee grinder depends on what factor is more important to you.
If you're looking at affordability, ease of use, and can make do with inconsistent grind and slightly uneven grind size, you should opt for a conical burr grinder.
However, if you're using the best quality coffee beans then consistency and uniformly sized grind must be your top priority. So, if you have the money to spare, get a flat burr grinder instead.
That being said, the type of burr isn't the only thing that matters when it comes to choosing the perfect grinder. You must take into account the materials, programming, and other factors into consideration before making the final call.
Happy brewing!