Updated: August 9, 2023 by Mary Nguyen
Creating the ultimate espresso bliss at home can seem like a task best left to professionals. However, using the best coffee grinder for espresso will have you brewing the perfect shot to show off your barista skills.
While having the right coffee machine that expels high-pressure water through your ground coffee to create the ultimate espresso is essential, your coffee grinding method is just as important.
Possibly even more important since the consistency of your grinds will either give you a flavorful shot of espresso or produce a cup of bitter, disappointing water. If you use a low-quality grinder, your beans will be ground unevenly. As any coffee enthusiast will tell you, this is a big mistake to make.
You should focus on producing even grounds before you think of pouring them into your expensive espresso coffee machine. Unfortunately, no matter how expensive the machine, it won't be able to fix the problem of inconsistent grinds.
If you have wondered why you're not pulling good espresso, then take a look at best coffee grinder for espresso machines. Aside from grind consistency, I factored in price and noise level in my picks as well, so that whatever you get will be the least disruptive to your budget and home life.
TOP PICK
I really love the SHARDOR Burr Grinder for its versatility. With its 35 grind selections, you can get a consistent fine espresso grind as well as other grinds for other types of coffee and coffee makers.
Reviews of the Best Coffee Grinders for Espresso
The best home espresso grinders contain specific features that set them apart from the rest. The most important component is the grinding mechanism, and this will determine the grind consistency.
Burr grinders offer an even grind because they force each bean through the built-in burrs to create finely ground, consistent grinds. These grinders can also be customized to the grind size you desire. While most of the products I recommend here have versatile options for grind size, they all have the capacity to grind to an espresso size.
The top prize of the overall best burr grinder for espresso is the SHARDOR — the ultimate coffee grinding gadget for your kitchen.
The technical experts worked for three years to develop the best anti-static technology to reduce the mess of coffee grinds and preserve the quality of your ground coffee. The anti-static feature also prevents coffee ground waste. Enjoy seamless grinding and easy cleaning with this grinder choice.
Key Features
Anti-static technology
Built-in cleaning brush
Overheating protection
The grinder comes with a built-in brush to expertly clean the coffee machine, including the tricky burr crevices. The upper burr, grounds chamber, and bean hopper are removable for easy cleaning.
There are 35 grind settings to choose from, so you can achieve the fine grind necessary for espresso.
Pros
35 custom grind settings
Durable conical burrs
Compact size
Affordable
Quieter than other burr grinders
Cons
No grind chart included
Needs to be cleaned often
With the affordable price tag and expert grinding skills, the SHARDOR conical grinder is the perfect choice for any coffee enthusiast. Enjoy fresh and consistent coffee grounds when you brew a cup or two of coffee with this grinder.
You will have a versatile grinder at your fingertips, offering you the ultimate flexibility that extends beyond a cup of espresso. You can enjoy a French press coffee or even a cold brew with this model, too.
The OXO conical burr grinder is high on the list of top-quality burr grinders. Built with durability in mind, it offers several features to improve the quality of your coffee.
Switch between 38 different grind settings, including the perfect grind for your espresso, with this versatile grinder. The OXO grinder holds the capacity for 16 oz of coffee beans, and the grounds container holds enough grounds for up to 12 cups of coffee.
Key Features
Built-in scale
Stainless steel conical burrs
No-bean detector
This grinder contains a conical burr grinder mechanism which ensures each grind cycle produces even coffee grinds. The sizes range from finely ground for an espresso and move up to a coarse grind for a cold brew.
This model includes a no-bean detector that prevents the machine from grinding when the coffee hopper is empty, preventing an empty grind cycle. When you remove the hopper, there is a built-in trap door to prevent bean spills.
Pros
38 grind settings
Built-in overheating detector
Automatic shut off
Spillage-prevention door
Top burrs can be removed for cleaning
Cons
It may be noisy
Quite pricey
The model comes equipped with a high torque but low-speed motor to prevent the machine from overheating and reduce the chance of spoiled beans. You can choose between manual mode, cup mode, or gram mode to determine how much coffee you would like to grind.
If you are looking for a top-of-the-range grinder for your espresso, then this may be the pick for you.
This slim, sleek, and stylish coffee grinder adds a pleasing aesthetic to your kitchen counter. Offering 16 different grind settings, you can choose your desired grind, including a fine espresso grind.
The motor was built to reduce noise and static, offering you a seamless experience. You can fit up to 8.8 oz of beans in the top hopper and grind up to 4 oz of coffee grounds at a time. Choose your grind setting from a fine Turkish grind, espresso, French press, drip coffee, or even a cold brew.
Key Features
Commercial-grade conical burrs
ABS black plastic
Reduced noise, heat, and friction
The machine includes a measuring scoop and a cleaning brush to give you all you need for coffee grinding in this one purchase. You can easily clean the machine by removing the top burr and grounds container.
You can also change settings with the adjustable timer that lets you set your grind time from five to 60 seconds. The slowest grind speed offers the least friction and heat build-up to preserve the flavor of your coffee beans.
Pros
Measuring scoop included
Removable upper burr
Adjustable timer
Safety lock
16 grind settings
Cons
The grounds bin doesn't have much grip
Transparent hopper lid can be hard to spot
This espresso bean grinder is a great addition to your kitchen as it produces even grinds. If you are worried about losing the clear lid or spilling beans if you think it's open, just use a sticker to mark the lid.
The burr grinders are guaranteed to produce a consistent grind, and this model boasts a low noise level too for those early-morning—or late-night—coffee cravings.
This top-of-the-range manual hand grinder is the perfect solution for your mobile coffee needs. You can easily pack this grinder into your bag and take it along with you everywhere. Enjoy efficiently ground coffee on your trips and at home.
The adjustable hand crank grinder offers 18 different grind settings so that you can grind everything from espresso to French press. The patented ceramic burrs were tested through three quality inspections and are exclusive to the JavaPresse, providing you with an extremely consistent grind.
Key Features
Removable hand crank
90% noise reduction
Patented ceramic burrs
This manual grinder doesn't require any electricity or batteries and offers a quieter grinding option compared to any electric burr grinder.
If you live alone or often grind beans for just yourself, this option gives you an affordable solution to grind just enough for your coffee needs. You won't have to worry about using power for each grind, and you will be sure to always have freshly ground coffee.
Pros
No electricity needed
Portable
Doesn't heat the grounds
Great customer service
Cons
Requires manual grinding
Not efficient for groups of people
If you are searching for a cost-efficient solution for your personal grinding needs, then the JavaPresse is your best option. This small grinder will grind up enough coffee for your espresso without the hassle of noise or using electricity.
You will receive a quality grind with the patented burrs that are based on traditional Japanese cookware and last five times longer than stainless steel burrs.
If you want to see more hand grinders for espresso, check out this post.
Affordable, trustworthy, and durable, this espresso grinder is well-equipped for your home or office use. It expertly grinds your coffee consistently for up to 12 cups of coffee at a time. You can set your desired amount with the clearly marked settings that offer 19 grind sizes.
You will have the options to grind your beans for a range of coffee types, from espresso to a cold brew. Each grind setting offers even grounds to retain the coffee's true flavors. You can also remove the beans container, the grounds tub, and the top burr to give your machine an effective clean.
Key Features
Stainless steel burrs
Removable parts for cleaning
Safety lock
This model comes equipped with a special cleaning brush that helps clean out the grooves in the removable burr and the coffee chambers. You will have fresh coffee grounds in three easy steps. Add your favorite beans, choose your grind size and amount of cups, and press start.
The safety lock ensures the bean hopper is correctly clicked into place, and the grinder won't start unless you set this lock. The compact design fits neatly on your counter right next to your coffee machine if you have one.
Pros
19 grind settings
Easy-to-clean
Compact and stylish design
Affordably priced
Cons
Beans container may be hard to remove
Can't use it continuously for more than a minute
If you are making coffee for large groups of people, you will need to be patient with this machine. If you use it continuously for a minute, it will need a three-minute cool-down period before using it again. However, it is perfect for a family or small office, as you can grind enough beans for 12 cups of coffee at a time.
If you are looking for a machine you can set to grind,walk away from, and use the grinds a bit later, here is the machine for you. Don't wait too long, though — you will want to use the grounds at their freshest.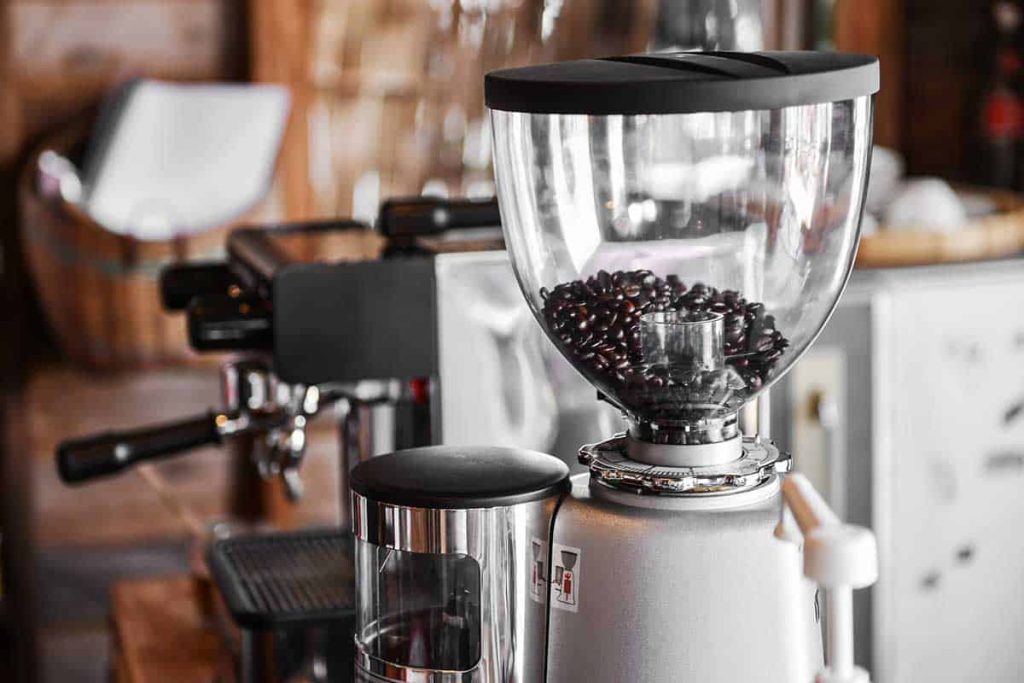 How to Choose the Best Home Espresso Grinder
Purchasing a new grinder should not be a decision you take lightly. While grinding your beans may seem like just a part of the process, the quality of your grinds will determine the taste of your brew.
While choosing between a burr grinder vs a blade coffee grinder might be your first consideration, once you choose consistency with the burr grinder, you should consider the following, too.
Price
The next thing to consider is your budget and whether you can afford a quality grinder. Burr grinders are generally more expensive than blade grinders; however, you can still find affordable burr grinders.
Choosing an option such as the manual crank grinder will give you a better grind mechanism with a good-looking price tag too. Electric burr grinders do offer convenience, yet this should be balanced with your budget.
Grind Consistency
The most important element of your grinder decision should be the grind size and consistency because this is what results in rich, flavorful coffee. Taking consistency into consideration means that you need to choose a machine that accommodates your grind requirements.
The chosen models above all offer a setting for a fine espresso grind, but if this isn't the brew type you are after, you will need to check those settings. Most grinders offer several grind settings, but not all can reach the finest grinds for Turkish coffee or coarse grinds for a cold brew.
Noise
If you live with other people, your family, or in an apartment with thin walls, you may need to consider the noise factor. Since you should be grinding your coffee right before brewing for optimal flavor, you also don't want to wake up the whole house with your early morning grinding.
Certain models offer less grinding noise; however, grinding beans will always make some noise. The hand grinder is your quietest option, but a lot of electric machines are built with quieter motors to offer these features.
Best Espresso Grinder FAQs
What grinder type is best for espresso?
When you are brewing a cup of espresso, you want to be sure your beans have been ground up consistently. To achieve this even grind, you should consider buying a burr grinder rather than a blade grinder.
The burr grinders offer a uniform grind, whereas the blades can miss some beans, creating a less even grind. This uneven grind causes the grounds to brew at different rates, resulting in bitter or sour espresso.
Do I need a specialized grinder for espresso?
No, you don't need to have a specialized grinder for espresso unless you are running a coffee shop and quality is an absolute must. A lot of burr coffee grinders offer a range of grind settings, including espresso. These burr grinders will give you great-tasting espresso due to the high-tech burr mechanisms.
Can you grind coffee beans for espresso without a grinder?
Yes, you can grind your coffee beans at home without a grinding machine. These methods require more effort on your part, and the consistency of the beans is in your hands. A machine will provide you with consistent grinds a lot quicker than the home methods.
Is a quality coffee grinder worth it?
If you are a coffee aficionado concerned about the taste of your coffee, a quality burr grinder is worth the price tag. It will ensure that you have coffee full of great flavors after every brew you make.
The Best Grinder for Your Espresso Machine…
A decent burr grinder is your solution to making a strong cup of flavorful espresso at home. You can purchase affordable burr grinders, and they are definitely worth it for convenience and consistency.
My ultimate favorite is the SHARDOR Conical Burr Coffee Grinder, as it produces consistent grinds for espresso and any type of coffee and coffee machine. It comes at a great price too.
Now, all you need to do is check out the best espresso coffee machine to finish off your coffee brewing journey, that is, if you don't already own a quality coffee maker.