Updated: August 13, 2023 by Mary Nguyen
True coffeeholics will agree with me when I say that freshly ground beans make your coffee taste as good as possible. If you want to grind your beans at home immediately before you brew coffee, you will need a quality grinder. Luckily for you, I am here to tell you all about the eight best coffee grinders under $50 in this guide!
Finding the perfect coffee grinder can be a bit difficult if you do not have any previous knowledge of these machines. There are several types of grinders to choose from – the blade, burr, disc, and conical grinders. Some are electric, while others are manual!
If you are in the market for a new grinder and you do not want to spend a lot of money on it, this guide is perfect for you. Check out the eight amazing grinders I chose for my list and go over their detailed reviews. I am sure you will find one that will fit your needs perfectly. Trust me, a good coffee grinder will forever change the way you view coffee!
TOP PICK

My top pick for budget coffee grinders is the Hamilton Beach Fresh Grind Coffee Grinder. Not only is it quick and effective, but it is also very quiet and can grind coffee beans as well as a variety of spices. Once you use it, you can easily remove the grinding chamber to clean it up.

The grinding chamber, with its stainless steel blades, can grind enough beans for up to 12 cups of coffee. This means that if you are having a party, you will not have to stand over the machine and grind beans for hours. It is honestly one of the best things that you can get for your home!
The Best Coffee Grinders Under 50 Dollars
This grinder from Hamilton Beach is one of the top grinders currently on the market. It has an amazing design, with stainless steel blades and a removable grinding chamber that you can use to grind coffee beans as well as a lot of spices.
Key Features
Hidden cord storage
High-quality blades
Large capacity chamber
The size of the chamber allows you to put around 9 tablespoons of coffee beans. With that amount of ground beans, you can make around 12 cups of coffee which is enough to last you a couple of days.
Pros
Powerful but quiet
Chamber is easy to fill or clean
Cons
Cord might be a bit short
Overall, I think this is a great grinder because it is very quiet, quick, effective, and easy to use. Once you are done grinding, remember to remove the chamber and give it a quick scrub!
Even though this coffee grinder is very small, do not let that fool you into thinking it is not powerful! This multipurpose grinder is just what you need in your kitchen to grind everything from coffee beans to salt, pepper, and other spices!
Key Features
Comes with a coffee spoon with a brush
Rapid grinding
Easy to use
Once you are done grinding, you can remove the grinding bowl and put it in the dishwasher. This means that you do not need to clean it yourself, which makes using it even better!
Pros
Non-slip base
Dishwasher-safe
Cons
If you are looking for a grinding machine that is easy to use, compact, and powerful, this is the right tool for you. I recommend that you give it a closer look!
Just like the previous two options I mentioned, this electric grinder can also serve as a multipurpose tool. It is as powerful as the previous two, but it comes at a more affordable price. In fact, this is the most affordable grinder I have on my list!
Key Features
One-touch operation
Lid-locking safety feature
Easy pulse control
When you want to grind something with this machine, all you need to do is add the ingredients to the bowl and press one button. That's it! Your ingredients will have a uniform grind that you will love.
Pros
Made from high-quality materials
Convenient cord storage
Cons
Grinding bowl cannot be removed from the unit
Simple with amazing design, high-quality blades, quiet operating, and uniform grind – you can get all of this with just this one inexpensive grinder!
This multipurpose grinder from Kaffe will help you make yourself the best cup of coffee ever. It comes with a completely transparent lid, so you can always overlook the grinding and stop it when your coffee beans reach the desired grind consistency.
Key Features
Secure lid
Extended warranty
Cleaning brush included
What I love about this grinder is that you get a free cleaning brush with it. So once you are done grinding, you can always swipe your chamber clean and keep it like that for the next time you need to use it.
Pros
Compact and quiet
Quick grinding
Cons
This is a great grinder that is available in four different colors, so you can easily choose the one that will fit in your kitchen best!
This is easily one of the most customizable grinders that you will find on the market. With this grinder, you can adjust the type of grind to fine, medium, and coarse. At the same time, you can adjust the number of cups you want to grind beans for!
Key Features
Grind and measurement settings
Removable grinding chamber
Press and pour lid
Another great thing about this grinder is the cleaning system that it comes with. After you use the grinder, you can use the chamber-maid to clean the walls. How cool is that?!
Pros
Auto shut-off timer
Cord storage
Cons
No automatic grinding option
The only bad thing about this grinder is the fact that you have to push down a button for it to do the grinding. Other than that, everything about this grinder is amazing!
Buying pre-ground coffee beans can often be a waste of money. Ground beans go stale very fast, so you might end up throwing them away if you do not use them immediately. However, you can eliminate this problem once and for all if you get this great coffee grinder from Krups!
Key Features
Preserves the aroma of the beans
Large grind capacity
Customizable grinding
The grinding blades do not work unless you have secured the lid on top of the chamber. So you do not have to fear a grinding hazard – that is almost impossible with a great grinder like this!
Pros
High quality grinding blades
Quick and efficient grinding
Cons
Cannot easily clean the grinder
This is a quality, extra-safe grinder that you can use to grind beans for any type of coffee. You will not regret giving it a try!
This is the first manual grinder that I will mention on my list, but it is one of the best grinders you will find. Not only is it made from high-quality materials, but it can also serve as a great travel companion on all your trips.
Key Features
Built-in adjustable grind selector
Completely manual operation
Built to last
This grinder has a stainless steel frame as well as ceramic burrs. This type of burr is known to be very durable, so this tool is bound to last you for years!
Pros
Lightweight, compact design
Quiet operation
Cons
Grind might be a bit inconsistent
If you are not into electric grinders, this manual grinder might be the perfect choice for you. I urge you to take a closer look at it; you will be amazed by the quality and durability of it!
Made from quality materials and with a lot of adjustable features, this grinder from Mueller is worth taking a closer look at. The company even gives a lifetime satisfaction assurance, so you can rest assured that you will have the best grinder to cover all your grinding needs!
Key Features
Precise grinding
Adjustable grind settings
SuperGrind burr grinder
There are 17 different grind levels on this machine, from extra fine to fine, medium-fine, medium, medium-coarse, and coarse. Adjust the dial before grinding and get the perfect grounds each time.
Pros
Large bean chamber
Large ground coffee container
Cons
Container might be difficult to remove
I recommend that you give this grinder a chance. If you do not like it, you can always contact the company and get a full refund!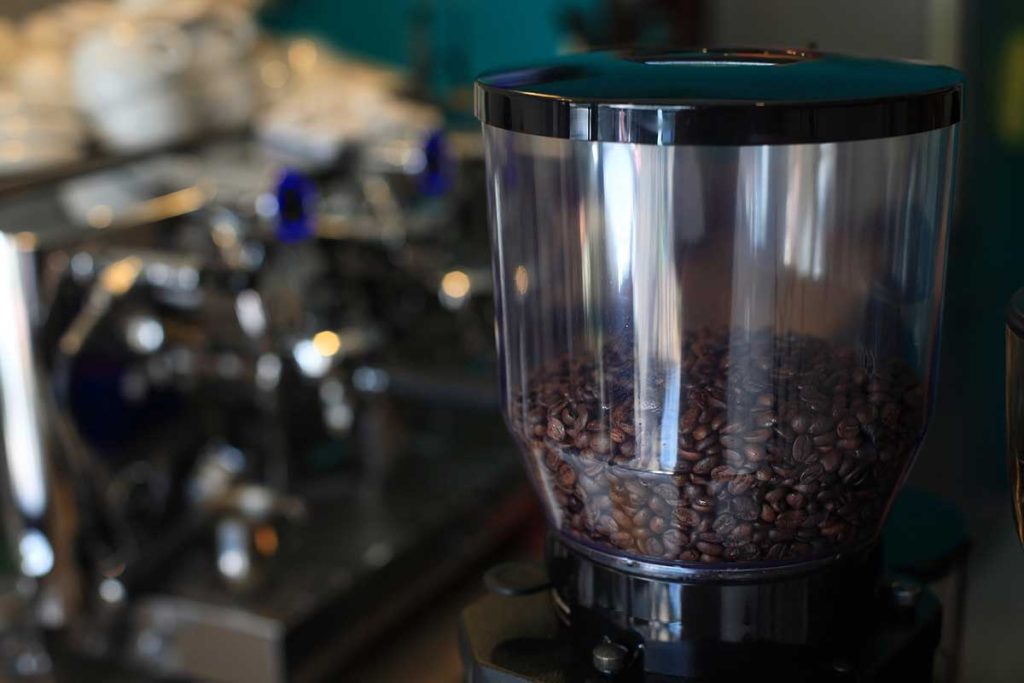 The Benefits of Grinding Your Own Coffee
When you first think about it, going through the extra trouble of purchasing a coffee grinder might not seem like the best idea. You might be thinking, why not just buy some pre-ground beans? Well, pre-ground beans go stale a lot quicker, and that will compromise the quality of your coffee!
If you want to get the most from your coffee, you should avoid purchasing pre-ground beans and you should always go for whole beans that you can grind at home whenever you want.
Coffee grinders nowadays are not even that expensive – you can find some amazing quality grinders for less than $50!
How to Pick the Best Coffee Grinder Under $50
Let's say that you are new to coffee grinders and you do not know anything about them. How do you choose one that will fit your needs and grind your beans? What do you need to look for in a grinder?
Warranty
First of all, I would recommend that you get something that comes with an extended warranty that lasts at least a couple of years. That way, you will be covered even if your grinder malfunctions.
Grinder Type
Another thing that I recommend is getting an electric grinder. Yes, there are a lot of quality manual grinders, but why go through the extra work when you can sit back and relax while the machine does the grinding for you? With an electric grinder, you will also get a more consistent grind which is always a good thing!
Burr Type
As for the burrs, you will come across burrs made from various materials, but I would advise you to get ones that are made from ceramic. These burrs are known to be the most durable, but burrs from stainless steel are also good. They might malfunction quicker, but they are a bit cheaper, so you can easily replace them.
Additional Features
Finally, I recommend that you get a grinder that comes with at least a few extra features. The features to look for are an auto shut-off option, electric timer, safety lock, high-quality containers or chambers, an LCD display to easily adjust the settings, and so on. The more features your grinder comes with, the better results you will get!
If you have a bit more than 50 dollars to spend, do check out our roundup of the best grinder options under $100.
Do You Need to Clean the Coffee Grinder After Every Use?
I would say that it is not necessary to clean your coffee grinder each time you use it. If you are like me and you drink coffee several times per day, you will be cleaning all the time! What I would recommend is that you give your grinder a thorough clean every few months.
When you are cleaning it, make sure that you are gentle so that you do not damage some of the parts. Also, check the instructions on the grinder to see what cleaning agents are recommended. I would hate for you to damage it in any way, so be extra careful!
Not Dirt, But Dirt Cheap
Well, that is everything you need to know about the best affordable grinders that you can purchase for less than $50. I recommend that you look into the Hamilton Beach Fresh Grind Coffee Grinder first because I think it is a great option.
I want to thank you for sticking with me through this guide. Let me know in the comments if you liked my selection for this list and if you have any other grinders you would like to see on it. I cannot wait to read your comments!