Updated: November 8, 2023 by Mary Nguyen
KRUPS is a well-known company that creates various types of small kitchen appliances. They might be best known for their coffee makers, but their coffee grinders should not be overlooked. In this review, I will share the top 5 KRUPS coffee grinders and tell you everything you should know about them!
From blade to burr, smaller to larger, adjustable to versatile – there are so many things that you have to think about when looking for a new grinder. My list will include all types of grinders and teach you more about the features you need to look for in each of them!
After all, getting a good grind is key to getting a good cup of coffee, so, let's look at the best grinders that you can trust to give you the most consistent grind with little to no effort. I cannot wait to get to the list, so let's jump right into it!
TOP PICK

I'm always going to pick a burr grinder over any blade grinder – the KRUPS GX550850. This model is not called "Precision" for nothing, as it gives you precision not just in the grind, but in the amount of beans that you grind.
The Best KRUPS Coffee Grinder Reviews
Now that you know the overall pick for this review article, I want to introduce you to the rest of the grinders included on the list.

With a larger size and a more complicated design, this KRUPS Precision Grinder comes with a lot of features that the rest of the grinders I mentioned so far do not have. For example, this grinder comes with flat disc burrs, a large bean container, an even larger grounds container, and a lot of other features.
Key Features
High-quality metal burr grinder
Auto-stop grinding
After you add the whole coffee beans, adjust the amount of beans you want to use and press the button to start the grind. The device will stop itself when the required amount has been ground. How cool is that?!
Pros
Various grind settings
Improved precision and performance
Easy to clean
Cons
The grinder takes up a lot of space
This grinder comes with a cleaning brush that you should use after using the grinder. Maintenance is directly connected to longevity, so take good care of the grinder if you are planning on keeping it around for a long time!
It is widely known that burr grinders are much better than blade grinders when it comes to precision, but at the same time, they are a lot more expensive as well. This KRUPS GVX212 grinder comes at a higher price than the rest of the list, but it includes a lot of great features that you will not easily find elsewhere. There are 17 different grind levels to choose from, as well as several quantity options.
Key Features
Burr grinding
Air-tight bean hopper
Safety lid
This grinder comes with two separate chambers – one for the whole coffee beans and another for the coffee grinds. Both are quite large and air-tight, meaning that the beans will not go stale if you leave them in the grinder.
Pros
Cannot overheat
Preserves coffee bean aroma
Cons
Burrs are not made from stainless steel
This is a great grinder that I suggest you look into. Some would argue that the design and overall quality are not worth the money, but I think it deserves a shot!
This ultimate super silent coffee grinder from KRUPS is essentially a 3-in-1 tool that you can use not only to grind coffee beans but also to grind herbs and spices. Instead of letting three different tools take up space in your kitchen, you can get this tool at a very affordable price and use it for all types of grinding. Believe me, the grind will always be effortless and consistent.
Key Features
Blade grinder
Vortex spin grind technology
One-touch operation
Using this grinder is very easy; all you need to do is add the ingredients or coffee beans in the grinding chamber, secure the lid, and press the button so that the tool can start grinding. The grinding will only take a few seconds, and you can also choose between the faster-but-louder grinding and the slower-but-quicker grinding!
Pros
Quiet grinding
Dishwasher safe
Large grinding chamber
Cons
The plastic parts of the grinder are not as durable as the steel body
I like this silent grinder a lot because you can use it whenever you want and wherever you want due to its lightweight and compact design. I have no doubt you will enjoy using it as well!
This grinder from KRUPS is a lot like the previous one. They have quite similar designs and are both very quiet. What makes these two grinders special is the Vortex power; thanks to this, the ingredients are drawn toward the blades which helps make the grinding easier and more consistent.
Key Features
Blade grinder
Great vortex technology
Versatile grinding
Once you are done with the grinding of your coffee beans, dried herbs, or spices, you can remove the large grinding chamber and use it as a storage container. This grinder, even though it is not as versatile as the previous one, is extremely quiet so you will be able to use it without worrying about making a racket.
Pros
Mess-free
Powerful and quick grinding
Pulse and continuous grinding available
Cons
The lid can become damaged over time.
I cannot stress this enough – this Vortex Spin technology is the best thing ever! If you are looking for an affordable tool that you can use to achieve a consistent grind, you have to look into this 3-in-1 amazing grinder!
For my last KRUPS coffee grinder review, I'll cover this Fast Touch grinder that can do both coffee and spices and is the most affordable KRUPS grinder on the list. Even though the design is a bit simpler, this grinder comes with all the features that you need to get a consistent grind!
Key Features
Blade grinder
Electric
Lid safety switch
To use this grinder, all you need to do is fill the grinding chamber, secure the lid (since the device does not work without it), then press the button and watch the ingredients turning into grinds in a matter of seconds. Thanks to the transparent lid, you can overlook the grind and stop when you have reached the desired consistency.
Pros
Large capacity
Compact and sleek design
Efficient and effective
Cons
The grinder can be a bit difficult to clean
Considering the price that it comes at, this grinder is great! It has all the basics that you would ever need, but if you do want something that will give you more control in the grinding process, I suggest you go for one of the other grinders.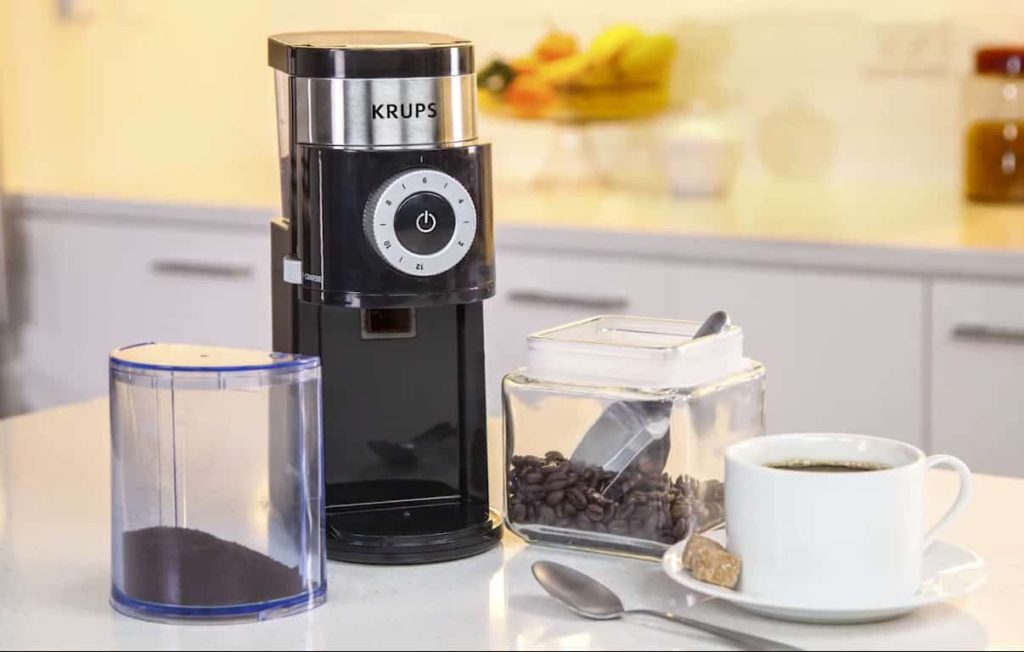 Choosing Your KRUPS Grinder
There are a lot of things that you need to look for in a coffee grinder when buying one. After looking at all these grinders, let's see how you can decide which one to get and which one to avoid!
Electric vs Manual
I always recommend electric grinders because they are easier to use and much quicker. You do not need to do any of the work, which saves effort, but using a manual grinder all the time can allow you to build up some muscles in your arms!
Blade vs Burr
Grinding blades tend to get dull quickly and they are also not as good at creating a consistent grind. Burr grinders are a bit more expensive, but they give you a uniform grind and they will preserve the aroma and flavor of the beans.
Check out our best grinder roundup here.
Cheap vs Expensive
The cheapest grinders are usually made from materials that are not that durable, and they come with fewer features when compared to expensive grinders. In an expensive grinder, you can easily find better grinding consistency; easier, quicker, and more silent grinding; larger chambers; easier cleaning; versatile and adjustable grinding; and more.
If you have the option to get one of the more expensive grinders, you probably should. You will get a more pleasant experience and a more durable grinder!
FAQs on KRUPS Coffee Grinders
Before I wrap this guide up, let's look at some questions that you might find yourself wondering about. The answers to these questions will surely come in handy at some point, so I suggest you go over them with the utmost attention.
How do you clean a KRUPS coffee grinder?
Certain KRUPS grinders come with cleaning brushes, but not all of them. I suggest that you use either the brush or a dry cloth to clean the blades, while the chambers can be cleaned in a dishwasher. Wait for everything to be completely dry before reassembling your grinder, or the drops of water might cause it to malfunction!
How long will the coffee grinder last?
On average, a coffee grinder can last anywhere from 5 to 10 years. The longevity will depend on how much you use it and whether or not you take care of it.
If you have a quality KRUPS grinder that you clean often and check for malfunctions, you should be able to use it for more than 5 years. The blades or burrs will require maintenance and possibly even replacement after a few years, but the cost to buy new ones and have them replaced is not significant.
Find the Right Krups
Thank you for sticking with me throughout this guide! I enjoyed telling you all about these KRUPS coffee grinders, how you can use them, and what you should know about them before getting one. I hope that you found the information useful and that you enjoyed reading everything.
Again, remember to look into the KRUPS GX336D50 Ultimate Super Silent Coffee Grinder if you want a really good grinder or stick with the KRUPS CCMF 1500813231 Electric Coffee Grinder if you are looking for a more budget-friendly option. Let me know in the comments which one you ultimately want to get; I can't wait to read all about it!