Updated: January 18, 2022 by Owen Richardson
Whenever I talk about coffee beans, I always recommend that people get whole beans instead of pre-ground ones because they tend to be fresh for a lot longer. Even whole coffee beans can go stale, though, if you do not store them properly. To ensure your beans stay fresh longer, you need one of the best coffee bean storage containers that I will talk about today!
A lot of people tend to overlook the storage of their coffee beans. They keep them in the original packaging even after opening it and they wonder why it is that, after a couple of weeks, the beans no longer taste the same. If you also have this problem, I am here to tell you that one of these storage containers can solve it for you!
Convenient, easy to use, with great size options, and great for preserving the freshness of the coffee beans – these storage containers can change your life. If you are ready to select one of the top 5 containers, I suggest you continue reading and let these reviews guide you to the container that fits your needs best!
TOP PICK

My top pick is the irreplaceable Veken Airtight Stainless Steel Coffee Storage Container. It is made from stainless steel that is rust-resistant, scratch-resistant, and practically unbreakable. More importantly, it has a BPA-free silicone rubber seal that'll keep it airtight and prevent oxidation.
The Best Coffee Bean Storage Options Are…
If you ask me, a storage container would have to be able to keep my ingredients as fresh as possible – and that is exactly what you can get from this amazing Veken container. It comes in two different sizes and you can use it to store anything from coffee beans to sugar, grounds, tea, flour, and so on. Also, you get to choose from one of the four color options, so you can make the container fit your kitchen decor as well!
Key Features
304 stainless steel
High-quality storage chamber
Date tracker included
One-way CO2 valve
Sometimes you can forget the exact date that you stored something in a container. That will not be the case with this container, as you can use the date tracker on the top side of the lid. You adjust the tracker and let it remember the date for you!
Pros
Convenient user-friendly clasp
Airtight seal
Affordable
Cons
Canister walls may be a bit thin
This is a great canister that comes at a very affordable price but is still quite nicely made. With the convenient size and all the great features, you should not overlook it when looking for a new storage canister!
If you are looking for something large that can fit even a kilo of coffee beans at one time, you should look into this Airscape storage container. It is the perfect storage container that can keep all kinds of ingredients fresh, not only coffee beans!
Key Features
Patented Airscape inner lid
Patented plunger top lid
Galvanized steel exterior
Non-slip bottom
No longer will you need to worry about your beans going stale. With this amazing design and that Airscape lid, no air or humidity will be allowed inside. You will find all your ingredients just as fresh as the first day you put them there, even if it has been weeks,.
Pros
Innovative airless storage
Versatile
Larger than usual size
Cons
Lid is transparent, and coffee beans are sensitive to light
The exterior may dent and scratch easily
This is a great container for everyone looking to store large amounts of any kind of ingredient. If you are someone who likes to buy coffee beans in bulk, then you need this container to go with them!
If you are looking for a container that has a sleek and modern design, then Coffee Gator's containers should be at the top of your list. These containers come in two sizes and with two color options; they are made from stainless steel and can do a great job at locking the flavor in thanks to the amazing seal on the lid.
Key Features
The container has thick, layered walls
One-way valve
Freshness tracker included
Measuring scoop included
After putting the coffee beans in the container, you should clasp the container shut and keep it closed until you need coffee beans again. There is a special valve on the container that allows the CO2 to escape without allowing any oxygen to enter at the same time.
Pros
Releases CO2 but keeps O2 out
Military-grade vault
User-friendly clamp
Cons
The container is not very stable
This is a great canister that you have to try out if you like to keep a lot of coffee beans at home. What's even better is that you can pair it with a coffee maker with the same design. How cool is that?!
Let's continue this list by mentioning yet another great storage container from a company called Mueller. This container is also made from stainless steel and is completely rust-resistant, which means that if you get it, you will be able to use it for quite a long time.
Key Features
Built-in date tracker
Degassing valve included
Stainless steel material
Silicone rubber seal and latch handle
You can rest assured that the great design of the container will prevent oxidation of the coffee beans or any other ingredients that you store in it. The airtight seal is going to help preserve the freshness of the ingredients that you can easily pour in or pour out of the container.
Pros
Multipurpose
Tight seal
Magnetically attached spoon
Rust-resistant
Cons
The magnets might not hold for very long.
Mueller advertises this container as something that you can get a lifetime satisfaction assurance on, so if you are looking for a durable container you can use for years this is the one you need.
To finish off my list, I will give you another great container — airtight, with a great matte black design! This Fellow Atmos vacuum canister is something that could look good in all kitchens. The container is available in three different sizes, so you can choose the one that you like most or the one that fits your needs!
Key Features
Airtight silicone seal
Two container materials available
Three container sizes available
No matter what material or size you go with, all these canisters come with an integrated vacuum  pump as well as UV protection. The containers from stainless steel look modern and elegant, while they can hold anywhere from 140 to 180 grams of whole beans!
Pros
Protects your coffee from air, moisture
Banishes UV rays
Attractive matte black color
Cons
Not suitable for dishwasher
If you are looking for a great canister that will guard all your ingredients, this is it! Make sure that whenever you put something in it, you put the lid on and seal it nicely so that no air can get inside!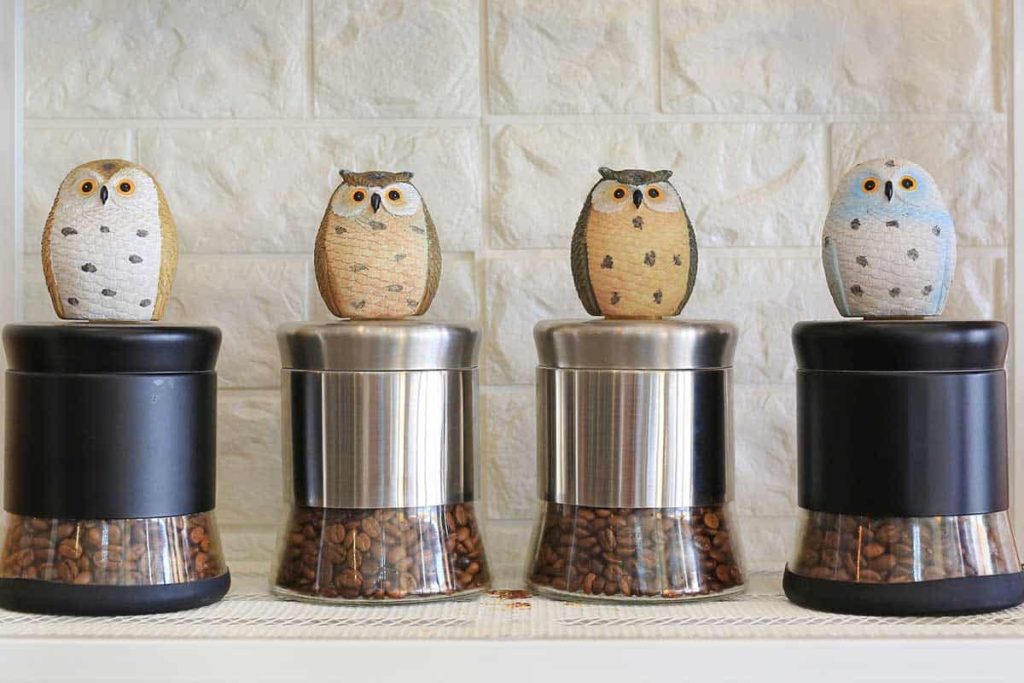 How to Choose the Best Coffee Bean Storage
Before you buy a storage container for your coffee beans, you need to know what kind of container you need. There are a few features that you should look for in a storage container, no matter whether you are planning on storing only coffee beans in it or maybe some other ingredients. Let's see what those features are!
Airtight lid – This is a must when it comes to coffee beans. If you have a container with a regular lid, chances are that some oxygen will enter the container and cause the beans to go stale, so always choose airtight lids that have a BPA-free silicone seal.
Degassing valve – This is another important feature that you can benefit from. The degassing valve releases the CO2 produced by the beans without allowing any oxygen to get inside the container.
Sturdy and durable chamber – Whether you choose a container made from stainless steel, glass, and plastic, make sure that the walls of the container are thick and durable. This is key if you want to keep using the container for a long time.
Date tracker – Another interesting feature that you can use but do not necessarily need, if you are bad at remembering dates, having a date tracker can be a life-saver. When you put the beans in the container, be sure to set the date and save yourself a lot of trouble.
These are the basic features that you need to get from a coffee bean storage container. Again, when you go to buy one such container, look for one that has all of these features. That is the best option if you want to keep your beans fresh for as long as possible!
FAQs on the Bean Storage
Before I wrap this guide up, I want to share a few other pieces of information regarding storage containers that I think will come in handy. Let's see what else you should know before you decide where to store your coffee beans!
Are mason jars good for storing coffee?
If you do not have a special storage container for your coffee beans, you can use a mason jar. You will need to make sure that the lid is secured tightly and that it does not allow air to enter the jar. Also, you should keep the jar away from moist areas, just to be sure.
Can you store coffee in Tupperware?
Again, if you do not have a special storage container for coffee beans, you can use a Tupperware container; however, this is only a temporary solution as these containers are not airtight or particularly durable. You can leave the coffee beans in the Tupperware container for only a few days until you need to put them in an airtight container if you do not want them to go stale.
Keep It Tight
That's a wrap on the best coffee bean canisters that you can get for your kitchen. I recommend the Veken Airtight Stainless Steel Container as the best coffee bean storage you can find on the market. It's very affordable and comes in various sizes and with different colors that you can choose from. It is something that you surely can use to store your favorite coffee beans!
Let me know if you liked the items I selected for this list or if you have used some other containers that you think should have been included. I cannot wait to read all your comments, so do not hesitate to share your thoughts with me!