Updated: August 9, 2023 by Mary Nguyen
In life, there are certain things that you will never try and certain things that you simply must try. Having a cup of coffee made from the best light roast coffee beans is one of those things you must try at least once in your life. However, something tells me that once you brew these beans, you would want to keep them in your repertoire!
Yes, medium and dark roasted coffee beans are quite popular because they can help make some amazing coffee. But for a truly exceptional brew, there is nothing like light roasted beans. Beans of this roast retain a lot of their natural qualities, and they give the coffee a very unique flavor.
If you have tried light roast coffee before, you know exactly what I am talking about! If you have not, you are in for a real treat. Let's check out what these light roasted coffees are all about!
TOP PICK

For this review, my top pick is the Don Pablo Subtle Earth Organic Light Roast. I love these coffee beans not only because of their amazing flavor but also because of the fact they are organic, non-GMO, and keto-friendly, vegan-friendly, gluten-free, and nut-free. The mix of Arabica beans of Honduran origin is bound to satisfy everyone's taste buds!
The Best Light Roast Coffee Beans Are
Light roast beans are perfect for everyone looking for a crisp cup of coffee with a mild roast flavor that brings out all the natural distinct tones of the sub-species and cultivar of the source plant can give. If you are ready to give these beans a chance, I would recommend that you start with some of these ten great options. Let's learn more about them!
I love it when a company does its best to give its users the best beans ever – that is exactly what this family-run company does! With Don Pablo's organic beans, you will get a cup of fresh coffee with hints of fruity sweetness.
Key Features
Sourced from Honduras
Certified organic
Slow roasted beans
Caramel and chocolate tones
Sweet finish
Another great thing about these beans is that they can be used with many coffee machines and will still give you tasty coffee. However, make sure that you get whole beans instead of ground ones – the whole beans stay fresh for a lot longer than the ground ones!
Pros
Non-GMO
Low acidity
Super flavorful
Cons
Not eligible for return on Amazon
Occasional packaging issues
There is nothing better than some fresh organic beans to make the best coffee ever. I recommend you try these beans – the sweet fruity flavor is something you will not easily find in other coffee beans.
Do not let the name fool you – this company produces coffee, not weapons! The reason for the name is because the company is owned and operated by a group of veterans who know how important it is to stay awake during the day!
Key Features
100% Colombian Excelso beans
Beans are roasted daily
Also available ground
Veteran-owned and operated
From these beans, you should expect to get a cup of strong coffee with a crisp finish. The taste notes are sweet and fruity, while the aroma is something that cannot go unnoticed by anyone.
Pros
Minimal acidity
Citrus and caramel taste notes
Crisp finish
Cons
A tad expensive
Some inconsistencies in quality
By buying these beans, you also help support law enforcement and the NRA. This company always donates part of their profit to these organizations, so buy their beans and help out our protectors!
One of the most famous coffee brands is Lavazza. Their amazing blends are used all over the world. Even though they are most known for their dark roasts used for espresso, their light roasts are just as good. Once you try out the ¡Tierra! Organic, you will see what I am talking about!
Key Features
USDA and Euro Leaf organic certified
UTZ certified
Roasted in Italy
The intensity that you get from these beans is mild, while the taste notes focus on fruity and flowery flavors. The blend is the perfect combination of Arabica beans that are grown in Africa as well as Central and South America.
Pros
Honey, malt, chocolate, floral notes
Makes espresso
Full-bodied
Sustainably grown beans
Cons
Beware of small rocks in the blend
I recommend these beans because of the amazing taste and the fact that you can use them with various types of coffee machines, from a French press to an espresso machine and even a regular coffee maker!
Keurig's Green Mountain is a great coffee company that offers a wide variety of blends available in K-Cup pods, ground beans, and whole beans. If you are keen on whole beans more than the two other options, then I suggest you try their light roast breakfast blend – it never gets old!
Key Features
Made from Arabica beans only
Certified Kosher beans
Sustainably grown
You can use just the beans to make a great cup of coffee – no need for any sugar, milk, or other sweeteners. Your coffee will have a rich taste and an even better mouthfeel.
Pros
Great aroma
Silky mouthfeel
Nutty flavor
Cons
These coffee beans from Green Mountain come at a very affordable price, so I urge you to try them out. You can also get the same blend in a decaffeinated version, so make sure to check that out as well!
Next on my list is a great little company from Seattle that has been in the coffee business for more than 30 years. Real Good Coffee has always lived up to its name thanks to its expert roasting techniques and amazing coffee bean blends!
Key Features
Completely recyclable packaging
Craft roasted beans
Blend of Arabica beans only
The beans used for this mix are of Central and South American origin. They have slight acidity which can be expected from lightly roasted beans, but they also have a sweet aftertaste that you are bound to love.
Pros
Cream, citrus, and chocolate taste notes
A lot cheaper than competitor companies
Cons
Acidity of the beans might upset your stomach
A roast unlike any other, I believe that this breakfast blend from Real Good Coffee is going to be your favorite go-to coffee for breakfast, lunch, and dinner!
One of the amazing things about Wink Coffee's light roast is the fact that they always use single-origin beans in their blends. For the light roast I am discussing today, the company uses Arabica beans from Colombia that are sent to the US to be fire-roasted and distributed.
Key Features
Single-origin beans
Small batch roasting
Suitable for several brewing methods
The beans you purchase from this company will always be as fresh as possible. This is all because of the high-quality beans and the traditional roasting techniques used.
Pros
Beans come in airtight packaging
No inconsistency in the taste
Citrus, nut, and chocolate notes
Cons
Beans could be a bit oily
Even though these beans are very affordable, they could compete with some of the expensive, well-known beans on the market. This company has done its job right!
If you are looking to buy light roast beans that taste as sweet as possible, then this is the perfect blend for you. This signature light roast from Coffee Bros. consists of mixed Arabica beans from Ethiopia and Colombia to provide the most incredible cup of coffee ever.
Key Features
Honey, citrus, and floral taste notes
Small batch roasted
This company was initially founded a few years back by two brothers. Over the years, they have come up with several great blends, all of them from high-quality beans.
Pros
Airtight, resealable packaging
Sustainably grown
Great flavor
Emphasis on freshness
Cons
For every order that the company gets, they donate part of the profits to an organization called One Tree Planted. Since planting more trees is so important, I urge you to make your order with the company right now!
Now, let's talk about one of the least expensive coffee beans on the market. These beans come from a company called Kicking Horse. Their Hola light roast is amazing in taste, sustainably grown, organic, and Fairtrade – what is better than having beans like these?!
Key Features
Mixture of beans from Central and South America
Kosher-certified
Organic-certified
Also available as ground beans
This coffee tastes and smells amazing. The aroma resembles cocoa and nougat, while the taste is similar to honey.
Pros
Cocoa, nougat and some citrus notes
Expertly roasted beans
Cons
Actually more of a medium roast, but still great
You will be surprised by the taste that you get from these beans – do not let the price fool you into thinking that they will not taste good!

I have to say that this blend is a bit more expensive than the rest, but if you are looking to splurge on some really good coffee, this is the perfect one for you. The reason for the higher price is the beans used – the premium Arabica beans are mixed with 10% pure Kona beans!
Key Features
Pure Kona beans included
Balanced, acidic taste
Hand-roasted beans
From this blend, you should expect to get a cup of coffee that tastes like a combination of nuts, citrus, and chocolate. The Kona beans give an interesting twist to the taste, so I recommend that you give these beans a try and see what true Hawaiian Kona is all about.
Pros
Coriander and macadamia notes
Great packaging
Suitable for various brewing methods
Cons
Slightly inconsistent quality
Sometimes, it is a good idea to spend a bit more money to get something that tastes amazing. If you are willing to spend more money on your next batch of coffee beans, then I urge you to give these beans a try!
I have not mentioned any Guatemalan blends so far, so I will introduce to you the first one. This blend comes from a company called Copper Moon, a well-known company that uses sustainably grown beans only.
Key Features
Mixture of Arabica beans only
Kosher-certified beans
Full-bodied beans
What you can expect to get from these beans is a cup of coffee that will have a spicy yet smoky character with cocoa taste notes. The beans are handcrafted and of Latin American origin. The taste is definitely out of this world!
Pros
Spicy, smoky, and chocolatey
Fairtrade
Company delivers to your home
Cons
Some beans might be medium to dark roasted
By buying Copper Moon's coffee beans, you also help a bunch of organizations like the Food Bank, Make-a-Wish, Habitat for Humanity, Conquer Paralysis Now, and Astronaut Scholarship Foundation. The company regularly donates part of their profits to charity, so it is a good idea to invest in their coffee!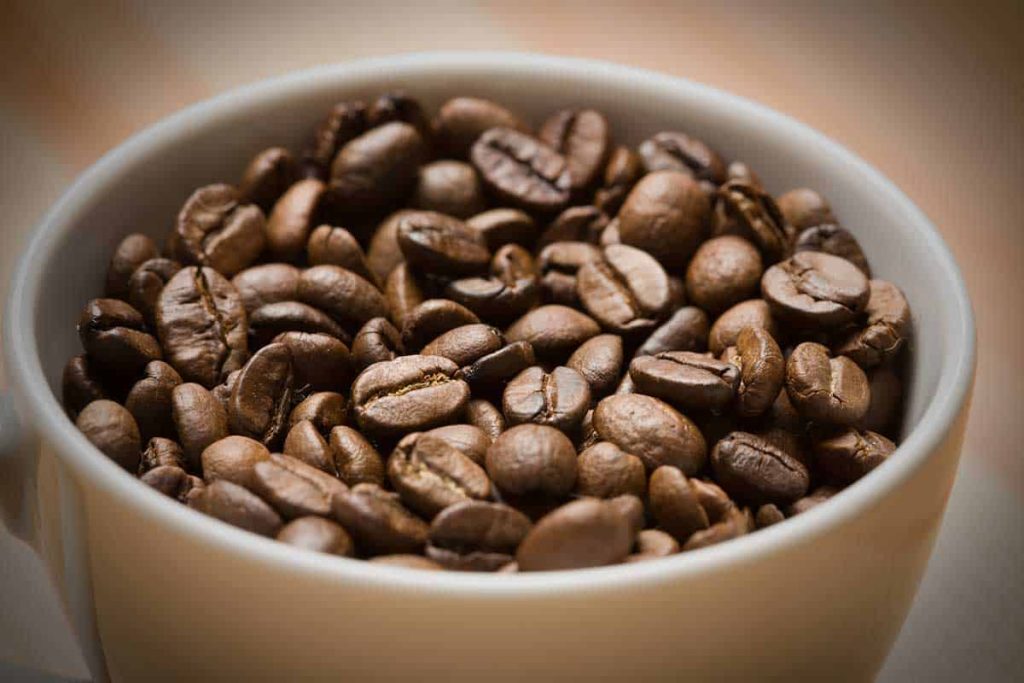 Why Try a Light Roast?
Light roast beans are known for giving the final brew a certain complexity of flavor that sometimes gets lost when beans are roasted longer. When you try these beans out for the first time, you will notice that they contain traces of floral, fruity, and sweet taste notes. The taste will be complex, but it will be the best type of complex you can think of!
On Buying the Best Light Roast Coffee Beans
Now that you know the best light roasted whole beans, you need to know how to choose the ones that will fit your taste buds best. All light roasts taste alike, meaning they have similar intensities and acidity. However, the taste notes are quite different, and that is something to keep in mind!
When buying light roast beans, you should check to see the state of the beans – if they seem too oily on the surface, that means that they are not properly roasted. Light roasted beans should be dry on the surface and should have a light brown color.
Moving on, I would like to mention that I recommend always going for whole beans instead of ground ones. This is because whole beans tend to stay fresh for longer, while ground coffee goes stale if you do not use them within a few days of purchasing them.
Even more important than all this is that you find some light roasted beans that are sustainably grown, organic, and Fairtrade. All organic beans taste amazing, but organic Arabica beans are my personal favorite and what I recommend to everyone.
You can find all of this in Don Pablo's Subtle Earth Organic Light Roast Whole Coffee Beans that are featured in the list as the best overall option. Every option featured on the list has earned its spot, but Don Pablo's beans take the cake!
FAQs on the Light Roast Coffee Beans
Before I wrap this guide up, I want to mention a few more key pieces of information that I think you will find useful when diving into the world of light-roasted whole coffee beans. Here they are:
Is light roast coffee less bitter?
Yes, when you start drinking coffee from light roast beans, you will find that it tastes a bit less bitter than that of medium or dark roast beans. The bitterness in the taste is a result of the roasting technique, roasting temperature, and the quality of the beans. So all of these things can affect the way your coffee tastes in the end!
Is light roast coffee healthier?
Light roast coffee beans contain a lot more antioxidants than medium or dark roasted beans. Since antioxidants are known to protect against quite a few health problems, it could be a good idea to drink coffee that contains them at least once in a while. If you like the taste of light roast coffee, you can drink it more often and see if it positively affects your health.
Go Into the Light Side
How do you like my choice of the best ten light roast coffee beans? I hope that you are willing to try some of them out and see why light roast coffee is becoming the new trend among coffeeholics all over the world!
As a reminder, I encourage you to try out Don Pablo Subtle Earth Organic Light Roast Whole Coffee Beans because they are overall amazing. If you happen to be on a tighter budget, you can also get the Kicking Horse Hola Light Roast Whole Coffee Beans. They come at a very affordable price, but that does not mean that the taste is compromised in any way!
Let me know which of these beans you want to try first or if you have already tried some of them. I would love to read your thoughts on my review!