Updated: November 12, 2023 by Mary Nguyen
If you enjoy drip coffee as much as an espresso shot but don't want to spend on two machines, I've got good news for you. We're going to take a look at the best coffee and espresso maker combos.
This type of coffee machine can brew both coffee and espresso. Some even go the extra mile to give you options you didn't know you needed, like K-cup compatibility.
By taking into consideration factors such as ease of use and cleaning, versatility, brew quality, price, and product features, I was able to arrive at the best and most reliable combination coffee makers and I am happy to share them with you.
Here are the clear-cut winners:
TOP PICK

If it wasn't enough that Keurig K-Cafe  makes both drip coffee and espresso drinks, they have now added iced coffee to its repertoire. You also have the rare privilege to choose from hundreds of k-cups and multiple coffee sizes. In short, it strikes the perfect balance between versatility and performance, making it one of the best combination coffee and espresso makers.
The Best Coffee and Espresso Maker Combo — My Reviews
Product Image

Product Name / Pros

Primary Button

Automatic frother

60-ounce removable water reservoir

Accommodates all Keurig K-cup pods

60-ounce adjustable water reservoir

Uses Centrifusion technology for brewing

30 flavor options

64 oz removable water tank

Built-in burr grinder

Customizable coffee strength and temperature

Two water reservoirs

Adjustable milk frother

Dual heating system

55-ounce removable water reservoir

K-cup compatible

Built-in milk frother
1. Keurig K-Cafe Single-Serve K-Cup Coffee Maker
Anyone who has been in the coffee space for a while knows about Keurig machines. As simple as they are, Keurigs brew great-tasting coffee in no time. The K-Cafe does that plus more, but what precisely draws many to it is the delicious specialty coffee it makes.
Coffee purists have lots to say about the espresso shots this brewer pulls. It may not be the absolute best since it's concentrated coffee, but the machine makes up for it with its incredible variety of specialty coffee drinks.
I would recommend a darker roast for a rich flavor and bold taste. You can then froth the milk to your specific preference and pour it into your brewed coffee to make a latte or cappuccino.
Sometimes you will be in the mood for something different; say, a regular cup of joe. K-Cafe can make that for you, as well as hot or iced espresso-based beverages.
Pros
Makes espresso-based drinks in up to four sizes
Hundreds of K-cups to choose from
Button controls improve ease of use
Dishwasher safe milk frother and cleaning alerts for easy cleaning
Auto-off feature makes it energy efficient
Cons
Only works with K-pods
Relatively expensive but worth the money
For its price, this brewer offers the best value for the money. You are guaranteed quality espresso-based drinks and a smooth brewing experience.
2. Nespresso BNV450IBL VertuoPlus Espresso Machine
Budget brewing has never been better, thanks to the Nespresso VertousPlus Espresso machine. It may be relatively cheap but this brewer makes smooth, full-bodied crema-rich coffee. It's also versatile enough to make a variety of tasty coffee beverages, including single-serve coffee.
Whether you want single or double espresso shots, this model can pull them all with the touch of a button. If neither of the two is your cup of tea, you have the option to brew up a lungo to your specific size preference, which it does in just seconds.
Nespresso's Centrifusion technology takes credit for the perfect crema and delicious beverages this model makes.  It gets even better when you look at the flavor options at your disposal. There are a whopping 30 options to choose from, so no matter what your individual taste is, there's something for you.
Pros
Adjustable brewing sizes (up to 14 ounces)
Very affordable
Faster brewing process
Space-saving sleek design
Easy to clean
Automatic shut off saves energy
Cons
Uses large espresso pods only
Its affordability and outstanding brewing abilities aside, this Nespresso unit will fit in the smallest of kitchens. Now is the time to end your search for a compact coffee and espresso maker combo and purchase this perfect option.
3. Jura E6 Automatic Coffee Center
The Jura E6 leads the pack when it comes to brewing versatility. You can make up to eleven different beverages with it, and to your desired strength level, but that's not the only area where it shines. There's more to love about this brewing machine.
Not many combination coffee makers are versatile enough to make single and double coffee, single and double espresso, cappuccino, or milk foam and still provide hot water, but this masterpiece is capable of that and will, in fact, deliver any of those drinks in less than a minute.
No matter the drink type, you are guaranteed optimal flavor and taste, and credit for that goes to its exclusive pulse extraction process and adjustable coffee strength levels.
Leftover ground coffee can be a sorry sight and knowing how this would disturb you, the maker of this unit added an effective burr grinder to cater to that.
Pros
Allows simultaneous brewing, saving you time
Adjustable coffee strength to match your unique tastes
Easy to clean due to automated cleaning
Lots of drink options to choose
Faster brewing time
App allows you to use
One Touch Prep
Cons
Jura E6 Automatic Coffee Center is one of the best of the combination coffee makers that are yet to be discovered by coffee lovers.
If coffee makers with built in grinders interest you, do check out our roundup.
4. De'Longhi All-in-One Combination Coffee Maker & Espresso Machine
De'Longhi never stops getting better, and that's evident in this all-in-one coffee brewer. You can tell that the company pulled out all the stops to make this newer version (COM532M) a versatile machine that impresses on all fronts, from performance and brewing experience to aesthetics.
It's pretty easy to figure out this unit. On the far left side, you have an adjustable milk frother and then, next to it, there's the elegantly-designed portafilter for your espresso needs. Further toward the right side, there's a glass carafe for drip coffee.
Here comes the best part: You can customize your brew and make both espresso and drip coffee simultaneously to save on time. The labeling on the milk frother is clear to help you choose between thick, light, and finer foam with ease. All of this put together means you can make espresso drinks such as lattes and cappuccinos with this unit.
Pros
Faster brewing time
Relatively easy to use for beginners
Large capacity water tanks for convenient brewing
Sleek modern design that makes it stylish and attractive
Removable water reservoir (espresso side) for easy refilling and cleaning
Touchscreen display for improved user experience
Cons
No autoclean; you have to wash it by hand
No matter what your brewing needs are, the De'Longhi All-in-One Combination Coffee Maker & Espresso Machine has you covered.  It's one of the few coffee and espresso machine combos that ticks all the boxes and continues to win the hearts of coffee users.
5. Mr. Coffee All-in-One Occasions Specialty Pods Coffee Maker
Just as the name says, this combination coffee maker is a jack of all trades. It wasn't enough for it to only brew espresso, drip coffee, and specialty drinks, so they doubled its capability to make it compatible with K-cups. There's more to explore in this brewer but just to warn you early, it's not quiet and can be messy and frustrating to use before you get the hang of it.
Making drip coffee or barista-quality espresso with this brewer is a breeze, but you may encounter a few challenges while using k-pods or your preferred ground coffee. Take your time to fully understand how this additional feature works to experience all the greatness this all-in-one brewer has to offer.
As I told you earlier, this machine can be loud (like any average automatic espresso maker), but it compensates for that with its great-tasting coffee. To make your brewing experience complete, there's a steam wand to help you froth milk for lattes, cappuccinos, or a macchiato.
The last thing you will have to worry about with this unit is whether your coffee is getting burned. It uses a smart water system that releases just enough water each time, regardless of the brewing method you choose to use.
Pros
Multiple brewing options
Sound indicator to notify you when brewing is complete
Huge capacity thermal carafe to accommodate large crowds
Auto-brew detect feature avails the right brewing specs for different attachments
Stylish design that blends well with most decor
Makes up to 10 hot cups of drip coffee from its thermal carafe
Four different cup sizes to choose from
Cons
The k-cup option is a bit slow but it does the job well
A bit loud but only if you are within earshot
Not many combination coffee makers can rival Mr.Coffee's brewing capabilities. It's an all-in-one capable brewing machine that you can count on for great beverages and consistent performance.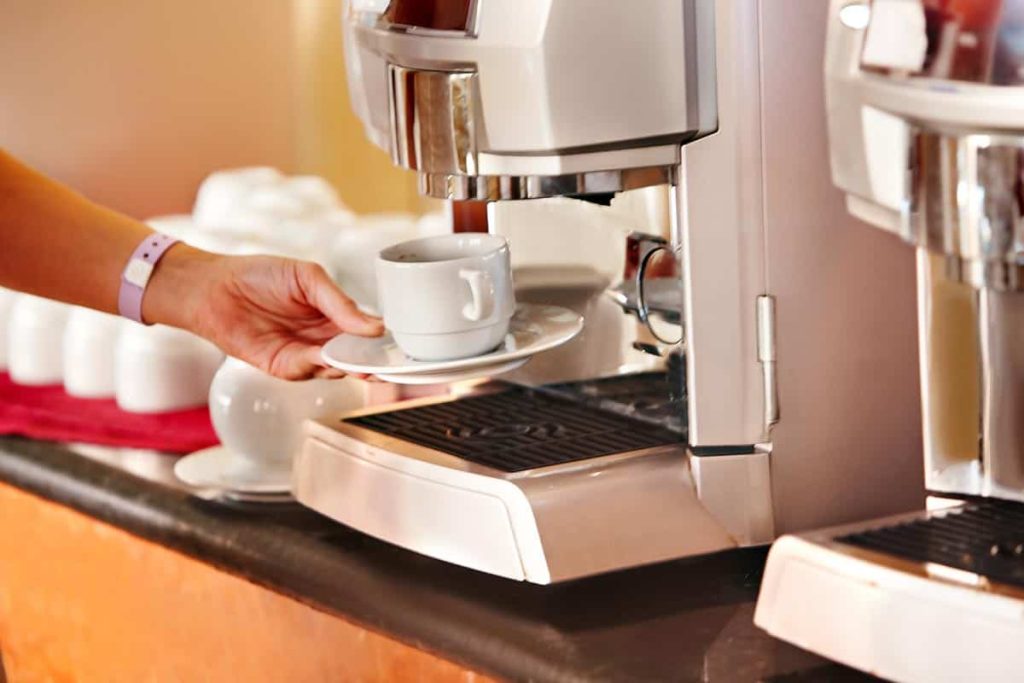 Is a Coffee and Espresso Maker Combo Worth It?
You do realize that these are two coffee brewing machines you can buy separately, right? Maybe you are wondering, what if you could do just that instead of purchasing an espresso and coffee maker combo? It's not a bad idea, to be honest, but before you settle on it, think about the following things:
Convenience
You probably prefer espresso to drip coffee, and you like it brewed as a barista would. Other members of your family, friends, or employees in your office probably love to keep it simple. Regular coffee does it for them.
You don't have to create extra space and go shopping for different coffee machines just to satisfy everyone's coffee needs.  A combo can serve as a one-stop shop, offering the best of both worlds. Everyone will be happy that their coffee needs have been met.
Price
You are likely to spend more buying two separate machines, especially if you plan to purchase the best models. Combo brewers, on the other hand, have an attractive price. The best thing is there's a variety of options for different budgets.
Wide Range of Drink Options
Sometimes you will want a latte. Other times you will crave a cappuccino, iced, or drip coffee. Of course, your favorite coffee shop probably has these and many other drink options, but you don't have to take a trip every time you need something different when a combination coffee maker could do it all for you from the comfort of your kitchen.
Personalize Your Drinks
Modern espresso makers offer you a world of customizable options, but this feels different on a dual-purpose coffee machine. It's like having an espresso maker than can go the extra mile, helping you diversify your coffee menu and explore the coffee brewing experience.  In the end, you realize that you have a coffee brewing machine that can fulfill diverse needs and satisfy individual palates.
Drawbacks
All these good things aside, be aware there's a learning curve waiting for you — a steep one if you are new to the coffee world.  It's not a touch-and-go affair with these dual-purpose brewers.
Displays and menu options can be a bit sophisticated. Some may also require you to grind the coffee beans, which is a whole other skill you have to learn and master.
Another drawback is that the level of control you have over the brewing process with these combos is not as high as the one you will get from a dedicated espresso or coffee maker.
How to Find the Best Coffee and Espresso Maker Combo
You risk falling for a bad or unsuitable unit if you go shopping not knowing what to look for in a coffee and espresso maker. First list your needs, interests, and preferences. Suppliers of coffee makers know this all too well and if you dig deeper, you will definitely find a unit that fulfills all your coffee needs.
Here's what to keep in mind:
Brewing Options
At the very least, the machine you choose should at least be able to extract great drip coffee and great espresso out of your ground beans. But it would also be great if your machine can make you different beverages in addition to that.
Some go beyond that, though, and can use capsules and pods, make espresso-based drinks, iced coffee, and so on. You also get more customization options the higher you go on the price list; be aware that more versatile combos generally cost more.
Cup Capacity
For a person who stays alone or lacks a spacious kitchen, compact or single-serve units are often perfect. Some machines, however, can make several cups in one go or even fill the carafe to the brim. Such options suit office spaces as well as large families and those who host people over often.
Features
Unless you are completely new to the coffee world, you definitely know about automatic, semi-automatic, and super-automatic espresso makers. Even though the latter is the easiest to operate and also rich with features, it is also more expensive.
You will have to take into consideration features such as ease of operation, availability of in-built grinders, automatic/manual steam wands, reservoir capacity, and others, before settling on an option you believe to be the most suitable for you.
Ease of Cleaning
Let's face it, cleaning an espresso machine is one of the tasks many of us don't look forward to. Regular coffee makers may be easier to clean, though, so if you are transitioning from one machine to another you can now imagine how problematic it can be to have a combo that is a pain to clean. Closely examine your selected machine just to be sure it's easy to clean prior to purchase.
How Do You Clean a Coffee and Espresso Machine Combo?
Not all coffee and espresso machine combos are cleaned in the same way; however, cleaning and descaling are standard processes you have to carry out, regardless of the model you have. You only have to make sure you are doing as recommended by the manufacturer.
Some models, for instance, have an auto-clean feature that does all the dirt removal work for you. Other units may require you to manually clean their various parts such as the reservoir, group head, and portafilters.
Before embarking on the cleaning, go through the user manual to find out how you should (and shouldn't) go about cleaning your espresso and coffee maker combo.
What's the Difference Between a Coffee Maker and an Espresso Maker?
The major difference between these two is in how they brew. Coffee makers push water through ground coffee using the power of gravity, while espresso machines generate high pressure which then forces water through fine coffee grounds and thereby extracting a concentrated drink.
Espresso makers generally complete the extraction in a short period of time as compared to coffee makers. The use of high pressure and quick extraction are the tricks behind the bold rich flavor and thick crema.
When it comes to price, espresso machines are obviously more expensive than coffee makers.
Get Brewing
It may look simple, but you would be wrong to underestimate what the Keurig K-Cafe Single-Serve K-Cup Coffee Maker is capable of.  It's not just the multiple brewing options you should be excited about; the brewing experience on this machine is smooth and effortless. You will also be buying a compact machine that is easy to clean and operate.
None of the other brewers on the list will disappoint you either, provided you get one that is most suitable for your needs.
Happy shopping!