Updated: February 11, 2022 by Owen Richardson
You have probably tested all kinds of espresso out there, and if you are convinced no other shot is better than a barista-made one, you may be wrong. Get yourself the best automatic espresso machine and watch the magic happen right inside your kitchen.
Also, imagine the convenience of never having to line up or drive a couple of miles just to get your shot of espresso. Some clever automatic machines even offer way more than that. But you may never find out until you find the best one for you and give it a try.
Now, there are hundreds of them on the market today, and every year, I help coffee lovers like you get an option that won't disappoint them by narrowing my selection based on the mode of operation, programmability, design, capacity, and other factors.
Join me as I walk you through the best models on the market right now. I even show you how to select one!
TOP PICK 

No other espresso machine has as good of a balance of features and is as well priced as the Breville BES870XL. In its category, it is unmatched primarily because of its brewing abilities. You can customize a drink and rest assured that the steam wand and integrated grinder will surpass your expectations. That's why many coffee connoisseurs have fallen in love with it.
My Reviews of the Best Automatic Espresso Machines
Product
Features
Price
1. Breville BES870XL Barista Express 
(Top Pick)

Makes espressos, lattes, and cappuccinos
Uses knobs
Manual steam wand

2. Philips 3200 Series Fully Automatic

Makes espresso cappuccino, hot water, latte, coffee, americano, and macchiato
Automatic frothing system
Uses touch display

3. De'Longhi ESAM3300 Magnifica Super Automatic 

Brews espresso, cappuccino, latte, flat white, and hot water
Extractable brew group
Patented cappuccino system

4. Breville BES990BSS Oracle Touch Fully Automatic

Makes espresso, latte, long black, flat white, and cappuccino
Programmable brewing
Touch-screen operated

5. Gaggia Anima Prestige Automatic 

Brewing options for espresso, latte, cappuccino, and macchiato
Removable brew group
Automatic milk frothing

6. Saeco Xelsis Super Automatic 

Makes up to 15 coffee drinks
Touchscreen controls
Custom water filter and self-cleaning mechanism
Breville leads in building machines that have revolutionized the coffee brewing experience. Breville BES870XL is a perfect example: a simple, automatic unit that is so capable and affordable. What it lacks in the features it compensates for in its performance.
Key Features
15-bar pressure
Automatic
67-ounce water tank
32-ounce bean hopper
Manual steam wand
Give it a minute, and this machine will grind your beans to your preferred coarseness level. Its powerful conical burr grinder does this at your command, delivering freshly ground espresso coffee beans into the portafilter for custom brewing.
As the brewing carries on, its in-built pressure control mechanism makes sure the flavors are evenly drawn out during extraction. The Digital PID Temperature Controller takes over after that, ensuring water is delivered at the right temperature for optimum extraction.
The presence of custom controls means you can fine-tune your shot to your liking. You can do this by adjusting the dose and grind size. However, you will have to steam and froth the milk; the machine won't do it for you.
Pros
Makes espressos, lattes, and cappuccinos
Fairly priced
Attractive stainless steel design
Built-in grinder makes coffee ground dosing simple
Easy to disassemble and clean
Cons
Requires patience and a bit of effort to operate manually
Breville BES870XL is unrivaled in its category. You get excellent performance from its grinder and steam wand and an exciting brewing experience. This is what makes it the best seller.
Philips 3200 is one of the few compact espresso machines you can put to use straight out of the box. That's because it's fully automated and easy to operate. Ever wished to experience exceptional aromatic coffees with zero hassles? If so, look no further!
Key Features
15-bar pressure
Super-automatic
Removable brewing group
Automatic frothing system
Uses touch display
61-ounce water tank
8.8-ounce bean hopper
Nearly everything about this unit surpasses normal expectations, beginning with the ceramic burr grinder rated to make you well over 20,000 cups of delicious beverages. On top of that, there's a total of 12 grind settings you can adjust to your specific brewing preferences.
Speaking of preferences, the unit lets you personalize your drink further to your liking. You can modify the temperature, milk and coffee volume, and brew strength to levels you like. The automatic frothing system only intensifies the experience by topping off your brew with a silky-smooth, creamy layer of milk froth.
At first, it may seem a little overwhelming figuring out the controls on the display, but it won't be long before you fully master operating the unit.
Pros
Makes espresso cappuccino, hot water, latte, coffee, americano, and macchiato
No tubes milk system makes cleaning this machine a breeze
Makes a variety of coffee drinks
Easy to personalize your drink to your liking
Comes with the AquaClean water filter that lets you use the machine at its optimum for long without hiccups
Aroma seal that keeps the freshness of your beans intact
Dishwasher safe
Cons
No locking mechanism for the milk container so you have to be extra careful while handling the machine
Makes a bit of noise, but it's nothing you can't handle
Fully automatic espresso machines hardly get better than this. There are plenty of features to make your brewing experience exciting, making this the best super-automatic espresso machine under $1,000.
De'Longhi ESAM3300 towers over its close rivals on so many fronts, from performance to affordability. Don't let the price trick you into thinking it's a basic unit. This espresso machine has plenty to offer, not to mention it's Amazon's choice.
Key Features
15-bar pressure
Super Automatic
Extractable brew group
7-ounce bean hopper
60-ounce water tank
Patented cappuccino system
Fitted with a conical burr grinder made out of steel, this coffee maker guarantees unmatched longevity, uniform grinds, and a consistent flavor. Add to that the 13 grind settings and a manual frother, and it becomes clear that this unit was designed to help you brew the perfect shot.
What the manual frother does is steam your milk to produce a creamy froth perfect for evenly textured beverages. Seeing that this wasn't enough, De'Longhi fitted their in-house patented cappuccino systems into it, making it even easier for novices to brew a delicious shot.
That's not all. Still, the manufacturer left you a few things to control so that you can customize the brew to your liking. That includes the beverage strength, shot length, and whether to brew one or two cups in a go.
Pros
Versatile enough to make espresso, cappuccino, latte, flat white
Lets you customize your brew by programming in your preferences
Thanks to a detachable brew group, it is easy to clean and maintain
Easy to operate rotary dials
Relatively affordable
Cons
Lots of care is needed to handle the unit, but this will not be a major issue once you master taking care of it
Looking at all this unit has to offer, it's only fair to conclude that it provides the best value.
Breville got everything right with this espresso machine. You have a home appliance that makes cafe-quality drinks. It's not even surprising to see this machine win the trust of many coffee lovers because who wouldn't want to continually enjoy rich, flavorful coffee without shedding sweat?
Key Features
Optimal pressure control mechanism
Automatic machine
Auto-tamping
Micro-foam steam wand
Touch-screen operated
8.9-ounce bean hopper
84-ounce water reservoir
Programmable brewing
Just like the commercial coffee machines, Breville BES990BSS uses a conical burr grinder that multi-tasks. It grinds, doses, and then tamps up to 22 grams of coffee, making it possible for you to experience the complex and nuanced flavors of freshly ground beans.
Knowing you would want to tailor the drink to your unique taste, the manufacturer made it possible for the user to adjust the temperature, coffee strength, and milk texture. Temperature and water control mechanisms equipped with this machine ensure you experience unmatched consistency and experience a perfectly balanced taste.
Also equipped into the unit is an automatic steam wand that textures milk to your desired taste and temperature, making sure you have that desired silky smooth, micro-foam layered drink we all cherish seeing in our lattes.
Pros
Makes espresso, latte, long black, flat white, and cappuccino
Designed to optimize the brewing process and yield rich, flavorful coffee
Touch screen operation improves ease of use
Built-in mechanism that regulates water pressure and temperature to produce a balanced drink
You can customize different coffee styles to your liking and then save the setting under your name
Cons
Clearly, Breville BES990BSS Oracle Touch Fully Automatic Espresso Machine was built to let you experience coffee that's as good as one brewed by an award-winning barista. It succeeded, and that's why it's loved the world over and regarded as the one of the best super-automatic espresso machines.
View more espresso machines from Breville here.
In the world of coffee machines, Gaggia is a household name. Looking at Gaggia Anima Prestige, you can't help but see a masterpiece delicately crafted to be a leader. From programmable brewing to a personalized brewing process, there's a lot to excite you in this coffee machine.
Key Features
Super-automatic
Automatic milk frothing
Removable brew group
60-ounce removable water tank
8.8-ounce bean hopper capacity
Ease of use tops the list of things you will love about this unit. You have six well-labeled buttons and a simple LCD display to help you select and customize your drink. But that's not even the best part.
Imagine having an espresso machine that perfectly remembers your favorite brew. This is all thanks to programmable brewing. You can personalize your drink by adjusting coffee strength and temperature, and this machine won't forget to do this on its own the next time you brew.
That aside, not many espresso machines self-clean thoroughly once the last drop goes into your cup.  But the Anima Prestige does it perfectly, and credit for this goes to its effective self-cleaning system. Your cup of joe will taste fresh and delicious every morning!
Pros
Brewing options for espresso, latte, cappuccino, and macchiato
Up to three temperature settings to help you customize your drink style
Easy-to-access water tank and bean hopper
Switches off after being idle for one hour, thus saving you energy costs
Easy to clean and maintain
Simple to operate
Sleek design that's sure to complement your kitchen decor
Cons
Only works well with non-oily beans
Only a few super-automatic espresso machines match up to the performance and reliability of the Gaggia Anima Prestige Automatic Coffee Machine. Also, it's the best fully automatic espresso machine model that's easy to clean and operate.
The first thing that strikes you about Saeco Xelsis is its sleek design. No stone was left unturned in making this machine pleasing to the eye. And the same goes for its performance. It's a super-automatic espresso machine you can count on for sweet, delicious, flavorful beverages.
Key Features
Superautomatic
Makes up to 15 coffee drinks
Customizable profiles
Touchscreen controls
Custom water filter and self-cleaning mechanism
15.8-ounce bean hopper capacity
57-ounce water tank capacity
Saeco Xelsis's LatteDuo technology is one of the best things you will ever see in an espresso machine. What it does is let you brew two cups at the same time, saving you time and effort.
As if that wasn't enough, the unit offers up to 15 drinking options that match our different tastes. You can have people over and never worry that you may lack a brew for their unique coffee preferences. Even better, the machine has an equalizer that lets you customize your drink by adjusting the texture, strength, dose, and coffee to milk ratio.
Also, 12 adjustable settings have been put at your disposal so you can brew a drink of your choice, from bold espressos to the smoothest of coffees. Still, on versatility, you can have six members of your family create profiles they can personalize, and guess what? The coffee maker will save each of your settings and remember them next time you brew.
Pros
Durable ceramic burr grinders rayed at 20,000 cups
HygieSteam function cleans up the milk system with steam at your command
Includes a custom water filter (Acquaclean) that enhances the taste of your coffee and prevents the build-up of scale
Touchscreen controls make it easy to use the machine
Cons
Relatively more expensive than its rivals
Even though it's on the higher side of the price scale, Saeco Xelsis Super Automatic Espresso Machine has solid features that make it worth the cost. You will be investing in a coffee machine ready to brew all your coffee preferences to your satisfaction.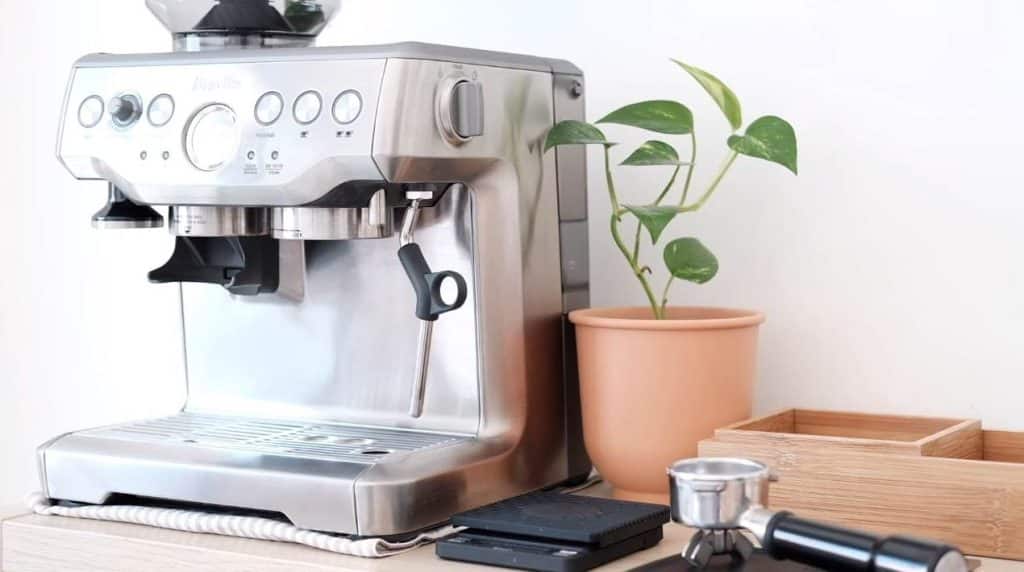 What Should I Look for in the Best Automatic Espresso Machine?
Espresso machines don't come cheap; some cost as much as $2,500. You could buy a decent option, but still, it might not be the right choice for your needs. How do you avoid that? It's simple!
Go shopping armed with information that will help you narrow down your available options to one that's most suitable for you. Here's what to consider:
How Does the Machine Operate?
Some espresso machines are fully automated. They run on a preset program that you activate by pressing a button, and the unit does the rest of the job for you. You will find such simplicity perfect if you don't want errors.
The other alternative is an espresso machine you can customize. You have absolute control of things such as temperature, grind size, brew time, shot strength, and more. Such a unit will serve you right if you would like the power to control the brewing process.
Versatility
How versatile would you like your automatic espresso machine to be?
Some only brew basic beverages such as Americano. Others are capable of brewing different espresso drink styles such as lattes, cappuccinos, macchiato, and more. Keep in mind that the more capable a unit is, the more expensive it is likely to be.
Brew Group Design
This is the part the portafilter locks into. Some call it the "mini-barista" because that's where the magic happens. For some espresso machines, the brew group is in-built while for others, it's detachable.
You will find the latter easier to clean and inspect in case something goes wrong. Units with in-built brew-groups self-clean but might be challenging to examine when there's a need to do so.
Steam Wand vs Built-in Milk Frothing System
For the uninitiated, a steam wand is what helps you prepare milk for cappuccinos, lattes, and other coffee beverages. Unfortunately, not all espresso machines come installed with one, instead of requiring you to buy it separately. An espresso machine fitted with a steam wand makes the brewing process easier, convenient, and fast.
You will also run into options with a built-in milk frothing system. While they make the brewing process simple and fast, the bigger disadvantage is that you don't get to control the process as you would with a steam wand.
Budget
Hopefully, you have hundreds of dollars set aside for this unit. With $500, you could get a decent option, but only buy it if it suits your needs. If you find yourself not able to afford your preferred automatic espresso machine, I would advise you to look around for a refurbished option from a reputable dealer.
You can also buy the manual one, but be warned that you will need barista-level skills and knowledge to make the most of it.
Capacity
Maybe you are the type who only brews one or two cups at most in a day. A small-capacity unit will serve you right in this instance.
But if you take upwards of three cups, have a family, host people over quite often, or want a unit for your office, then go for a model able to brew up to a dozen shots in a go. You will even enjoy this more if the unit can make two milk beverages at the same time.
Bells and Whistles
For some makers of automatic espresso machines, it's not enough that the unit does its job well. They go the extra mile of making it innovative enough to fulfill your other wishes.
Take the wireless connection feature, for instance. You can fully operate such a unit from the comfort of your bed or couch.  Other extras to watch out for include:
Detachable milk carafe
Advanced heating system
Form technology
You are less likely to find such features on a classic model. Go for the newer varieties if you are eager to experience them.
Remember to also read up on super-automatic espresso machine reviews. Thoroughly examine the feedback so that you have a complete picture of the model you believe might be a perfect match for you.
FAQs on Automatic Espresso Machines
How long do automatic espresso machines last?
Provided it is taken good care of, an espresso machine will last up to twenty years.  However, some will only serve you for five years, no matter how well you look after them. You may be wondering why the duration varies. Well, other factors come into play, such as frequency of use, brand, machine type, and quality of components, just to name a few.
How do you use an automatic espresso machine?
First of all, understand that there are three variations of espresso machines: automatic, semi-automatic, and super-automatic. Each works differently, but what's common amongst all of them is that they are not as difficult to use as their manual counterparts.
You may have to carry out a few steps before pressing the brew button for the automatic and semi-automatic models. As much as this may require a bit of effort and time, the upside is that you get control over the brewing process.
Super-automatic units do everything for you. You do nothing else but press a button and wait for the machine to pull the shot.
Are automatic espresso machines hard to maintain?
They may seem like sophisticated kitchen units best left to experts even for little maintenance tasks, but that's not entirely true. In fact, it's so easy to maintain this unit, particularly the fully automatic models. Most of them have an automatic program that you activate weekly to descale and clean your unit.
The majority of semi-automatic varieties come with a display where you are guided on how to take care of the machine when it comes to cleaning. However, you may have to do more manual work in cleaning and taking care of the automatic models.
And the Winner Is….
I hope you have found an option that suits your needs. I know they are all irresistible because each has something unique to offer. But an option that ticks nearly all the boxes and easily takes the crown for best automatic espresso machine is the Breville BES870XL Barista Express.
You don't have to apply for a second mortgage to afford it; it's well-priced. What's more, the machine is capable, customizable, and just as efficient as the premium models. Even though it's not as feature-rich as a semi-automatic model, it has enough to satisfy your brewing needs and preferences.