Updated: March 13, 2022 by Owen Richardson
What better way to kickstart your day than with a strong shot of espresso in the morning? Since espresso shots contain more dissolved coffee than a traditional brew, choosing the best espresso beans is essential.
Choosing the right beans will be the difference between a grumpy start to your day or a perfectly perky start to your day. You can avoid a bitter shot of espresso simply by choosing the best coffee beans for espresso.
Okay, yes, your grinding technique and brewing skills will also contribute to how good your morning espresso tastes. But, choosing the right espresso beans is the first step to brewing up a bold and flavorful shot of espresso.
Whether you have your espresso on its own or add some steamed milk and foam for a cappuccino, the bottom line is that the beans matter. In this guide, you will find the top 11 espresso beans for your brew.
Find out how to extract the truly bold flavors by selecting the right beans for your espresso. Pro tip: you can tell you are using quality coffee beans when you notice the quality crema on top of your shot.
TOP PICK
My pick for best espresso coffee beans is Peet's Coffee Espresso Forte because of its bold flavors with unique notes of hazelnut. As a bonus, the company uses sustainable practices to source and roast the beans. This bean is purely designed for espresso, and it is sure to give you a nice kick.
The Best Espresso Beans Reviewed
Product
Features
Price
#1 Peet's Coffee Espresso Forte, Dark Espresso Roast


Dark roast

100% Arabica

Hazelnut tones

#2 Supreme by Bustelo Espresso Style Dark Roast


Dark roast

100% Arabica

Sabor Latino

#3 Lavazza Espresso Barista Gran Crema


Medium roast

Non-GMO

Lingering crema

#4 Caffe Umbria Fresh Seattle


Medium roast

Direct Trade

Fig notes

#5 FORTE by Filicori Zecchini


Italian Roast

Blended beans

Toasted cereal notes

#6 SF Bay Coffee Fog Chaser Medium Dark Roast


Medium dark roast

100% Arabica

Milk chocolate, toffee, mandarin notes

#7 Kicking Horse Cliff Hanger Espresso, Medium Roast


Medium roast

Fair Trade

Chocolate tones

#8 100% Kona Coffee Espresso Roast 


Dark roast

Premium coffee

Chocolate tones

#9 Verena Street Shot Tower Espresso 


Dark roast

Rainforest Alliance Certified

100% Arabica beans

#10 Koffee Kult Gourmet Coffee Beans, Dark Roast


Dark roast

Gourmet Artisan blend

Caramel, chocolate, cinnamon notes

#11 Intelligentsia Black Cat Classic Espresso 


Medium roast

Direct Trade

Dark chocolate, cherry, brown sugar notes
Whichever way you make your shot of espresso, these beans are full of rich flavors to offer you the best espresso experience as you master your home brewing techniques. Enjoy full-bodied and rich coffee flavors with these picks of the best espresso beans.
Peet's Coffee is determined to deliver a fresh product to customers with its premium blends. The blends include a perfect mix of top-quality coffee beans to produce a smooth taste without any bitterness.
This dark roast consists of only Arabica beans and is kosher certified, made especially for espresso, so you will be sure to taste the bold flavors of these beans.
Key Features
Dark roast
100% Arabica
Certified kosher
Hazelnut tones
This espresso blend is full of bright and tangy flavors with a smooth crema. You will taste hazelnut notes after you have ground the beans and prepared them in your espresso machine.
The signature flavors are unique to Peet's Coffee — they consist of a blend of premium beans from some of the top growing regions in the world. The full-bodied flavor will have you wanting more of these delicious and flavorful beans.
Pros
Crafted for espresso
Bright tang with a smooth crema
Hand-roasted in small batches
Visible roast date
Premium signature blend
Cons
The price may be a bit high for some, but the price tag is justified with the quality sourcing of highly rated beans. The company also does careful hand sorting and tasting to provide a unique blend of flavors and hand roasts in small batches to ensure a perfectly even dark roast.
This Supreme espresso-style coffee is full of rich, full-bodied flavors, creating a superb espresso whether you brew it using your espresso machine or Moka pot. The beans are carefully selected and blended, providing you with a smooth taste loved by many.
Key Features
Dark roast
100% Arabica
Sabor Latino
The beans are all premium Arabica beans blended and roasted to a dark roast, perfect for espresso. The 16-ounce bags come in packs of eight, so you can stock up at home or in the office. With this robust and rich coffee always on hand, you can enjoy a truly bold shot of espresso without any bitterness.
Pros
Rich, full-bodied flavor
Espresso-style beans
Good price
A robust-tasting coffee
No bitter taste
Cons
Only available in an eight pack
If you are looking to buy espresso beans in bulk, then this is the perfect option for you. These beans will work well in a small office or for a large family. If you are drinking alone, this may be too much to get through before the beans turn stale.
These Lavazza whole beans are made specifically for espresso, offering truly bold flavors for your shot. The well-known brand is family-owned and has been a leader in the coffee industry for over 120 years, ensuring quality in every cup.
You can find true Italian coffee flavors in this 2.2-pound bag, offering you a steady supply of quality beans for your brew. The roast is medium for espresso lovers who like to taste the subtle flavors a bit more.
Key Features
Medium roast
Product of Italy
Lingering crema
The bag of whole beans offers a seven out of ten intensity, giving you the right amount of flavors for your shot if you prefer it a bit more subtle. The full-bodied blend of flavors offers notes of honey, baked goods, and perfectly roasted coffee.
The blend contains Arabica and Robusta beans expertly blended to produce a good amount of quality crema for your shot. Enjoy a trusted bag of beans with the Gran Crema blend from Lavazza.
Pros
Well-known brand
Full-bodied blend
Honey and baked-goods flavor
Lingering crema
Best used for espresso
Cons
The bag is quite big for home use
This quality bag of beans is great for a bold espresso, but the large bag size may be too much if you don't drink enough coffee. This may lead to stale beans unless you are a frequent drinker of fresh home-brewed coffee.
Caffe Umbria offers a freshly roasted blend of beans for your espresso cravings. The medium roast brings out the bold flavors while still allowing some complex flavors through. The 12-ounce bag offers the right amount for home brewing.
Key Features
Medium roast
Direct Trade
Fig notes
The beans are sourced through Direct Trade, ensuring a fair price for growers and harvesters to ensure the sustainability of the coffee industry. You will be buying a fresh bag of quality Arabica beans sourced from Brazil and Central America.
Offering unique fig- and milk chocolate-flavored shots of espresso with a thick layer of crema highlighting the freshness of these beans.
Pros
100% Arabica beans
Notes of milk chocolate and fig
Thick crema
A sweet finish
Cons
The flavor may be a bit mild
These beans are perfect for coffee enthusiasts who prefer a milder roast for their espresso or espresso-like drinks. A sweet finish accompanies these intense flavors to round off your drinking experience.
The Filicori Zecchini company has been roasting and blending quality Arabica coffee for over 100 years. This Italian company is in direct contact with the coffee farmers and has built strong relationships with select farms. This ensures you will be getting the same premium taste with every bag.
Key Features
Blended beans
GMO-free
Toasted cereal notes
The product comes in a multi-layered impermeable box, so there is no chance of oxygen infiltration to ruin the freshness of the beans. The company displays the expiration date on the packet so you can check the freshness when buying through third-party suppliers.
The company prides itself on sustainably sourced coffee beans that are GMO-free, and this is one of the reasons they hold a quality certification from the Italian Institute of Espresso. The beans are roasted before blending to evenly and perfectly bring out the premium flavors in this blend of beans.
Pros
Multi-layered box
Roasted before blending
GMO-free
Quality Certification
Sustainably sourced
Cons
Might have a slightly bitter taste
The two original families have owned the business since 1919, making Filicori Zecchini a true family-owned business built on sustainability and quality.
The SF Bay Coffee roasters have a bold dark roasted whole bean coffee for you to enjoy a strong espresso. The San Francisco-based, family-owned company roasts its bean on site. The beans are quality tested as they arrive and then tasted after roasting to maintain the excellent quality of the beans.
Key Features
Medium-dark roast
100% Arabica
Sustainably-grown
Milk chocolate, toffee, mandarin notes
The beans are sourced from company-owned farms that use sustainable growing practices. The kosher beans are full of flavor and packed in airtight packaging soon after roasting to maintain the smooth flavors of the beans.
Pros
Kosher coffee
Roasted locally in the U.S.
Shade-grown
Organic
Cons
While the packaging may vary due to supply issues, the beans are still the same quality as always. These medium- to dark-roasted beans offer well-balanced flavors.
Kicking Horse Coffee offers a bold Cliff Hanger Espresso roast with a smooth taste for that morning kick. The 2.2-pound bag of medium roast beans is sourced using Fair Trade practices before being roasted in the Rocky mountains.
Key Features
Medium roast
Fair Trade
Chocolate tones
The Kicking Horse company is committed to sustainability, and all the beans from the company are Climate Pledge Friendly and organic, providing consumers with a clean shot of espresso when using these beans. Enjoy the bold flavors of milk chocolate, blackcurrant, and brown sugar.
Pros
Climate Pledge Friendly
Organic
Arabica beans
Brown sugar, blackcurrant, and milk chocolate
Cons
Might be a bit sweet for some
These beans offer a fresh flavor for your brew as the company packs the beans in airtight packaging soon after roasting to retain optimal freshness. The beans have bold flavors just right for a shot of espresso.
The Kona Coffee espresso roast boasts premium gourmet beans for your shot of espresso. The beans are grown in prime conditions with rich volcanic soil providing nutrients to the beans. Available in a bold, dark roast for your espresso, the beans are hand-picked, ensuring only the ripest berries.
Key Features
Dark roast
Premium coffee
Hand-picked
Chocolate tones
The beans offer luxurious chocolate overtones to give you a tasty shot in the morning with a healthy layer of crema on top. The beans are roasted in small batches and sealed in airtight packaging before being shipped out within days for optimal freshness. Each stage of the process is hand-sorted to ensure bitter, and low-quality beans are removed from the pack.
Pros
Luxurious chocolate overtones
Grown, picked, and roasted in Hawaii
Small-batch roasted
Airtight packaging
Cons
These high-quality Kona beans are great for a delicious shot of espresso complete with full-bodied flavors.
Verena Street Coffee is a private, family-owned organization crafting quality coffee blends, including this full-bodied espresso roast. The smooth flavors are topped off with a velvety smooth crema for a premium shot of espresso.
Key Features
Rainforest Alliance Certified
Arabica beans
Climate Pledge Friendly
The company values sustainability in coffee growing and harvesting, as the beans are Rainforest Alliance Certified and Climate Pledge Friendly. The Arabica beans are expertly blended in the Iowa factory, producing unique flavors that you can't find elsewhere.
Pros
Certified kosher
Sustainably sourced
Roasted and packaged in Iowa
Small-batch roasted
Dark roast
Cons
Enjoy a true espresso blend with the Verena premium blended coffee beans with just the right amount of crema for an espresso shot.
Koffee Kult is all about quality coffee using sustainable processes. This is why they source Fair Trade, organic coffee beans before roasting them to perfection in the Florida roastery. The beans from this espresso blend are sourced from Columbia, Guatemala, and Sumatra.
Key Features
Fair Trade
Gourmet Artisan blend
Caramel, chocolate, cinnamon notes
These espresso beans are a gourmet blend of top-quality Arabica beans perfectly mixed and roasted for a strong shot of espresso. The company roasts the beans in small batches to ensure an even roast, and the result is a heavy-bodied shot of espresso.
Pros
Small-batch roasted
Organic coffee beans
Freshly roasted in Florida
Cons
The resealable bag doesn't work too well
These beans offer a premium shot of espresso with a smooth taste, notes of cinnamon, and a bright, long finish. If you can't get a tight seal on the resealable bag, you can just put the beans into a container or jar.
Intelligentsia has been producing the Black Cat Espresso blend since the company opened in 1995. This staple coffee bean for the company is a mild, medium roast for coffee lovers who want a slightly softer flavor.
Key Features
Medium roast
Direct Trade
Dark chocolate notes
The company is committed to ensuring a fair price for coffee as they deal in Direct Trade coffee to provide coffee farms with a fair price. These sustainable practices ensure the future of coffee, which means you can continue enjoying premium brews at home.
Pros
Notes of dark chocolate with cherry, brown sugar
Sourced from Brazil and Colombia
The roast date is printed on the bag
Clean and complex coffee
Cons
This clean and complex coffee offers notes of dark chocolate, brown sugar, and stone fruit, offering a complex flavor for your shot of espresso.
If you are excited to try these beans for an espresso, but you don't have a machine, I've got you covered with the top budget-friendly espresso machines. You can also try to make an espresso-like drink without the machine, but rather using a French Press.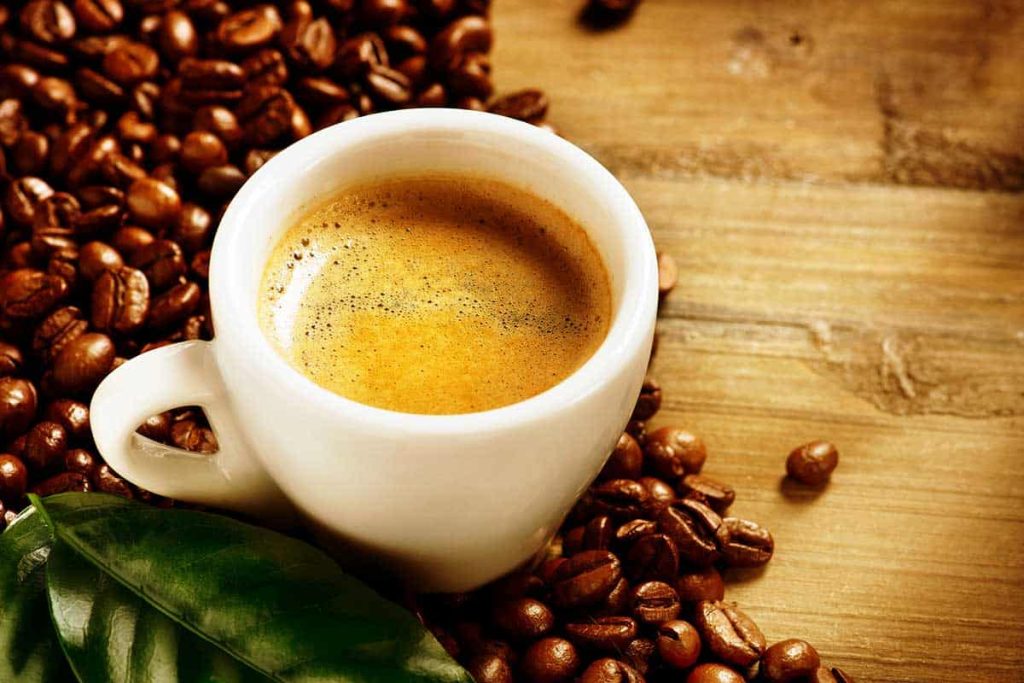 Choosing the Best Coffee Beans for Espresso
Flavor Profile
For a quality shot of espresso, you should select coffee beans that have the right flavor profile. A shot of espresso brings out the strong flavors of the coffee beans, and if these flavors aren't right, you will be disappointed with your shot. Choose the flavors you generally like when looking for a bean for your espresso. The brew method will highlight and boost these flavors.
The Roast Level
While you can use any good coffee beans for your shot of espresso, expert roasters recommend that you use a medium to dark roast. The method of brewing espresso creates a bold coffee that masks the complex flavors you find in a light roast. The dark roasted beans also taste the most consistent.
Blend or Single-Origin
When choosing beans for your espresso, you will also come across blends and single-origin beans. This decision is completely up to you since there's no clear right answer to what is the best for espresso. A shot of espresso will highlight the true flavors of the beans from a single-origin bag which some enjoy, while the blended beans can offer uniquely rich flavors for your brew.
FAQs on Espresso Beans
What characteristics make a good espresso bean?
A good espresso bean is generally a medium to dark roasted bean with a bit of oil (but not too much). The beans are also only slightly bitter without it overpowering the brew.
Can I use any type of bean for espresso?
You can choose any bean for a shot of espresso as the beans for normal coffee brews, and espresso brews are the same. The differences are seen with the roast level and grind size. Buying whole beans gives you control over your grind size.
Does an espresso contain more caffeine than normal coffee?
A shot of espresso doesn't necessarily contain more caffeine than normal coffee; it is more about the amount you consume. You will drink less in a shot than in a cup, so the amount of caffeine depends on how much you drink.
The Top Spot for Espresso Beans Goes to…
Choosing the right beans for a shot of espresso will make a world of difference in your brew. This brewing method is perfect for highlighting the strong flavors of coffee and offering a bold shot of caffeine for coffee lovers.
Peet's Coffee Espresso Forte is the winner by far because of the full-bodied flavors, sustainable practices, and silky-smooth crema. This is a great bean to try if you are looking to make a quality shot of espresso.