Updated: November 14, 2023 by Mary Nguyen
If you search for the best coffee beans online, I do not doubt that you will come across a type of bean called the Kona bean. In today's guide, I will tell you more about what Kona beans are and which are the best Kona coffee beans that you have to try!
Simply put, any coffee that comes from Hawai'i's Kona Coast is Kona coffee. More specifically, we're talking about Arabica coffee that is grown, harvested and processed in this region, which is so distinct and so magnificent that it has literally put Kona in the map as one of the world's top coffee producers.
The flavor profile of Kona coffee is particularly crisp and clean. You would taste some fruitiness and chocolatey-ness with hints of honey and brown sugar.
There is something special about the Kona beans – the taste is unlike anything else. Even though they usually come at a higher price, they are completely worth the investment. That is, of course, if you get a good bag!
TOP PICK

My pick for the best Kona coffee is Don Francisco's Medium Roast. The beans are the real deal and are also sustainably grown! You can expect to get an amazing cup of coffee that will have a strong aroma, some flowery taste notes, and some bitterness that spices things up!
The Best Kona Coffee Beans Reviewed
All of these picks contain at least 10% pure Kona beans from Hawaii. Some are blends, while some are single-origin Kona beans.
Don Francisco is a well-known company that has created tasty coffee blends for years. Considering how famous Kona coffee is and how much people love Kona coffee blends, Don Francisco decided to give the people what they want. Thus, they created this amazing Kona fancy blend. It is made with Arabica beans only, all of them expertly roasted to a medium roast.
Key Features
Medium roasted beans
Amazing packaging
Sustainably grown
One of the things I like most about this blend is the amazing packaging. The Kona beans come in a nitrogen-flushed bag that makes sure the beans stay fresh for as long as possible. There is a valve on the packaging that allows you to seal it shut after initially opening it.
Pros
Family-crafted Kona blend
Recyclable packaging
Cons
Might be a bit too bitter for some people
Even though the taste is somewhat sharp and bitter, I bet that you will love using this coffee to start your day. You can never go wrong with a Kona blend, so I recommend that you give this blend a try!
Blue Horse is another company that has quite a lot of great beans to choose from, including a couple of Kona coffees that make a cup of coffee that tastes as good as you can imagine! The beans used are single-origin and grown in the Kona district. They are also handpicked, sundried, and even grown in the shade to make sure they are of the highest quality possible!
Key Features
Medium roast
Single-origin beans
Handpicked beans
FDA certified
You can use these beans to make coffee using almost all brewing methods. If you are more into pre-ground beans, the company has you covered! They even have a couple of other Kona beans that are dark roasted, so you should give them a try as well.
Pros
Wet-processed beans
Sun-dried beans
Cons
With a mellow yet enticing aroma as well as some spicy taste notes, this Kona blend from Blue Horse is exactly what you need to try. I strongly urge you to give it a shot as soon as possible!
Not all Kona beans have the extra fancy grade that is the highest grade possible for this coffee. If you get this Kona beans from Green Coffee Traders, you will be in for a surprise. These beans are extra fancy beans and are just so flavorful!
Key Features
The coffee beans come in unique packaging that is completely biodegradable. You will find a degassing valve that keeps the beans from getting too much oxygen and a seal of authenticity on the packaging!
Pros
Specialty Arabica beans only
Great packaging
Expertly roasted
Cons
Some batches might be too lightly roasted
From the great taste of the Kona beans to the amazing packaging, I bet you will love everything about these beans, so make sure to check it out as soon as possible!
Here comes another extra fancy Kona blend – but this time, it is from a company called Helios Coffee. Not only do they have beans that taste great, but they also package their beans in very fancy packaging that will immediately catch your eye! Their designer deserves a lot of praise.
Key Features
Medium roast
Handcrafted beans
Fire-roasted beans
These beans are grown on volcanic soil on the slopes of Mauna Loa and Hualalai. Before you try them, you should expect to get a smooth taste that has only a bit of acidity. Also, their aroma is bound to amaze you!
Pros
Extra fancy grade
Strong aroma
100% Kona beans only
Cons
Taste might not be as strong as others
If you are looking for a great Kona bean that does not have that much acidity or a very strong taste, this should be a great fit for you. It comes at a reasonable price, so I recommend that you give it a try!
This Kona gourmet blend from Hawaiian Gold is a great blend for all those looking for medium roasted whole Kona beans. You will love the distinctive yet intense flavor of these beans.
Key Features
Medium roast
Handpicked beans
Sun-dried beans
You can use this blend with several brewing methods. No matter which brewing method you prefer, you should always expect to get that perfect taste and strong aroma from this blend.
Pros
Expertly blended
Small-batch roasted beans
Intense taste
Cons
Might be a bit expensive compared to other blends
A lot of people have loved using this blend to brew coffee every day. You just need to grind your beans and add them to your brewer. Trust me, the coffee you brew will have the perfect taste with just enough bitterness and a strong aroma!
If you are looking for 100% pure Kona beans, this is the perfect one for you. The beans in this bag are always fresh, expertly roasted, and have a full body and a strong flavor. On top of all that, you can choose whether you want to get the beans as pre-ground or whole beans!
Key Features
Medium-dark roast
Pesticide-free beans
Roasted to perfection
These beans are perfect for those looking to get a few strong cups of coffee throughout the day. You can also use them with various brewing methods; just make sure that you grind them accordingly before adding them to the brewer!
Pros
Fruity taste notes
Full-bodied beans
Cons
Some batches might have a bitter taste
Talking about this blend will not do it justice – one has to try it to appreciate it fully. Since the price is quite affordable, I suggest you get a bag of these beans as soon as possible and give them a chance!
The Kona Waves blend from River Moon is always made with a perfect selection of Kona beans and Arabica beans. While the Kona beans are only from the Kona region, the Arabica beans are expertly selected from all over the world. You will love drinking this artisan coffee that has a taste you cannot easily find elsewhere.
Key Features
Medium roast
Small batch artisan coffee
Handpicked beans
This blend is perfect for all those who want some help getting started with their day. Since this blend gives you a smooth but strong coffee with an amazing aroma, you are bound to love using it in the morning. Trust me, it is almost as effective as the espresso when it comes to helping you jumpstart your day.
Pros
Suitable for various brewing methods
Sustainably grown and farmed
High-quality packaging
Cons
Percentage of Kona beans is not disclosed
This is a great blend with amazing packaging that I would love for you to try. Thanks to the strong seals on the packaging, you will be able to keep your beans fresh long after you open your batch!
What Is Kona Coffee?
Kona coffee is a unique specialty coffee. It cannot be grown just anywhere – the only place you can get real Kona coffee beans is several coffee farms located on the Hawaiian Big Island. To be more exact, most of these coffee farms are located on volcanic slopes, so you are bound to feel very cool when you are drinking coffee from these beans!
The fact that Kona beans are so rare is only one of the things that makes them one of the most sought after types of coffee in the world. The other thing that makes this coffee so popular is the amazing taste. No matter how hard you try, you will never be able to get the same taste from coffee beans that are not Kona.
Another very interesting thing that you should know about Kona coffee is that it is usually roasted by the farmers that grow it. Most of them grow their beans in perfect locations, handpick them, select, and then roast them, making sure that each batch meets expectations.
Using the Kona beans, you can get a cup of coffee with a bold taste, little acidity, and great aroma. Even though some of the blends with real Kona beans can be a bit more expensive than regular coffee blends, the Kona blends are worth every penny. You will be sure of this once you give the beans a try!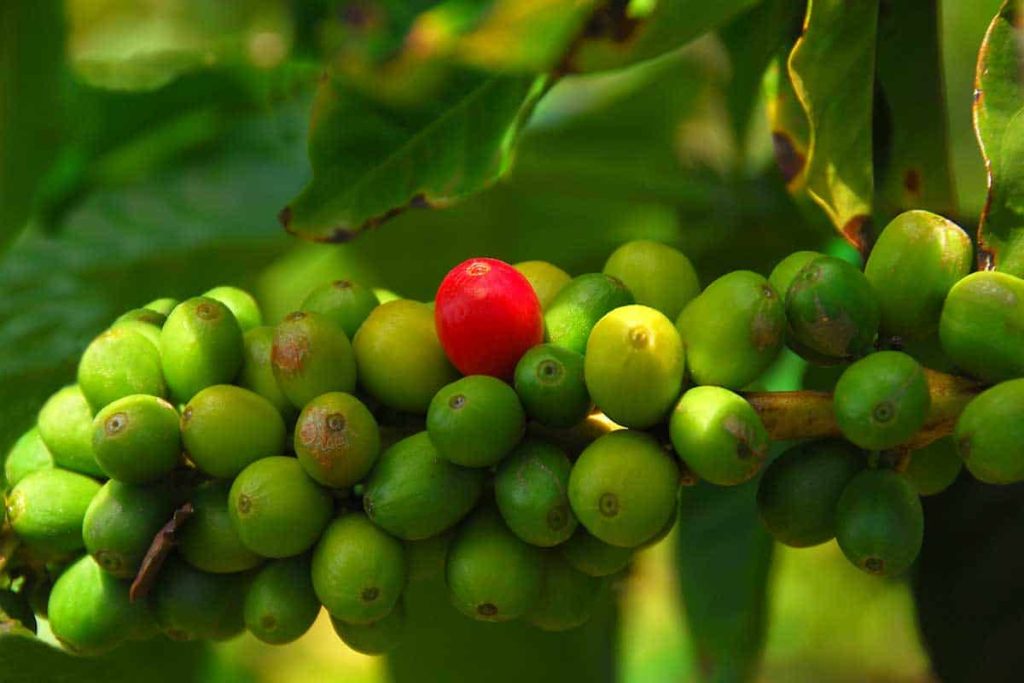 Buying the Best Kona Coffee Beans
You must try Kona coffee at least once in your life. These beans are suitable for various brewing methods, so you can use them with whatever brewer you have at home. However, before you get some of these beans, you need to know which one to get.
There are a few key things that you should always remember when buying Kona beans. First of all, 100% extra fancy Kona beans have a much better taste than the blends, so you should look for beans that are pure Kona.
Then, I suggest that you look for beans that are sustainably grown, organic, handpicked, sun-dried, shade-grown coffee beans. As mentioned before, Kona farmers roast their beans themselves, so you will get to choose between medium or dark beans that are always expertly roasted. Which ones you get depends on your personal preference.
Finally, you should look for the packaging of the beans to be resealable as well as recyclable. The former feature will allow you to keep the beans fresh for as long as possible, while the latter will help you be more eco-friendly with your coffee. It is a win-win situation no matter how you put it!
FAQs on Kona Coffee
Before wrapping up this review, I would like to give you a couple more pieces of information on the topic of Kona beans that I think will come in handy. Let's see what else you should be aware of!
Is Kona coffee really better?
Usually, the taste of Kona coffee beans is clean, balanced, and full-bodied with some bitterness. Understandably, not everyone will like the taste of Kona beans, but they are still a great choice, so I suggest you give them a shot. Who knows, you might end up liking them more than regular coffee beans!
What coffee is similar to Kona?
If you cannot get any Kona coffee beans, you should know of some similar options that you can try. For example, you can look into other Hawaiian coffees, some Jamaican blends, Tanzanian, or perhaps even Guatemalan coffee beans. However, be aware of the fact that you can never get the same taste as real Kona beans from other types of beans!
Time to Say Aloha
Thank you for sticking with me throughout this guide! I loved telling you all about Kona coffee beans, and I hope you enjoyed learning more about them. Let me remind you to look into Don Francisco's Medium Roast Kona Whole Coffee Beans if you want to taste real Kona. The Hualalai Estate Hawaiian Kona Whole Coffee Beans can be just as good but are a bit cheaper.
Let me know in the comments if you have ever tried Kona coffee or if you are yet to give it a try. I would love to know all about your experience with this type of bean, so make sure to share it with me!