Updated: February 8, 2022 by Owen Richardson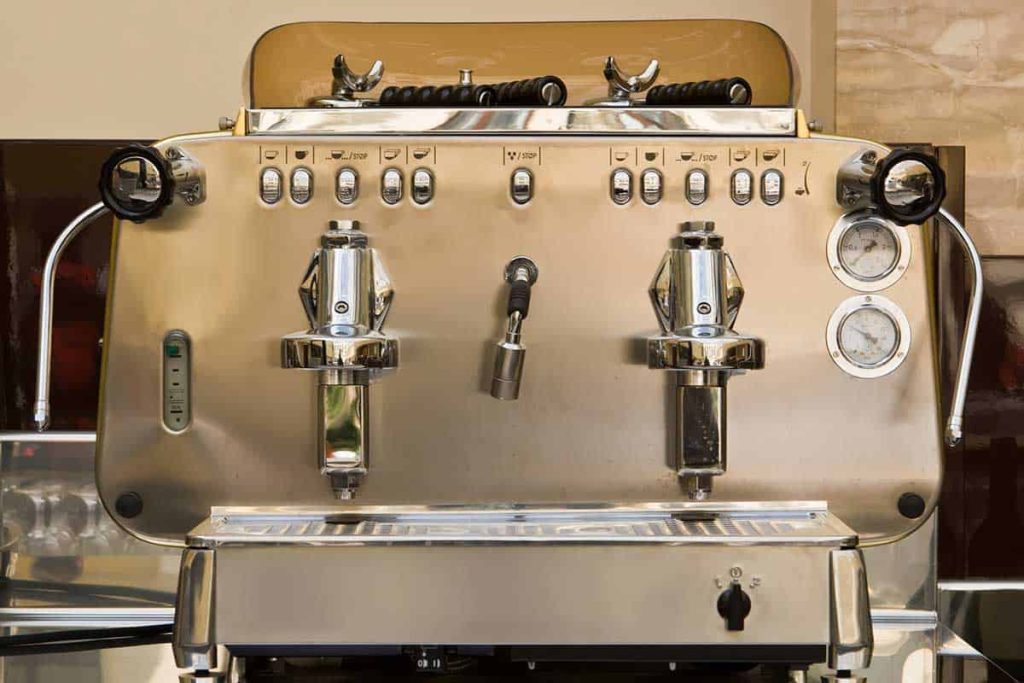 Breville may not be a new name if you have been around the coffee industry for a while. It's home to some of the greatest coffee machines and kitchen appliances in the market today. If you are like me, then you have at one point wanted to own the best Breville espresso machine.
But my guess is you haven't done that yet. Looking at their lineup, I completely understand why one would be spoilt for choice. Maybe you aren't even sure whether to go for the automatic, super-automatic, or semi-automatic model.
Rather than take a guess and hope that everything turns out right, take a look at this round-up. After doing tests, speaking to fellow coffee connoisseurs, and analyzing the feedback on the market, I was able to successfully nail down the best espresso machines from Breville, spread out across different categories.
That's why I came up with this resource. The goal is to help you find a Breville coffee maker you will be happy to own for the rest of your life.
Take a look!
TOP PICK
You are likely to turn down a semi-automatic espresso machine if user-friendliness is what you are looking for. But Breville BES870XL Barista Express isn't like the rest. It's super easy to operate, no matter your brewing knowledge or skill. And when it gets down to work, the outcome is no different from what you would get from your favorite coffee shop. What makes it even more irresistible is that it's reasonably priced.
My Reviews of the Best Breville Espresso Machines
For my first Breville espresso machine review, I'm going to talk about the Barista Express, which remains the brand's most popular model — and for good reason. It's almost unbelievable that you have everything you need here to brew specialty coffees, and yet pay but a mid-range price. Be it a built-in grinder, programmable settings, hot water spout, steam wand, you name it, this model has it all.
Key Features
Uses pre-infusion technology
Programmable settings
Thermocoil heating system
9-bar extraction protocol
Manual steam wand
It may be more hands-on, but the Breville BES870XL won't disappoint you once you get the hang of it. Just learn and master the standard settings for both single and double shots. But if that's not your cup of tea, use the grind dial. With it, it's up to you to decide the amount of espresso you want in your drink.
On its part, the machine uses the pre-infusion system to wet the grounds, then activates the nine bars of pressure which results in maximum extraction. What eventually ends up in your cup is a flavorsome, delicious shot.
You have a manual steam wand as well well known for its signature silky smooth micro-foam milk. It's therefore not surprising that this model makes one of the best lattes and cappuccinos.
Pros
Decent control over the coffee brewing experience
Affordable
Attractive stainless steel design
Clever heating system that produces great taste
Superior grinding performance from the conical burr grinder
Extras and add-ons available to intensify your brewing experience
Cons
Takes longer to brew
Frequent maintenance is needed to keep it running optimally
In the world of semi-automatic espresso machines, the Breville BES870XL Barista Express easily towers over the rest due to its exceptional performance and features. Every feature plays a significant role in ensuring your beverage is as great as what you would get from your favorite coffee shop.
BES880BSS Barista Touch does nearly everything you would expect from a premium Breville machine, but it's at a lower price point than its rival, the BES 990BSS. Of course, a few things have been sacrificed to keep the price down, but you will hardly notice that in your coffee brewing experience.
Key Features
Makes espresso, latte, long black, flat white, and cappuccino
Customizable drinks
Automatic steam wand
Touch screen display
Using this machine is a breeze. It only takes three quick steps to get it brewing that perfect shot. Three seconds later, you will have your favorite beverage ready.
To start off, there are five pre-programmed options, but if you find that too simple for you, you can personalize your drink by modifying the temperature, texture, and strength. Breville has even made it easier for you to enjoy the same beverage next time you brew. Just save your personalized settings and the machine will remember it.
Like its premium counterparts, Breville Touch features a conical burr grinder, but it only grinds and doses. You will have to take over after that and tamp the ground coffee beans.
Pros
Simple touch screen interface that's easy to operate
Water pressure and temperature control mechanisms optimize the extraction and intensify the flavor
Automatic milk steaming for drinks such as lattes and cappuccinos
Gives you a higher degree of control when it comes to brewing
Easy to clean and maintain
Quickly heats up water thanks to the thermojet heating system
Cons
You have to tamp the grounds, which should not be a deal-breaker if you want to be actively involved in the brewing process.
BES880BSS Barista Touch offers so much for less. With only two major features (automatic tamping and dual boiler construction) separating it from the higher-priced Breville BES9990BSS, this would be a great buy if you are on a budget and looking for an affordable espresso machine.
You could easily find yourself passing up the Breville BES878BSS Barista Pro and paying more attention to the super-automatic models instead. But here's what you will be trading off: a higher degree of control over the brewing process and quicker heating time.
Key Features
30 grind adjustment settings
ThermoJet heating system
Pressure and temperature control mechanisms
Manual steam wand
LCD display
It shouldn't worry you that you won't be getting pre-programmed drink options on this model or the freedom to customize your drink. You still have more options at your disposal, beginning with 30 grind adjustable settings. That's a huge range for you to explore.
An integrated smart grinder is ready to make all this easier for you, grinding and dosing your coffee beans on demand. You'll have to tamp them though, which may be bad news for a novice but a lovely experience for regular coffee lovers.
Once you have everything ready, the machine will prep your favorite beverage in the next three seconds. Credit for that goes to the ThermoJet heating system. There's a digital display too, making it even easier to move between different brewing functions and settings.
Pros
More control over the brewing process
Faster heat-up times
Perfect for novices looking to learn and master the brewing process hands-on
Manual steam wand for espresso-based milky drinks
Simple intuitive interface that improves ease of operation
Cons
Manual steam wand might slow you down
No automatic tamping
For beginners on a budget looking for an automatic espresso machine that offers a smooth entry into the world of brewing, this Breville espresso machine is a best buy. Look no further!
Breville BES840XL ticks all the boxes of a perfect semi-automatic model, but it's not like the rest. The difference is in how it works, and it's all in the name: pre-infusion cycle. I'll be telling you more about this shortly.
Key Features
Intelligent pressure control system
Temperature control
Manual steam wand
Auto-sleep
Volumetric control
Pre-infusion cycle is the clever technology behind the success of this model (and Barista Express). It gradually brings in pressure to your grounds, allowing them to spread before raising the pressure. What happens next is optimal extraction, which is the trick behind rich, full-bodied coffee with a perfect balance of flavors.
The next great thing about this coffee maker is the freedom to control the brewing process. Volumetric control gives you absolute control over the amount of coffee that goes into your cup. It's also up to you to decide the number of shots or espresso you want in your cup.
Unfortunately, this machine lacks an in-built grinder, so you have to get out there and shop for a good grinder for espresso in case you lack it.
Pros
Plenty of freedom over the brewing process
Small footprint makes it great for countertops
Affordable
Comes with a plastic insert that reduces heat loss
Auto-sleep feature helps to save energy costs
Has a maintenance gauge that alerts you when the machine needs cleaning
Cons
No built-in grinder
Can be difficult to use for novices
Breville BES840XL Infuser will make you rich espresso without fail. It may not be feature-rich, but what's packed into the unit is enough to surpass most of your needs and expectations. The best part? It's affordable!
Swipe, select, then tap! That's all it takes to brew a cup with this Breville masterpiece. But if you are eager to explore its abilities, then there's a lot for you to experience.
Key Features
Makes espresso, latte, long black, flat white, and cappuccino
Dual boiler construction
Touch screen display
Automatic steam wand
Let's you personalize your coffee
Because it's a super auto, there's little effort involved in running this machine. You have a conical burr grinder that not only grinds but also automatically doses and tamps your coffee beans for maximum flavor. From here, the water temperature and pressure control mechanisms take over, ensuring extraction is accurate and optimal.
The icing on the cake is how you can personalize your drinks and save your settings. That's in addition to having five preprogrammed cafe drinks. You change the coffee strength, temperature, and milk texture to levels that suit your unique taste.
Pros
Easy to use, clean, and maintain
You can brew personalized drinks
Dual boilers allow for simultaneous brewing
Milk frothing for lattes, cappuccinos, etc.
Dual boilers allow for simultaneous brewing
Cons
Very expensive, making it unaffordable to many
The Breville dual boiler espresso machine's best price may be steep, but what's reassuring is that this is a feature-rich coffee maker you can count on for cafe-quality outcomes and consistently great performance.
About Breville
Breville doesn't just build coffee machines; they create lots of other kitchen equipment too, a fact that has turned them into leaders in multiple industries. Ever since its inception in 1932, the brand has only experienced growth, rising to become the go-to place for appliances that cater to our unique tastes.
Australia may be home to Breville, but their products are spread out across the world, going toe to toe with other homegrown and global brands. In the world of coffee machines, they tower over 80% of their rivals. Espresso machines from Breville have revolutionized the home brewing experience.
Driven by innovation and the desire to satisfy consumer needs and preferences, the brand has built a huge lineup of impressive espresso machines for every budget and purpose. From our Breville espresso machine review, you can clearly see that each model is unique with exceptional abilities. That's part of what makes the brand special.
Whether you are a novice or seasoned coffee drinker, there's a machine perfectly suited for you, from automatic and semi-automatic models to super-automatic masterpieces.
Interestingly, all the espresso machines from Breville live up to particular standards. You will notice that the following features are present in all their machines:
User-Friendly
Knowing that their machines are mostly designed for home use, Breville went the extra mile in designing simple user interfaces and functions that are easy to learn and master. Even a novice gets the hang of them in no time.
Stainless Steel Casing
Each Breville machine, from the base to premium models, has a sleek look, majorly defined by their brushed stainless steel casing. That's why they blend well with any kitchen decor and are easy to clean. Even the inner components are made out of solid materials that guarantee unmatched longevity.
PID Technology
Proportional-Integral-Derivative (PID) is the technology behind the well-adjusted temperature that optimizes extraction, leading to consistently flavorful shots.
Dosage Control
Dosing is often the major culprit behind bad-tasting coffee. Breville unriddled this by building their models to grind and dose the right amount for the perfect shot. But for machines without a built-in grinder, you will have to do this on your own.
Customer Satisfaction
Breville has representatives spread out across the world, ready to serve you every day of the week. Querries and feedback are always responded to on time and to the consumer's satisfaction.
One-Year Limited Warranty
This is present in all Breville coffee machines. Should your machine run into problems within this period, the company will provide whatever is needed.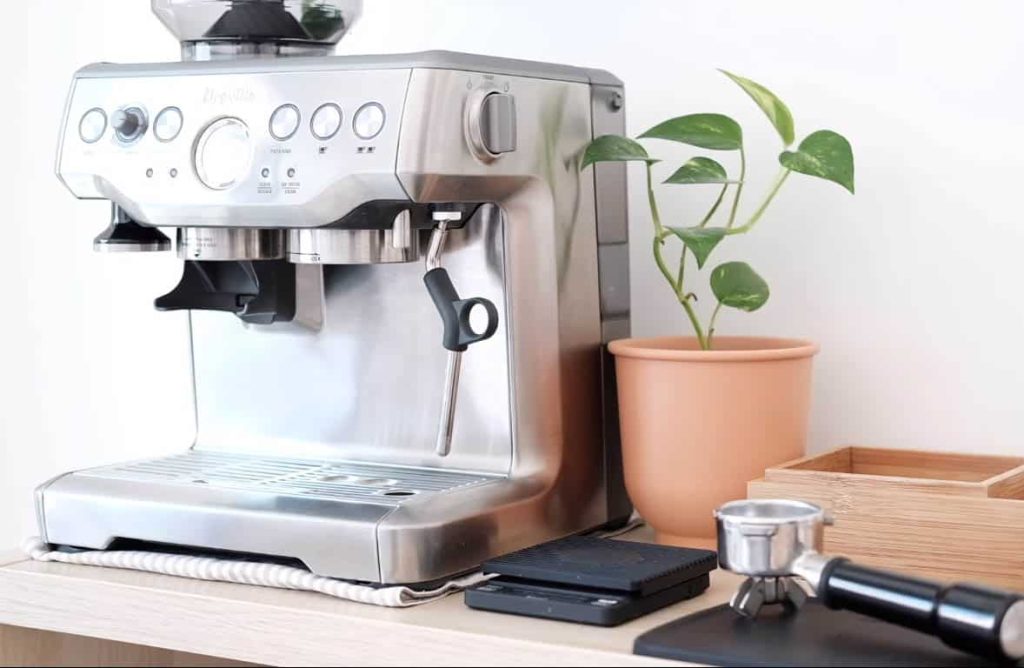 Frequently Asked Questions
Are Breville Espresso Machines Worth It?
I'll sum that up with a yes.
So many things make Breville espresso machines worth buying. Top on the list is their standardized performance. Each model on their lineup will brew that perfect shot for you, regardless of what your specific needs are.
Whether you want the process fast or slow, there's a Breville machine ready to suit your preferences. Regardless of if you are a novice or professional coffee lover, you will find a model that will serve you right.
Your budgetary needs haven't been left out either. For as low as $575, you will get an impressive espresso machine just as you would with a budget of $2,000. Overall, there's very little to hate about Breville coffee makers.
How Long Do Breville Espresso Machines Last?
When taken good care of, Breville espresso machines can last up to five years. Each one is built to last and serve you without fail. Make sure to check the manual for guidance on how to best maintain your unit so that it won't fail you.
Can a Breville Espresso Machine Make Regular Coffee?
The short answer is yes. However, not all Breville espresso machines can make regular coffee; only those built to also make Americano can do so.
Breville Barista Express is a perfect example. It makes Americano, which is basically espresso mixed with hot water. It also has a milk steamer to help you make espresso-based drinks such as latte, cappuccino, mocha, etc.
So What Is the Best Breville Espresso Machine?
Maybe you are wondering which Breville espresso machine to buy for your home. Well, the answer mostly lies in what you need it for, your preferences, and budget.
Having said that, Breville BES870XL Barista Express is the one you are less likely to go wrong with, whether you are a beginner or expert coffee drinker. It's the winner in our lineup because it has a good balance of all the core features of a perfect espresso machine.
Even though it's not as feature-rich as a super-automatic model, your shot will still be as delicious and flavorful as one from a premium model. What more could you ask for?
But if you prefer a fully automatic machine, our list still has you covered. To compare Breville espresso machines, please check the table as it effectively sums up the products for you.