Updated: August 5, 2023 by Alex Carpenter
Choosing an espresso machine for your home is tough enough – when it comes to choosing one for your business, that is a whole different ball game. There are so many different machines that you need to check out that it will inevitably take you time and a lot of effort to go over everything. Luckily for you, I have narrowed it down to the seven best espresso machines for small businesses that you need to look into!
Some of these machines are more expensive than others, while some come with more automation than others. Depending on your skill level and the exact type of business you are planning on using the machine for, you should look into the machines on this list and find the perfect one. No matter if you run a coworking space or an actual coffee shop, there will be a machine that will be just right for you.
Stick around to see which machines made their way to this list and what it is that put them here. I am ready to get started whenever you are!
TOP PICK

My top pick for the best commercial espresso machine for a small coffee shop is the Breville BES870XL Barista Express. This baby has all the features that you would ever need in an espresso machine, including a bean hopper, grinder, dose control, automatic tamping, steaming wand, and an ergonomic portafilter that can be used with a single- or double-filter basket.
If you happen to have a small coffee shop or any other type of small business, you need to have this machine! It is not even that expensive, so you should not think twice about investing in it. For more information on its features and options, check the detailed guide given further below.
The Best Commercial Espresso Machines for a Small Coffee Shop
The time has come to check out my favorite espresso machines for a small coffee shop and other types of small businesses. Let's get to it!

This Barista Express from Breville has all the features that a commercial machine would have but in a very compact design. It looks modern and is built from stainless steel, making this a very durable machine that you can rely on to make great coffee all the time. You can turn the machine on and have an espresso waiting for you in less than one minute!
Key Features
Automatic
Built-in conical burr grinder
Thermocoil heating system
Manual steam wand
67 oz (2 L) water tank
Brushed stainless steel body
I think that this is a great machine because it includes a grinder that you can use to grind your fresh coffee beans to your desired consistency. Using the grind size dial, you can switch between a very fine grind and coarser grind consistency. After that, the machine itself will dose the beans and send them to the portafilter.
Pros
Has a pre-infusion option
Gives user some control in brewing options
Makes great espresso
Pretty quiet
Cons
Grinder might be somewhat inconsistent
Because this machine can prepare you an amazing shot of espresso in less than a minute, I think that it is perfect for any small business. It will not take up a lot of your time and will not require that much involvement on your part. So yeah, I think this is the best espresso machine for a small cafe.
When compared to the previous Breville machine given on this list, you will find that this one has the same quality but much easier controls. The company put an intuitive LCD interface on the machine that will allow you to check the settings and make changes as needed.
Key Features
Automatic
Built-in grinder
Intuitive LCD interface
Single- and dual-wall filter baskets
Steam wand
2-liter capacity water tank
Thanks to the innovative ThermoJet heating system, the machine will take only three seconds to heat up after you turn it on. The temperature of the water will always be optimal, allowing you to brew an amazing shot of espresso. You can also use the powerful steam wand to add steamed milk to your espresso afterward!
Pros
Fast heat-up
Precise espresso extraction
Professional grade
Cons
You have to wait a while between brews
No pressure gauge
This is an incredible machine when it comes to precise grinding of coffee beans and precise extraction of espresso. The only problem is that you have to wait a while between brews until the machine gets the water back to the optimal temperature. If you do not mind the waiting, consider this machine for your small business.
Most fully automatic machines that I have come across work with capsules only, so this Phillips 3200 was a pleasant surprise for me. On top of the machine, there is a bean hopper that you can use to add your favorite coffee beans. The machine also has a great ceramic grinder that will grind the amount of beans you need for your brew!
Key Features
Super-automatic
Automatic milk steamer and frother
Adjustable grinder settings
Adjustable temperature settings
Adjustable coffee and milk length
On the front of the machine, you will find an easy-to-use touch screen. It allows you to choose between an espresso, cappuccino, regular coffee, latte,  macchiato, Americano, and hot water that is perfect for tea. Oh, and you can also go with a single or double dose of each of these recipes!
Pros
One touch foolproof brewing
Dishwasher-safe parts
Pure ceramic grinders
AquaClean filter
Cons
Not suitable for taller cups
I think that this is a great machine for a small business or small café! It brews the coffee without much involvement on your part, it is quite quick, and it is very easy to clean after each brew.
One of the best things about this Jura D6 machine is its Pulse Extraction Process technology that can get optimum flavor from the coffee beans you use with it. Thanks to it, you will be able to get the perfect espresso in just several seconds. But the machine can prepare a lot more than just espresso – it can also prepare a cappuccino or hot water that you can use to make tea!
Key Features
Super-automatic
AromaG2 Integrated options
Versatile brewer
One-touch recipes
Pulse Extraction Process
In addition to the fine foam frothing wand, the machine also comes with adjustable coffee strength as well as coffee volume. The water container is quite large and it has a CLEARYL Smart Water Filter as well as an alarm that goes off whenever you need to refill the container.
Pros
Makes full-flavored espresso
Different beverage options
Can be operated with an app
Makes beautiful milk foam
Cons
Sensor problems might arise
I think that this is a very convenient machine that you could benefit from. If you want to make it even easier for yourself to brew coffee with it, just connect it to the suitable smart app and use it like that.
What is better than having a menu of drinks that you can prepare with the push of a button? With this Dinamica Plus espresso machine, there are 16 different one-touch recipes that you can choose from. In addition, you can add your recipes and have tailor-made beverages available at the tip of your fingers!
Key Features
Super-automatic
Intuitive touch interface
Proprietary LatteCrema System
Built-in burr grinder
The machine comes with a burr grinder that can grind your beans according to your preference. There are 13 different grind levels for you to choose from, and there is also a bypass for decaf. To add to all this, you can also choose to brew over ice!
Pros
Can make 16 different drinks with one-touch
App control option
Super convenient
No special skills required
Cons
Milk frother may malfunction
This might not be the most compact of machines, but it comes with a lot of great features. Since this is the most expensive machine on the list, I would suggest that you go over all pros and cons before you decide whether you want to invest in it or not.
This La Specialista machine from De'Longhi has so many adjustable settings that you can tailor each shot of espresso to your liking. Not only do you get to choose the grind level and the coffee temperature, but you also get to choose between six different coffee recipes.
Key Features
Semi-automatic
Dual heating system
Built-in grinder
67.6 oz (1.9 L) water tank
Vibratory pump
Separate hot water spout
Thanks to the dynamic pre-infusing on the machine, you can adapt the machine to your settings. When it comes to preparing the shot, you can use the digital dosing option to choose the amount of coffee you want to brew. Do not forget to go with the smart tamping option as well!
Pros
Precise digital dosing
Smart tamping option
Adjustable temperature setting
Automatic milk steaming and texturizing
Dynamic pre-infusing
Cons
Machine might be a bit bulky
Considering how many features this machine comes with, it might be somewhat difficult to get adjusted to using it. However, I have no doubt that when you do so, you will be able to brew amazing espresso whenever you want. Let this machine be your brewing assistant, from the moment you start grinding the beans to the moment you get the coffee!
My final pick for great espresso machines for small businesses will be the simplest – this Rancilio Silvia. It is quite compact and does not have that many features, but it can still provide you with great coffee in a matter of seconds. If you are someone who puts simplicity over everything else, this could be the machine for you!
Key Features
Semi-automatic
Vibratory pump
Holds 12 oz (0.3 L)
Saturated group head
Articulating steam wand
Chrome-plated single boiler
There are several removable parts on this machine, including the drip tray and the water tank. This means that it will be extra easy to clean them, and you will not waste any time removing or reattaching them. Whenever you need to refill the water tank, you can do that without removing the tank from the machine – trust me, there will be no spills at all!
Pros
Classic linear design
High volume capacity
Optional capsule adaptor
Durable
Cons
Not as versatile as the others on this list
Even though this machine is a bit simpler than the rest, it is great because of the straightforward controls and the quality build. I recommend that you give it a closer look if you want something that will brew your coffee quickly and without much fuss!
Also, check out some of our other guides featuring other great espresso machines that you could look into!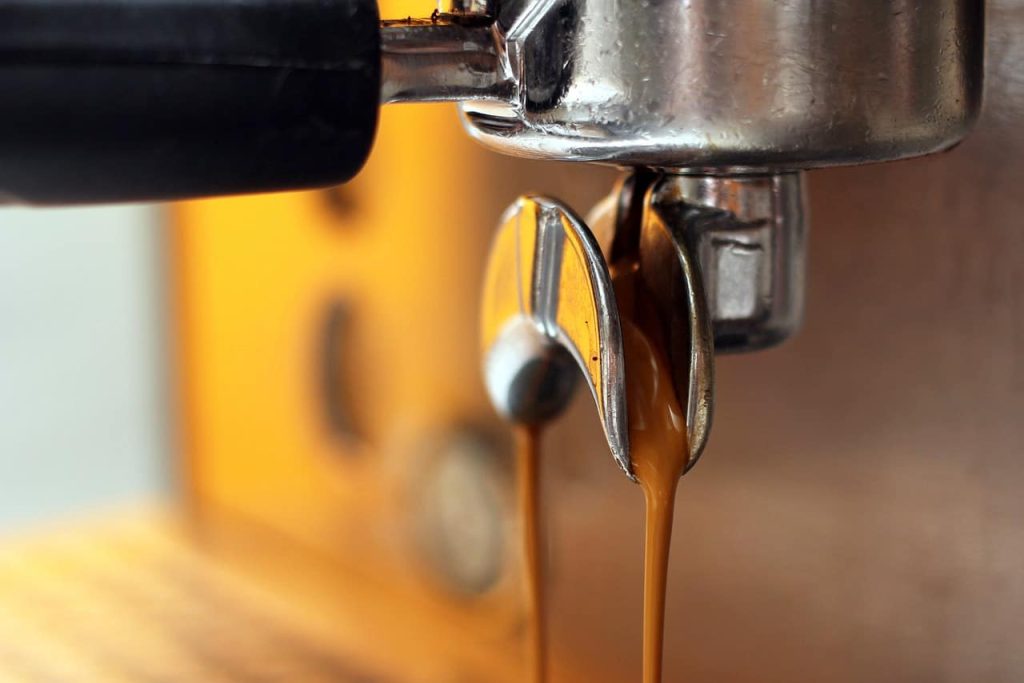 How to Choose the Best Espresso Machine for Your Small Business
If you do not know exactly what things you need to focus on when trying to buy a new espresso machine for your small business, I am here to help you out! Here are some of the things you should think about before making a final decision.
Quality vs Budget
No matter what your budget is, always try to get your money's worth and go for the machine that has the best quality. Usually, that will be a machine with a durable build, probably one that is made from stainless steel, comes from a reputable manufacturer, and has an extended warranty.
Manual vs Automatic
When it comes to commercial machines, you should look for ones that are automatic or even super-automatic. You do not want to be laboring over the machines all day long, especially if you have a busy business and a lot of people to tend to.
Of course, some people prefer manual machines because of the involvement in the brewing process and the ability to tailor every beverage to your needs. Whether you go with a manual or an automatic one is a choice you have to make based on your preferences and skill level. Choose wisely!
Features
For small businesses, I recommend commercial machines that come with larger water tanks and bean hoppers, ones that can brew shot after shot without you needing to wait for long. Also, a steaming wand is a must as well as a portafilter that can be used with different filter baskets.
FAQs on Espresso Machines for Business
Before I wrap up this guide, I want to tell you more about the frequently asked questions regarding these awesome espresso machines. Let's get into it and see what else you should know.
Why are commercial espresso machines so expensive?
The reason why most good commercial espresso machines are so expensive is that they are made with quality materials and come with a lot of great features. These machines have to be powerful to be able to brew a lot of coffee at a consistent level. However, if you have a business and you are thinking of getting a commercial espresso machine, I would say go for it – you will not regret it!
Do expensive espresso machines make better coffee?
Even though this is not a rule, expensive espresso machines tend to make better coffee than cheap ones just because of the quality build and consistency of the temperature and pressure. The expensive espresso machines are also more durable than the cheap ones, so you will likely get more years out of them!
Big and Bold Espresso for Your Small Cafe
I hope you liked the espresso machines I selected for this guide. I put a lot of thought into it and decided to go with the Breville BES870XL Barista Express as my all-time favorite machine for small businesses.
If you know any other great commercial espresso machines that you want to point out, feel free to do so in the comments below.