Updated: August 5, 2023 by Alex Carpenter
With so many great espresso machines out there, I get that it can be somewhat difficult to decide on only one. Especially if you have a limited budget of around $300, you must want to get the best machine for your money. Today, you and I will go over the best espresso machines for under $300 and see what makes these machines special.
Below are detailed reviews of my favorite seven espresso machines for at-home use. In the reviews, you can find all the important information regarding these machines. They have different functions and abilities, some are more durable, and some are more versatile.
If you are ready to learn what these seven machines are all about and which is the perfect one for you, I recommend that you stick around for the duration of this guide. Hopefully, by the time you reach the end, you will know exactly which machine you want to get for yourself!
TOP PICK

Nespresso is considered one of the best coffee machine manufacturers over the past couple of years and is still a dominating force in the world of coffee. As my top pick for the best espresso machine under $300, I will give you one of their best machines released a few years ago. That machine is the Nespresso Vertuo by Breville.

I am giving the company an absolute A+ for their Vertuo Line, but this original Vertuo machine is what started it all. This is a versatile and smart coffee maker that can give you the best in-cup results. The design is quite sleek and compact, the machine is both easy to use and easy to clean, and it still allows you to be included in the brewing process.
I love this machine and would love to tell you more about it, but I will do so in the detailed review further below. If you are wondering whether to get this machine or not, I suggest you go to that section and learn even more about it!
The Best Espresso Machines under $300: My Reviews
To start this list on a high note, I chose one of my favorite espresso machines from Nespresso's Vertuo Line. This versatile brewer is very easy to use and maintain. It has a container that will store used capsules, and it also comes with a removable, dishwasher-safe water reservoir and drip tray.
Key Features
7000 rpm centrifusion pressure
Superautomatic
Single-serve capsule system
Used capsule container
One of the best things about the Vertuo Line is the Vertuo capsules. Vertuo capsules have a unique extraction system that allows you to get the best cup of coffee each time. There is a barcode on the capsule that lets the machine know exactly what type of coffee it needs to prepare and how to prepare it – you do not need to make any adjustments at all!
Pros
Retro-modern design
One-touch brewing system
Four different cup sizes
Recyclable capsules
Cons
Only works with Nespresso Vertuo capsules
Vertuo gives you next-level extraction. The convenience and versatility that it offers are unlike any other, so I recommend that you give it a shot. I bet you will not regret it!
Having a machine with easy controls is something that would make your life so much easier, and this machine can offer you just that. On the front side of the machine, you will find buttons that allow you to choose between a single or double shot of espresso, a small or large latte, and a small or large cappuccino. You can also manually select the amount of coffee and choose to add frothed milk to it!
Key Features
19-bar pump
Superautomatic
Thermocouple heating system
The way that this machine is designed allows both the water and milk containers to get heated at the same time. Then, as the coffee is pouring into your cup, you can choose to have frothed milk added to it with the machine doing the frothing itself. Just remember to remove and clean the reservoirs for milk and water after you are done brewing.
Pros
One-button interface
Adjustable cup tray
Automatic milk frother
Removable milk reservoir
Cons
Milk frother can make a bit of a mess
Even though the frother can make a bit of a mess, you can easily clean everything up and then enjoy your coffee without any distractions. This machine can make you amazing espresso!
Vertuo Next is one of the newest espresso machines from Nespresso. At the same time, this is the most compact Vertuo machine to date. What is even better about it is that it is one of the most sustainable and smart machines from this company – it is made with partially recycled materials, making it quite the innovation!
Key Features
7000rpm Centrifusion brewing
Superautomatic
Capsule based system
This machine also features capsule recognition, meaning that the barcode of the capsule will tell it exactly what type of coffee to brew. After using the capsule, the machine will automatically eject it. The recommendation from both the company and myself is to recycle the capsules after using them.
Pros
Slim fit design
Automatic power-off
Automatic capsule ejection and storage
Fully recyclable capsules
Your $300 can include Aerocino automatic milk frother bundled in
Cons
Machine often requires descaling
Even though this is an excellent brewer, some people have found that it needs to be descaled too often. If you do not mind that and decide to go with this machine, you can run that descaling process using the descaling solution sold by Nespresso on their website. The company advises against using any other solution in their machines.
This espresso machine from De'Longhi is a very convenient one because it can heat up fast, and once it does, you do not have to wait at all between brews. The Rapid Cappuccino System allows the water to be at an optimal temperature at all times. The machine also has a separate thermostat that will keep the steam pressure at an optimal level.
Key Features
15-bar professional pressure pump
Semi-automatic
Two separate thermostats
Advanced frothing wand
Using this machine, you can make espresso and every espresso-based beverage you desire. It can be an Americano, a latte, or a cappuccino. The versatility of this brewer is one of the best things about it. Oh, and did I mention that you can fit both a filter basket and a capsule in the portafilter?
Pros
Versatile
No waiting between brews
Ergonomic portafilter
Cons
Machine may start dripping after some time
This machine is a great choice for anyone looking for a versatile brewer that can be used with both filter baskets and capsules. It might not be the most durable one since it has been reported that it starts leaking after some time. That is something you have to keep in mind when looking into this machine and deciding whether to get it or not.
The De'Longhi EC680M is also known as Dedica – a machine that assures quality results every time. There are easy controls on the machine that allow you to choose between a single or double espresso, a latte, or a cappuccino. Since the machine comes with a steaming wand as well, you can use that to make texturized milk and add it to your coffee.
Key Features
15-bar pump pressure
Automatic
Professional steam wand
Retains optimal temperature at all times
After starting a brew, you do not have to stand next to the machine. With the automatic flow stop features, the machine will stop by itself after giving you the right amount of coffee. Just make sure that you adjust the settings depending on the type and amount of coffee you want to get.
Pros
Three-in-one portafilter
Fast heat-up
Easy to use
Can brew double shots
Cons
Power button wears down
Durability issues
Considering that this is not the cheapest machine out there, one would expect that it would last longer than it does. A lot of people have opened up and said that the machine starts leaking and the steam wand stops working after a short time, so if you are looking for durability above all else, this may not be the machine for you.
Do you want to brew drip coffee and espresso at the same time and without having to switch between two machines? That is possible with this all-in-one machine from De'Longhi. To make the drip coffee, make sure that you use the 10 cup carafe that is also spill-proof!
Key Features
15-Bar pressure pump
Semi-automatic espresso maker
Programmable timer in coffee maker
Dual heating system
Advanced steam wand
Digital touch screen interface
What the programmable timer allows you to do is set a time for the machine to automatically turn on and start brewing coffee. That way, when you wake up, your coffee will be waiting for you. You will not need to waste time brewing it or anything!
Pros
Customizable settings
Makes coffee and espresso at the same time
Spill-proof carafe
Huge capacity
Cons
Machine might be a bit loud
Even though this machine is a bit more expensive and larger compared to the rest of the machines on this list, it is still a great one. The fact that it can brew both espresso and drip coffee at the same time justifies both the price and size if you ask me!
To finish the list on the same high note that I started it on, I will talk to you about another great machine. This time, it comes from a manufacturer called Lavazza. This Classy Plus machine has very easy controls that allow you to choose between a single or double shot of espresso, lungo, regular coffee, latte, cappuccino, and macchiato.
Key Features
Pump pressure
Super-automatic
Single-serve pod system
Removable water tank
Used capsules container
The machine can also remind you whenever you need to refill the water tank and descale the machine. A reminder will also pop up whenever the used capsules container is full and needs to be emptied. You can rest assured that you will not forget to do these things – the machine will remind you whenever it is needed!
Pros
Six beverage options
Standby eco-mode
Touch user interface
Cons
Works with only Lavazza capsules, which limits variety
This is a great versatile and compact brewer, but a lot of people dislike the fact it is suitable for one type of capsule only. That can be somewhat limiting, so take it into account when deciding whether to get the machine or not.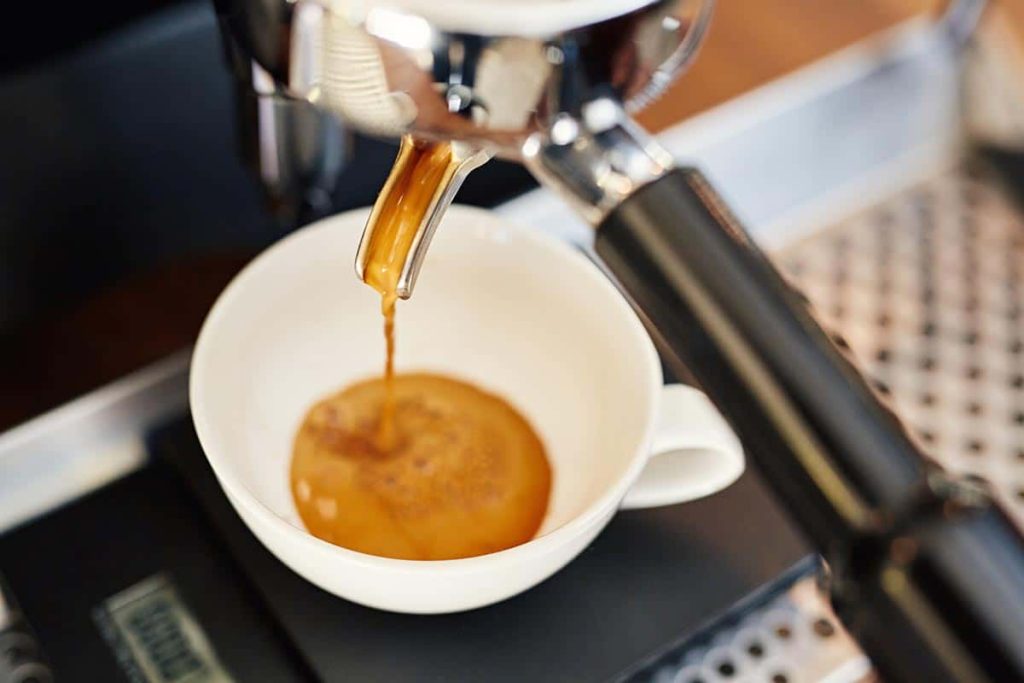 Notes on Buying the Best Espresso Machines under $300
To help you make a more educated decision when choosing your new espresso machine, I will give you some key points that you need to keep in mind. These will help you get the perfect machine for yourself, so make sure that you read them with the utmost attention.
Type of Machine
Depending on your preference and how involved you want to be in the brewing process, you can go with an automatic or a manual machine. The automatic machines are better for people who do not wish to be included in the brewing process, while manual espresso machines are better for people who want to be included in the brew.
Keep in mind that automatic machines are further divided into semi-automatic, automatic, and super-automatic. You can also go with a single-serve machine, one with the option to brew two shots at the same time, or one that can brew an entire carafe of coffee.
When you have a limited budget of $300, your choices might also be quite limited — more so if you can only spend $100. When it comes to the automation, you are more likely to find a good semi-automatic or automatic machine for $300 or less rather than a super-automatic, as these would usually cost more.
You can also find a good manual brewer that will fit the budget, but you might need to sacrifice some features, for example, the built-in grinder or shot doser. Still, there will be a lot of good machines for you to choose from.
It can be a good idea to sacrifice some features as long as the machine can deliver on the pressure and give you great espresso. No matter if you go with a manual or automatic, I recommend that you find a stainless steel machine with steel parts — even if this may really come at the top end of your budget. But this way, you can really get your money's worth.
Ease of Use
I recommend that you go with a machine that has simple controls, maybe a touch display or one-touch choices. Make sure that the settings are adjustable so that you can tailor each cup of coffee to your liking.
Durability
As for durability, I recommend that you go with a machine-made with durable materials like steel or other metals. Machines made from plastic are usually not that durable, so you should avoid them. Also, make sure that the machine comes with an extended warranty so that you can turn to the manufacturer for help in case there is any problem with it.
FAQs About Espresso Machines Cheaper Than $300
Before wrapping up this review, I want to mention a frequently asked question that I think you should know. Let's see what else you should know about espresso machines.
How much should I spend on an espresso machine?
The espresso machines that are generally considered as durable and quality machines will come at prices from $300 to $700. Anything that costs less will probably not be as durable or will not have the best quality. At the same time, machines that cost more than $700 are usually better for commercial use rather than at-home use, so keep that in mind as well.
Why are coffee machines so expensive?
Some espresso machines are quite expensive because of their durability, and the fact that they have quality parts and a lot of features. If you are able to invest in such a machine, I would recommend that you do. It can really brew a great cup of coffee!
Your $300 Goes a Long Way
Thank you for sticking with me through this guide. I hope that you liked my selection of top espresso machines for under $300.
If you are looking to stay within the same budget as I am, give the Nespresso Vertuo a second look as it is a cool superautomatic machine that comes for under $300. Make sure to also check out the Nespresso Vertuo Next, which is also a great machine but comes slightly cheaper. Overall, I have to say that no matter which machine you end up choosing, I believe that you will not regret your decision!