Updated: August 12, 2023 by Mary Nguyen
Maybe you're one of those who believe that nothing good comes easy, especially not espresso, the king of caffeine beverages. If you're looking to put some elbow grease into creating a shot, you might be looking for the best hand grinder for espressos. After all, one of the key elements to a good espresso is coffee grounds at the perfect fineness and texture.
Or maybe you just don't want to spend a fortune. While it's true that electric burr grinder do an excellent job in a jiffy, they do not come cheap. What's more, it isn't easy to carry around and taking it on the road with you is out of the question.
Whatever your reason for wanting the best manual coffee grinder for espresso, with the information in this review, you will know what to keep an eye out for when making your purchase.
Let's get to it.
TOP PICK

I recommend the 1Zpresso JX-PRO Manual Coffee Grinder because it's beginner-friendly yet offers such a high level of consistency. Since you need fine and uniform grounds for your espresso, the hard-hitting burrs on the JX pro are perfect for the job.  In fact, that's the main reason why cheaper, competing models can't come close to the JX pro. They lack the fine adjustment levels that the JX pro boasts of.
The Best Hand Grinders for Espresso Are:
1Zpresso's 'JX' may be a mid-range priced manual grinder, but there's no denying the fact that it is a beast. The large, powerful 48mm burr grinders will aggressively break down your coffee beans in half the time of competing models. But there's more!
Key Features
Fine adjustment specifically designed for espresso
Stable 48mm stainless steel burr
Over 200 clicks setting
Super easy to clean
30-35 grams capacity
It's easy to see why the JX pro is flying off the shelves. Right off the bat, you'll appreciate the ergonomic design. There's a rubber sheathing around its neck to give you a great grip. To add to this, it has a large handle that's easy to hold even if you have small hands.
Another wonderful thing to note about the JX pro is that it has its adjustment on the top. What stands out the most is the fact that you get a whopping 40 increments per rotation. As you can guess, this level of precision is perfect for dialing your espresso shot.
What's more, 1Zpresso is famous for making high-quality coffee equipment that's friendly to the pocketbook. Looking at the 1Zpresso JX, you see the same principle applied: it's a well-crafted grinder with a manageable price tag for coffee novices and seasoned enthusiasts alike.
Pros
Aggressive burr grinders that increase efficiency
Comfortable ergonomic design
Made using high-quality parts that make it durable
It's affordable compared to competing models
The JX pro is one of the fastest manual espresso grinders on the market (in just 30 seconds, you can grind around 20 grams of espresso beans!)
Cons
Because of the large size, traveling with it might be difficult
When it comes to getting the most value from your purchase, the 1Zpresso JX Pro is exactly what you need.
In your search for the a manual grinder for your espresso, you will come to realize that many models play it safe. Finding a hand grinder that takes your breath away is not easy. What most average manufacturers do is copy designs from each other. As a result, there are not that many innovative espresso hand grinders. But one thing is for sure: there is nothing boring about  HEIHOX's manual coffee grinder.
Key Features
2.1×7 inches
38mm steel conical burr
Stainless steel housing
Steppless grind settings
30-35 grams holding capacity
Another awesome thing about the HEIHOX's manual coffee grinder is that it is smooth on the eyes. Each one of its chambers features a different color, creating a pleasing visual aesthetic. The grinder has a matte finish and a grip surrounding the top chamber to improve the hold.
Still, the HEIHOX's manual coffee grinder has more to offer than a sleek design. This small grinder packs a powerful punch. With its 38mm steel burrs, it will break down your espresso beans in no time. Count on the HEIHOX's manual coffee grinder to break down 1 gram of espresso beans in just 1.3 seconds.
Without a doubt, the stand-out feature of this model is the number of grind settings: 24. As you can imagine, with this much control, finding the perfect grind texture for your espresso will be a breeze.
Pros
All-metal design gives it a solid and high-quality build
Compact size makes it easy to hold and carry
Fast grinding speeds
Consistent adjustment system
Cons
Because of its price tag, traveling with it is a risk, and you will be at a loss if it gets damaged on the road
Few grinders can compete with HEIHOX's manual coffee grinder in terms of efficiency. To be honest, this is not an entry-level grinder. It's a professional-grade tool with a price tag to match. And here's the best thing: this purchase will give you great value for your money and then some.
The Japanese company Hario is renowned for manufacturing top-range coffee-making equipment. With a spotless track record, it's no surprise that the Hario Skerton Pro is a crowd-pleaser. This grinder is designed with speed and efficiency in mind. Some features that make it a stand out model include:
Key Features
Stable and durable design that uses a combination of heavy-duty plastic, steel, and ceramic
Powerful and durable conical burrs
A non-slip rubber base that helps keep the grinder in place when grinding
Straightforward adjustment system
100 grams holding capacity
If you are looking for an affordable yet efficient grinder,  this model is just what the doctor ordered. The powerful ceramic burr grinders produce little to no noise. What's more, the Hario Skerton Pro has a massive holding capacity of 100g! I am sure you'll agree that this is the ideal grinder when making espresso for a group of friends.
Pros
Affordable, the Hario Skerton Pro is one of the cheapest grinders on the market
Offers a wide range of grind settings
Durable design
Huge grind capacity
Cons
Less portable compared to other grinders
For a smooth grinding experience where you don't have to worry about quantity, the go-to option is Hario"Skerton Pro" Ceramic Manual Coffee Grinder.
With the JavaPresse Manual Coffee Grinder, grinding your espresso beans on the go becomes much easier. Here's why.
The JavaPresse comes with 18 grind settings, giving you a great amount of control over your grinding process. There are plenty of reasons why this product is flying off the shelves. Here are some of them:
Key Features
Sleek, lightweight design
Patented dual plated conical ceramic burr
Reduced noise levels
Portable
Right off the bat, you'll notice that the JavaPresse hand grinder has a striking yet functional design. The use of food-grade stainless steel is a great choice. Apart from being a durable material, it makes the grinder easy to clean. This is important when you are traveling or out camping where water is in a limited supply.
To add to this, the JavaPresse features a sensitive adjustment grind system, giving you a wide range of grind options, be it drip coffee, pour-over, or espresso.
Furthermore, the JavaPresse manual grinder is crafted using a patented dual-plated conical ceramic burr, enhancing its longevity in comparison to its stainless steel counterparts.
Pros
An aggressive conical ceramic burr grinder
It is one of the most affordable espresso hand grinders
Eco-friendly, made with food-grade stainless steel
Easy to clean
Cons
Difficult to determine size setting
If you are looking for an affordable manual espresso grinder you can rely on for superior performance, the JavaPresse will match and even go beyond your expectations.
The Lido series is well known in the specialty coffee community. After the first model in the series made a favorable impression, the company behind this amazing grinder made adjustments to further improve the product. The Lido 3 is the culmination of these efforts.
This model doesn't disappoint. The first thing you'll notice is that this manual grinder is on the bulky end. It weighs about two pounds. Yes, this bad boy is pretty heavy as well. Now, the weight comes as a trade-off since the Lido 3 is superbly crafted with high-quality materials for improved performance.
Key Features
Swiss made 48mm stainless steel conical burr set
Made using high-quality material
Handle knob has a soft grip
Larger capacity hooper (70 grams)
When it comes to materials, the Lido 3 is constructed using stainless steel, silicone, BPA-free plastics, and aluminum. The container for the grounds is made from PermaStat ABS plastic, which is designed to be durable and lightweight. What's more, the material is resistant to static, preventing espresso grounds from sticking to its sides.
Also, unlike other models, the Lido 3 has an intricate adjustment mechanism. While some might find it overwhelming, it's perfect for fine-tuning grounds for your espresso shots. The stepless grind adjustment on this model is unique since it features dual threaded rings.
For espresso grinding, the Lido 3 has a finer thread pitch in its adjustment ring. As you can guess, this makes dialing in your grinder for espresso much easier.
Pros
The large 48 mm conical steel burrs make quick work of any brand of espresso beans
This grinder is easy to hold despite its size
It's  transparent so you can see the burrs grinding your beans
When it comes to portability, the Lido 3 has a folding handle that makes it easy to pack in a small space
Comes with a durable carrying case
Durable steel burrs
Shorter grind duration
Cons
Complex adjustment system but you could easily master it with time
Given its complexity and beastly performance, this manual grinder would make a perfect option for seasoned coffee connoisseurs. It may be slightly expensive, but you get ultimate value for your money.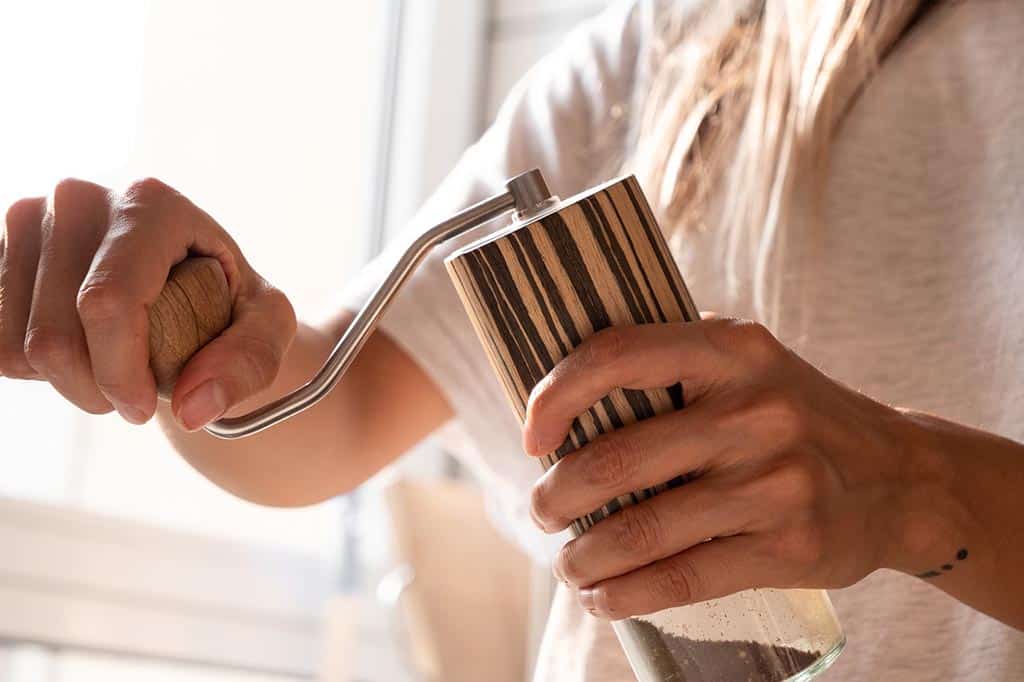 How to Pick the Best Espresso Manual Grinder
As much as you now know of the best hand grinders for espresso, additional info on making a great purchase won't hurt.  This section will help you fine-tune your elimination process and narrow down on the grinder offering the most value for your money.
Let's get started.
Grind Settings
Every great coffee grinder has a variety of settings. These settings help you grind your beans according to varying tastes so that you can prepare the best coffee. More grind settings give you better control and help you reach a superior level of precision.
Now for espresso, the most important settings are on the finer end of the spectrum. You want to be able to do micro adjustments to the grind size to fine tune your espresso grind.
For manual grinders that are designed for home use, try to go 20 settings, just to assure you some options for your settings for espressos. Of course many good manual grinders are stepless and won't have clear "clickable" settings so you have to a lot of experimenting yourself to find the perfect grind for particular beans.
Here's a great instructional video for adjusting manual grind settings
Burrs
Two things you should never overlook when it comes to burrs is type and material.
Material
There are two major options available to you when it comes to material: ceramic and steel burrs. If you plan to leave your grinder at home, then ceramic burrs will do just fine. The fact that they don't generate heat is an added advantage.
On the other hand, if your grinder will be a constant companion on your travels, then you are better off going for steel burrs. Apart from being less expensive, they won't break easily on the road.
Burr Type (Conical vs Flat)
Two burr options are available for you to choose from: conical and flat. Both create great espresso, but there are subtle differences between them you do not want to miss out on.
Let's begin with conical burrs. Their major feature is a larger surface area that helps them get rid of heat faster. This type of burr can grind coffee particles in all the sizes you want, from small to large, and is way more affordable compared to flat burrs. Also, it makes relatively less noise, can be cleaned with ease, and produces minimal grinding waste.
Flat burrs, on the other hand, use a flat disk for grinding the beans and are a little more powerful. As a result, they generate uniformly ground coffee, no matter the size you choose. Most coffee aficionados love this type of burr primarily due to this feature, because it enables them to brew unique flavors of coffee.  However, flat burrs generate more grinding waste, are noisier than conical burrs, and take some time before one learns to effectively use them.
Of the two, conical burrs are the most preferred by coffee lovers because they make less noise, generate little grinding waste, are less expensive, available in different varieties, and easy to clean.
Budget
Most options for manual grinders are very affordable, efficient, and durable. Yes, there is such a thing as a high-end hand grinder, but it's not going to be as expensive as a good electric burr grinder.
In my experience, the best approach is setting up a flexible budget. Since you want to pick the best possible grinder, you can easily check out different brands and models with a flexible budget.
Remember, it's all about how much you are comfortable spending on your coffee equipment.
Replacements
Good luck finding a cheap hand grinder that comes with a warranty. If the manual grinder of your choice doesn't come with one, you should ensure that you can easily find spare parts.
What's more, it should be made of highly durable parts. Keep in mind that grinding espresso beans is a taxing process, so a grinder made of cheap parts will definitely break down in no time.
My advice? If you can, only purchase a grinder with a warranty from the manufacturer. Better safe than sorry!
Capacity
While portable hand grinders are great when you travel, you should be aware that there is a trade-off on capacity.
It is not recommended that you chug down endless shots of espresso, but I'm sure you want a grinder that can grind beans for at least one shot. If you plan on making espresso for more than one person, then you should go for a grinder that can contain at least 20g of coffee beans.
Size
The overall size of a manual grinder can be a dealbreaker. Here's the thing: you should pick a grinder that best suits your needs.
Is traveling a major concern for you? Then you should go for a grinder that focuses on mobility. Such a grinder will have sleek aesthetics and is rather easy to store in your suitcase or backpack.
On the other hand, if you are thinking of getting a manual grinder for use at home, then portability won't be much of an issue. In this case, you can get a larger grinder that can process a larger amount of coffee beans.
Frequently Asked Questions
Should I get a manual grinder for espresso?
There are a lot of differing opinions when it comes to making espresso. On the subject of grinders, don't believe the 'experts' who claim that an electric burr grinder is your only option for espresso.
A manual espresso grinder will get you the same results that an electric grinder will. In fact, in some cases, the manual grinder will produce better results. Just make sure that the grinder you purchase is designed with grinding espresso beans in mind.
For starters, you should be able to make small changes with its adjustment system. Also, the burrs should be hardy enough to produce fine grinds for your espresso.
Are manual espresso grinders fast enough?
Again, it depends on your needs. While grinding by hand does take some effort, most models will grind enough coffee for one cup in just under a minute.
However, since you need a fine grind for espresso, more time is obviously needed at the crank. This is the main reason why you should only purchase a grinder meant for grinding espresso beans.
It's important to note that a high-quality espresso hand grinder is surprisingly fast since it has been customized to grind the beans to a fine texture while reducing the effort required.
Why are premium hand grinders expensive?
Since hand grinders require effort, they should be cheaper … right? Well, this is partly true.
Yes, entry-level manual grinders can be purchased at relatively cheap prices. But the premium models have a much higher price tag. In some cases, they cost more than entry-level electric burr grinders. And there's one main reason for this: materials used.
While entry-level hand grinders contain a lot of plastic parts, premium models do not. In fact, top-shelf grinders from renowned companies are made mostly of metal and other high-quality materials. From the overall aesthetics to the inner workings, no corners are cut.
The fact that only the best materials are sourced in the construction of premium grinders influences the purchase price.
Crank Up Your Espresso Game
If you want nothing but the best, look no further than the 1Zpresso JX-PRO Manual Coffee Grinder for Espresso. It's a wonderfully constructed durable grinder that is fine-tuned to ensure you have the best grounds for your espresso. And for all it's able to offer, you only pay a reasonable price for it that is way cheaper than what other brands have to offer.
I agree that finding the best manual espresso grinder is not a task for the faint-hearted. Thankfully, the information in this guide is enough to help you have a productive purchase journey. As you go around 'window' shopping, keep all the essential factors we discussed in mind.