Updated: August 15, 2023 by Mary Nguyen
If you are anything like me, you like your coffee to be as rich and tasty as possible. Before brewing a cup of coffee, you need to grind the beans with a machine that will preserve their taste notes as well as their full body. You might think that you need some expensive machine to do this, but you only need the best budget coffee grinder.
Certain coffee machines come with built-in grinders, which are also amazing, but if you happen to have one of those machines that do not come with a grinder, I have got you covered! This review features the best cheap coffee grinders that you can find on the market right now, and all of them come at shockingly affordable prices!
If you are in the market for a new inexpensive coffee grinder, you should look at my seven picks and get the one that you like the most. In addition to the detailed reviews of each grinder, I will also include a friendly buying guide to help you make a better decision, so make sure you get to that part as well!
TOP PICK

There are a lot of amazing budget coffee grinders, but my absolute favorite is the JavaPresse Manual Coffee Grinder. This may be a manual grinder that you'll have to work, but even the coffee snobs can't fault the quality of its grind.
Presenting… The Best Budget Coffee Grinders
The time has finally come to see what these coffee grinders are truly about. Even though they are all amazing and have certain similarities, they are also quite different. I suggest that you go over the reviews carefully, and by the time you reach the end, you will know exactly which grinder is best for you!
This JavaPresse grinder is a great example – not only is it precise and quick, but it also grinds the beans without any noise. You do not need any batteries or power to use it, so you can even take it with you when you are traveling!
Key Features
Quiet grinding
Fully manual operation
Durable build
With its lightweight and compact design, this coffee grinder will fit anywhere and everywhere. You can use it whenever you want to grind any type of bean and it will always give you great results!
Pros
Keeps coffee bean flavors
Adjustable grind selector
Cons
Might be a bit more expensive than the other manual grinders on the list
If you are looking for a manual grinder that will give you a unique experience, you have to try out this JavaPresse grinder. It will help you prepare your beans for any type of brewing, including the Aeropress, French press, pour-over, espresso machine, and so on.
Here comes another manual grinder that is also made using high-quality materials. The grinding chamber is a clear acrylic window that enables you to check the state of the grind whenever you want. At the same time, the grinding is done using razor-sharp blades that will never get dull.
Key Features
Noiseless grinding
Adjustable grind setting
Stylish design
Using this grinder, you can grind beans for all types of brewing. If you need a coarser ground, you should turn the grinder from right to left, whereas for a finer grind, you should turn it to the right.
Pros
Portable design
Full refund in case of malfunction
Cons
Grinding might be long and tiring
Even though this is a great grinder, it is somewhat of a workout to have to grind your beans manually once or twice per day. You have to be prepared for the challenge of grinding on your own if you decide to go with this grinder!
This one is an electric grinder that has 17 different grind settings that enable you to have the perfect grind for all types of brew.
Key Features
Adjustable grinding levels
Adjustable cup settings
Removable grind chamber
This grinder will give you the most precise grind ever. There are separate chambers where you put the whole beans and where you get the ground coffee. The latter can easily be removed from the machine and cleaned after each use of the grinder.
Pros
Precise and consistent grind
Quick grinding
Cons
Might not be as durable as other grinders
If you are looking for an electric grinder that will also allow you to be a part of the grinding process, this Mueller SuperGrind grinder is a great choice for you. Make sure that you take a closer look at it!
I have the Hamilton Beach coffee grinder that gives you the most decent grind that a blade grinder can give. This electric grinder will get your beans to the desired grind in a matter of seconds. It is made from high-quality materials that make the grinder that much better and more durable.
The grinding is quiet, and you can also grind enough coffee beans for up to 12 cups of coffee in just one grinding process. After you are done, you can easily clean up the grinder and store the cord neatly!
Key Features
Large grinding chamber
Removable grinding chamber
Quiet grinding
The grinding chamber can fit about 10 tablespoons of coffee, which should be more than enough to make 12 cups of coffee. After you are done grinding, you can easily remove the chamber and clean it up.
Pros
Hidden cord storage
Easy maintenance
Cons
This is one of the most affordable grinders that you can use not only on coffee beans but also on spices and a variety of other things.
Coming second on the list is another electric grinder, this time from a company called Black+Decker. They have a wide range of products among which you can find a lot of grinders, but I had to mention this one!
Key Features
No-spill lid
Easy controls
Customizable grind
This grinder has a compact design that makes it a great choice even for those that have small kitchens. The lid-locking safety is a great assurance that you will never have to deal with spills, while the pulse control gives you enough involvement in the grinding process without exhausting you.
Pros
Made from high-quality materials
Delivers a uniform grind
Cons
Grinding chamber cannot be removed from the unit
Despite being a blade grinder, and I think it comes with a lot of great features. The only shortcoming is the fact that the grinding chamber is non-removable, so you will have to be careful when cleaning it up!
Third on the list is another compact grinder that can fit in any kitchen out there. Not only is the size quite convenient, but the grinder also comes in four color options. That means that you can make it fit your kitchen as you will be able to choose from the copper, black, white, and stainless steel model of the grinder!
Key Features
The lid on this grinder is completely transparent, allowing you to watch the beans as they are ground. You can stop the grinder whenever you please, and the grinder will not start working before you secure the lid. That also means there will be no spills or slips at all!
Pros
Compact and quiet
Easy maintenance
Cons
Blades might get dull quickly
Even though the grinding chamber on this model is not that large, I still think that it is quite convenient and easy to use. The cleaning afterward will also be easy, so you will love using it whenever you need it!
Bodum is a company that has become quite popular because of its sleek and modern designs. They make all types of products from coffee grinders to coffee presses, glasses, travel mugs, jugs, and so many other things. Even though I would love to talk about all of their products, I will focus only on this coffee grinder today!
Key Features
Powerful grinding motor
Stainless steel blades
Push-button operating
When you get this grinder, you will see that the grinding takes less than 30 seconds to grind the beans to perfection. If you are looking for a coarser grind, like the grind needed for pour-over coffee, you will only need to grind the beans for 10 to 15 seconds and you will be good to go!
Pros
Compact design
Pulse/continuous grind options
Cons
Not quite suitable for grinding anything aside from coffee beans
Even though this grinder is not as versatile as some of the others on this list, I still recommend it to everyone looking for something modern and compact. The grinding will be as smooth as possible as long as you stick with this grinder!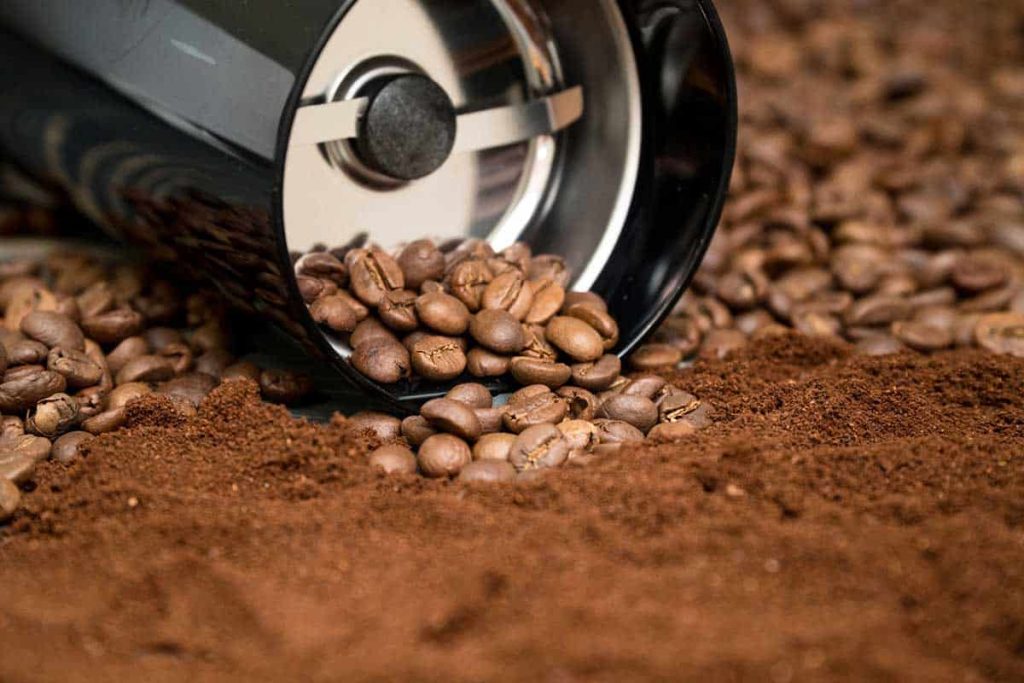 How to Pick the Best Budget Coffee Grinder
Even if you are not willing to spend a lot of money on a coffee grinder, there are still many great grinders that you can choose from. It can be challenging to decide between all those grinders, so let me give you some tips that will make that decision a bit easier.
Burr or Blade Grinder
Burr grinders usually come with ridged surfaces that the beans pass through in the grinding process. The space between these surfaces determines the size of the grind. The burr grinder allows you to have more control over the grind. With the blade grinder, you have blades in the form of a propeller going through the beans — similar to that of a blender's — which ultimately does not give you much control, and has you ending up with an uneven grind that won't give you an even extraction.
A burr grinder will give you better coffee. Still, keep in mind that burr grinders, all things being equal, usually come at a higher price. Since extraction and taste is the one thing you should not sacrifice, do get a burr grinder, and do without other features if you must.
But if you value ease and convenience above all, check out the electric blade grinders in this roundup as these would give you a better chance at a decent grind.
Grind Settings
I advise you to go for a grinder that has adjustable grind settings so you will be able to choose how coarse or fine you want the beans to be. Different brewing methods require different grinds, so instead of having to buy multiple grinders, you should get one with adjustable settings and use it on whatever setting you need.
Even the cheapest manual burr grinder will give you some control over how coarse or fine your grind is — that's what we love about them. The price ups with the presence of clicks that lock in the grind setting. Usually, buying a burr grinder with multiple click settings will be more expensive than buying one with fewer clicks or a simple knob or dial that doesn't click.
But doing without these clicks would require you to have some knowledge and skill about grinds as you will have to finesse the settings by look and feel.
Think about what you'll be giving up and the time you will have to learn what you need to know. That will help you decide if you need to spend the extra money on a grinder with click settings.
Manual or Electric Grinder
First of all, you have to decide if you want a manual or an electric grinder. The first is better for people looking to be more involved in the grinding process, but it can be more difficult and time-consuming to use a manual grinder all the time. An electric grinder offers you quicker and easier grinding, so if you are looking for a more convenient device, I suggest you go with an electric one.
However, you should be aware that high-quality electric grinders can be much more expensive than simple manual ones. On the other hand, there are also some manual grinders that have higher prices due to the fact they are made from more durable materials.
Auto Grinding
Finally, you have to think about the way that the grinder works. This goes for electric grinders only. Some have an on/off switch. With others, you have to hold down a button for the grinder to work.
If you want the grinder to work completely on its own, I suggest you go for a grinder that has an on/off switch. That way, the machine will work completely by itself and give you the grounds after a certain period of time. However, if you want to have control over the grinding, you should go for the other type of electric grinder.
Keep in mind that more sophisticated, automatic grinders cost more money than grinders that are used manually. If you want to stay within a smaller budget, you might have to compromise the automatic grinding and stick to manual grinding all together.
Final Thoughts on Budget Grinders
I hope that you liked the value coffee grinders that I included in my list! Again, you have to check out the JavaPresse Manual Coffee Grinder. This is guaranteed to give you a grind that will result in a great brew.
In the comments, tell me whether you know any other coffee grinders that I should include in my next list. I am open to any suggestions, and I look forward to reading your comments!