Updated: August 11, 2023 by Mary Nguyen
Coffee lovers, just like the coffee they drink, come in different flavors. You may prefer a quick cup of instant or a complex Starbucks espresso drink, but the true joy of coffee is grinding your own beans at home. To fully steep yourself in this coveted coffee culture, you need a burr grinder that fits your wallet.
So what's the best burr grinder under $100? And is it even possible to get quality coffee for so little? That depends on your priorities. Price point aside, several other factors will affect your choice, from countertop aesthetics to your housemates' noise tolerance.
Luckily, you don't have to do all the research yourself. Look through the buying tips and reviews I assembled in this article, and you can be sure you'll get a banging coffee buzz for your buck. And all at less than $100! So grab your favorite coffee mug, and get your morning started right.
TOP PICK
All things considered, the best burr coffee grinder under $100 is the Cuisinart DBM-8. It has a heavy-duty motor that can handle the ample bean hopper load, and its grounds are consistently even.
Here Are the Best Burr Grinders Under $100:
Image
Product
Features
Price
#1 Cuisinart DBM-8 Supreme Grind


Block stainless steel burr

Hidden cord storage

Eight-oz bean hopper

#2 KRUPS Precision Flat Burr Coffee Grinder


Flat metal burr

One-touch functionality

Customizable cup capacity

#3 JavaPresse Manual Burr Coffee Grinder


Conical ceramic burr

Quieter than electric grinders

Cute and portable

#4 Mr. Coffee Automatic Burr Mill Grinder


Stainless steel burr

Includes safety switches

Removable bean hopper

#5 OXO Conical Burr Grinder


Stainless steel conical burr

One-touch start

15 grind size settings plus additional microsettings
Cuisinart is a trusted brand, both for its aesthetics and its quality control. And this model is all about convenience. It weighs 4.5lbs and takes up a decent amount of the countertop since its dimensions are 10.75 by 7.13 inches. The grinder is six inches deep, so check your space to make sure it will fit.
It's less likely to cause accidents, though, since the cord tucks neatly out of sight and the hopper is removable for cleaning and storage. You can grind any amount of beans from 4 to 18 cups using the slider, and the eye-level grinder settings make it easy to select particle size.
Key Features
Block stainless steel burr
Hidden cord storage
Eight-oz bean hopper
The scoop makes it easier to accurately measure beans for your drink, while the included brush facilitates easy cleaning. You'll love displaying this beautiful gadget for guests. Also, while many grinders have auto-stop functionality, this one has a timer to fine-tune the grinding process even further.
Using the grinder gives a satisfying click as you turn the hopper to select a setting. This feels more hands-on than turning a tiny dial. The burrs are described as "block," which is a kind of flat burr. The burrs and the body are stainless steel, offering style and easy maintenance.
Pros
18 grinder settings
Grinds 4 to 18 cups of beans
Holds 32 cups of brewed coffee
Auto-stop: Yes
Cons
Grinding can get a little loud.
On this list, the Cuisinart DBM-8 is the best overall burr grinder under $100. It looks good, grinds great, and has a user-friendly cup selection. If you have housemates or neighbors, be aware that it'll rattle your brain awake with its loud buzzing.
View other Cuisinart grinders here.
Comparing grinders can be tricky, especially when statistics get tossed about. But this Krups burr mill gives 33% better results than its rivals. Its flat burr means there's less static, grinding noise, and heat production, so your beans and grounds won't burn.
In terms of cleaning convenience, the rotary top bar comes off, and the grinder comes with a built-in brush for the burr mill. The grinder has a side dial for grinder settings and a front-facing dial for cup-number. Just press the one-touch power button, and you're good to go!
Key Features
Flat metal burr
One-touch functionality
Customizable cup capacity
The hopper is positioned at the back of the grinder rather than the top, giving it a compact silhouette. The uniformity of this grinder's flat disc burrs makes it ideal for fine coffee textures like Turkish or espresso. And the large canister is useful for a coffee-guzzling crew.
KRUPS is a German brand, so the engineering quality is assured. Don't try grinding spices in this thing, though — it won't end well.  While it has fewer positions on its grinding dial, the micro-steps help you achieve fine-tuned precision and control that gives you richer flavor.
Pros
12 grinder settings
Grinds 2 to 12 cups
Holds 30 to 32 cups
Autostop: Yes
Con
Might be hard to replace the "metal" burr that differs from other KRUPS models.
If you like your coffee intense and aromatic, try this KRUPS. It guarantees consistent coffee grounds that you can play with to create aromatic coffee recipes — and it has its own cleaning brush.
If you want a coffee grinder on the go, this one is perfect. Without the crank, this brushed stainless steel cylinder has a 1.8-inch diameter and stands 7.5 inches tall. It comfortably squeezes into your handbag or backpack. Yes, cranking that handle is part of the ritual.
When you're feeling sluggish or need to let off steam, you can work the crank and get some of that aggression out. Or, if you're dozing at your desk or barely awake, the manual effort of turning the handle will wake you up. Its biggest downside is it only grinds a cup at a time.
Key Features
Conical ceramic burr
Quieter than electric grinders
Cute and portable
This grinder weighs just under ten oz, and you can watch the coffee drizzling down the tiny window as it grinds. Cathartic! Don't let that semi-glossy exterior and pocket-friendly pricing fool you — the burrs in this grinder are double-plated ceramics, so you know it'll last.
The crank is removable so you can dismantle it for storage in your bag. It doesn't need batteries or electric outlets — just the power of your palms. Plus, its small capacity means your coffee is always fresh. It lasts five times longer than steel burrs and has a 100% money-back guarantee.
Pros
18 grinder settings
Works without a power source
Removable hand crank
Convenient viewing window
Con
Brews one cup at a time and has no autostop
This single-serving JavaPresse has durable ceramic burrs and grinds quietly. The slim cylindrical design maximizes flavor and aroma, and you can tuck this grinder anywhere!
When you're picking a coffee grinder for your kitchen, you need to consider its physical size in relation to your countertop space. This Mr. Coffee model is lightweight at well under four pounds, but it stands a foot tall, so you do need vertical clearance. It has a two-foot cord, though.
Those 24 inches give you more flexibility in positioning since you can use the grinder further away from the power socket. The cord is retractable with safety locks to boot. Maintenance is easy as well because both the bean hopper and the grinder mechanism are removable.
Key Features
Stainless steel burr
Includes safety switches
Bean hopper is removable
This powerful grinder uses 160 watts, so, yes, it may put a dent in your utility bill. Also, working the bean hopper takes some practice — those clicking noises can be alarming before it settles into position. The burrs are flat and therefore quieter than typical burr mills, but it needs more power.
The positioning and style of this grinder mean you can safely use it on spices, though you'd have to clean to avoid leaching your coffee and spice flavors into each other. The removable hopper is large, but it's not airtight, so you probably won't fill it all the way up and risk stale coffee.
Pros
18 grinder settings
Grinds half a pound at once
Easy-to-clean, removable grinder
Autostop: Yes
Con
The bean hopper is not airtight
This Mr. Coffee grinder works well enough. It takes up a lot of counter space during use, but its parts are detachable for storage. Because it's a flat burr grinder, it uses a lot of electricity.
The OXO Brew Conical Burr Coffee Grinder sets a new standard for home coffee grinding, delivering a remarkable combination of precision, user-friendliness, and elegant design. As a coffee enthusiast, I have had the pleasure of using several coffee grinders, and the OXO Brew stands out as a true gem in the market.
The stainless steel construction not only adds a touch of elegance to your kitchen but also ensures the grinder's longevity. The 40mm conical burrs precisely, evenly, and efficiently grinds coffee beans, maintaining the full flavor potential of your coffee grounds. The convenient one-touch start timer streamlines grinding, enabling multitasking while the grinder works.
Key Features
Stainless steel conical burr
One-touch start
15 grind size settings plus additional microsettings
In the world of coffee grinders, excessive noise and heat can be a concern. The OXO Brew addresses these issues admirably. The grinder operates with a noticeably reduced noise level compared to many other grinders, making your morning routine more peaceful. Additionally, the lower RPM of the conical burrs minimizes heat generation, preserving the delicate aromas and flavors of your coffee beans.
The OXO Brew Conical Burr Coffee Grinder provides a range of 15 grind settings plus additional microsettings, totaling 38 microadjustments, covering a spectrum from very fine to coarse. This allows for precise customization of grind size to suit different brewing techniques like pour-over, French press, and espresso.
Pros
Total of 38 microadjustments
Holds 3/4 lb or 12 oz. of coffee beans
Removable grinders for easy cleaning
Static fighting grounds container
Con
Bottom burr is not removable making cleaning slightly challenging
The hopper can hold a substantial amount of beans, reducing the frequency of refills. It is also designed to be mess-free, featuring a "trap door" that securely holds the beans in place when you remove it. The OXO Brew Conical Coffee Grinder includes detachable components, simplifying the cleaning process, though it's worth noting that the bottom burr is not removable, adding a bit of complexity to the cleaning routine.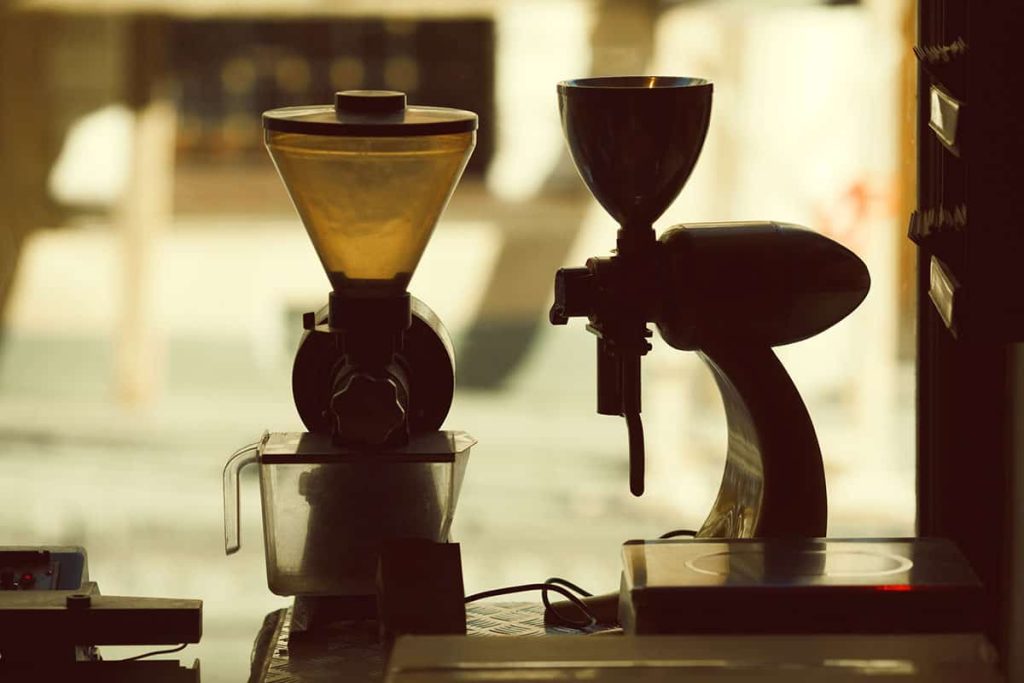 How to Choose the Best Burr Coffee Grinder Under $100
Budget is often the top factor when you're shopping for coffee grinders. Since all of these models are less than $100, here are some crucial things to consider as you seek the best buzz from your burr.
Burr Grinder Shape
Burr coffee grinders come into two shapes — conical and flat. They work the same way, grinding your coffee between a stationary gear and a rotary one. Flat burr grinders have two donut-shaped grinding surfaces that keep a firmer grip on your roasted coffee beans.
The beans don't jump around as much as they do in conical burrs. Flat burrs offer a more consistent texture for your coffee grounds, but they're louder and heat up faster. Conical burrs are quieter and cooler (in terms of grinding temps), but the coffee particles are uneven.
Burr Grinder Mechanics
You can easily find a burr grinder under $100, whether it's an automatic model or a manual one. Electric models have more power and speed, while manual grinders will give you biceps and triceps in no time! You may also want a grinder that looks good and is easy to clean.
You probably assume a faster grinder is better because it has more power and offers quick convenience. But these high-speed grinders are fussy, noisy, and designed for short shelf lives. Consider getting a slower burr grinder with "direct drive" listed in its product specs.
Burr Grinder Material
A burr grinder can be ceramic or stainless steel. Here, you want to consider the initial cost as well as replacement costs. Stainless steel is cheaper to buy and replace. But they only last a few years. Ceramics work for longer but are more costly to repair when they chip.
You can also consider the material and capacity of the storage sections. These can be plastic or glass, see-through or translucent, conical or cylindrical. Your coffee grinder could have a bean hopper and a coffee collector or just a bean hopper, which is the most essential piece.
Burr Grinder Settings
Regardless of price, the settings on your burr coffee grinder can be stepped or stepless. The settings help you pick the size and texture of coffee grounds you want, with higher numbers giving your finer particles. Stepped grinders have a set number of millimeter markings.
Stepless grinders are infinite, so you can keep turning the dial up and down. It's more about your preference, but stepless grinders have a higher price tag. But you can still find a good stepless burr grinder under $100 if you're willing to compromise on other grinder features.
Using Your Grinder's Settings
The settings you choose will depend on several factors, including:
How old your coffee beans are and your chosen amount
The type and brand of grinder and coffee maker you have
Your brewing method and the setting style on your burr grinder
The sharpness and wear of your coffee burrs
Keep in mind the numbering and descriptions on your grinder (e.g., fine, coarse, etc.) aren't universal. So a setting of 11 on your old grinder isn't necessarily the same as 11 on your new one. The best decider is your brewing method:
Use your finest powdered settings for Turkish coffee. Extra-fine works best.
For espresso and moka, use a standard fine setting. It should look finer than sugar.
Drip coffee works well with a medium-fine grinder setting.
Coffee brewed by vacuum, pouring over, or siphoning needs medium-fine grounds.
Depending on your filter, conical filters need finer grounds than flat filters.
Coarser grounds can take the bitterness and edge off your coffee.
French Press needs a coarse grind with the texture or coarse salt.
For cold brews with lower acidity, use your coarsest setting. Extra-coarse is best.
As a general guide, the longer your brew, the coarser you should grind. So use finer settings for quick, sharp, intensely bitter cups and coarser settings for slow, smooth, low-acid brewing.
If you're not committed to a budget, do check out our picks of the best burr grinders overall.
FAQs
Maybe you've been brewing coffee since your teens and consider yourself an expert. Or maybe you got a French Press as a gift and have finally discovered the wonderful world of coffee. Either way, you probably have questions about the java side of life. Here are a few:
What exactly does 'direct drive' mean?
Burr grinders have cogs and gears — that's how they work. But with a direct drive grinder, the rotors and the burrs are directly connected with no cogs between. This means the burrs and the motor spin at the same speed, which is slower than typical grinders.
This slower speed means less heat transfer to your coffee beans and a lower likelihood of burning. Low-speed grinders are premium, so they'll (counterintuitively) cost far more than high-speed grinders. They're quieter, emit more power, and barely release any static, so they're safer and comfier.
What's a gear-reduction grinder?
When you want a high-quality low-speed grinder, get one that says "direct drive." A salesperson may push a gear-reduction grinder instead because it can perform at both high and low speeds. Essentially, it's a high-speed grinder that you can use in "low-speed mode" by lowering the gears. But it'll still have the loudness and static levels of its high-speed side.
What's a dosing grinder?
To use a burr coffee grinder, you load the bean hopper, grind your coffee beans, and deposit your coffee particles into a collection point. Non-dosing burr grinders will deposit the coffee into a dish or canister that's often see-through.
A dosing grinder will dump your grounds into a small sub-divided dish that holds coffee beans measured in grams called shots. So when you yank the handle on the doser, you only collect enough shots for your chosen drink.
Perk Up with the Best Burr Grinder Under $100
Burr grinders can be quick, or they can be quiet, but however you like your coffee, the best burr coffee grinder under $100 is the Cuisinart DBM-8. Here's why you'll love it:
It's soothing to spin that bean hopper
It has large capacities, both for storing and grinding
The one-touch power bar is effortless
The heavy-duty motor is quite durable
You don't generally need a big coffee canister because the best coffee is ground immediately before you drink it. If you live with several coffee lovers with synchronized schedules, get a bigger bean hopper. It'll lead to fewer fights when you're groggy and uncaffeinated.