Updated: February 16, 2022 by Owen Richardson
Having an espresso machine at home is a blessing and no one can convince me otherwise. Since I bought my first espresso machine, I have been eagerly waiting for coffee time to come around just so I can take on my favorite role as the barista of the family. The experience would not have been so enjoyable if I did not have one of the best espresso machines for beginners, though!
When it comes to espresso machines, there are many of them with a lot of great features and different designs, coming at different prices and from different manufacturers. I understand that espresso beginners might not know what exactly to look for in an espresso machine, so I wanted to be your assistant in that process!
In today's review article, I will give you my top 7 starter espresso machines that you, as a beginner barista, should look into. All of these machines are of superb quality and can make the brewing process a lot easier than you would expect. So if you are ready to learn all about these espresso machines, keep reading – I am ready when you are!
TOP PICK

With a complete understanding of the fact that this might not be the simplest espresso machine out there, I choose the Breville Barista Express Espresso Machine as my top pick for the best beginner espresso machine. It might look intimidating for espresso novices, but it can be the ideal choice for those looking to get the tastiest cup of coffee.
What I love about this machine the most is that it comes with all the features needed – a bean hopper, a bean-grinder, a lot of brewing options, and a steam wand. The versatility of this machine will give you the chance to try different types of espresso and espresso-based beverages as you are figuring out which one is your favorite. I will talk more about the options and features of this machine in the detailed reviews below!
Presenting… The Best Espresso Machines for Beginners
Just by looking at the design of this machine, you can guess that there are a lot of options and features. While some people may not want to have a complex espresso machine, I think it is a great thing to have a machine that allows you to experiment and have a lot of freedom when brewing the espresso. Because of this, I chose this Breville Barista Express as my best overall pick for this guide!
Key Features
Automatic
15-bar pressure
Built-in coffee grinder
Built-in steam wand
Instead of having to get a separate grinder and steamer, this espresso machine contains all these things. That will surely save you a lot of money and will allow you to make many different types of espresso depending on your mood that day. Thanks to the steam wand, you can also make espresso-based beverages like lattes, cappuccinos, macchiatos, and others!
Pros
Dose control grinding
Precise espresso extraction
Several filter baskets included
Cons
Might take beginners some getting used to
If you are looking for an espresso machine that will challenge you and allow you to grow as a coffee barista, then this machine could be just the one for you. I encourage you to look into it more closely and consider trying it as well!
This is yet another Breville machine that is a great choice for beginners – the Barista Touch! While quite similar to the previous Breville I talked about, this machine has a touch screen that you can use to choose pre-set coffee recipes. You even have the option to save 8 personalized recipes that you can switch between whenever you want.
Key Features
Automatic
15-bar pressure
Milk steamer
One of my favorite things about this machine is that you can turn it on and have it ready to use in less than 5 seconds. Thanks to its amazing design, you will get the ideal dose of freshly ground beans that you will use to brew your espresso. With the digital temperature control, you can also make sure that the water is at an optimal temperature at all times.
Pros
Pre-infusion option
ThermoJet heating systemIntegrated bean grinder
Touch screen
Cons
This is a great machine that allows you to have ready-made coffee recipes for easier brewing. That will save you a lot of time and effort, while you will still get a great cup of espresso or espresso-based beverage in the end!
If you compare the previously mentioned Breville machines with this espresso machine from Gaggia, you will find that the design is the biggest difference. All of the machines will give you a cup of espresso that you will love, but with this machine, you will be able to do it on a machine that is much easier to use.
Key Features
Semi-automatic
Compact design
Steam wand
Gaggia did an outstanding job at placing all features you would need in an espresso machine in one compact design that you can easily fit in your kitchen. All parts of this machine are easy to use, meaning that even the beginner espresso makers will be able to use it without difficulty.
Pros
Easy-to-use controls
Fast heat-up
Stainless steel construction
Cons
Not suitable for taller cups
If you are looking for a machine with simple controls, this could be the best one for you; however, keep in mind that this machine can only be used with smaller cups. If you are one to drink a lot of coffee in a travel-size mug, this machine will not be the best choice for you.
If you ask me, I would have to say that I love espresso machines with a simple interface – just like this Philips espresso machine with LatteGO. Not only will you be able to make espresso with the push of a button, but you can make all espresso-based drinks in the same way. Just go to the My Coffee Choice menu and select the type of coffee you are in the mood for!
Key Features
Super-automatic
14-bar pressure
Automatic milk steamer and frother
Grinder adjustment option
AquaClean filter
On the top of the machine, there is an opening that you can use to put in your favorite coffee beans. The machine will grind them for you, while the aroma seal will keep them as fresh as possible at all times.
Pros
Intuitive touch display
100% ceramic grinders
Dishwasher-friendly parts
Cons
If you are a person who likes to get their coffee by only pushing one button, you should get this machine. It will allow you to start your brew easily, but it will also be quite loud while it works. Keep this in mind, especially if you are planning on brewing coffee while someone in the household is still sleeping!
De'Longhi is perhaps one of the most famous coffee machine manufacturers, and for good reason. For years, they have been creating amazing coffee machines like this Stilosa manual espresso machine. Using this machine, you can make espresso and espresso-based beverages in only a few minutes!
Key Features
Semi-automatic
15-bar pump
Optimal brew pressure
Stainless steel boiler
One of the things you should remember is that this machine does not have a built-in coffee grinder and dose measurer. You will have to grind your beans in another machine or buy them pre-ground. Then, you can easily fill the filter, place it in the portafilter, and attach it to the machine when you want to brew some coffee.
Pros
Manual milk frothing option
Compact design
Ergonomic portafilter
Cons
Several key components are made from plastic
This machine can brew some great coffee, but the taste of the coffee might be compromised by some of the plastic parts. If it is possible, I recommend that you invest in a machine with more steel parts. That type of machine may also be more durable than this one from De'Longhi.
Here is another machine that you can use to make espresso; with this machine and its 15-bar Italian pump, you can get a thick layer of crema on top of your drink. If you are a beginner brewer, I encourage you to learn more about the importance of crema and how it can make your espresso that much more enjoyable!
Key Features
Automatic
15-bar pressure
PID temperature controller
Manual steamer available
There are some great features on this machine. First, it has a removable water reservoir that is easy to fill or clean. In addition, there's a cup warming tray which is a must if you want to drink espresso like the Italians. You can also use the steamer to make espresso-based beverages with some great espresso art.
Pros
Pre-infusion option
Thermoblock technology for fast heat-up
Optimal flavor extraction
Cons
Might not be very durable
You should look into this machine more closely when looking for the best espresso machine for beginners. It might not be as durable as the rest, but it comes at a lower price when compared to most of the others.
To finish off this list, I want to talk about yet another espresso machine that has an easy-to-use interface. This espresso machine from Mr. Coffee has a lot of buttons that you can switch between depending on the type of coffee you want to get. You can choose a single or double shot of espresso, or maybe an espresso-based beverage with steamed milk!
Key Features
Automatic
19-bar pressure
Separate water and milk reservoirs
One of the great things about this machine is that you can make coffee and frothed milk by pressing a couple of buttons. If you want to get a large quantity of coffee, you can use the adjustable tray to fit a larger or taller cup.
Pros
Thermocouple heating system
Automatic milk frother
Adjustable cup tray
Cons
The milk frother can splash milk around
This is a good espresso machine that you can use to make espresso and espresso-based beverages in a short amount of time. If you are planning on using the automatic frother, make sure that you have the time to clean the mess it can create by splashing around.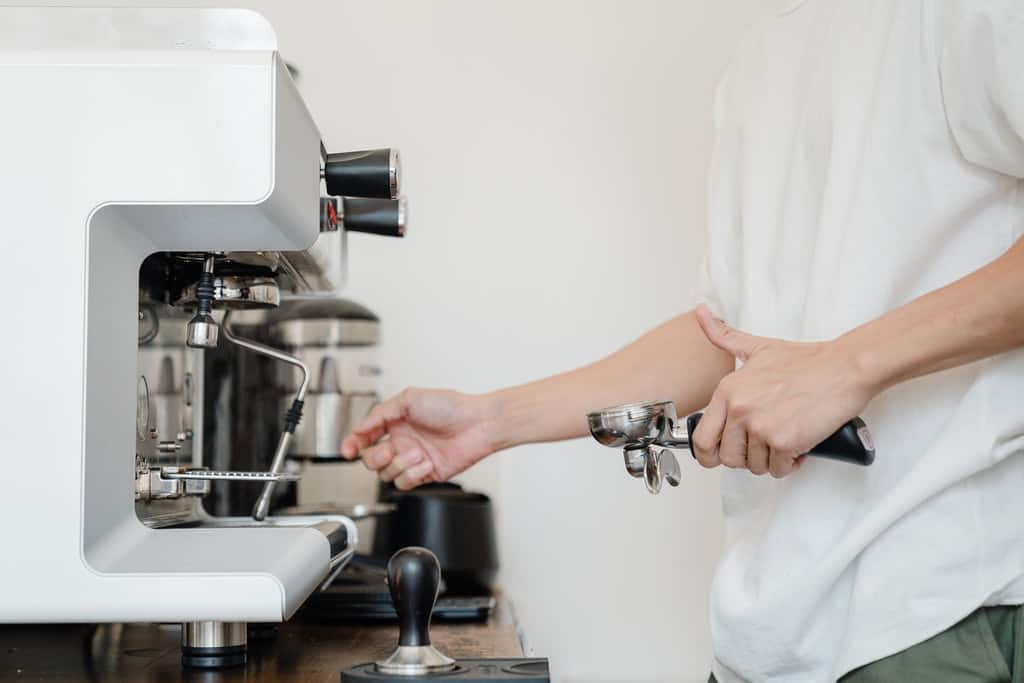 How to Choose the Best Espresso Machine for a Beginner
Buying an espresso machine as a newbie amateur barista can be difficult, especially if you do not know a lot about them. Luckily for you, I have a few pointers that you can use when trying to select the best espresso machine for a beginner like yourself!
Quality
First of all, I recommend that you find one that is made from quality materials and a well-known manufacturer. That way, even if you have problems with the machine you can contact the manufacturer to sort it out. The quality materials will help you use the machine for years and years before having to replace it.
Also, there's no espresso without pressure, so make sure the machine you choose can generate 9 to 15 bars of pressure so you can have an actual espresso. The quality of the build will dictate how efficiently your machine does this, and how long it will keep doing this — you don't want a machine that wears down quickly and stop delivering this pressure. And you won't know all this unless you read customer reviews.
Ease of Use
I also recommend that you look into the different types of espresso machines – semi-automatic, automatic, and super-automatic. These options allow you to be more or less involved in the brewing process. Depending on your preference, you can choose the one that you like best.
The semi-automatic ones will be the most difficult to use for beginners, while the super-automatic ones will be the easiest. The latter will not offer you much freedom to make adjustments for every brew, though, and won't give you room to learn and improve your skills so keep that in mind when making your final decision.
Maintenance
Finally, find a machine that has easy maintenance and a cleaning alarm. That way, you can clean and descale the machine when needed, which will help you get coffee with great taste. Maintenance is very important, and can extend (or shorten) the longevity of your machine!
Frequently Asked Questions
Before I wrap this guide up, let's look into some of the frequently asked questions regarding the best entry-level espresso machines!
How much should I spend on an espresso machine?
Most decent espresso machines will cost anywhere from $400 to $700. Depending on the quality, the materials used in the build, and the options that it provides, the machine will be more or less expensive. I recommend spending a bit more money to get a quality machine instead of getting an inexpensive one that will malfunction shortly thereafter, especially for a beginner. You don't want your initial experience to be poor just because of a sub-par machine.
How long will an espresso machine last?
Depending on the quality, an espresso machine can last anywhere from 5 to 10 years. If you want to get a durable machine that will make tasty coffee for years, I recommend that you get one with parts made from stainless steel. When it comes to durability, you should steer clear of machines made from plastic and stick to ones made with quality materials.
Now You Can Begin Your Espresso Journey
Getting an espresso machine is something that I recommend if you want to drink quality coffee every day. Even if you are a beginner at brewing espresso, I encourage you to get a machine and learn how to use it instead of buying ready-made coffee every day. It won't take long for the price of those coffee shop brews to add up to the price of your own setup!
Our favorite is the Breville Barista Express Espresso Machine as it is one of the most versatile, quality brewers you can find. The De'Longhi Stilosa Manual Espresso Machine can be a good choice for people who are on a tighter budget. Look into the other machines mentioned on the list before deciding which one to get – they are all great and you will not make a mistake no matter which one you choose to go with!