Updated: August 9, 2023 by Mary Nguyen
Welcome to Caffe Streets' Reviews! We're your one-stop source for the latest and greatest coffee makers, grinders, and accessories. As your coffee experts, we review dozens of coffee makers to see which ones make the best brews, and work the best over time.
We look at all sorts of criteria, like brew quality, efficiency, user-friendliness, and reliability. You can read more about who we are, and find out about our reviewing process, by clicking on the About Us page!
We'll introduce you to some of our all-time favorite coffee makers. We've chosen a range of options, from all-manual brewers to all-in-one automatic coffee centers. Full reviews of each of our recommendations are below!
To warm up your palate, here's a glance at our top three coffee makers!
Before we jump headfirst into our comprehensive reviews, we want to give you a sense of the site!
For our home page, we decided to focus on a range of general coffee makers. There are a whole bunch of different approaches you can take to making coffee. So, we've chosen recommendations to suit every taste!
We chose a manual coffee maker, a cold-brewer, and a pod system, as well as three countertop machines. There's quite a range here, but you won't find specialty items like French presses or espresso machines on our home page. Instead, we dedicated special guides specifically to those categories.
If you already know you're looking for more specific, like a French press, pour-over, or espresso machine, skip right to our guides by category! Links and featured reviews for each category are located at the bottom of the page. That's also where you'll want to look for our coffee grinder recommendations!
We've also included a comprehensive buying guide further down the page. It'll help you figure out what kind of coffee maker is the best choice for your lifestyle, and get you thinking about the specific features and functions you want in your new brewer. Whether you're a novice aficionado, casual drinker, or passionate home barista, we've got helpful hints and suggestions for you!
Alright, let's meet our all-around favorite coffee makers!
Best Coffee Maker Reviews
Our least expensive recommendation here on our homepage is the Aeropress. It's a fantastic all-purpose manual coffee maker. We like it because it makes both American-style coffee and espressos all in one compact unit. The Aeropress is a great little coffee maker for solo coffee drinkers, especially on the go!
Pros:
This plunger-and-chamber system is a great feat of design. It works a lot like a french press, but it's faster and more consistent. Plus, it eliminates the fine granules you'll often find in cups made with french presses.
Here's how it works:
The Aeropress has a large brewing chamber, which fits over a mug or cup. It also has a plunger which fits neatly inside the chamber, with a rubber seal around the edges.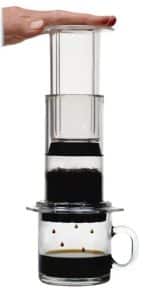 To get brewing, you set up the chamber over a mug and add grounds. Next, heat some water and add it into your grounds, and then plunge for 20-30 seconds. As you do, water is pressed through the coffee grounds, totally immersing them all for a super consistent brew flavor and intensity.
It's fast. You can make 1-3 cups per pressing, and the whole process only takes around one minute!
You can make American-style coffee or espresso. It's all down to the amount of water you use! The brew strength on this one isn't so much determined by the amount of time you brew, as by the proportion of grounds to water you use.
This one makes it easy for newcomers and more casual coffee drinkers to make great cups. Since it totally immerses all the grounds as you plunge, you don't need the perfect grind every time. You don't have to judge timing as precisely, either. As long as you can master the correct proportions of grounds and water, it couldn't be easier.
It produces great-tasting coffee and espressos. The flavor is super consistent, thanks to the immersion. Plus, it's less dependent on finesse, so as long as you have the water and grounds right, you can get great results.
It's much easier to use than an espresso machine, since you don't need to clean or descale any equipment. You can take your espressos by themselves, or use them to make a latte, mocha, or some other espresso-based beverage.
The grounds are totally immersed, as opposed to drip coffee makers, so you're getting the most flavor out of each scoop.
It comes with paper micro-filters to prevent gritty dregs. That's one key reason a lot of people prefer it to a french press. Many dedicated coffee lovers aren't bothered by a bit of grounds in the bottom of a cup, but it can be off-putting to some. So, this one makes things much smoother.
There's another benefit to having a microfilter system in place: since tiny particles don't stick around to add more bitterness, you don't have to drink your cup as quickly as you would with a french press!
While it's plastic, it's phthalate and BPA-free. It's made in the USA, too. That's a reassuring thing when it comes to plastic kitchen gear. You can be sure that the plastic is tested thoroughly and accurately. Many inexpensive imported models are sketchy in terms of plastic content. Many of them reek, and that's the least worrying thing about them.
It includes everything you need to get started! You get the chamber, plunger, a funnel for grounds, a scoop, a stirrer, and a year's supply of paper microfilters.
Everything's easy to assemble and take down. Just like the brewing method, the whole system is absurdly simple for a manual brewer. There aren't actually any assembly steps or pieces that need to fit together. You just sit the chamber on a mug, and plunge away! That's also how you clean the system.
It's super inexpensive. The Aeropress is easily accessible to all buyers.
It's portable. This is light and compact, so it's one of those coffee makers that are great to bring camping or traveling. You can easily fit everything in a little pouch and take it in a backpack or weekend bag. Since it's plastic, you don't have to be worried about it shattering like a french press would!
Cons:
The rubber seal on the plunger eventually does wear out. It probably won't last more than 1,000 cups of coffee. You can get a replacement part, but it's a bit of a pain to order from the manufacturer.
You can definitely make a few cups of coffee with this, as long as you do a few consecutive brews. Still, it's definitely not our first choice for making group of people coffee. We recommend this primarily to solo coffee drinkers, especially those on the go.
Likewise, while you can use the espresso from this to make things like latte or mocha, it's not as easy as having a machine to do the whole process for you.
This one's all-manual. So, you'll be responsible for getting your water to an optimal temperature, grinding your coffee beans, and doing the whole process. If you don't already own a grinder (or have a supply of grounds you like to use), you should make sure to consider the cost of a grinder before you buy a manual coffee maker like this.
Plastic isn't ideal for a coffee maker. Of course, the brewing process is so fast that it's hard to see how the plastic could leach anything or throw off the flavor. We always prefer glass or steel surfaces for brewing, though. If you're traveling, the plastic might actually be better.
This Cuisinart is at the other end of the spectrum from the Aeropress. It's a much better option for a crowd, or for anyone who wants a machine to do most of the work for them. You can get this in 12-cup or 14-cup formats. We're recommending the 14-cup, since we think it gives you more value for your money.
Pros:
Unlike so many drip-style coffee makers, the Cuisinart's heating elements actually get hot enough to brew industry-standard coffee! A lot of common models don't ever reach the optimum brewing range, even on their highest settings. This one runs hotter, and has more precise controls than the competition.
Temperature in the carafe is also adjustable! There low, medium and high settings for the heating element, so that you can control exactly how hot the coffee is when it's being poured. The high setting is best for folks who add milk and sweetener to their coffee. The lower setting is ideal for anyone who wants to drink theirs right away.
You can control the strength of the brew as well! We've found that the normal setting delivers the best results of any drip model on the market, but the stronger setting leaves other models in the dust. The simple "bold" button on the front is an easy way to get a boosted brew!
You can brew up to 14 cups at a time. That's a lot of efficiency! While you might not see yourself ever making that much coffee, bear in mind that a "cup" in coffee land is only around 5oz, where a standard cup of water is 8oz. So, assuming you're not using smaller mugs, you'll actually drink more than 1 cup at a time. Having a 14-cup capacity is actually not overkill for most families.
It's relatively speedy: 3.5 minutes, plus a minute or so per cup, give or take!
There's a really great feature for making just a few cups. The Cuisinart's "1-4 Cup" button/setting changes the brew settings to make sure you get full brew strength with a smaller amount of water and grounds.
There's a water window on the side with cup measurements marked clearly. You can actually see it from both inside and outside the machine, so it doesn't matter which side you fill from.
It looks sleek and classy. Unlike a lot of all-plastic drip models, the Cuisinart is a real looker for your countertop. It matches a wide range of decor, as well!
The gold tone permanent filter makes for easy cleaning, and saves you the cost of buying paper filters. You can also use a paper filter if you hate having any sediment in your cup.
The Cuisinart has a lot of convenient features to help you out! It has a 24-hour timer system built in, so you can program the machine to have coffee ready for you in the morning! It self-cleans, too.
For a model with so many features, it's quite easy to navigate. All the buttons are clearly-marked, and pretty intuitive to use. The clock is bright and legible.
The carafe is glass, with a plastic handle. It protects your thumb, and has a snap-on lid to prevent accidental spills. That's a good safeguard against scalding.
There's a filtration system at the back of the machine, which takes out any off-flavor elements in your tap water. It uses charcoal filtration cells, a lot like a Brita filter. The whole thing lifts out for easy access.
All the plastic components are BPA-free.
The automatic pause feature puts the brew on hold when you lift the carafe out of place. That allows you to pour from the carafe before it's completely full.
To save you some electricity, it'll automatically shut itself off after 1-4 hours. You set the interval, too!
You can turn off the audible alerts to keep from waking others in the house, or to make sure you don't upset pets.
Cons:
As with every drip model these days, it has a fair number of plastic components. If you're a true flavor purist, you'll probably want to go for a premium machine with all metal parts, or something manual made only from ceramic or glass. For most people, it's nothing to worry about. Plus, all the plastic is food-grade and free of harmful chemical content.
It's fairly large. If counter space is a serious issue for you, you might want to consider the 12-cup model instead.
It's the best drip-style model we've found. Still, it can't compare to something like the Moccamaster, or a complete/premium system like the Miele when it comes to flavor.
It doesn't completely clean itself, although it does a good job. You should plan to wash it out by hand on a regular basis, and use a good brush to make sure everything's completely clear.
It doesn't have the best reliability record, though it's the best drip-style machine we've found to date. The main issue is quality control.
So, a number of units have issues with leaks, computer glitches, or pump problems, while the majority work perfectly. Be sure to inspect yours carefully and test it out before you return window closes! The Moccamaster is a much more reliable choice for the long term.
The Cuisinart is also imperfect in the build quality department. The finish on the heating plate does tend to flake off over time. With the carafe in place, though, nobody will notice.
We think the snap-on lid for the carafe is a good feature to prevent spills and scalds. However, it's not for everybody. If you like the common flip-style lids, you'll want to go for a different model.
This De'Longhi machine is our top choice for any pod users out there! It's a European-made machine that's miles above the competition in the pod coffee market. We're particularly impressed by all the De'Longhi's smart features, as well as its build quality. If you're all about convenience, this is as easy as it gets.
Pros:
Pod systems are endlessly convenient. The De'Longhi epitomizes that! All you have to do to get a fresh cup of coffee is load a pod and press one button.
The built-in laser recognition system identifies bean varieties and brews accordingly. So, you don't even have to make a single adjustment when you start a brew. It's pretty great. Each pod's barcode contains all the necessary information for the machine to find the appropriate settings and brew it perfectly.
It makes both coffee and espresso (7.7fl oz and 1.35 fl oz sizes). You can adjust the cup holder to whichever size fits your favorite mug. The adjustability also makes switching from espresso to coffee convenient.
It's super efficient. The De'Longhi only needs about 20 seconds to preheat water, and it switches itself off after 9 inactive minutes to save power. It only takes one press of a button to get it back to full speed again!
The pods are recyclable. They're made from aluminum. While we'd all love to get straight to compostable packaging for single-use pods, facilities just aren't widespread enough yet. As long as you can recycle aluminum soda cans, you can recycle your Nespresso cups.
It automatically ejects the pods for you. The used pods are held in a convenient container, so you can dispose of a whole stack at once. The machine will hold up to 17 in the receptacle at once, so you don't have to empty it very frequently.
The 54oz water tank also goes a long way between fillings.
This one's a lot better-made than competing models from Keurig or Breville. There are a lot more metal parts, and it simply feels sturdier. It's made in Switzerland, too, where most other pod machines are imported from China.
While taste is all subjective, we can confidently say that Nespresso's grounds are better than what you'll get from Keurig or other big pod brands. One benefit of having aluminum over plastic is that the machine can apply lots more pressure during the brew. So, you get a heck of a lot more flavor out of these than a K-Cup.
These new VertuoLine pods also go for a spin during the brewing process, which helps to fully extract flavor. It runs at a whopping 7,000 rpm, so it really does deserve the "centrifugal" description!
Between the quality of the grounds and the impressive functionality of the brewing components, we don't think you can get a better-tasting cuppa from a pod system.
It has a very well-designed cleaning feature. Most pod systems are surprisingly annoying to deal with, but this one's super simple. It also doesn't require branded cleaning products to descale or clean around the inside.
It comes with a sample set of pods.
Cons:
We've found that pod systems don't usually taste as good as coffee makers which use fresh-ground beans. So, while this is by far the best pod system we've reviewed, we don't think it compares to a coffee maker that uses fresh grounds, like the Moccamaster, Miele, or any of our other picks.
It'll only work with Nespresso VertuoLine capsules. They're not super widely-available in physical stores, so plan to order them online from the Nespresso site or Amazon. Nespresso's own online store is significantly cheaper than resellers, though, and they've almost always got a discount on offer.
While it's much more reliable than other pod models, it doesn't have a spotless long-term track record. Some buyers report issues with heating elements over time. However, problems are very rare with this one.
Like the Cuisinart, the De'Longhi takes up a lot of counter space.
It's expensive. Pod machines also have much higher operating costs than traditional coffee makers.
The Moccamaster is the best machine on the market, unless you're prepared to spend $1000+ on a bean-to-cup model that does absolutely everything for you.
It produces cups which blow away anything from the De'Longhi or Cuisinart, and those two are the best in their categories. There's a reason this Dutch classic has been a favorite for years! It's America's Test Kitchen's top pick, and our favorite hybrid machine.
Pros: 
This is a hybrid design which uses elements of a drip coffee machine and a manual pour-over design all in one! It has a separate water chamber, which is connected with a running pipe over the drip basket. That's suspended over a carafe, next to the boiler unit.
The Moccamaster works by heating water in the boiler section, then using a unique pulsing system to send it over the coffee grounds, where it drips into the carafe.
The pulsation, instead of the normal pouring method, creates a "bloom" of coffee each pulse, as the company puts it. It essentially showers the water over the grounds in a gradual, even way, rather than just pouring water straight over them.
We suggest having a look at it in action, so you can see what we're talking about:
The water actually comes out of several holes in the overhead water pipe, a lot like a shower head. Since it spreads the water so well, none of the grounds are left dry, and none of them are over-soaked. That's the opposite of most traditional drip models.
The system's benefits in terms of flavor and value are quite remarkable. You get more flavor out of each batch of grounds, and you don't waste any beans along the way.
The cone-shaped brewing basket has unique channels molded in, which optimize the amount of contact time between the coffee grounds and hot water. Any v-shaped #4 filters will work in the basket, so you aren't trapped into buying any branded models.
The Moccamaster is super good-looking. The housing itself looks classy enough. Our favorite part is still that nearly everything's clear, so you can see exactly what happens as your coffee brews! This is a real conversation piece with guests!
It has room in the carafe for 10 cups (Euro-size, of course), in something that can rival the quality of a manual artisan press.
Even though it's a more elaborate system than the Cuisinart, it can still brew a full carafe in 6 minutes!
You can't beat it for brewing heat precision! The patented heating element keeps things between 196 and 205 degrees F at all times. The Moccamaster starts right off at that high temp, and stays there, without getting too hot towards the end of the cycle.
Most traditional drip models either don't get that hot at all, which leads to bitter coffee brews, or get too hot by the end of the cycle, which makes for burnt taste.
The housing is actually made of metal. Compare that to models like the Cuisinart, which are basically plastic covered in some metal outer layers! All the plastic components are BPA and BPS-free.
There are two separate on/off switches. One controls the brew system, and the other controls the hot plate under the carafe. The hot plate runs on its own heating element, which is very energy-efficient.The whole thing shuts off automatically after 100 minutes to save you electricity.
It's made completely in the Netherlands. Quality control is superb on these machines. It's designed to last a lifetime, and will definitely last for many years with care.
The Moccamaster is ECBC, SCAA and SCAE-certified. Those signify that this meets the high standards of the specialty coffee associations in Europe, and the European Coffee Brewing Center's Gold Cup standards for quality.
The components are simple to clean, and built in a modular fashion so they're simple to replace.
Both the packing materials and the machine itself are made completely from recyclable content.
You can get it in a range of colors and finishes. All of them are metal, so you don't need to worry about picking one and finding that it's actually plastic.
It's covered by a 5-year warranty. There's a repair center in the USA, so you don't have to worry about shipping your machine to Europe in the event that it needs service.
Cons:
It's twice the price of the De'Longhi, and several times the cost of the Cuisinart. This is something we recommend to passionate, regular coffee drinkers.
The one downside is that there are some plastic components that contact water/coffee. Still, that's the case with basically anything these days. Europe also has much stricter regulations on plastic food-grade materials than we do here in the States, so you can be sure there's nothing to worry about. Only the water reservoir and brewing basket are plastic.
It's strictly a coffee-maker. It doesn't have special features like latte or espresso-making. If you're looking for all those, you'll want to look at a more elaborate system like the Miele.
You can't adjust the temperature or brew time. So, if you don't like the Dutch-style coffee this model produces, you can't do much to tweak it.
There aren't any digital components on this one. You'll have to get the water and grounds set up yourself. You won't be able to set timers or anything, and there aren't any alerts to let you know if something's amiss.
It doesn't have a self-cleaning feature. The components aren't dishwasher-safe, either. It's easy to remove all the components and wash them manually, though.
You have to be careful to buy from an authorized dealer, since the warranty will be void if you don't.
It takes up a long of space, and has a bulkier power cable than most American models.
It's durable, but not heavy-duty. The glass carafe is definitely on the thin side, even though we don't have any real complaints about it. It's really just a matter of being gentle.
The only small gripe we have is that the packaging isn't super robust, so it's not unheard of to get one of these with a cracked component. That's very simple to address within the return window, though!
If you want something indestructible, go for the Moccamaster model with the thermal carafe. It's made of stainless steel, so you won't run any risk of cracking it. That model also saves you needing a hot plate.
All our other recommendations on this site are for hot coffee makers. We know how Americans love their cold-brew coffee, though! If you're after a cold, caffeinated beverage during the hot summer months, you should invest in this KitchenAid system! It's super affordable, and made from sturdy materials that will last for many summers of refreshment. We think it's the best home setup for fans of the smooth, unique taste of cold-brew.
Check out our other favorite cold brew setups here.
Pros:
It's incredibly simple. Think of this as a well-made, user-friendly steeper. All you have to do is add coarse-ground coffee and water, and let it sit! The KitchenAid is essentially a big holding tank, with a steeping basket in the center.
The longer you leave the grounds in the basket, the stronger your brew will be. Aside from setting a timer, it couldn't be easier to use. The manufacturer recommends that you brew for 12-24 hours, depending on how strong you want your drinks.
The steeping basket is made of stainless steel, so you can reuse it for years. It's sturdy but super porous. It does a very good job of steeping without releasing fine grounds, too! The basket holds around 12-14oz. of coffee grounds per brew.
It extracts a lot of flavor, and more so the longer you steep. Unlike plastic cold-brewers, it doesn't leach flavor when you leave it overnight. The glass and metal components leave your grounds' taste unvarnished.
While your flavor results will definitely depend on the quality of your grounds, this is the best way to get excellent flavor in a home cold-brew setup. The results are smooth, not acidic, and extremely flavorful.
In fact, what you get from this is really a coffee "concentrate", so unless you like your brews on the stronger side, you'll probably want to dilute with water or a dairy product, or steep closer to the 12-hour mark.
Of course, if you want something more mild, you can always use fewer grounds in relation to the water. However, we actually prefer having the more concentrated brew. You can always stretch it with ice, water, or anything else you like to add. You can go further on one tank, save yourself grinding time, and get more out of your grounds!
You'll save a lot of money using one of these during the summer. Compared to the store-bought cold-brew options, the KitchenAid is dirt-cheap to use.
It fits easily on a countertop or in the fridge. If you sit in on the edge of a countertop, the spout will hang over for easy pouring, too!
It's all glass and stainless steel. You won't find any other cold-brew units made this well. We just wish you could get a hot coffee system made this solidly! It's on a whole other level from the cheap, flimsy options all over the market these days. Even the spigot is sturdy and reliable.
The bottom of the tank has a clever array of ridges to catch any sediment that makes it through the basket. It's a really smart design feature that has tangible results. Even if you're careful to grind coarsely, there will probably be a few fine grains that make it into the tank. This keeps them from going into your glass!
It's super simple to clean. You just wash out the tank and scrub the basket.
It's easy to carry, thanks to the built-in handle. The KitchenAid is particularly good for picnics and parties!
Cons:
It's pricier than other cold-brew systems. You'll probably pay close to as much as many hot coffee makers cost. We think the quality justifies the cost, though. This is probably the last cold-brew maker you'd ever need to buy!
Obviously, something without any heating element or mechanical parts won't make hot coffee. This is purely for cold brews.
If you grind your beans too finely, you could end up with some sediment in your brew, despite the ridges in the tank. Just be sure to grind quickly and leave larger chunks.
Because of the glass and steel construction, this is a heavy piece.
This Miele system is our ultimate recommendation for the passionate coffee lover!
It's a premium machine, but it will make absolutely anything you want it to. The Miele does all the work for you, too! As long as you keep the ingredients topped-up and clean it regularly, you don't have to do anything more than pressing a button to have premium coffee on demand.
Pros:
It does just about everything for you! The Miele is a bean-to-cup system, which means it grinds, brews, and prepares each cup all by itself. This is as convenient as machines get, aside from pod systems (which don't taste nearly as good).
Beans are ground mere seconds before they're brewed, which is one key reason the Miele produces drinks which taste better than any other machine we've reviewed. It's as good as any manual coffee maker, too.
It'll make a bunch of different beverages:

Ristretto is the strongest offering on the menu. It's essentially a super-concentrated espresso, using even less water for the same amount of grounds. If you need a wakey-wakey, this is exactly what you'll be looking for.
The Miele's espresso is the classic you love: a strong brew with crema on top. It's a bit less potent than the ristresso, but it's still very flavorful.
Coffee is also a button away. It's prepared Euro-style, so definitely a stronger flavor and thicker consistency than what most American machines will produce. We think the Miele's coffee setting is comparable to a french press or similar manual setup.
Coffee lungo is a more watery (American-style) coffee. It's really just a "coffee" with more water mixed in. If you have guests or family members over, and they're not particularly into coffee, this is the best choice. It's mild while still giving more flavor than any drip system.
There are dedicated buttons for all 4 coffee beverages on the front of the machine. So, once you have your favorite settings dialed in, all you have to do is press the icon of the drink you want to make it!

The 4-line display keeps you up to speed on what's happening in the machine. It allows you to set timers, turn the power-saving eco-mode on and off, and make adjustments to any of the drinks. It'll let you know when you need to add water, milk, or beans. You can also use the control panel to cancel entire brews, or stop specific stages.
There are also 10 different portion settings, so you can get each beverage made exactly the way you like it.
You can save your personalized settings, too! There's room in the computer for 4 different user profiles. Everyone in the house can save drinks exactly the way they like them, and avoid having to make adjustments every cup.
So, how does it work?
The Miele gets its grounds from the whole beans you load into the built-in hopper. It'll grind them as it goes, so you don't have to do separate grinds and brews. As long as you keep the bin topped up, you're good to go! Beans simply get poured into the top of the system, and the machine takes care of the rest.
There's also a secondary compartment for pre-ground coffee. It's convenient for times when someone wants decaf, and others want caffeinated beans. You can put some decaf grounds in the second compartment for your guest, say, and then make standard drinks from the hopper for everyone else.
It packs a phenomenal grinder inside. The Miele's conical burrs are as good as any standalone system we've seen.
The milk you use is supplied from an external canister which hooks up with a hose. So, you can easily take it in and out of the refrigerator as needed. The flask is insulated stainless steel, so it keeps your milk cool while it's on the countertop.
The electric steam valve froths milk for you. It works perfectly, as far as we're concerned! You won't get a better crema from any machine on the market.
You can adjust the dispenser assembly to fit specific cup sizes. No need to buy any special mugs to use with this one! It'll fit your favorites.
The water reservoir is removable for easy refills. You can also adjust the machine to your water hardness, and it'll time the descaling alerts accordingly. The Miele even has test strips in the box so you can get an accurate reading.
There are two dispensing spouts, so you can make multiple drinks at any one time.
There's a cup warmer/shelf built into the top.
It looks fantastic. you can get the Miele in either black or white finishes, with stainless steel accents.
It's much more reliable than other all-in-one's. The Miele is made in Germany, by one of the top appliance-makers in the world. It's sturdy, and has an excellent track record for long-term performance.
The Miele comes with a measuring scoop for beans, a starter set of cleaning tablets and descaling tablets, water test strips for setting your hardness level, and a cleaning brush for scrubbing out the milk pipes.
There's also a manual, which is comprehensive and has lots of diagrams.
It's super easy to clean. The built-in cycles do most of the work, especially when you descale and use the cleaning tablets. Aside from the main dispenser cover, the components are safe to run through the dishwasher.
Cons:
The Miele is quite an investment. We don't recommend it to anyone who's not absolutely sure they'll get their money's worth. If you're passionate and drink several cups of coffee a day, though, it's worth every penny.
It'll take up a sizable chunk of your counter space.
We really wish premium systems like this were made with less plastic. However, the Miele's by far the sturdiest complete system we've found. Like the Moccamaster, the Miele is perfectly durable if you treat it with care. It's just not as indestructible as the company's built-in units.
While the controls are pretty easy to navigate, there are so many features and adjustments that you'll need to spend some quality time with the instructions before you feel confident with it.
You have to buy the cleaning and descaling tablets from Miele.
Conclusion
Which of our coffee maker recommendations should be your new go-to?
The Aeropress is our top recommendation to anyone who wants a manual press for solo coffee consumption. It's an excellent hybrid design which takes elements of classic manual coffee makers and tweaks to work around their flaws. This is an excellent primary maker for one person, or a secondary travel press for anyone who's often on the go.
The downside of the Aeropress is that it's made completely of plastic. It's also totally manual, so you're still going to need access to a grinder or pre-ground beans, along with properly-heated water.
The Cuisinart is our pick for anyone who likes a good old-fashioned drip machine. It's dead-simple, but it's effective and efficient. The Cuisinart also has a lot of digital tricks up its sleeve to make your coffee routine easier. This is a good choice for folks who want plenty of flavor, but aren't passionate or affluent enough to spring for a Moccamaster or Miele.
The Cuisinart has a few weak points, though. Although it's the most reliable drip machine we've reviewed, it won't last as long or as reliably as the Moccamaster or Miele. And while it's the best in its category for flavor, its results simply don't taste as good as our more expensive picks.
The De'Longhi is perfect for anyone who's attached to the convenience of pod coffee systems. It's miles more reliable than Keurig's, and it's made more sturdily to boot. For something that uses pre-ground coffee, the De'Longhi makes great-tasting cups.
Any pod system will be more expensive in the long haul, though. We only recommend one to folks who are super pressed for time, or who just don't want to put the effort in to use a more traditional machine. As with the Cuisinart, the De'Longhi isn't in the same league as the Moccamaster or Miele, either.
The Moccamaster is our top pick in the machine department, unless you're prepared to spend a couple grand for the Miele. We think it's far better than any traditional American drip models, and it'll give you the best-tasting cuppa you can get on a machine (aside from the Miele). It's super reliable, it's simple to use, and it's made extremely well.
Just be sure to get it from an authorized dealer. Otherwise, you could end up getting an iffy machine that's not covered by warranty. If you want something that makes more elaborate drinks or grinds your beans for you, invest in the Miele.
The KitchenAid is the obvious choice for cold-brew lovers. It's as simple as that! The KitchenAid is built better than any other home brewing system we've reviewed. It's easy to use, produces excellent results, and looks flawless. The only caveat is that it won't help you make hot drinks.
The Miele is our ultimate recommendation for the most passionate coffee drinkers. It's a premium machine, and it commands a premium price tag. If you can afford it, though, we don't think anything else compares to the results. You can make a whole range of coffee-based drinks exactly the way you want them, with hardly any effort on your part. It's very well-designed, solidly-made, and will last for years with care. Don't buy it if you won't get your money's worth out of it, though.
Buying Guide
There are as many coffee machines on the market as there are coffee-drinkers in the world! At least, that's the way it can seem when you go shopping for a brew system. Even when you're looking at highly selective guides like ours, there are lots of different types of coffee makers to consider.
In this buying guide, we'll help you figure out exactly what you're looking for! Then, you can more easily narrow down which of our recommendations will suit you best. Here's how to get started:
Know What Kind of Coffee Person You Are
Answer these questions for yourself:
How much effort do you want to put into making cup of coffee? Do you grind your own beans? Do you want to do it all by hand? Or have a machine do everything for you? Figure out how much manual work you want to do and how much help you want your coffee maker to give you.
How many extra features and conveniences do you need or want? Do you want to be able to come into the kitchen in the morning and find coffee waiting for you?
How much of a connoisseur are you? Maybe you're a casual coffee drinker who's into pods, or are at the opposite end of the spectrum thinking about premium roasts and burr grinders?
Think about the dynamic between convenience and brewing quality. Where do you fall along the spectrum?
Do you want to be able to adjust the strength of the brew? That's easy with a manual system, but not with all mechanical coffee makers. So, if that's important to you, look for an appliance with multiple settings!
The key thing is to have a sense of how involved you want to be in each step of the brewing process. Figure out how much work you want to do, and how much you want your coffee maker to do for you.
If you're into the whole ritual of coffee, you'll probably prefer to go the manual route. It takes time, though, and you'll need to hone your skills and instincts to get perfect results. With that said, the manual process yields results that beat all but the very best machines.
Even if you're passionate about actually drinking your coffee, though, you might not be as eager to put in all the manual labor to prepare it yourself. That's perfectly fine, too. As long as you use quality beans, an effective grinder, and a good brewing machine, you can get comparable results to manual makers.
Think about how much time you have to spend preparing your coffees, how many people you're going to serve, and how much you actually know about the brewing process.
Once you've got yourself figured out, you can move on to thinking about actual coffee!
Know What Kind of Coffee You Like to Drink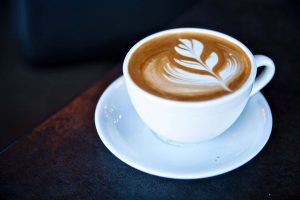 It sounds simple, but being able to articulate exactly what makes a "great" cup of coffee to you is one of the trickiest parts of the shopping process. You want to be able to explain exactly what taste elements make for the perfect cup.
Ask yourself these key questions:
What does a great cup of joe taste like? (bitterness vs. sweetness, other flavors, etc.)
What's the best texture? (smoothness, richness, thick/thin, etc.)
What level of intensity do you look for in your flavors and caffeine content? (espresso vs. coffee, American-style vs. European-style, etc.)
Are you going to drink your brews right away? That doesn't seem like the most important question, but if you're going with an unfiltered route, like a french press, you should give it some thought. Any brewing processes which leave fine grounds in the cup will continue to develop their flavor the longer they sit. That means coffee that's "done" could be too bitter by the time you drink it.
Do you like a thicker, European-style brew, or something more watered-down as is common in America?
What do you add to your coffee? Milk, sugar, agave?
In many cases, it all comes down to the quality and type beans and grounds you use.
If you're using pre-ground coffee, you already know you're not a purist. You'll be fine with a standard drip coffee maker, and you can easily spend less than $100.
If you're grinding your own beans, chances are you care a bit more about taste. Drip machines will be the easiest to use if you're making coffee for a crowd. They don't give you the best taste results, though.
The next step would be to get a more elaborate system that has a hybrid design or a percolator. Our favorite in this category, the Moccamaster, gives you flavor and texture results that rival most manual setups. These are the best balance between quality and convenience for the average person who cares about coffee but doesn't have the time for manual brewing or the money for a premium bean-to-cup system.
Many of the most passionate coffee drinkers prefer to go all-manual. If you're the sort of person who likes to learn about different elements of flavor, and wants to get just the right temperature and timing down pat, going the manual route makes a lot of sense. It's a lovely ritual. It's not always the best approach for a crowd, though. You also have to have solid instincts as far as how long you brew and how hot your water is.
If you're using premium beans, and grinding at home, you should invest in a manual setup, a hybrid brewer, or a deluxe all-in-one. The best flavor and texture comes from high-end hybrid/percolator machines like the Moccamaster, from deluxe all-in-one's like a Miele or Ninja bar, or from manual setups like a Chemex or French press.
If you want espresso as well as coffee, you're going to need something that's specifically designed to make it.
Once you've got a concrete sense of the coffee you love to drink, you can start considering the different types of makers on the market!
Figure Out What Kind of Machine Is Best For Your Favorite Style of Brew
Now that you know what you want from your coffee maker, and what kind of coffee you want it to make, it's time to figure out which brewing format is the best for you. Here are the options:
1. Drip
Drip coffee makers are the most common on the market, at least in the US. They're the traditional tiered sort you've seen in households since the '50s. There's a water tank, a boiler, and a filter basket for the grounds, all sat atop a carafe. These are also called "restaurant" coffee makers.
Drip coffee makers are super easy to use. That's their main appeal. You can use them with any sort of coffee beans and get decent results. Many come with large carafes that are good for serving a crowd. Heating elements under the carafe keep all the coffee hot until it's served. Some have thermal carafes to help as well.
So, drip coffee makers are a good choice for crowds and making a batch of coffee that will be drunk gradually. They don't have the best-tasting results, though. Many drip coffee makers don't actually meet industry temperature standards for brewing, so they end up tasting more bitter than the beans actually should.
195-205 degrees is the golden zone for brewing excellent coffee. Sadly, a majority of drip coffee makers don't have powerful enough heating elements to get water to that temperature. The brewing process shouldn't take more than 6-8 minutes, either, and many drip models do take longer.
They're also not very efficient compared to hybrid and percolator models. Drip coffee makers send water straight down through the grounds, usually in a tight little stream. You'll find that many of these models leave the outer portion of grounds completely dry. They over-extract the middle grounds, and waste the rest. That's why they don't get the flavor or value factors of models which disperse water or mix water and grounds as they brew.
2. Self-Serve
Self-serve machines are essentially souped-up drip coffee makers. Most of them have a drip coffee maker combined with some sort of thermal carafe. The idea is that you make a big batch of coffee and then pour a cup from a dispenser as needed. The problem is that they keep coffee in a tank and brew constantly, so flavor is all over the place. We don't think anyone should waste their time with these models. They're not worth the money.
3. Pod Systems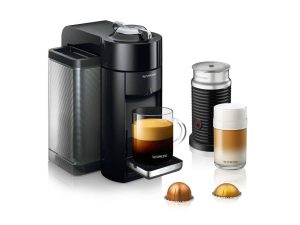 Pod systems are about as as convenient as it gets with coffee. They're even easier to use than bean-to-cup models, since you don't have to keep filling a bean hopper or clean things manually. You just pop in a pod, and press a button.
If you're crunched for time when you drink coffee, and you know you don't have time even to use a drip coffee maker or a hybrid model, these are definitely your best bet. They give you the fastest results, with the least amount of effort.
The problem with pod systems is that they simply don't compare in the flavor department.
First of all, you're using pre-ground coffee beans. No matter how well they're packed, they'll never taste as rich as fresh-ground.
Second, you're dependent on the pod company for your variety. Pod users generally aren't coffee snobs, but you should still consider the fact that you won't be able to come across a favorite roast and then make it at home.
That's unless you buy a refillable pod and fill it with your own grounds–at which point, you may as well save money and get a standard machine
Of course, all that might not matter so much to you. The best pod systems do put out pretty good cuppas, so if you're super pressed for time, go for one. Just don't expect them to compare to fresh-ground brewing.
4. Percolators/Hybrids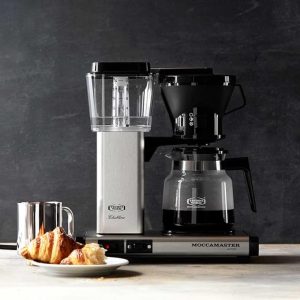 These are similar to drip machines in some senses. You pre-grind your beans, then add your grounds and water to the machine. They're more like a mechanized version of a manual brewer, though. Many of them use pressure to force boiling water up and through a chamber of coffee grounds, which will then be totally immersed. That method gets a lot of flavor out of the grounds–much more so than a drip system. It's like a mechanized french press in many ways.
You can get percolator machines or stovetop manual versions (Bialetti's are probably the most common). Most machines are some sort of hybrid. The Moccamaster is an example of a hybrid percolator, with elements of a drip-style design as well as a water-driven pump system.
Unless you're going to invest a lot of money in a bean-to-cup system that does everything for you, these are the best electric coffee makers on the market.
Percolators and hybrid drip/perc blends can be tricky to clean, though. They have lots of components, and not all of them can go in a dishwasher. You're also going to need to grind your beans yourself. These coffee makers are pretty expensive, too, so we don't recommend them to people who aren't passionate about flavor and particular about their beans.
5. Bean-to-Cup/All-in-One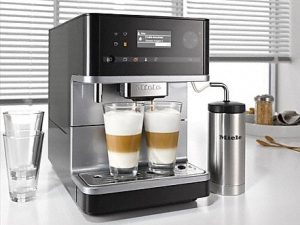 The ultimate coffee maker is a bean-to-cup machine which grinds, brews, and mixes coffee, all by itself. These premium options also make espresso, cappuccino, etc.
They're super expensive, but they're worth it to true connoisseurs who drink several coffees per day. The cost becomes a lot more justifiable when you think about the fact that these essentially include a pump espresso machine as well as a grinder, all in one package. These aren't for the faint of heart, though, since most cost more than $1,000.
So-called grind-and-brew machines are a cheap alternative. They won't make things like cappuccino or espresso, but they'll grind coffee beans and make a carafe for you, all in one package. We've found that these models are very iffy under $500, though. That's why we suggest that most people skip right over them and either stick with a hybrid/percolator machine or shell out for a bean-to-cup.
See our guide for more details!
6. Manual
Finally, if you're a coffee aficionado who cares a lot about flavor and brew quality, the ultimate purist route is to go fully manual. Manual coffee makers depend a lot on your own skill and instincts as a brewer, so be prepared for a learning curve if you haven't made coffee this way before. However, in skilled hands, manual coffee makers can come out with results that are as good as the most expensive mechanical systems. They're also the obvious choice for coffee while traveling.
There are two main types of manual coffee maker: french presses and pour-over models. There are some hybrids on the market (like the Aeropress we've featured above), but these two classics have stuck around for good reasons.
French presses are relatively simple to use. You have a glass cylinder, sized for single or multiple cups' worth, and a pressing disc attached to the lid and a handle. To brew, you add grounds and hot water to the cylinder, then fit the lid on top. After you've let the coffee brew to your taste, you just press the disc to the bottom to keep the grounds from rising, and pour!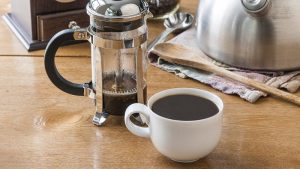 French presses produce very flavorful coffee, since they totally immerse grounds. With pour-over setups, contact between beans and water is much shorter. So, if you like stronger flavors, this is the way to go. Coffee from french presses tends to be slightly thicker and smoother in texture.
The disadvantages of french presses are the fact that some finer grounds do make it through the presser filter into your cup, and the fact that you have to scrub out the presser filter and other components when you're done. Pour-over models are much simpler to clean, and they usually use paper filters to remove all the granules.
Since there are some residual granules in most french press brews, you should drink them promptly. Otherwise, the coffee will continue to acquire flavor from the remaining granules. As this happens, you'll end up with bitter tangs, since the water will have cooled below the optimal temperature.
The other thing about French presses is that it's all up to you to make sure the coffee is brewed perfectly. You're in charge of the timing, where with a pour-over design you just keep pouring until all the water has passed through the grounds and filter. So, be prepared to experiment and learn as you start out!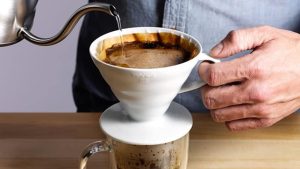 Pour-over coffee makers consist of a brewing cone made from plastic, glass, or porcelain, which you fill with a filter and grounds, then place over a mug. To brew, you simply pour the properly-heated water over the grounds, and coffee will drip into the mug.
Pour-over coffee makers are also made as single-piece, hourglass-shaped units. The glass Chemex models are the most common. They're roughly the same, except you can make as much coffee as the glass flask will handle. These are the better choice for making coffee for a group. You brew in much the same way as with a mug, but then remove the filter/grounds and pour from the flask.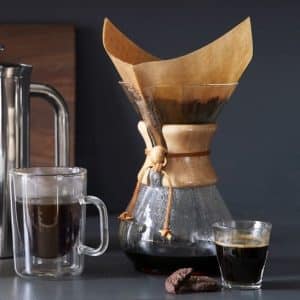 Pour-over designs require a bit more finesse, than french presses, since you have to pour the water through the brewing cone gradually. On the bright side, you don't have to worry about timing at all. You just keep the water pouring as fast as it will go through the cone, and then brewing is done. The pour-over method does depend on you getting the water temp perfect, though.
Since these setups use filters, you're less likely to end up with grounds in your cup. Pour-over coffee makers tend to produce brews with a thinner, lighter texture than a french press, although they still give you quite flavorful results. They're not going to be as intense as the immersion method with a french press, though.
*The only manual coffee maker we've recommended here on our home page is the Aeropress, which isn't quite a french press or pour-over setup. To see our favorite french presses and pour-over models, have a look at our category guides for each!
Do you want to make espresso as well as coffee?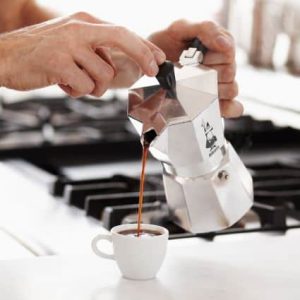 Espresso requires special beans, and special coffee makers as well. There are a few different approaches:
a pump espresso maker
a premium all-in-one, bean-to-cup system
a manual stovetop model like a Bialetti
Check out our dedicated guides to the best espresso makers for more details and specific recommendation in each category. Links to both our espresso guides are below!
Establish Your Budget
Figure out how much you want to spend on your new coffee maker. The cost depends largely on the sort of coffee maker you end up buying.
Going manual is the cheapest route to take. That's despite the fact that manual coffee makers can often give you the best results! French presses and pour-over setups are available for less than $20. Even the most expensive will be well under $100. However, manual coffee makers require the most time and effort to operate. If you go the route of a pour-over, you'll probably have to figure in the cost of paper filters as well.
Drip machines are the next cheapest options. They can cost as little as $25, or as much as $125. Decent models will cost you at least $50, and we've found that the best are between $75 and $100. As with pour-overs, you'll probably want to use paper filters with your drip machine, so make sure to add that operating cost into your budget.
Percolators and hybrid electric coffee makers are the midrange choice. They tend to cost between $150 and $500. We think they're the best choice for most people who don't want to do everything manually or pay a premium for a complete, automatic system. These deliver the best balance of taste and value on the market. However, they're more than the casual coffee drinker will want to spend.
Espresso makers vary wildly in cost. They can cost anywhere from $25 to $2500, depending on whether you get a manual or electric model. See our guides for more specific breakdowns!
All-in-one's are the top of the price range, no matter what kind of coffee you want to brew. These models usually do espresso and cappuccino as well as coffee, so it's no surprise that they top out at around the same price range as dedicated espresso machines. Plan to spend $500-$2500 for an all-in-one, bean-to-cup system. Grind-and-brew's start at around $50, and give you the basics of the all-in-one experience. We don't recommend that most people buy any grind-and-brew models under $100. Anything under $700 will be pretty iffy as well.
Think about Quantity
Both mechanical and manual coffee makers are made in a range of sizes. You can choose anything from single-cup makers to 14-cup models. Think about how much coffee you tend to make at any given time.
If you have guests over fairly regularly, you should probably go for something that's large enough to make 8 cups or more. If you're only making coffee for yourself and members of your household, you could easily make do with something smaller.
Make sure you consider how many people you need to brew for, and how much each person is likely to drink. Remember that coffee "cups" are measured at around 5oz, while normal cups and mugs are 8oz. It's usually a good idea to get a total in mind and then round up.
Work with Your Space
If you have very limited counter space, manual coffee makers are by far the best option. You can easily store them in the cabinet between uses, and they're extremely compact compared to drip, hybrid, or percolating electric models. If you've got room on your countertop, you should be able to make most drip machines work. Percolator and hybrid models tend to take up a larger footprint, as do all-in-one's.
Look For Easy-Clean Designs
Whichever type of coffee maker you decide to buy, be sure to make your life easy and choose a model that's easy to clean! You want as few components as possible, so that disassembly and reassembly are easy. Dishwasher-safe components are best, though certainly not essential. Self-cleaning features are also an excellent convenience on any electric coffee maker.
What's Next
As we mentioned at the top of the page, we've compiled a range of more specific guides for making coffee!
The coffee makers we've recommended here on our home page are just a few of the models we love! They're our top picks overall for making great coffee, but we haven't included french presses, pour-over's, or espresso makers in our overall picks.
If you're looking for a french press, pour-over setup, espresso machine or grinder, you've come to the right place! Our specific guides by category will show you our favorite models by type:
Pour-Over Coffee Makers
Pour-over coffee makers are the easiest way to make coffee by hand. They don't require any experience to get the timing right, and they're super easy to clean up after a brew. We think they're the best manual approach for people who like subtle, smooth blends without the intensity or thicker texture that you get from a french press.
The Chemex Classic is probably the best-known pour-over model on the market. It's a shoo-in for our top quality pick!
The Chemex is an American-made pour-over flask design. The flask shape gives you a convenient way to get the filter, grounds, and brewed coffee all contained in one component!
To brew, you simply fit a filter into the open end of the glass, fill with grounds (make sure you use a grind size appropriate for a Chemex), and pour your heated water in. Once all the water's through the grounds, you just lift out the filter and pour. It's super easy to do, and incredibly easy to clean. It's dishwasher-safe, and there's only one piece to deal with once you remove the collar.
This 3-cup model makes around a pint of coffee at a time. It's won countless design awards, and remains one of the best-selling setups of all time. You still have to get the water temperature right, but unlike a french press, you don't have to worry about timing the brew. Once the hot water has passed through the grounds and filter, the coffee is done!
Find out more about the Chemex, and meet our other favorite pour-over coffee makers by clicking through to our complete guide!
French Press Coffee Makers
French presses are some of the oldest coffee makers on the market. Used for more than a century, they're the standard type of manual coffee maker across Europe and much of the world. They've stuck around this long for very good reason! They produce flavorful results in a compact, user-friendly design. These are usually the best manual choice for folks who like intense flavors and thicker, Euro-style brews.
Our favorite french press is the Bodum Chambord: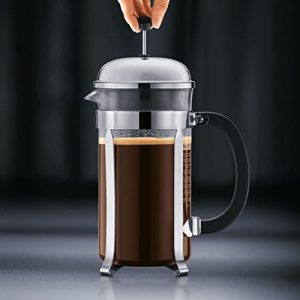 It's a European-made press with a simple glass and steel design. There are very few plastic components–only the knob, handle, and sealing part of the lid are made from synthetic materials. We think it's the best-made glass press on the market! The Bodum is available in a range of sizes, so you can choose the one that'll make your ideal amount of coffee.
We think the Chambord is worth the price hike over cheaper models, because it's so user-friendly and well-made. The heat-resistant borosilicate glass keeps water at optimal brewing temperature for longer, while the handle material stays relatively cool compared to other models. The metal frame is very sturdy. Everything's made in Portugal, so you can trust the quality of the materials and the integrity of the design.
One of the biggest advantages with this one is that all the components are dishwasher-safe! Much as we love french presses, it's always a pain to try and scrub out the metal filters by hand. This one makes it a cinch, as long as you have a dishwasher at home.
To see more details regarding the Bodum Chambord, click through to our complete guide to french presses! That's also where you'll find in-depth reviews of all our other picks in that category.
Coffee Makers with Grinders
At the opposite end of the spectrum from manual coffee makers are fully-mechanized models that do it all for you! Coffee makers with built-in grinders are super popular these days. They're nearly as convenient and effortless to use as a pod system, and since you're grinding as you go, you get way better flavor!
The vast majority of models in this category are iffy to say the least, though. They have weak grinder motors, poorly-made burrs, or designs which are impossible to clean well. Be sure to read our complete guide to find out which ones are actually worth your money!
You've already seen our ultimate pick for a coffee maker with a built-in grinder: the complete Miele CM 6310 system! That's a super expensive, premium machine, but it has the best performance and reliability in this category.
At the other end of the spectrum, the Cuisinart DGB-400 Automatic Grind-and-Brew Thermal 10-Cup Automatic Coffeemaker offers a lot of convenience for a very low price:
This machine isn't nearly as complete a coffee system as the Miele, but it's by far the least expensive machine we recommend with a built-in grinder. It has better reliability than anything else in the budget bracket, and a decent range of conveniences onboard.
You can program this one to grind and brew your coffee to be ready when you get up in the morning, or make a quick small batch for yourself later in the day. It has enough room in the carafe to serve a crowd, while still fitting nicely on the countertop.
If you're set on a grind-and-brew, and can't afford to spend the $750+ it'll cost to give you something truly great, we think this is by far the best budget option.
See our full analysis of the Cuisinart, and check out the other models we recommend with built-in grinders!
Espresso Machines
Espresso is a whole different ballgame from your average cup of coffee. You might think it's just a simple difference of intensity, but making a good espresso requires a different roasting technique, grinding consistency, and brewing environment. That's why we've dedicated an entire guide to helping you find the best espresso machines on the market!
One of the best espresso machines for the aficionado is the De'Longhi America ECAM37095TI Dinamica Plus with Lattecrema System:
It's a high-tech, fully-featured model that will make you anything from espresso and macchiato to latte! It has single-touch navigation, and phenomenal cappuccino foaming. It has its own burr grinder right onboard, so you just have to fill it up and press the drink you want! The bean hopper and water reservoir are much larger than other systems, so it's easy to provide for a crowd.
This is a heavy-duty, Italian-made system that's comparable in quality to the Miele all-in-one system we've recommended here on our homepage. It's ideal for the passionate coffee lover who especially likes specialty drinks like espresso, macchiato, and cappuccino!
Want something a bit different from your new espresso machine? No worries! We have plenty more espresso machine recommendations in our dedicated guide. That's also where you can find our full, in-depth review of the De'Longhi!
Espresso Machines Under $200
As you can guess from our featured review of the De'Longhi above, espresso machines can be quite pricey. If you're on a tight budget, don't be alarmed! There are a few good espresso machine options under $200 which can give you quality espresso without breaking the bank.
Be sure to read our complete guide to know what you're looking for, though! There are a lot of sub-par espresso machines in this price range, and we've put extra effort into finding affordable options that really work well.
The least expensive way to make an espresso isn't to use a machine at all! The Bialetti is a stovetop classic moka pot which brews phenomenal coffee that pretty much approaches espresso:
These come in 1-cup to 12-cup sizes, but they all fit easily on a stovetop. They're designed and made in Italy, and if you've ever been traveling in Europe, you'll know how common these little contraptions are! They take up practically no space, they're easy to clean, and they last for years.
Bialetti's are made from polished aluminum, with a distinctive 8-sided boiler. The patented safety valve uses steam as a pump to brew flavorful espresso without any moving parts or electricity.
You'll have to grind your own beans, though. Beware of knock-off's, too! Get yours from a Bialetti dealer to avoid crappy knock-off models with unsafe finishes or shoddy metal.
Coffee Grinders
So much of the experience that you have when drinking a cup of coffee depends on the quality of the grind. For instance, french presses require a consistently coarse grind. If there are fine grounds in the press, they'll usually find their way to your cup, and make it gritty to drink. Likewise, if you use too coarse of grounds in a pour-over or drip coffee maker, you won't get proper extraction, and you'll end up with weak flavor.
A great coffee grinder gives you the control to be able to grind beans to whatever degree you want, with the consistency to make sure that they all extract properly and play well with filters when they're in your coffee maker.
Our guide to the best coffee grinders will teach you all about the difference between burr and blade grinders, and show you our favorite models for the best grind quality and taste!
Our ultimate recommendation for a coffee grinder is the Baratza Forte:
It's quite expensive, so we don't recommend it to anyone who's not super passionate about coffee. However, if you're an aficionado, it gives you the ultimate in control and precision!
The Forte is a big burr coffee grinder, but it can be used for either batch brews or small manual brews for one or two people. It's commercial-grade, but it's still easy to use in a home. One of the best things about it is how little counter space it takes up for its size!
All the important components are solid metal, from the burrs to the grinding chamber. It has a souped-up gear-to-belt ratio for extra torque and speed at the same time, as well as an efficient DC motor that's not as prone to fluctuations as AC equipment.
While this commands a premium price tag, we think it's ideal for the perfectionist coffee lover! You can make grounds for anything from a french press to an espresso machine with maximum efficiency, and impeccable consistency!
To see how the Forte compares to our other grinder recommendations, or to see our complete review of it, head over to our guide to the best coffee grinders!
Manual Coffee Grinders
The ultimate piece of equipment for a coffee aficionado is a manual grinder. They make the ritual of making coffee from grinding to brewing very satisfying. Plus, they give you precise control over the size and texture of your grounds.
Besides the quality of grounds they produce, the appeal of manual coffee grinders is their ability to become heirlooms. If you buy a good manual grinder, you can plan on it lasting decades, if not a lifetime! We still love our first manual grinder: a Zassenhaus wooden mill found in the back of an antique shop years ago, and it still works perfectly!
A manual coffee grinder is a visual display of your passion for coffee, and it's a personal tool that you'll enjoy using day in and day out.
Our all-time favorite manual grinder is the Peugeot Antique Coffee Mill:
This classic has been around for a number of years, but it's still in production. You don't need to be an expert to figure out why! It looks absolutely fantastic, and comes in a range of woods and finishes. You can suit practically any taste with the Peugeot.
It's made in France, using sustainable wood and a grind mechanism that's built in Italy. The burrs inside are made from knife-grade stainless steel. They're rugged and reliable for years of service. The attention to detail is fantastic, too!
It's guaranteed to be an heirloom piece, since the grinding mechanics are covered by a lifetime warranty. The housing is covered for 5 years, but taking care of the whole thing is easy beyond that. We usually wax things like this.
This is relatively efficient for one to two coffee drinkers: you can get about half a cup of beans in the hopper, and slightly less than that in the grounds drawer.
It's completely adjustable, so you can get a great deal of finesse with this one, too! You can grind rough for french pressing without pesky debris in your dregs, or go as fine as espresso grounds. Since you can make adjustments to the mechanism itself, so you don't even need amazing technique to get the results you want. The grounds come out very uniform, no matter which setting you use.
See our complete review of the Peugeot, and find out which other models make the grade in our guide to the best manual coffee grinders!