Updated: November 11, 2023 by Mary Nguyen
Guess what! You don't actually need an expensive coffee machine with lots of features and settings to make good coffee. Having a quality machine is never a bad thing, of course, but you really don't need one to make yourself an awesome cuppa joe. What you need is one of the best moka pots you can find.
Not only are moka pots a lot more affordable than most machines, but they are also quite easy to use. You can make amazing stovetop coffee within minutes. This brew method will bring the aroma, body, and flavors out of your coffee.
That said, I recommend that everyone get a moka pot for their home. If you are having trouble deciding which one to get, check out my moka pot reviews below.
TOP PICK

Let's be honest, no one does moka pots like the Italians. And when it comes to Italian moka pots, I have to mention Bialetti. Their best one, as well as my all-time favorite, is the Bialetti Moka Express, a classic, elegant brewer that will help you make some tasty coffee.

I chose this moka pot as my top pick because of the premium quality and design, the ergonomic handle, and the fact that it can be used on all kinds of cooktops. Whether you have an electric, gas, or induction stove, you will be able to make coffee with the Moka Express.
My Best Moka Pot Reviews
Did you know the company Bialetti was founded by Renato Bialetti, son of the inventor of the moka pot? How cool is that? When I first learned this, I immediately thought they must make some top-notch moka pots. And they do. This is why my top pick is the classic Bialetti pot – the Moka Express.
Key Features
Patented safety valve
Available in various sizes
Suitable for different types of stoves
Zero-waste design
This is a convenient brewer, not only because it is easy to use but also because it is easy to clean. The manufacturer advises against using any chemical detergents because they can damage the brewer and pollute the water. You can simply rinse the moka pot with clean water and it will be as good as new!
Pros
Easy to use
Easy to clean
Ergonomic handle
Durable aluminum design
Cons
Rubber seals might not be very durable
There is nothing better than having an eco-sustainable coffee brewer that you can use whenever and wherever.
Unlike the previous moka pot that was made of aluminum, this one from LuxHaus has a stainless steel build that makes it even more durable and rust-free. The design is shiny, ergonomic, lightweight, and comes in three sizes. You can choose between the three-cup, six-cup, and nine-cup pot.
Key Features
Durable stainless steel build
Comes in three different sizes
No-rust guarantee
One of the things I love about this moka pot is the no-spill spout. This allows you to pour your coffee without worrying about making a mess. And the heat-resistant handle ensures you won't burn yourself while using the pot.
Pros
Suitable for various stoves
Heats up quickly
Heat-resistant handle
Cons
Lid hinge might not be very durable
If you are looking for a durable, easy-to-use, easy-to-clean moka pot, this is another top choice. With its no-rust guarantee, you'll be able to use the pot indefinitely without having to worry about it degrading.
This is a moka pot very similar in design to the Bialetti Moka Express, but this one comes in three color options: silver, black, and red. You will also be able to choose between five different sizes: a one-cup, three-cup, six-cup, nine-cup, or 12-cup moka pot.
Key Features
Silicone gasket
Stainless steel valve
Heavy-duty construction
This moka pot is aluminum, which means that it won't be as durable as one made of stainless steel. However, I still recommend it because of the innovative design. The pot is extra easy to use, and you can clean it simply by rinsing.
Pros
Compatible with all stovetops
Quick brewer
Non-drip spout
Heat-resistant handle
Cons
The only disadvantage of this Primula moka pot is the plastic handle that you have to keep off to the side of the hot burner to avoid melting it. Aside from that, I think this is a great moka pot that you should consider trying.
A lot of people avoid aluminum moka pots because of the fact they can rust after some time. However, this GROSCHE moka pot has an amazing build. The body is made from food-grade anodized aluminum, and the handle has a rubber coating and burn guard.
Key Features
Aluminum build
Strong hinges
Quality safety valve
High-quality silicone seals
If you disassemble the moka pot, you will find a silicone gasket seal that is crucial to the taste of your coffee. This non-toxic seal gives consistent pressure while brewing, meaning you will always get the best coffee with this pot.
Pros
Burn guard handle
Heat-resistant handle
Easy to disassemble and clean
Cons
Not suitable for induction stoves
You will be able to use this moka pot in all situations – you can even take it with you on your camping trips and brew coffee with it over a fire. However, remember not to use it on an induction cooktop.
This is another moka pot from Bialetti. While this pot has a slightly different design than the first one on my list, the Moka Express, it is just as good, and you will be able to choose between the four-cup, six-cup, and 10-cup sizes.
Key Features
Durable steel construction
Anti-scalding handle
Various sizes available
This durable, polished stainless steel pot should last for decades without any problem.
Pros
Induction stovetop compatible
Ergonomic, non-slip handle
Cons
Might start to smell after some time
This is a great moka pot with an elegant design, thick-walled boiler, and ergonomic handle, and it can brew some great coffee too. Make sure you clean it properly, though, or you will find that it will eventually take on a foul smell.
As my final choice for this list, I have a moka pot from a company called Godmorn. This pot has a similar design to the Bialetti Stove Musa but is a lot cheaper. It comes in three different sizes: four , six, or nine cups.
Key Features
Quality stainless steel build
Anti-corrosion design
Rust-resistant
Suitable for various stovetops
Imported safety valve
Three-ring precision thread
Since this moka pot is resistant to corrosion as well as rust, little can damage it. After use, you can disassemble it and put the parts in the dishwasher. If you would rather wash them by hand, use a cleaning solution that does not contain any harsh chemicals.
Pros
Ergonomic, thermally-insulated handle
Lightweight and portable
Cons
If you are looking for a budget-friendly moka pot that will last for years, this one might be the perfect one for you.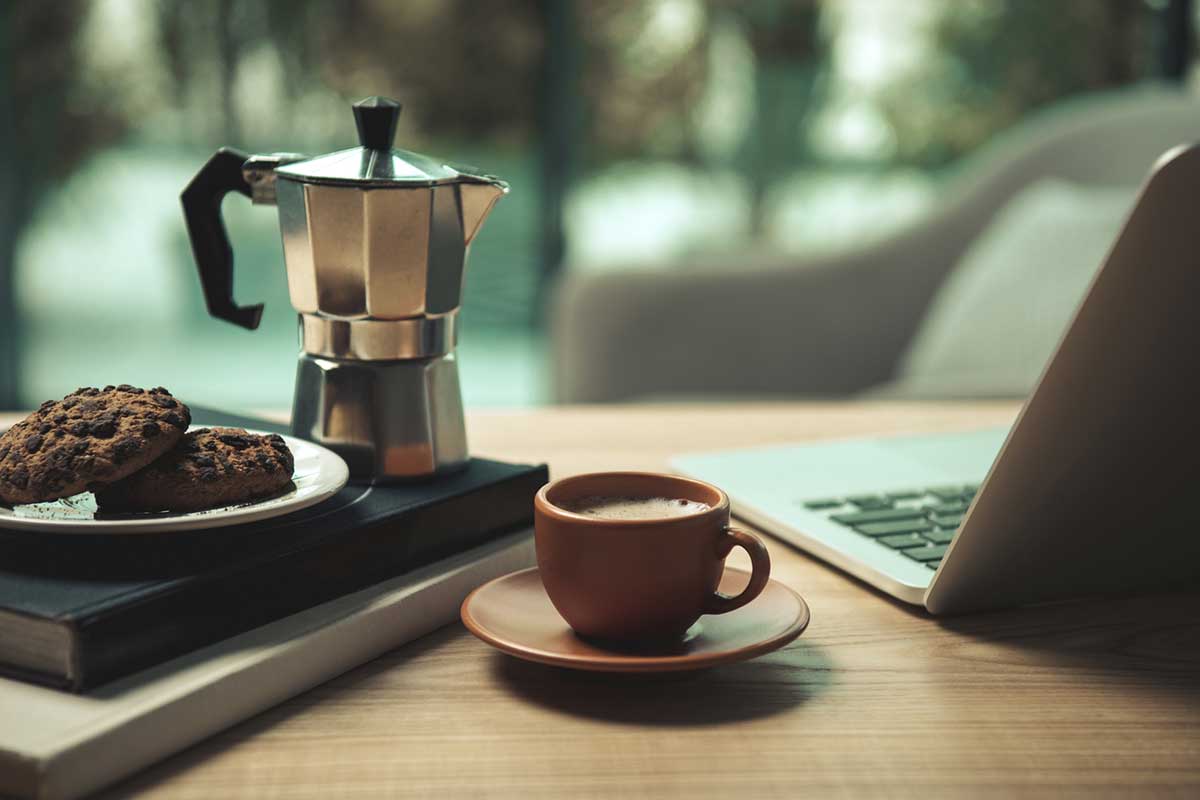 How to Choose the Best Moka Pot
There are a lot of moka pots currently available in various builds and sizes. I want to help you choose the best one by explaining the key features that make one moka pot better than another.
Material
As you will notice, most moka pots are made either from aluminum or stainless steel. While both these materials have their benefits, they also have a few disadvantages that you should know about.
For example, aluminum moka pots are very lightweight and affordable, but at the same time, they are not that durable. You can expect an aluminum moka pot to rust after some time. Also, you can expect it to be a bit more difficult to clean.
When it comes to stainless steel pots, they are very different from aluminum ones. Their benefits include longevity as well as a material that will not rust. While they last for a very long time, they also come at a higher price.
Size
Moka pots also come in various sizes. You can find pots suitable for three cups, six cups, and even up to 12 cups. It is important to get the right size because the amount of coffee you put in it will affect the taste of the brew. You should always fill it properly and to do that, you need a moka pot with the right size for your needs.
Stovetop or Electric
There is another decision you need to make and that is whether you want a stovetop moka pot or an electric one. Again, both have some benefits, but they also have a couple of disadvantages.
For example, stovetop moka pots take more of your time, but you won't need to plug it in, and you can take it camping. They are also a lot more affordable than the electric, which are usually double or triple the price of the manual ones.
Still, electric moka pots are great because you just plug them in and let them do their thing. If you're someone who does not have a lot of time to stand over the pot, the electric one might be a better option for you.
FAQs on Moka Pots
Can you fill a moka pot halfway?
The size of the moka pot is directly connected to the quality of the coffee it brews. You cannot fill the pot halfway and think that you will get coffee of the same quality because that will not be the case. The moka pot works well only if you fill it.
What this means is that you either need to have moka pots of various sizes or use the one moka pot you have to make as much coffee as it is designed for. Consider the amount of coffee you will be brewing regularly and decide which moka pot is the perfect size for you.
Can you put milk in a moka pot?
The moka pot is suitable for brewing coffee with milk. In the brew chamber, add your coffee grinds and then milk instead of water. After you put the pot on the stove, stick around and wait for the coffee to brew. You do not want to leave the pot on the stove for too long or your coffee will taste burnt and bad!
Get Your Moka On
Thanks for sticking with me through my moka pot reviews.
The Bialetti Moka Express stands out because of its reputation, quality, and price — plus, it's a classic. However, if you are looking for a more budget-friendly option, the Godmorn may be the perfect one for you. No matter which moka pot you end up choosing, I hope that you have a great experience with it and you get some awesome coffee!