Updated: February 8, 2022 by Owen Richardson
One of the best things that you can do to recharge is to go off to some remote place where you can commune with nature and get some peace and quiet. And I think camping is the best way to be able to do that. But while I do love roughing it, coffee brewing is of course something I would never do "in the rough". I never take off on a camping trip without packing my best camping French press!
Yes, camping enthusiasts know that these kinds of trips might not require that many things – you essentially pack only what is completely necessary. One of those things is a French press! I always recommend taking one on trips because it can be used to make delicious coffee without much effort.
There are a lot of amazing presses that come at very affordable prices but are still perfect for all kinds of trips. Today, I will tell you more about the top eight French presses you have to look into!
If you are ready to learn more about the specially-designed French presses for camping trips, let's get right into the list!
TOP PICK

My favorite outdoor French press for camping and all other kinds of trips is the Stanley Adventure All-In-One Camping French Press. This French press is compact yet lightweight, made from durable materials, and you can use it to boil water, brew coffee, and cook some liquid meals while traveling.
My Roundup of the Best Camping French Presses
You can see from the name of this French press that it is perfect for all types of outdoor adventures. With a compact and lightweight design, you will not even feel the extra weight when carrying it around.
Key Features
Multifunctional French press
Locking pot handle
Nesting system
This is more than just a French press – it can also be used as a cup or a place where you can heat soup and other liquid meals. It is made from durable, high-quality materials, so you do not have to worry about damaging it even if you put it directly over a fire pit!
Pros
High-quality lid
Easy to clean
Cons
Plunger is a bit hard to press
This is the perfect all-in-one coffee maker that you can take on all your outdoor trips. I recommend that you invest in one of these presses if you are planning on taking a lot of camping or hiking trips. It is honestly the best thing ever!
You must have noticed that some coffee containers tend to stay hot for only a couple of minutes after you pour your coffee in them. With this camping French press and coffee canister from Coffee Gator, you will never have that problem again. The canister can keep the coffee hot for an hour or even longer!
Key Features
Cool-touch handle
Double-screen filter
Insulated container
This French press is very durable and made from high-quality materials so that it does not break or damage easily. You also get a canister that you can use to store coffee beans in, so they will not get stale easily.
Pros
Rust-proof design
Four color options to choose from
Cons
Paint might peel from the container
This is a durable, drop-proof, and rust-proof French press that you will love using. I recommend getting it and taking it with you wherever you go camping!
This titanium French press from Bestargot has an amazing design. Not only does it weigh under 200 grams, but it also has an ergonomic handle that you can fold so you can store the press easily in your backpack!
Key Features
Measuring capacity
Foldable handle
Hanging handle for bonfire
This French press is made from high-quality materials like titanium, which makes it very durable and suitable to put over a fire. You can use it to make perfect coffee as well as great tea!
Pros
Ultralight design
Resistant to high and low temperatures
Cons
Container might be a bit too small
This is a great French press that you can also use to make tea and some liquid meals. After you are done, give it a quick wash and it will be as good as new!
The company GSI has a lot of awesome camping gear items to offer, but none are better than their camping French press. You can use this press to make coffee in just a few minutes, while the press will keep it warm for you for hours to come.
Key Features
Shatter-resistant design
Patented plunger
Insulated lid
With the patented plunger, you can make coffee without worrying about some of the grounds making their way into the actual coffee. Your coffee will be amazing – just like the one you make at home!
Pros
Ergonomic handle
Lightweight design
Cons
If you are looking to get a mouthwatering brew even on your camping trips, this GSI French press can give you that! Make sure to check it out when on the market for some necessary outdoor gear.
It might look fragile, but it isn't – this KONA French press has a very unique but strong design, with an insulated outer shell that makes the press almost unbreakable! On top of that, the lid is completely BPS- and BPA-free, so you do not have to worry about that either.
Key Features
Quiet brewing
High-quality filter
Durable design
Once you use the French press, you can put it in the dishwasher. You can also use it in a microwave if you need to – the design is made to withstand very high and very low temperatures.
Pros
Eco-friendly design
Keeps grounds away from the coffee
Cons
Cannot keep coffee hot for long
This is a great French press that you have to check out. The company also makes gift sets, so you can purchase the press as a gift for your loved ones.
When going camping, everything needs to be neatly packed so that you have enough space for all your things. If you do not have enough space for a separate French press and a travel flask, you can always get this 2-in-1 French press and flask from Bodum that comes at a very affordable price!
Key Features
Non-slip design
Non-skid rubber base
Dishwasher-safe
Everything about the design of this French press is great. The only thing that you should pay attention to is that you keep the press upright at all times – the lid might be spill-resistant, but some leakage might appear if you overfill it.
Pros
Keeps coffee hot for long
Compact and lightweight
Cons
Lid is not entirely leak-proof
If you decide to get this French press, you can choose between one of the few available color choices. That way, you can make the press fit in well with the rest of your camping gear!
If you need the perfect travel buddy, you have to consider this OXO camping French press. Thanks to the amazing design, you can make up to eight cups of coffee in one brew, which will also save you a lot of time!
Key Features
Large brew capacity
Slotted spout
High filtration level
The handle on this French press is made with non-slip materials, so you do not have to worry about it slipping from your hand. The chances of that happening are quite low.
Pros
Dishwasher-safe
High-quality filter
Cons
Plunger might not be easy to use
This French press will give you a great experience, no matter if you are using it on camping trips or in the comfort of your home – it is great either way!
WideSea has a lot of great camping accessories to offer, but this camping French press takes first place! It is very easy to use – you just need to put your coffee grounds and your water in it, and the coffee will be ready in a matter of minutes.
Key Features
Steam outlet included
Anti-scalding handle
Multifunctional design
You can easily turn this piece of gear from a French press into a cooking pot. Then, you can use it to make tea or some other liquid meals that you love. Thanks to the amazing design of it, they will stay warm for quite a long time.
Pros
Made from high-quality materials
Affordable
Cons
Brewing capacity might be a bit small
If you are looking for a cheap and small French press to take with you on all your trips, this can be just the one. Everything you make using this press will have an amazing taste!
If you're into espresso, here are some nice compact manual espresso makers you can take camping.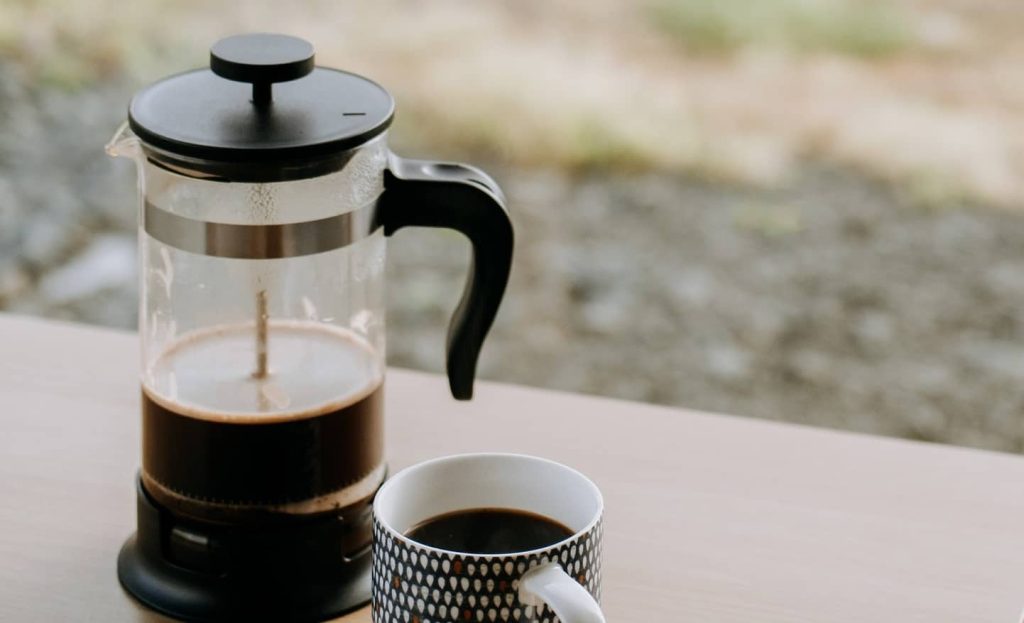 How to Pick the Best Camping French Press
Choosing a good French press can be quite a difficult process without having to worry about it being suitable for outdoor trips. When you add the outdoor aspect to it, the choice becomes even more difficult!
I know that you might have some difficulties in choosing the best French press for camping, but I can help you with that by giving you a quick and easy buying guide. Let's look at everything you will need your French press to have!
Compact and Lightweight
As mentioned before, everything that you take on camping trips should be as lightweight and compact as possible. You do not need the extra weight on this type of trip, so you should look for a French press that is specifically made to be compact and lightweight but still effective.
Durable Material
This is a very important aspect – when camping, you will sometimes have to endure very hot or very cold temperatures. You will need your French press to be able to endure the same temperatures, not to mention any possible bumps and mishaps. So do make sure you're packing something that's made from durable materials. If possible, get a French press made from rust-resistant stainless steel or titanium!
Easy to Use and Clean
You do not need a French press with a complicated design or a lot of parts that need a thorough cleaning. If you are planning on taking the press on camping trips, you should get one that is as simple as possible and that is easy to wash or clean!
Capacity
Just in case you're not going camping by yourself, remember that you might be brewing coffee for two or more people. If you want to save some time and brew a large amount of coffee faster, you will need to get a French press that's big enough for at least a couple of servings. You could go up to a 40-ounce press – anything larger might be a bit too heavy and bulky for camping trips.
Stay Civilized and Get Your Brew On
Well, that is just about everything you need to know about French presses for camping. If you ask me, I think that the best option is the Stanley Adventure All-In-One Camping French Press. However, if you are on a tighter budget, you can also check out the OXO Venture Tritan Carafe Camping French Press that is just as good but a bit cheaper.
Share a comment below if you know of any good camping French presses that I should include in my list. I would be happy to read all about them and even consider adding them the next time I do a review!