Updated: August 11, 2023 by Mary Nguyen
French press coffee is considered the tastiest coffee by many and it is the easiest coffee to make! It does not take much to make good coffee using a French press. The only thing you need to have is some good beans and the best French press!
Today, you and I will look into French press coffee makers that are currently available on the market. Even though there are a ton of great presses, I have narrowed it down to the top nine choices that I think you should know more about. I will give you detailed reviews for each one of them!
French presses are great – they are very easy to use, they do not require that much work or effort, they are easy to clean, and most of them are quite affordable! There is no reason for you to avoid getting one of these French presses and trying out the coffee they could give you. Let me tell you all about them and help you decide which one you should get.
TOP PICK

When talking about French presses, you cannot carry on the conversation without mentioning the Mueller Double Insulated French Press. I consider this to be the greatest French press currently available on the market, which is why I chose it as my best overall choice as well!
The Best French Press Reviews
Product
Features
Price
1. Mueller Double Insulated French Press
(Best Overall)

Stainless steel press
Double-layered walls
Drop-proof carafe

2. Stanley Adventure All-in-One French Press

Versatile container
Durable materials
Compact design

3. Coffee Gator Stainless Steel French Press

Double-filtered press
Cool-touch handle
Large carafe

4.

Bayka

 Coffee and Tea Maker French Press

Quality filter
Borosilicate glass carafe
Ergonomic handle

5. Bodum Chambord French Press

3-part plunger
Patented safety lid
Dishwasher safe

6. KONA IdylcHomes Coffee French Press

Eco-friendly press
Compact design
Thermal-shock resistant

7. Bodum Brazil Coffee and Tea French Press
(Best Budget)

BPA-free handle
Heat-resistant carafe
Dishwasher safe

8. Bodum Stainless Steel Travel French Press

Travel-friendly design
Vacuum-sealed walls
Non-slip grip

9. OXO BREW Venture Travel French Press

Shatter-resistant carafe
Quality filtration
Non-slip knob
French presses have been on the market for a while now, and there are quite a few presses that have amazing designs with a lot of great features. These nine presses that you will find on the list are here because there is something that makes them special. I suggest that we get into the reviews and see what makes the presses so special!
I would like to start the detailed reviews with the review of my best overall choice – this French press from Mueller is a great choice for everyone. It has an amazing build with thick walls made from durable material. At the same time, it is rust-proof, drop-proof, and most likely bulletproof as well!
What makes the Mueller Double Insulated French Press such a good French press is the large capacity carafe that is made with polished stainless steel. There is also an interior heat-insulating layer that can keep the coffee hot while it is in the carafe, but the exterior layer will stay cold to the touch and will not burn your hands. It also has a great filter, cool-touch handle, and it comes with a coffee canister free of charge!
Key Features
Versatile press
Double-layered design
Super filtering
This French press comes with one of the best filters you have ever seen. It has four layers that ensure none of the grounds make their way into your cup. The coffee will taste amazing without any grounds in it.
Pros
Flavorful brewing
Keeps coffee hot for long
Tough and durable
Cons
Plunger can be difficult to use
If you are looking for a durable and versatile French press that can help you make some tasty coffee, this is the best choice for you. The company promises total satisfaction for all their coffee makers, French presses, the all-time favorite manual and electric grinders, and so on. Why not take your chances with this press!
If you are an adventurous person who likes to go camping often, you need a great French press that you can take anywhere with you.
Key Features
Durable design
BPA-free materials
Dishwasher safe
Vacuum insulation
Not only is the design of this press durable and sturdy, but it is also very compact. You can easily store this press in your backpack! But before doing that, make sure that you fold the handle and make the design even more compact.
Pros
All-in-one pot and press
Compact
Leak-proof
Cons
This is a great space-conscious, eco-friendly French press that you can use both at home and on your adventure trips. Since it also comes at a great price, I recommend that you look into it as soon as possible!
Check out more travel and camping French presses here.
If you are a fan of French press coffee brewing, you must have heard of the Coffee Gator French press made out of stainless steel. This company created various brewers as well as canisters in which you can keep your coffee beans, but this French press is the most famous product that they have. After you look into it more closely, you will realize why that is!
Key Features
Cool-touch handle
Rust-proof design
Double-screen filter
The most important thing in a French press is the filter – it determines the taste of the coffee, and it helps separate the grounds from the actual coffee. The filter on this press has a double screen, meaning that it can do a great job at keeping the grounds separate from your coffee!
Pros
Professional grade
Keeps coffee hot for long
Large capacity carafe
Cons
Coating on the carafe may come off easily
If you are looking to make enough coffee for four of five cups at one time, this French press can help you achieve that. With this large carafe, you can make a ton of coffee, and rest assured that it will stay warm for an hour after you brew it!
This French press from Bayka that I am about to present is one of the best glass presses on the market. Even though the carafe is made from glass, the glass is thickened with very durable borosilicate glass. On top of the glass, there is a metal frame that keeps the glass from shattering if the press happens to fall!
Key Features
Ultra-fine filter
Borosilicate glass carafe
Versatile brewer
This press comes in several different colors and can be used for brewing coffee, tea, making juice, or even making some milk-based drinks. The press has a wide spout that you can use to easily transfer the liquids from the press into your cup or glass without having to deal with any spills.
Pros
Ergonomic handle
Scale line
No residual grounds
BPA-free
Cons
I love versatile brewers, which is why I sincerely recommend that you look into this versatile brewer that can be used for various types of drinks as well as several types of coffee. You can even try to make strong, rich, espresso-like coffee with it – just make sure that you have the right beans!
Bodum is a well-known company that you must have heard of if you have ever searched for a good coffee press. They have great grinders, travel mugs, coffee makers, and much more. Arguably one of their best coffee presses is this one from the Chambord line!
Key Features
Stainless steel plunger
Multiple carafe options
High-quality filter
One of the best things about this press is the fact that you can choose the material of your carafe. You can either choose to get a carafe made from borosilicate glass that is quite strong, or you can go with a recyclable shatterproof beaker that is as good as the glass one. Which one you get depends on your personal preference!
Pros
Extracts maximum flavor
Easy maintenance
Durable
Cons
You can get this amazing press with a unique design at a very affordable price, so do not hesitate to look into it. However, it may not be quite suitable if you are looking for a press with a large carafe, so keep that in mind as well.
The following press that I am going to talk about resembles the one from Veken when it comes to the design – it has a glass carafe with a metal frame over it. This frame does not only protect the glass from shattering if dropped, but it also gives this press a unique and attractive look. You get both style and quality in one press, wrapped with a nice bow on top!
Key Features
Eco-friendly design
High-quality lid
Some people misjudge this press and think that it is not durable because of the glass carafe. However, this is not entirely true! The press has a thick thermal shock-resistant carafe made from borosilicate glass. It will take quite an effort to break it!
Pros
Comfortable handle
Microwave-safe design
Dishwasher-safe design
Cons
Not suitable for very hot drinks
This press is great, but it requires some care, especially when you use too hot water to brew coffee or tea. The carafe is made from durable materials, but it cannot withstand very hot temperatures. Keep that in mind if you decide to get this press.
Even though I already had one of Bodum's French presses on the list, I want to add another one because the products from this company are just so great! This press can brew some delicious coffee that will not have any grounds in it. The high-quality plunger with a great filter is going to help you achieve that.
Key Features
BPA-free design
Stainless steel plunger
If you want to make coffee using this French press, all you need to do is add the grounds and some hot water to the carafe. The grounds should be coarse, while the water should be around 95 degrees Celsius. Let the two mix for about four minutes before using the plunger!
Pros
Easy to clean
Heat-resistant glass
Large capacity carafe
Cons
Cannot be used with very hot water
This is a great French press that has the most affordable price when compared to the other presses on the list. It is a perfect example that quality presses do not always come at very high prices!
This third French press from Bodum is a bit different from all of the other presses on the list because of the carafe. The carafe on this press looks like a travel mug and can also be used as one if you do not get the time to drink your coffee at home before heading to school or work!
Key Features
Vacuum-sealed walls
Spill-resistant lid
This press is the best thing that you can take on all your trips. The quality construction will help you keep your warm drinks warm and the cold ones cold for hours. How amazing is that?
Pros
Non-slip grip
Easy to use
Dishwasher safe
Cons
Carafe may be a bit too small for some people
This is a great press that you can take wherever you go without having to worry about your coffee spilling. Even though the carafe or travel mug is a bit small, it can still hold a decent amount of coffee at a time!
This French press from OXO has one of the largest carafes you will ever see. You will be able to make up to eight cups of coffee at a time, meaning that this is perfect for you if you have a larger family or many friends. You can even take it on your trips because it has a shatter-resistant design!
Key Features
Quality Tritan carafe
Silicone gasket filter
Non-slip knob
After you pour the grounds into the carafe, you get to see them from the easy-view windows. You should add the water heated to the right temp, wait a few minutes, and then press the plunger. The plunger has a comfy grip and press, so you will enjoy using the press!
Pros
Dishwasher safe
Comfy grip and press
Cons
Some grounds may escape the filter
Thanks to the durable design, this French press will accompany you for years on all your trips. I recommend that you look into it, but do not forget to get a good grinder to go with your new French press.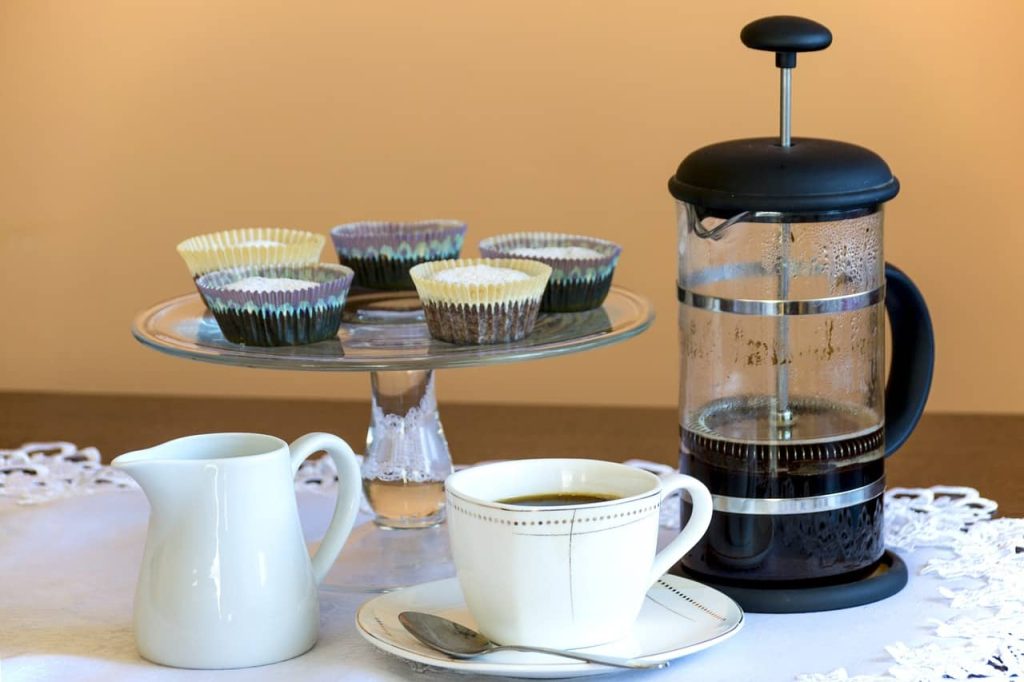 How to Choose the Best French Press
What do you need to know before buying a French press? There are a few things that separate a good French press from a great one. Before you decide which press you want to get, I suggest that you read this buying guide and find out more about the qualities you should look for in a French press.
Durable Materials
French press carafes or beakers are usually made from materials like glass, plastic, nylon or stainless steel. If you decide to get a glass press, you should make sure that the glass is durable. If you decide to get a plastic press, make sure that the plastic is BPA-free.
I recommend that you look more into the stainless steel presses because they are corrosion-resistant, temperature-resistant, long-lasting, durable, and eco-friendly. You will be able to use them for years with little to no effort regarding maintenance.
Choose a French press model with stainless steel plunger rods for maximum durability. The mesh filters should be made of stainless steel or nylon and must be slightly wider than the inner diameter of the carafe to make sure that there are no gaps that coffee grounds can pass through. Also check for the availability of replacement filters, because you will need to change filters at some point.
Capacity
Depending on how much coffee you will need to brew at one time, you can decide the carafe capacity that you need. If you are planning on brewing only one cup of coffee at a time, you can get a smaller carafe of about 10 ounces. But if you have a larger family or a lot of roommates, you should look into the larger carafes that have a capacity of anywhere from 17 ounces to 50 ounces.
Quality
While the price of the French press can tell you something about the quality of that press, it will not tell you everything! Some pretty great presses come at quite a low price, while some presses that are not as good come at a bit of a higher price.
I recommend that you pay attention to the features and materials of the press and not just the price. The quality of the press should come before the price – even a bigger investment can be a good idea if it ensures that you get something of good quality!
Maintenance and Cleaning
Finally, I would like to mention that maintenance and cleaning are two other points that you need to keep in mind when choosing a French press. If you don't clean it well, that's going to affect not only its longevity but the quality of the brew itself.
Using a press that is not clean can also affect the taste of the coffee and cause you not to want to make coffee with it anymore! Check the design and think about the maintenance and cleaning before you get the press.
French Press Compared to Other Brew Methods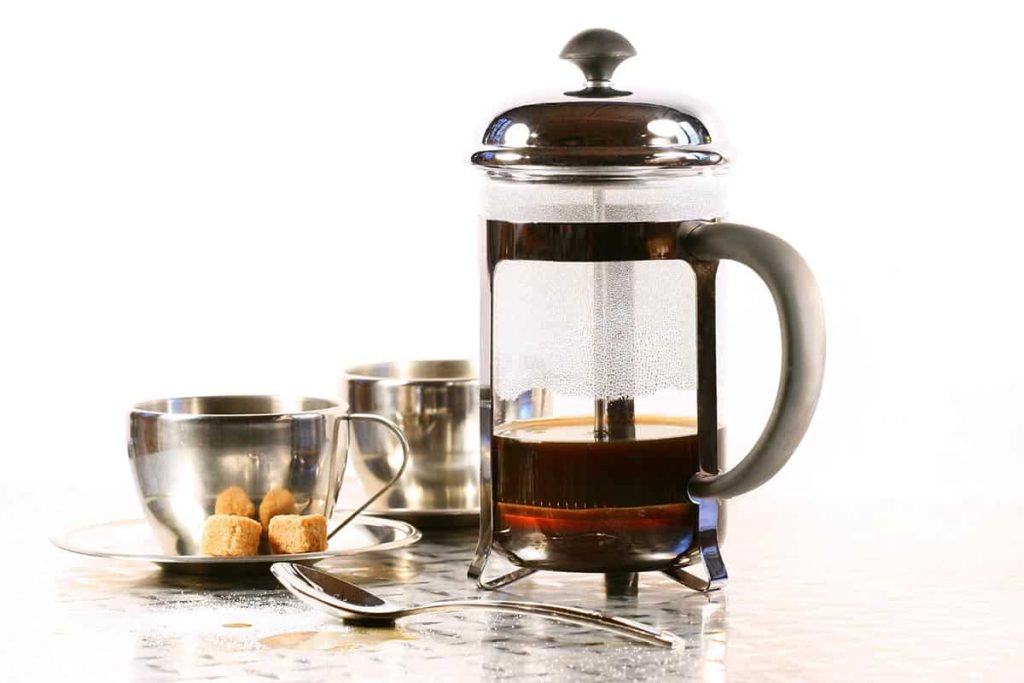 FAQs on French Presses
Before I wrap up this guide, I want to tell you more about the French presses and French press coffee. The information can be very helpful once you get a French press and you get to use it! Let's get right into it!
How often should I clean my French press?
My recommendation is that you clean the French press immediately after you use it. The cleaning is not that hard as you should only disassemble it and clean it with warm water and unscented dish soap. Then, you should leave the parts to dry and assemble the press again!
Is there more caffeine in French press coffee?
Because of the brewing method and the way that the French press is made, the coffee you get will be tasty and caffeine-rich. It has been shown that French press coffee contains a bit more caffeine than espresso made with an espresso machine. Keep this in mind because too much caffeine can keep you up all night, and you do not want to overdo it with too much French press coffee!
Pressing Thoughts
Well, that is everything you need to know about the best French presses out there. I recommend looking into the Mueller Double Insulated one first as it is seriously one of the greatest ever made, while the Bodum is the best budget-friendly option.
Thank you so much for sticking with me through this French press review. Let me know in the comments if you know any other great French presses that I should add to my list. I cannot wait to read all your comments!