Updated: August 6, 2023 by Alex Carpenter
Smooth, dark, and rich coffee! Isn't that what you want from your Aeropress? Actually, every coffee lover desires that, but you may never realize your wish without using the best coffee grinder for Aeropress.
For the best results from your Aeropress, what you need is a grind size on the finer end — just a tad less fine than espresso. And to achieve that specific grind, what you need is a good burr grinder. Unlike electric blade grinders, burr grinders produce uniform coffee grounds that are perfect for the Aeropress.
After sampling promising coffee grinders on the market based on grind settings, build quality, capacity, and functionality, I have compiled this list of the best options available to you and even included a guide and some tips to help you make the right match for your Aeropress.
TOP PICK
1Zpresso Q2 Manual Grinder takes the crown as my top pick, and it's not just because of the awards and reputation. This grinder provides a consistent grind across all settings. It also has impeccable build quality and a compact design that makes it perfect for home use. If you are looking for the ultimate value for your money, this is a perfect choice.
Here are the Best Coffee Grinders for Aeropress
The 1Zpresso Q2 Manual Grinder is perfect for Aeropress enthusiasts who love manual grinding. It is a compact unit ideal for coffee lovers who are looking for a portable grinding solution.
Despite the fact that it's a budget option, the manufacturer hasn't sacrificed the quality of the product. The triaxial burr design means it produces consistent particle sizes with each grind.
Key Features
Has a small footprint, a fact that makes it simple to use, comfortable to hold, and easy to travel with
Made up of high-quality stainless steel (burr), aluminum (body), and strong wood (knob) for better build quality
Has a grind capacity of 15-18 grams
Can be used to brew with different methods, not just Aeropress.
Thanks to its simple and intuitive design, you can take this model apart and quickly put it back together. This makes cleaning the burr grinder a breeze.
What's more, its range of grind settings allows you to control the feel of your coffee grounds.  In addition, we can't forget to mention the affordable price, which makes this grinder a perfect pick if you are on a tight budget.
Pros
Has a great build quality, with the parts well-calibrated and fixed to provide consistent results
Enough leverage on the crank makes grinding easy
You can use it to brew with a variety of methods, from Aeropress to French press and pour-over.
It's portable enough to travel with
Cons
Has a numbered dial that takes time to master, but once you do it will be smooth sailing
The bean reservoir is a bit small, so you have to grind twice if you want medium to strong-flavored coffee
When it comes to practicality and affordability, the 1Zpresso Q2 Manual Grinder is easily the best option. You can use it at home or while traveling, plus it is easy to use and allows you to brew with different methods. All these features make it a great buy and the top pick from our list.
The Fellow Ode Brew Grinder may be a relatively pricey option, but the value it offers overshadows the price. You will be getting a versatile and durable model that will perfectly grind grounds for not just Aeropress but also French press, pour-over, cold brew, and more.
Key Features
Constructed with high-quality materials and has a premium finish
Comes with a single-dose hopper where you can brew your fresh grinds
Uses 64 mm flat burrs to ensure a consistent grind
Has 11 coffee bean grind settings with over 30 steps in between
Another particularly interesting thing to note about this grinder is that unlike other electric burr grinders, this model won't heat up your coffee beans during the grinding process. You will get the most out of your coffee beans since they maintain their full flavor.
Also, this model shines where other grinders fall short. A good example is its ability to perfect any brew, from Aeropress to French press. Count on it to produce precise particle size for you, no matter the setting. Most of the other models only do a few brews perfectly.
Pros
Equipped with noise reduction features that make it quieter and more enjoyable to operate
Well-placed pour fins make it easy to empty the grinder
Grind quality is consistent across all the grind settings
Has a stylish look complemented by high-quality materials
One-year warranty
The settings are straightforward
Its very small footprint makes it ideal for home use
Cons
Completely emptying the beans out of the hopper can be problematic at first, but the mess can be reduced once you get the hang of everything
The bottom line is, if you are looking for a versatile electric grinder that offers great value for money, the Fellow Ode Brew Grinder is perfect for you.
The Baratza Encore coffee grinder stands out from the pack due to its quality and durability. By making their burrs using a reinforced steel alloy among other hardened materials for the design, the company ensures that the grinder will serve you for a long while before experiencing technical issues.
Right off the bat, you will notice that the Baratza Encore boasts plenty of settings, giving you all the control you need during your grinding process.
The best part is the ease of use. It features a straightforward interface that consists of a pulse button and an adjustment knob. That's it; no confusing gimmicks.
Key Features
It's compact and reliable, making it perfect for brewing coffee at home
Very easy to operate even for amateur coffee lovers
Multifunctional coffee grinder with up to 40 grind settings
With stainless steel burrs rotating at 550 RPM (rotations per minute), the Baratza Encore doesn't suffer from the limitations of a generic blade grinder. You won't have to worry about your coffee grounds heating up or sticking to the hopper as a result of static.
Another great thing about using the Baratza Encore grinder is its minimalist design. You will be hard-pressed to find another coffee grinder that packs so much power yet takes up such limited kitchen space.
When it comes to cost, the Baratza is more pricey when compared to hand grinders, but for the functionality it offers you will find the investment well worth it.
Pros
Allows you to explore a broad range of brew methods
Able to produce a consistent grind as long as you take good care of it
Baratza is renowned for its world-class customer care system, especially when it comes to the replacement of worn-out parts.
Easy to maintain and can even be rebuilt to maximize its value.
Cons
Lacks a time or measurement function so you have to keep an eye on the compartment while it's grinding
Baratza Encore is no doubt a great buy for any coffee lover looking for a reliable, easy-to-operate coffee grinder able to produce accurate grinds.
Take a closer look at the Baratza Encore here.
Just because you are traveling doesn't mean you have to leave your beloved Aeropress at home. Imagine the convenience of being able to easily walk around with your Aeropress and grinder.
The Porlex Mini Coffee Grinder is the perfect choice for coffee enthusiasts who are always on the road. This model fits snugly into the Aeropress, making it easy to pack once you are done grinding your coffee beans.
Key Features
Made of high-grade materials, making it a quality grinder
Maximum holding capacity of 20 grams
Versatile enough to produce a fine grind as well as French press
The Porlex Mini is a manual coffee grinder, complete with an efficient and durable construction that maximizes its output. This is part of what makes it the second-best hand coffee grinder for Aeropress (after the 1Zpresso Q2 Manual Grinder).
Unlike competing options, the Porlex Mini is fitted with a ceramic grinding mechanism.  This negates any chance of your coffee beans heating up during the grinding process.  On top of that, the grinding mechanism allows you to produce coarse to fine grinds depending on your needs.
You will also find the Porlex Mini easy to maintain since it's simple to assemble once you take it apart.
Pros
High quality ceramic parts and a reinforced handle make it strong and durable
Can be quickly cleaned using a soft brush and lukewarm water for the tough spots.
Works smoothly and is perfect when you need a quick cup of coffee
Cons
As mentioned earlier, the Porlex mini has a grinding capacity of 20 grams. Grinding a huge amount of coffee beans is therefore out of the question, but this grinder is designed to be used on the go and the small size works to its advantage.
Overall, the Prolex Mini is a portable high-quality coffee grinder you can count on to produce a consistent grind for your Aeropress. It's relatively affordable as well, making it a perfect choice for starters.
You might prefer being hands-on with your coffee grinding. If this is the case, the JavaPresse grinder, which is a manual model, will knock your socks off. It is the third-best hand grinder for Aeropress as well as French press, espresso, and pour-over.
With the JavaPresse, you have up to 18 different grinding settings to choose from. As you can imagine, this gives you the control you need to fine-tune your grinding…but there's more.
Key Features
Uses patented ceramic burrs that are tested for endurance and able to bring out a consistent grind for your various brews
Small enough to fit into the plunger of your Aeropress
Has a built-in window that lets you watch how your beans transform
Can hold up to 40 grams, meaning you can produce enough coffee for 3 servings in a single grind
Thanks to its cylindrical design and dimensions, the JavaPresse grinder fits inside the Aeropress tube. To add to this, you can detach the crank, making it easy to fit in a small travel bag.
What's more, it has a stainless steel design that makes it durable enough to withstand the wear and tear of travel.
Pros
The JavaPresse model is the ideal Aeropress and hand grinder combo since it fits perfectly in the Aeropress tube.
Many grind settings, giving you plenty of control over the coarseness of your grind
Constructed with strong materials and passed through various tests to prove its strength and durability
Comes with a 100% money-back guarantee which speaks to the confidence the manufacturer has in their product.
Phenomenal customer service
Cons
It can be a bit slow while grinding espresso, but this is a non-issue if you have the time for it. This does not impact its functionality for the Aeropress.
Giving credit where it's due, the price of this grinder is a godsend for amateur baristas and coffee lovers. If you are just getting into the world of coffee on a budget, the Javapresse Manual Coffee Grinder is perfect for you.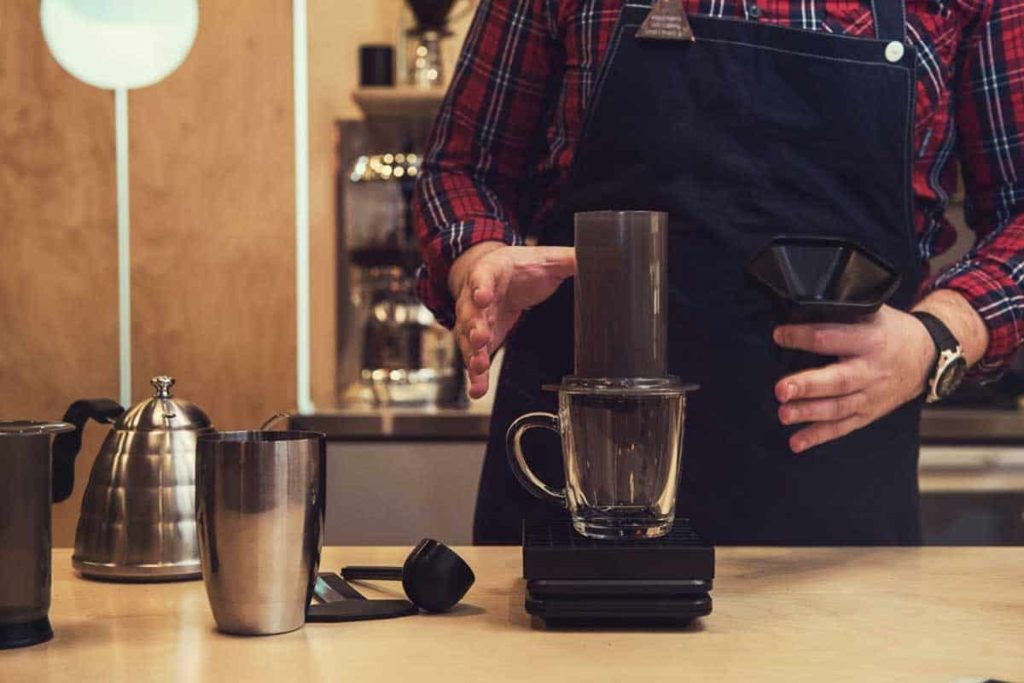 Choosing the Best Grinder for Your Aeropress
There are coffee grinders, and there are good coffee grinders. There are also those that are great to specifically use with an Aeropress.
If your brewing method of choice is an Aeropress, it means you value traditional ways of extracting flavors from coffee but appreciate innovations that make them work better. You might also look for portability and sustainability, as they also matter to you.
Grind Settings
When it comes to making a fine cup of Joe, the devil is in the details. And among those details, the most important consideration is, of course, the grind settings that can create the perfect grind size for an Aeropress. 
The manufacturers of Aeropress recommend an espresso or fine drip grind for best results. To achieve this specific grind size, your grinder needs some finesse.
You can't go wrong with an electric burr coffee grinder if your wish is to experience a wide array of settings when grinding. To add to this, if the thought of manually grinding your coffee beans doesn't appeal to you, then you should purchase an electric burr grinder instead of a manual one.
Most hand grinders have a limited range of settings; however, you will find that the settings available to these hand grinders are more than enough for your Aeropress.
Size
Another common mistake that many coffee lovers make is overlooking size when purchasing a coffee grinder. If you intend to have your coffee on the go, then a bulky model designed for home use isn't such a great idea.
Where portability is a priority, a minimalist hand grinder will be perfect for you. Keep in mind, however, that quantity will be sacrificed in the process. An electric burr grinder will be the ideal choice if you want the option of grinding more coffee beans from the comfort of your home.
Price
Just like every other product, price matters too when purchasing a burr coffee grinder. Unless you are a high-level coffee enthusiast, I would advise you to choose a budget coffee grinder when you are starting out. The trick is finding a grinder that fits your budget but isn't so cheap that it lacks quality features.
The best part is that most of the grinders on our list fulfill this requirement. Of course, spending more on a top-tier grinder affords you more options during your coffee-making process.
Maintenance
Grinding coffee beans can get messy, and unless you take time to clean your grinder, the quality of your coffee will decline as time goes by. With this in mind, you should opt for a coffee grinder that is easy to clean and maintain.
My advice? Make sure that the grinder you purchase can be quickly disassembled when the need arises. Cleaning such a unit will be a breeze.
Durability
Durability is one of the main reasons why the Aeropress is so popular. It's among the features that make it perfect for long-term use at home. It is, therefore, only fair that you complement it with a grinder that lasts longer as well.
Ideally, purchase a grinder made from durable materials such as stainless steel and aluminum; however, if you are on a tight budget you can purchase a grinder made from hard plastic instead.
You should also consider the material the burrs are made from. The best choices are stainless steel burrs and ceramic. Keep in mind that stainless steel burrs are ideal for travel since they are lighter and easier to clean.
A perfect Aeropress and grinder combo will offer you long-term value without breaking down or needing replacement.
FAQs
Why choose burr grinders?
So why should you opt for burr coffee grinders?  Well, first because they produce consistent coffee grounds, and even grounds make for great-tasting coffee. What's more, the Aeropress works best with consistent coffee grounds. Even if you use the pulse setting, a blade grinder won't offer you the same result that a burr grinder will.
Another reason why blade grinders aren't such a great choice is the fact that they can heat up your coffee beans during the grinding process. This will drastically affect how your coffee tastes.
What should I do when burr grinders wear out?
While burr grinders do wear out, they last a long time before they do so. Choosing the best coffee grinder for your Aeropress ensures that your burrs will serve you well without the need for replacements.
Compared to steel burrs, ceramic burrs do wear out faster. When that happens, though, you don't need to purchase a new model since replacement grinder burrs are available for purchase at an affordable price for most grinders.
Last Word on the Best Coffee Grinders for Aeropress
Grinding your coffee beans is the only way to experience high-quality coffee from the convenience of your home, and the good news is that now you know which grinders to use for your Aeropress.
It doesn't matter what your preference is when it comes to type; whether you are looking for the best hand coffee grinder for Aeropress or an electrical one, trust the options on this list to help you brew the most flavorful coffee.
For the most satisfying results and experience, remember to use our top pick, the 1Zpresso Q2 Manual Grinder. Not only does it have enough grind settings for your different brews, but also a minimalist design, better build quality, and impeccable performance. For the price it's offered at, this is no doubt a great buy.