Updated: July 22, 2023 by Alex Carpenter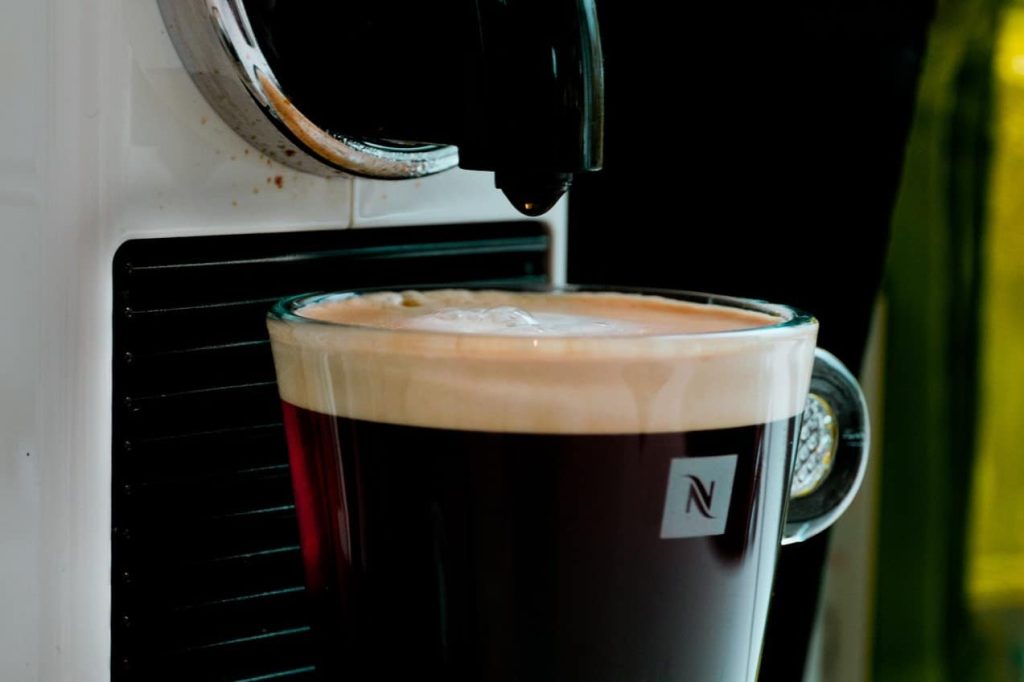 What is a Nespresso machine? Coffee lovers and experts out there will give you all kinds of answers to that question. Eager to find a satisfactory answer? You're in the right place.
Nespresso has made impressive moves in the coffee scene ever since its official market launch. It has become a true household name, owing to its Nespresso machines and coffee capsules. To the expert or moderate coffee consumer, Nespresso can make all the difference.
You may have already noticed that Nespresso does sound a lot like espresso. Well, the name Nespresso was coined from the popular Italian coffee brew. Being a brand, Nespresso definitely had to make a couple changes.
While the coffee brewing process and end result don't deliver the original, intense flavor espresso is known for, Nespresso doesn't fall far from the tree.
Are you ready to have your socks knocked off every time you take a sip? Read on.
What Is Nespresso Coffee?
The first thing you will notice about Nespresso coffee is that it packs quite a punch. It is inspired by espresso after all. Not only is it strong but also rich in taste. What's more, there are different flavors for you to try out if you're feeling a bit adventurous.
As a coffee enthusiast, it's always a good idea for you to know what really defines Nespresso coffee. While you won't particularly find the same taste that comes with an original cup of espresso, there's a lot more to Nespresso than meets your taste buds.
Nespresso came up with an entirely different and authentic way of brewing coffee while still sticking to the same Italian espresso style. On visits to Italian coffee shops, Eric Favre took note of how the espresso machines worked.
He wanted to apply the same principles to his Nespresso coffee machine. These include water heat and pressure, coffee grind size and texture, brew ratio, temperature, and flow rate. By coming up with a coffee machine that would be able to rival and yet complement the espresso machine, Favre had the perfect solution.
Brewing Nespresso Coffee
So, how do you end up with a delicious cup of Nespresso? It's easy!
There are different types of Nespresso coffee machines, which gives you the chance to explore and find out what works for you.
Fortunately, Nespresso coffee machines work in a similar way. Just top up a measured amount of water, insert your preferred coffee capsule or pod, press the designated button, and presto! Your cup of Nespresso coffee will be ready in no time.
The whole coffee brewing process with a Nespresso coffee machine is pretty fast. So fast that you just might question the contents inside Nespresso coffee capsules.
Is it instant coffee? Most definitely not! This is a well-known dispute among coffee lovers and enthusiasts. Compared to the flow rate of espresso, extracting a cup of Nespresso coffee takes an incredibly short amount of time.
What's more, you get the same rich, fulfilling taste as an espresso.
What is a Nespresso Machine?
There are two basic models for a Nespresso coffee machine:
This model uses your typical Nespresso coffee capsule. Once inserted and the lid is closed, the capsule is pierced through, leaving three identical holes. Go for your preferred drink size.
Hot water is then pushed through the holes at high pressure until the sealed area of your coffee capsules gives way. The end product flows into your cup: a rich, creamy, Nespresso coffee!
Nespresso coffee capsules have a filter, which ensures your cup of coffee remains clear of any coffee grounds. Nespresso coffee machines also come with a customized waste bin.
When you're ready to insert a fresh coffee capsule, the empty capsule is ejected and drops into the waste bin.
Vertuoline Nespresso coffee machines are surprisingly a lot simpler to operate. You don't have to press a button when choosing your preferred drink size. Instead, what the Vertuoline model does is read a barcode that's found on every Vertuo capsule.
Your coffee machine then dictates the necessary brewing requirements. This is not just about measuring the amount of hot water for your preferred drink size. The Vertuoline model does it all and gets more specific, down to the brewing temperature and rate of flow.
Considering how coffee can be roasted at different levels, hot water isn't always necessarily the best way to brew your coffee. Any coffee expert, including Nespresso, is well aware of this. This is why the Nespresso Vertuoline model is a truly interesting and unique coffee machine.
Even the Vertuo capsules are shaped differently from the original Nespresso coffee capsules. Vertuo capsules are dome-shaped. This shape is ideal for the coffee brewing method used.
While original Nespresso capsules require pressurized hot water, the Vertuoline model works by injecting hot water on the flat surface of the coffee capsule. A spinning motion rotates the dome-shaped capsule, ensuring the contents inside are thoroughly mixed, a process referred to by Nespresso as centrifugation.
The brewed coffee is then released through punctured holes at the edge of the capsule. With the original Nespresso capsules, you can only drink small-sized shots of Nespresso coffee.
But if you're more of a "tall glass" coffee drinker, the Vertuoline model is for you. You can actually make larger amounts of coffee with more cream on top.
What Does Nespresso Mean?
To help you fully understand how Nespresso came about, I'll briefly take you through its history, from its baby steps all the way to the maturity phase.
Background
All the wonderful products and services available today started from simple backgrounds. Nespresso is no different.
Before this household name could place its marker in history, Nespresso was still an idea in the brilliant mind of Eric Favre, a Swiss engineer. His wife always made teasing remarks about how "bland" Swiss coffee was. Favre decided to settle the matter once and for all.
He envisioned coffee consumers being able to make the same high-quality coffee brew you'd normally get in a coffee shop. The only difference was you could make your coffee in the comfort and convenience of your personal space. What better, stronger coffee with a richer, distinct, and intense flavor than espresso?
The Beginning of Nespresso
Espresso became Favre's muse. All he had to do was start creating his masterpiece. The foundations for Nespresso began to take shape.
Naturally, Favre had to do his homework. What went into every cup of espresso? Favre combed through many Italian coffee shops, learning as much as he could about the unique coffee brewing process.
Espresso machines are generally large and heavy. They also need an expert hand to brew an authentic cup of espresso.
With all these things to consider, Favre also noticed the long lines of customers queueing up for placed orders. If you were Favre, you would not need any more convincing. Favre wanted the same customers to enjoy a cup of espresso brewed to Italian standards but without the hassle.
The Nestlé Connection
Believe it or not, Eric Favre actually got a job at Nestlé in the packaging section. Looking back, Favre was hungry for his dream to be brought to light. This meant going behind the scenes and understanding how large corporations like Nestlé operate.
Favre could also be in a strategic point and present his pitch to the persons who ran the show.
As you would expect, Favre's ideas at the time seemed the exact opposite of what Nestlé wanted. Nestlé did not feel comfortable with the idea of investing in coffee machines.
It not only felt like an expensive project, but Nestlé also saw it as a sword that cut through their sales and already established name. Not wanting to take any chances, Favre's pitch was rejected.
Nespresso Is Born!
What would you do if you were in Favre's shoes? Would you call it quits and let things go back to normal? Thankfully, Favre was not discouraged. If anything, it only fueled Favre's ambition.
Favre climbed up the corporate ladder with renewed determination and finally attained a more recognizable position within the company.
When Favre was assigned to the Nestlé branch in Japan, he pitched his idea. Finally, Nespresso was born!
Eric Favre was now able to make his dream a reality: A Nespresso coffee machine complete with single-serve coffee portions!
Nespresso is now available to all who fancy a good cup of coffee without having to step out of the comfort of your personal space.
So, what is Nespresso exactly?
Well, the simplest definition would be a coined and admittedly catchy phrase between Nestlé and espresso. But then again, Nespresso is much deeper than that. Just look at the amazing story behind the origin of this giant brand. You can literally taste it in your everyday cup.
Where Is Nespresso Coffee From?
You've just taken a sip of delicious Nespresso coffee. As you enjoy the rich flavor, it's only right to wonder where Nespresso gets its fresh, finely ground coffee from. What kind of coffee does Nespresso use?
Well, to begin with, note that the coffee itself is made from roasted and finely ground coffee beans. And because ground coffee loses its richness and taste when exposed to air and light, Nespresso went a step further by packaging coffee in tightly sealed coffee capsules or pods.
Since there's a wide selection of coffee to choose from nowadays, Nespresso blends some of its select coffee types. Robusta and Arabica are no doubt the most sought out varieties.
Now, before Nespresso coffee finds its way to your cup, there has to be a starting point. Curious to find out? Check out the steps below.
Growth, Harvesting, Processing & Roasting
It all starts like any company sourcing raw material. You would not expect Nespresso to settle for anything but quality. And so the journey begins on the farm.
Growth
Coffee is delicate, even when it's still in its growth phase. A lot of factors must come together. When it's still a cherry, coffee needs the right conditions, including soil, water, sunlight, and the watchful care of expert coffee farmers.
The smallest details are what give different types of coffee their unique flavor and aroma. Nespresso knows this all too well. That's why the brand goes an extra mile, sourcing quality coffee beans in South America, Asia, and Africa.
Back to the earlier question: Where is Nespresso coffee from? I believe the answer is clear to you now.
Coffee thrives in tropical climates, with rich soils known as the Bean Belt. These conditions are sustained by adequate rainfall and warm temperatures throughout the year.
Nespresso is also aware that this coffee sourcing process is not set in stone. Due to climate changes and the growing demand for high-quality coffee, the brand has to stay on its toes in order to deliver without fail.
Harvesting
Nespresso coffee comes from the finest handpicked coffee cherries. The company works with farmers and educates them on how to take care of the coffee cherries during growth and just before the harvest.
Handpicking ensures only the highest quality coffee cherries are harvested. Now that the coffee cherries are selected, it's time to extract the coffee beans from the cherries.
Processing
Opting for a natural process all the way, Nespresso uses two different methods when extracting:
The dry method, which gives you a sweeter coffee taste
The wet method, which gives out a fruity flavor
The freshly extracted coffee beans have to pass through a thorough inspection at the production area in Switzerland. When this is done, Nespresso proceeds to come up with unique coffee blends.
This is done by selecting different coffee types, depending on their distinct features like the taste, cream and aroma. The final coffee blends amplify the after-taste and give Nespresso coffee its signature. It's finally time to roast.
Roasting
Roasting coffee beans is essential, as it dehydrates the beans and gives coffee its distinct flavor and aroma. The heat also increases the caffeine content.
Sometimes, Nespresso applies a technique known as split roasting. This entails roasting different coffee types separately which in turn give out new untested results. These variations are important when you're always looking for high-quality coffee blends.
Coffee grinding is also an integral part of Nespresso coffee. Depending on the coffee blend, Nespresso has to allocate a measured consistency during the grinding process. This is actually a critical process as it plays a huge part in the end result. For example, finely ground coffee has a more wholesome and bitter taste.
As mentioned earlier, during packing, Nespresso keeps its coffee fresh by placing it in tightly sealed coffee capsules, ready to be shipped and popped into your Nespresso coffee machine!
Frequently Asked Questions
Are Nespresso Coffee Pods Recyclable?
Nespresso capsules are recyclable. The only difference is that you cannot mix used-up coffee capsules with your regular waste. You have to dispose of the coffee capsules in Nespresso boutiques or Collect+ Points near you.
How Much Caffeine Is in Nespresso Coffee Pods?
The amount of caffeine present in Nespresso coffee will naturally depend on the type of coffee in question. Same goes for the caffeine content in K-cups and Illy capsules.
For instance, Arabica is known for its high nutritional content, fruity flavor, and lower caffeine content. Robusta, on the other hand, has a darker, richer flavor and has higher caffeine content.
Decaf has a definitively lower caffeine content compared to classic Nespresso capsules.
Does Nespresso Make Real Espresso?
To the casual coffee drinker, a cup of Nespresso can look identical to espresso. But the difference is actually felt when you've had a cup of espresso. As much as Nespresso based its entire idea on espresso coffee machines, the end result is definitely not espresso.
Espresso has a more intense, slightly acidic, and bitter taste. The cream or crema is the only comparable distinction between a cup of Nespresso and espresso.
In a bid to deliver Italian-style coffee to everyone's doorstep, Eric Favre came up with an entirely different concept. Whether it was a market flaw or a well-thought-out idea, Nespresso is completely in a class of its own.
So does Nespresso make real espresso? Not quite.
In a nutshell, Nespresso and Keurig are both excellent choices when you're looking for top-notch coffee-making machines.
Nespresso is definitely a luxury product, specifically designed for serious coffee lovers who have a refined taste for coffee. It has an inbuilt cleaning system, plus a variety of Italian coffee flavors, which embody a stronger, richer taste.
Keurig, on the other hand, targets customers from all audiences. If you're still testing the depths of your coffee intake, Keurig is a perfect match for you. Keurig also offers a selection of beverages like hot chocolate and lattes. There's always something enjoyable to try with Keurig.
In terms of price, Keurig is a more affordable option compared to Nespresso.
Final Thoughts on Nespresso Coffee
It's pretty clear that Nespresso has come a long way to be what it is today. It may have a few things in common with espresso, but as we have seen, the end product is completely different.
Brewing it is an easy process. Think back on the requirements needed for you to brew an authentic cup of espresso. You would need a coffee grinder and your ingredients would need to be measured in the right portions.
Now, that's a lot of work! If you detest such a process, Nespresso is here for you. Hopefully, you have learned all the important information there's to know about it. Best of luck as you set out to give this brew a try!