Updated: February 2, 2022 by Owen Richardson
If you are in the market for a new coffee machine, you will inevitably come across a company called Nespresso. This company makes not only the best coffee machines but also the best coffee pods that you can find. Today, I will focus on the best Nespresso machines and what they are all about.
Nespresso machines are divided into two lines: the Vertuo line and the Original line. This review will cover only the best machines from both lines, and you will also learn everything you should know about them. If you are ready to take on this new challenge and see which Nespresso machines are the best, I suggest we get right into the article!
TOP PICK

Even though all of the machines Nespresso has created over the years are great, there is one that stands out – that is the Nespresso Vertuo. It is my top pick for today because of the quality of the machine, the price, and the many features that it offers.
Reviews of the Best Nespresso Machines
I will start my list off with the original Vertuo machine – the one that started the line with that name! This machine is awesome because it can function completely on its own. The only thing you need to do is push one button and the coffee will be prepared within a minute!
If you are looking for a simple yet elegant machine that comes in several colors, this machine is the perfect one for you. It heats up extra fast, can make several types of coffees, and will turn itself off after nine minutes of inactivity. I bet that you will love using it, which is why I highly recommend it!
Key Features
Auto shut off
Removable water tank
Four cup sizes available
You can make four different sizes of coffee using this one machine. By putting in a suitable coffee pod, you can get an espresso, double espresso, gran lungo, or a big-cup coffee. There are quite a lot of coffee pods to choose from, so brewing coffee will never become dull for you.
Pros
One-touch brewing system
Quick heat-up
Adjustable drip tray
Cons
Coffee might not be hot enough
Overall, this machine comes with quite a lot of great features, but it still has a very affordable price. I recommend that you look into it, but do not overlook the other Vertuo machines as well!
The Essenza Mini from Nespresso is known as one of the most compact coffee makers that this company has to offer. Even though it is quite small, it is also very powerful and can give you quite a nice cup of coffee. It features a 19-bar high-pressure pump that is perfect for any kind of brew.
Key Features
Used capsule container
High-pressure pump
Energy-saving mode
One of the best things about this machine is that you can program the auto shut-off option and make the machine shut off on its own. That makes using this machine even more convenient and easy.
Pros
Super stylish
Several color options are available
Removable water tank
Cons
This is the perfect machine for people who do not have a lot of space in their kitchens. This compact yet elegant design is bound to blow you away!
Creatista Plus from Nespresso is just the machine that you need if you like to drink espresso-based drinks mixed with milk. Not only does this machine brew the perfect espresso, but it also has a long steam pipe that you can use to steam or froth milk.
Key Features
Quick heat-up
High-pressure pump
On the front side of the machine, you will find a user interface that is quite easy to use. With the touch of a button, you can start your desired brew thanks to the one-touch recipes. You can get any beverage you like, from espresso to cappuccino and latte!
Pros
Auto clean system
Steampipe for milk frothing
One-touch milk recipes
Cons
Frother might not work as well as expected
This is a great machine that more people need to know about. After using it for some time, you can be sure that the machine will remind you about when it needs descaling. At the same time, the auto-clean system is there to help you with the overall cleaning at all times!
A lot of people do not have time to wait for their espresso machine to brew for minutes on end. If you are someone who leads a busy life, you need Nespresso's Pixie machine for sure. This is one of the fastest brewers you will ever come across; it's able to make a cup of coffee in less than one minute!
Key Features
Cable storage
Energy-saving machine
After you are done brewing, you can rest assured that the machine will turn itself off after nine minutes of inactivity. If you want to unplug the machine, make sure that you use the designated cable storage to store your cable neatly!
Pros
Eco-friendly machine
Ergonomic design
Compact and lightweight
Fast operating
Cons
Machine may leak water when turned on
This is a great machine that not only has amazing size but is also quite powerful and quick. Using this machine, you can make espresso or lungo coffee in less than one minute!
The Inissia Nespresso machine is one of the best single-serve machines that you can use to make some great espresso. It needs about 25 seconds to heat up, and then you will be able to make a cup of coffee in less than a minute. Thanks to the large water tank, you will be able to make up to nine cups of coffee before having to add more water.
Key Features
Quick heat-up
Used capsule container
Folding drip tray
There are two buttons on the machine that help you choose between an espresso and a lungo. If you decide to make a lungo, you can use the folding drip tray to make enough space for your cup to fit in the machine. How cool is that?
Pros
Auto standby mode
Auto shut-off
Cons
Machine does not come with a built-in steamer
This machine may be great for making coffee, but it does not come with a steamer. You will have to invest in a separate steamer if you want to make frothed or steamed milk for your coffee. Luckily for you, Nespresso has a lot of great steamers, so I encourage you to look into them as well!
After telling you more about the original Vertuo above, I am going to go into the VertuoPlus and explain it in greater detail. This machine comes in quite a few color options, making it easily adjustable to the surroundings in your kitchen. That is not the only adjustable thing – you can move the water tank around and set it in the position you like best!
Key Features
Automatic capsule ejection
Quick heat-up
Four cup sizes available
After turning on the machine, all you need to do is insert the capsule in the machine and wait for your coffee to brew. Once it is finished, the machine will automatically eject the capsule and shut off after nine minutes of inactivity. If you want to, you can also program the auto shut-off time to your liking.
Pros
Auto shut-off option
Removable water tank
Cons
Machine is known to be prone to malfunctions
This is an amazing espresso machine with quick heat-up and a lot of great features that make the brewing process that much easier for you. I bet you will love using it, and I would also like to mention that you can get it at quite an affordable price!
I would like to finish my list with another machine from the Vertuo line – this time, I will talk to you about the Vertuo Next espresso machine that is the latest machine from Nespresso. It comes in 12 different color options, and the design is simple and compact.
Key Features
Compact design
Energy-saving mode
Long cable
After turning on the machine, it will take only 25 seconds for it to be ready for brewing. After the machine brews your coffee, it will dispose of the used capsule and put it in the used capsule container, the capacity of which is ten capsules!
Pros
Six cup sizes available
Quality design
Cons
Machine can be a bit loud
What I love about this machine is that Nespresso makes it out of more than 50% recycled materials. This unique machine with a great design will surely blow you away. I recommend that you look into it as soon as possible!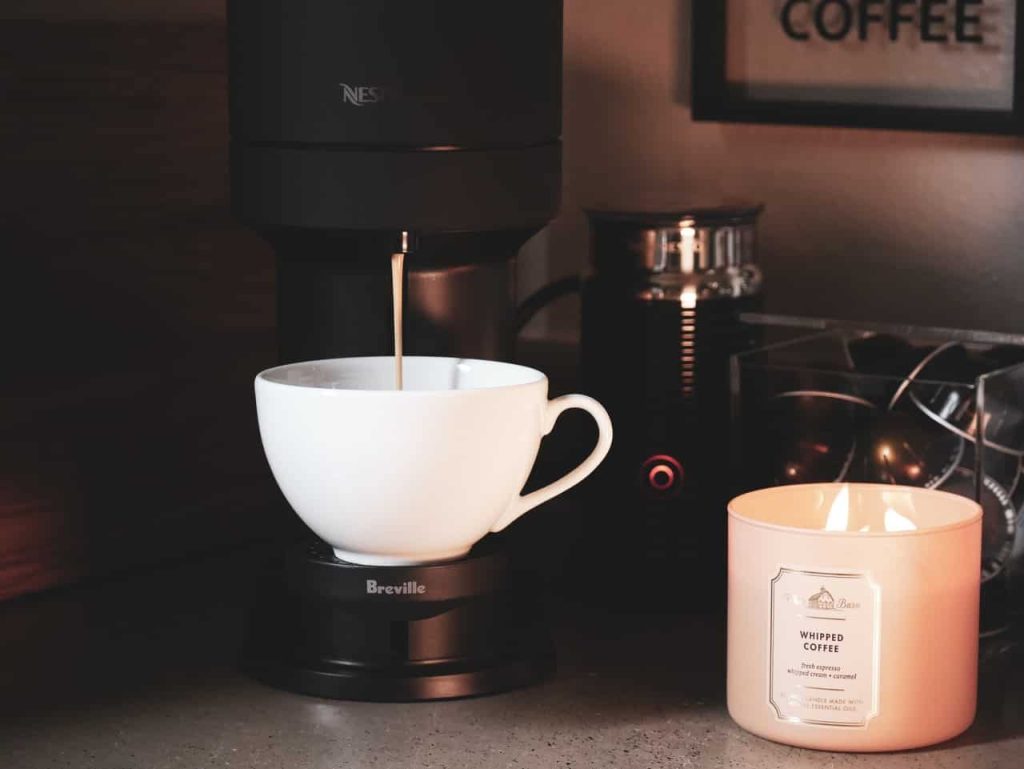 About Nespresso
Nespresso is a company that has been around for quite a while. They have created many great machines over the years, most of which come with features that make the brewing process a lot easier. As mentioned, they have a multitude of coffee capsules that you can pop in these babies to get some super fast, super delish coffee.
With a lot of different Nespresso machines to choose from, how will you know which one is the perfect one for you? I want to help you out with the decision and tell you more about the things you should keep in mind when looking for a new espresso machine. Let's see how you can decide what the best Nespresso machine is for you!
Vertuo or Original Line Machines
As mentioned previously, there are two lines of machines you need to look into – the Vertuo line and the Original line. Even though both lines feature some great machines, you have to keep in mind that they do not use the same capsules.
With the Vertuo line, there are specific capsules that you have to use. The machine will not work with any other type of capsule. On the other hand, the Original line machines work with several different types of capsules, but they do not work with the Vertuo ones.
Capsules for Vertuo Line
Vertuo capsules are made from recyclable materials. They have a code on the capsule that the machine reads. Using that code, it knows exactly what type of coffee it should brew, what cup size it should use, how warm or cold the coffee should be, and so on.
Capsules for Original Line
The capsules used in Original line machines, as opposed to the Vertuo capsules, do not have a code on them. You have to put them into the machine and adjust the settings yourself. Even though this is more time-consuming, it allows you more freedom in making the settings fit your preferences.
FAQs on Nespresso Machines
Before I wrap this guide up, there are just a couple of other things that I want to mention about the top-rated Nespresso machines. Make sure to read this information before buying your first Nespresso machine; I think that it will come in handy when you are making your final choice!
How long do Nespresso machines last?
If you use the machine carefully and you maintain it perfectly, any of the Nespresso machines should last anywhere from five to ten years. Their longevity can even exceed ten years if you clean and descale the machine often, as well as if you use the proper coffee in it.
How often should I descale Nespresso?
I would recommend that you descale the Nespresso machine every five to six months. This will help make the machine more durable, and it will help you brew better coffee.
For the descaling process, I recommend that you use the Nespresso descaling kit. The separate parts of the machine can be cleaned with unscented dish soap and some lukewarm water. You can clean the separate parts more often, possibly after every use!
Press That Nespresso Button
You and I have come to the very end of this review article. After looking into all this information regarding Nespresso machines, I hope that you are ready to select the one that is just perfect for you. Do not forget to give the Nespresso Vertuo Machine a shot.
Let me know in the comments below if you have any experience with using a Nespresso machine and if you would recommend it to the people that are still thinking about getting one. I know that we will all appreciate your comments, so do not hesitate to share your true feelings about the machines!