Updated: May 19, 2022 by Owen Richardson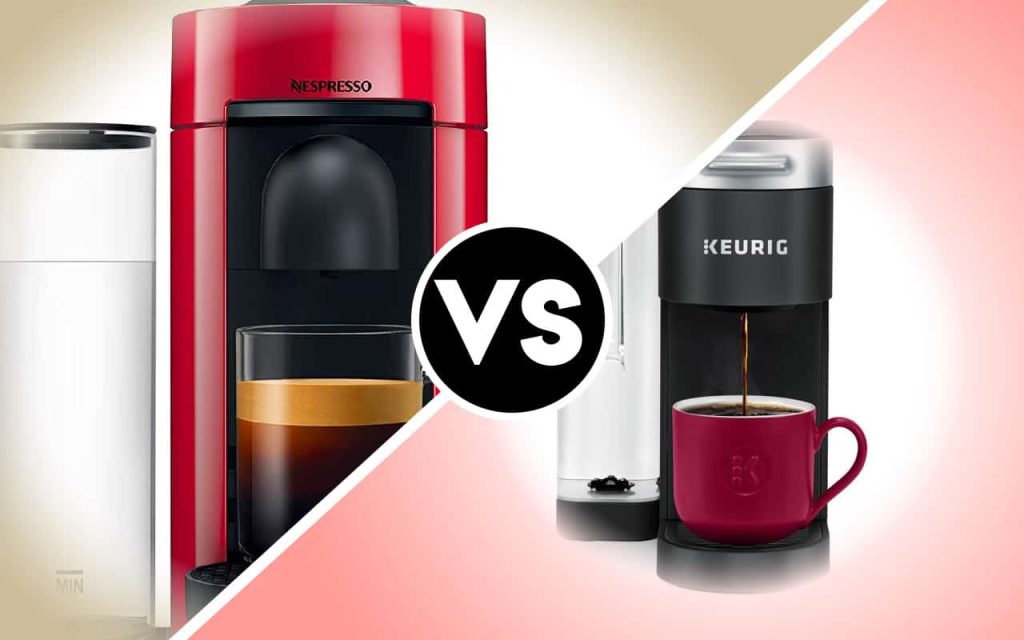 There is truly nothing like a brew extracted with care and precision from freshly ground high-quality beans, but sometimes the convenience of a single-serve coffee machine is just too tempting. So if you're thinking of having one in your kitchen counter, this guide will compare the giants in this niche — Nespresso vs Keurig!
When you decide to go out and get a single serve coffee machine, I think these brands are your first two choices. We'll take a closer look at their flagship machines, their similarities, and their differences. In the end, this will help you make a more educated decision!
Main Differences Between Nespresso vs Keurig Machines
The main differences between Nespresso vs Keurig machines are:
Nespresso machines are meant for discerning lovers of specialty coffees, whereas Keurigs tend to be more generic mass market machines.
Nespresso machines are generally a bit more expensive as a result of this, whereas Keurig machines come at a lower price.
Nespresso machines use completely recyclable capsules, whereas Keurig machines use K-Cups that are still not fully recyclable.
Nespresso pod varieties are quite limited, whereas Keurig machines are compatible with a wider range of K-Cups with more than 200 flavors.
Nespresso only has a few models to choose from, whereas Keurig offers a wider range of coffee machines.
Nespresso and Keurig machines are generally of somewhat different quality and they come at different prices. They also come with a ton of different features and can be used with different capsules or pods. These are all things that I would like to further elaborate on as we go on with the guide, so I encourage you to keep reading if you want to learn more about them!
Nespresso Machine vs Keurig: Overview
I do not doubt that all coffee lovers have heard of both Nespresso and Keurig. These two brands have been on the market for quite a while now. What made them so famous was not only their great coffee machines but also the many types of coffee capsules that they have created.
Nespresso
Let's look into Nespresso first. This is a brand under Nestlé (hence, the similarity in the name). The idea of the first Nespresso machine was to make a single-serve machine that would use capsules to make the perfect cup of coffee. Using that idea and the best materials available, the first Nespresso machine was created.
Nowadays, Nespresso machines are widely known and used by quite a lot of people who like to be at-home baristas. There are two lines of machines: the Original Line and the Vertuo Line. Both lines feature various machines that can fit everyone's needs.
Now that you know what Nespresso is, let's talk a bit about Keurig as well!
Keurig
Keurig is another well-known brand that produces coffee machines and coffee pods. Their coffee pods are also known as K-Cups!
While these are great machines and cups, I have to say that they are meant to be less expensive than those of competitors. As a result, they are considered to be of lower quality. This does not mean that they are not good, but their level of quality is not the same as that of Nespresso machines and pods.
Nevertheless, both Nespresso machines and Keurig machines are widely used because of the pros that they come with.
Features Comparison
When a person is looking for a coffee machine, there are several things that they think of – the price of the machine, the quality, the features it comes with, its impact on the environment, its maintenance, and so on. Where do Nespresso and Keurig machines stand when it comes to these points? Well, you are about to find out!
If you compare Keurig to Nespresso machines and K-Cups to Nespresso pods, you will find that there are some big differences between them. These differences can make or break things for you, so I think you should know more about them. Let's dissect these machines and see what they are all about!
Coffee Capsules
In terms of the consumables that you can use with these machines, you should know that Keurig machines can be used with a variety of compatible capsules, whereas Nespresso machines can be used only with Nespresso capsules. There are also different capsules for the Original Line machines and the Vertuo Line machines that cannot be used interchangeably.
Variety is where Keurig ranks above Nespresso. There are more than 200 flavors from various licensed vendors that you can use with a Keurig machine. You will never get bored with these capsules of varied caffeine levels and flavors.
As for Nespresso machines, there is only a limited number of capsules you can choose from. Still, for both the Original Line and Vertuo Line, there is a decent amount of flavors and blends to choose from.
Moreover, Keurig has come up with models that can brew carafes for multiple servings and corresponding pods to go with them.
Settings
Both Nespresso machines and Keurig machines are pretty similar when it comes to their settings. On most of these machines, you can choose between several brew sizes. You can also let the machine shut down on its own by setting the auto-shut-off option, and you can also get notifications when the machine requires cleaning and descaling.
There are a lot of features on these machines that you can set according to your preference. The only exception to this would be the machines from Nespresso's Vertuo Line. Keep that in mind if you are looking to get one of those machines.
Do you remember the pods with the codes that I mentioned earlier? Well, those codes will adjust the settings on the machine. While that will save you some time and effort, it will also not allow you to make any changes if you want to, so this is somewhat of a double-edged sword if you think about it!
Method of Extraction
The method of extraction is very important as it can affect the brew time and brew quality.
When it comes to Keurig machines, they all have a similar extraction method. After putting the K-Cup in the machine, there will be two needles to puncture it. The first one will puncture it from the top, allowing the pressurized water to go into the cup and mix with the coffee grounds.
Then, there will be a second needle at the bottom to puncture the cup and allow the coffee to start flowing from the K-Cup directly into the cup you placed on your drip tray. The coffee will be good, but in many cases, it will be far from the best coffee in the world.
That is what you need to know about the extraction method of Keurig machines.
Before I get into the extraction method of Nespresso machines, I want to mention that I will be talking about the Original Line and the Vertuo Line separately as these two lines have different extraction methods.
The extraction method of the Original Line machines is similar to the one of Keurig machines. Pressurized water goes through the capsule that is punctured at the top and then at the bottom. When comparing the taste of coffee you get from these two machines, people have found that Nespresso's Original Line machines can brew better coffee than the Keurig machines.
Then, there are the Vertuo Line machines. With these machines, the extraction is on a whole different level. These machines use a combination of centrifugal movement and infusion to brew the coffee. The coffee you get from these machines is always going to be the tastiest, with the best aroma and with the fullest body!
Build Quality
As I mentioned previously, you can expect Nespresso machines to be of slightly better quality when compared to Keurig machines. This is largely because of the materials used to build the machines.
Nespresso machines are made from quality materials like stainless steel and metal. You can find some parts that are made from plastic, but that is not that common. This is one of the things that separates these machines from Keurig machines, which often contain more plastic than some people would like.
While on this topic, what I would like to add is that the choice of materials in Nespresso machines makes these machines a lot more durable. You can expect a Nespresso machine to work anywhere from five to 10 years without any big issues, whereas Keurig machines last anywhere from three to five years. That is a huge difference that you should take into consideration when choosing between the two.
Ease of Use
When it comes to ease of use, I have to start by mentioning Nespresso's Vertuo Line. This is by far the most convenient machine that I have tried. It is the easiest to operate largely because of the capsules it uses.
If you have never seen a Vertuo Line capsule, you are in for a surprise. This capsule, unlike any other on the market right now, has a code on top of it that the machine uses to adjust the settings as needed. That means that from the moment you put the capsule in the machine, the machine knows what to do without your help!
I think that this is amazing. If you are a person who forgets to do adjustments before starting the brew or if you do not have the time to do that, a Vertuo Line machine can be a life-saver for you.
Then again, Nespresso's Original Line machines and Keurig's machines are also easy to use. They might not be as advanced as the Vertuo Line machines, but they can still brew a great cup of coffee with little effort on your part. In the end, the decision on which one to get comes down to which one you like best.
Maintenance
Coffee makers of all kinds and brands require some cleaning. This involves cleaning the separate parts often as well as running a descaling process every three to four months. Based on the requirements of both Nespresso and Keurig machines, I would have to say that the maintenance of Nespresso machines is easier than that of Keurig machines.
Nespresso machines are much easier to clean because most of them come with removable water tanks and drip trays. The used capsules are stored in separate containers that you can also empty out without any problem.
Keurig machines can be a bit more difficult to clean because they have more movable and fragile parts that you will have to be extra careful with. The maintenance is by no means difficult, just a bit more challenging when compared to Nespresso machines.
With that being said, you have to keep in mind that the descaling of Nespresso machines will be easier but will cost you some money!
Most Nespresso machines have an alarm that goes off when you need to descale the machine. To run the descaling process, you will have to use the Nespresso descaling solution that the company sells on their website. They do not recommend using any other cleaning solution in their machines as that can lead to unwanted damage to the internal parts.
This is where some people would argue that Nespresso machines fall short because you might not always be able to get that specific descaling solution. If you have a Keurig machine, you will be able to clean it with a vinegar-water mixture. No special cleaning solutions are needed, so you do not need to spend any extra money to clean this machine!
Environmental Impact
What I like about both Nespresso and Keurig machines is that they come with auto shut-off options that will help you save on electricity. Some Nespresso machines also have an energy-saving mode.
In terms of the capsules that you can use with these machines, Nespresso has found a way to make them completely recyclable. You will be able to have zero waste even if you use several capsules every day. If you cannot recycle them yourself, there is an option to return them to the company for recycling.
Unfortunately for people looking to get a Keurig, K-Cups are not completely recyclable at the moment. The company is trying its best to change the cups and make them more eco-friendly, but they are yet to make that happen. This can be a turn-off for many, especially for people who want to lead an eco-friendly, zero-waste life.
Nespresso Machine vs Keurig: The Winner
After discussing these machines in so much detail, I think that you have a clear idea of which one you consider as the best option for yourself. I cannot decide on a clear winner between the two since they are both great in so many ways but also come with drawbacks.
If you are more of a purist and are willing to spend on durable, quality machines that can brew some amazing specialty coffee, choose a Nespresso machine. If you want something more affordable and want to cater to different tastes in your household, Keurig machines are generally more affordable and can have K-cups for people with vastly different preferences, from black coffees to a multitude of flavored, milky, sweet concoctions. Keep these things in mind when making your final decision.
Thank you for sticking with me through this guide. If you are still not certain which of these machines you want to get, do not hesitate to ask me for further assistance in the comments below. I appreciate your comments and would gladly answer any further questions!