Updated: August 15, 2023 by Mary Nguyen
If your cup of coffee has as much to do with caffeine content as flavor, you undoubtedly want to know how much caffeine is in a Keurig cup, as compared to another cup of coffee.
Whether coffee is part of your morning ritual or caffeine has become a necessary part of your day, many of us have turned to the convenient Keurig coffee maker. With a Keurig, coffee is as easy as popping in a single-serve pod and pressing a button. No grinder, no kettle, no filters, no mess.
Figuring out a K-Cup's (or another coffee pod's) caffeine content can be tricky. Some K-Cups have too much caffeine, some don't have enough. Lucky for you, we've laid it all out. So go ahead, grab a cup of coffee and join us for all you need to know about caffeine and Keurig.
How Much Caffeine Is in a K-Cup?
The caffeine content in any coffee varies greatly. According to Keurig, most K-Cups have "between 75 and 150 mg of caffeine per 250 ml (8 oz) cup" and even decaffeinated K-Cups have between "2 to 4 mg per 250 ml (8 oz) cup."
There are many variables that contribute to caffeine content, but the main factors that contribute to K-Cup caffeine content are the roast level and the species of the coffee.
Keurig Cup: Roast Levels
Whether roasted for Keurig or for non-Keurig coffee makers, the roast level of coffee beans contributes to the amount of caffeine in each bean.
Coffee is roasted by applying heat directly and indirectly to the coffee beans over a stretch of time. As the beans are exposed to heat, they begin to lose moisture. With the loss of moisture, the beans also lose caffeine.
That being the case, beans that are roasted longer and darker tend to have less caffeine than beans that are roasted for less time and are therefore lighter. Despite the classic strong taste of dark roast coffee, more often than not, light roast coffee will have more caffeine.
To overcome this, some roasters, such as Death Wish Coffee and even Starbucks, have formulated recipes for dark roast coffee that still have high caffeine content. Moreover, these roasters have made sure to offer K-Cups for these high-caffeine options.
Keurig Cup: Beans
The beans themselves also contribute greatly to caffeine content. There are two main species of coffee plants: robusta and arabica.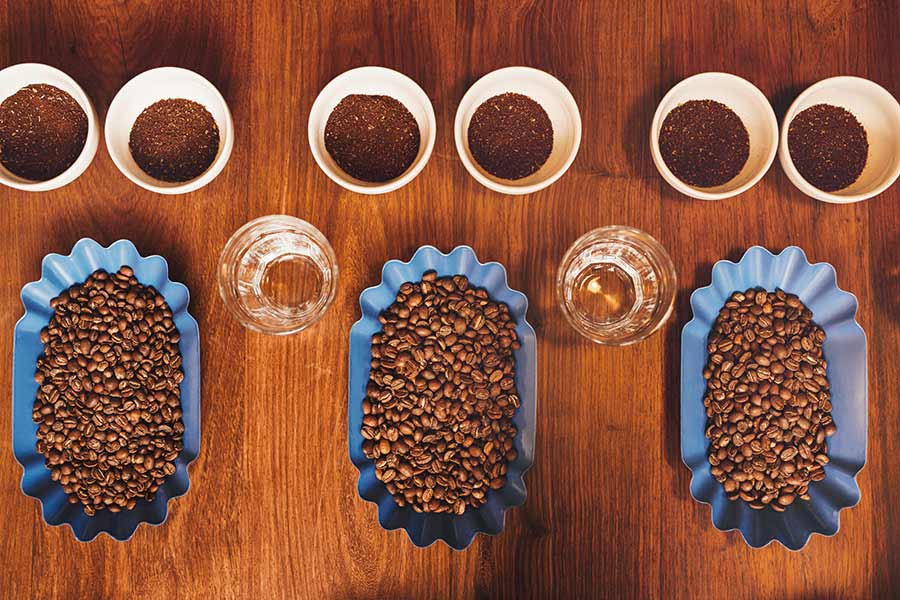 Generally speaking, robusta coffee has a higher caffeine content at 2.2% to 2.7% than arabica coffee which is closer to 1.2% to 1.5%, despite arabica being a more popular species. Arabica coffee tends to have more interesting flavor profiles while robusta is often easier to grow and produces a more caffeine-rich product.
Many roasters find the best of both worlds by mixing robusta and arabica beans to create a flavorful and caffeine-dense coffee blend.
Decaf K-Cup Caffeine Content
Of course, there are many of us that love coffee day in and day out but need a break from caffeine! We need to know the caffeine content in our coffee cups to limit it just like we do to increase it, though. This is where decaf K-Cups come into play.
Keurig and a variety of independent roasters offer many different "decaffeinated" options ranging from light roasts to dark roasts, Costa Rican to Ethiopian, and many more.
It is important to note, though, that even decaffeinated coffee has trace amounts of caffeine and cannot be 100% caffeine-free.
Strongest K-Cups with the Most Caffeine
I often find myself needing a few cups of coffee to make it through the day. Sometimes I wonder if my K-Cup's caffeine content is enough for me or if I need to step it up and bring in something with more oomph!
With a little research and a lot of caffeine, I found some of the best extra-caffeinated K-Cups. Perfect for anyone who needs a little extra energy to start their day.
Devil Mountain Coffee's Black Label K-Cups bring caffeine to a new level. With over 1000 mg of caffeine per 8 oz cup, this bold blend is unmatched when it comes to caffeine. Be careful with this one!
Popular roaster DEATH WISH is known for its high caffeine content coffee and is a fan favorite for coffee junkies internationally. Their Death Cups boast 420 mg of caffeine per pod, more than five times the average K-Cup caffeine content.
If the brand's name isn't sufficient to rouse you, perhaps their ultra caffeinated coffee will do the job. This coffee is created using a mixture of Arabica and Robusta coffee beans, containing an impressive 325mg of caffeine in every serving. Bonus: It comes in a variety of flavors.
K-Cups with Regular Caffeine Content
Sometimes, a regular cup of coffee gets the job done just fine. We don't always need the most caffeine out there and, when that's the case, these K-Cups are perfect for the occasion.
One of Starbucks' most popular blends, Pike Place Roast is a great middle-of-the-road brew for those looking for a caffeine boost without the jitters. Pike Place Roast averages 100 mg of caffeine per 8 oz serving.
With slightly more caffeine than Starbucks' Pike Place Roast, Caribou Coffee's Caribou Blend rings in at an average of 150 mg per 8 oz serving. This sits at the higher end of the regular K-Cup caffeine content range but still barely scratches the surface of the extra-caffeinated cups like DEATH WISH.
Flavorful Decaf K-Cups
For those of you who are hoping to avoid caffeine almost entirely but can't stand the thought of life without coffee, we've got you covered! Decaf K-Cups are easy to find and just as easy to enjoy.
Per 8 oz serving, the Original Donut Shop Decaf Coffee only has 4 mg of caffeine. Not even registering on the caffeine range for regular K-Cups, you are unlikely to feel any effects from this level of caffeine.
Likewise, Maud's Dark Roast Decaf Coffee, Tall Dark and Handsome, has less than 5 mg of caffeine per 8 oz serving. Feel free to end your day with a cozy cup of Maud's without the fear of restless nights.
FAQs
What is a K-Cup?
Keurig coffee makers use K-Cups to brew single-serve portions of coffee. K-Cups are small plastic pods that contain enough ground coffee for a single serving brew. K-Cup is short for Keurig Cup.
Does a light roast have more caffeine than a dark roast?
Generally speaking, light roast coffees have more caffeine than dark roast coffees, whether brewed using K-Cups or whole beans.
Do robusta beans have more caffeine?
Robusta coffee beans have a higher caffeine content than arabica coffee beans, usually almost double.
Last Drop
So how much caffeine is in a Keurig cup? The official answer is an average of 75 mg to 150 mg for regular coffee K-Cups; however, that is a huge range, and there are plenty of options that still fall outside it.
For the caffeine fiends of the world, there are plenty of coffee roasters that push the limits with K-Cups ranging from 400 – 1000 mg of caffeine per serving! That's sure to get you going in the morning.
For those of us who can't kick the coffee habit but need to lose the caffeine, decaf K-Cups are an excellent way to enjoy your favorite drink without the jitters. Remember, if you are extremely sensitive to caffeine, that these decaffeinated coffees still have a minimal amount of up 5 mg of caffeine per serving.
Of course, choosing the right K-Cup for you isn't just about the caffeine content. It's about the flavor, the texture, the aroma, and so much more.
There is a wide world of coffee to be explored and K-Cups are a great way to do it. From small-batch roasters to coffee giants like Starbucks and Peets, there are many choices for your Keurig coffee maker.
From decaffeinated to ultra caffeinated, K-Cups have you covered for all your coffee needs!