Updated: September 20, 2021 by Owen Richardson
There's nothing more convenient than a coffee maker with a built-in grinder! Grinding beans is half the process when you're making coffee, and it's usually the most time-consuming part of using a machine to make your brews. At least, that's true in theory!
Sadly, most coffee combos aren't very good at brewing or grinding. Many of these "grind-and-brew" models are unreliable, or have key design flaws which make them even less convenient than using a separate grinder.
We've gone on a hunt for all-in-one coffee makers with built-in grinders which live up to the format's promise! Our picks are reliable, user-friendly, and extremely convenient. In this guide, we'll introduce you to our favorites, explain why we love them, and discuss why we advise against buying so many other grind-and-brew options.
Here's a quick look at our Top Three:
[wpsm_comparison_table id="3″ class="center-table-align"]
Best Grind & Brew Coffee Maker Reviews
Cuisinart DGB-650BC Grind-and-Brew Thermal 10-Cup Automatic Coffeemaker
DeLonghi ECAM23210B Compact Magnifica S Beverage Center
Miele CM 6310 Coffee System
Miele CM 6110 Countertop Coffee System
1.Cuisinart DGB-650BC Grind-and-Brew Thermal 10-Cup Automatic Coffeemaker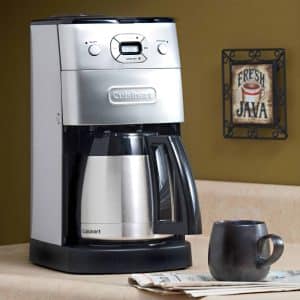 This Cuisinart is the only budget-priced coffee maker with a built-in grinder that we actually recommend. While it wouldn't be fair to compare this model to our much more expensive picks, it has better performance and reliability than anything in its price range.
If you want the convenience of grind-and-brew machines on a budget, we think it's an appropriate choice.
Pros:
It's a lot cheaper than our other recommendations.These are usually available for less than you'd pay for a programmable drip maker of this size without a grinder onboard.
It's a fraction of the price of our other recommendations! We think this is the least you can spend to get decent performance and reliability from a combo model.
It has a full built-in grinder. This is a blade grinder, which is expected for the price. If you're a very passionate coffee aficionado, you'll probably want to invest in one of our more expensive picks with their onboard burr grinders. For the average person, this gets the job done quickly and simply!
The grinding stage is the preset operating mode, so unless you specifically tell the machine not to grind each batch fresh, it'll grind right before it brews!
You can also use pre-ground coffee, by pressing the "grind off" button. That skips the grinding stage, and uses the grounds that you'd added to the filter basket yourself
After grinding, the grounds are deposited right into the filter basket, so the machine can switch from grinding to brewing all by itself. A lot of other inexpensive combos have extra steps involved. The Cuisinart is much more convenient!
Even still, the grinding and brewing chambers are separate, which makes for simple refills!
The permanent gold tone filter lends rigidity, and provides a nice cradle for your paper filters. Any standard 10-cup paper filters will work with this system.
There's a water window on the side, with simple cup markings to help you add just the right amount of water and beans for your brew.
It filters your water as well as the coffee! Especially if you're on city water, chlorine and other chemical tastes/odors can seriously impact your coffee. The Cuisinart eliminates the problem. Its charcoal filter does a great job, and lifts easily out for replacement.
The hot water dispenser is more like a shower head than a conventional dripper. It does a good job distributing the water evenly among the grounds.
It's completely programmable. So, as long as you've loaded beans and water, you can set the machine to grind and brew your coffee to be ready for you in the morning!
It shuts itself off automatically after an adjustable time period (0-4 hours). You can set whatever power-saving time works best for you! You can also turn it off manually.
It has a brew-pause feature, so you can quickly pour the first cup before the rest of the carafe brews. There's no need to press a button or anything–it stops dripping when it senses the carafe has been lifted away.
LED indicators help you keep track of the settings that are being used, and any brews that are currently scheduled. There's an audible alert tone that lets you know when a batch is done, or when something needs your attention.
One of the best features is the 1-4 cup setting which makes adjustments to ensure that you can make a small batch without sacrificing flavor or ending up with overpowering coffee.
It has a thermal carafe to keep your coffee hot. It works surprisingly well, considering how pathetic a lot of other drip carafes are! It features a drip-free spout, and an insulating handle. The carafe also has a clever ball valve feature that switches between brewing and pouring modes all by itself.
With a 10-cup capacity, this one will make enough for the whole family. There's also a 12-cup version, for heavy coffee drinkers.
All the components which touch grounds, water, or brewed coffee are BPA-free.
It comes with a scoop and brush combo.
Unlike a lot of other inexpensive grind-and-brew combos, it's covered by a generous 3-year warranty. And while the Cuisinart is far from perfect, it's a lot more reliable than other budget-priced models.
Cons:
It's hardly flawless. The Cuisinart has quite a mixed reliability record, as well as lightweight build quality and a few design flaws. It gets clogged easily, or beeps in the middle of a cycle for no apparent reason at times.
While some buyers say their machines lasted them for years, others ran into trouble within a year or two of operation. We'd anticipate a 2-3 year max lifespan for one of these.
If you run into issues, return shipping is on you, according to the terms of the warranty.We recommend purchasing extended coverage from a provider like SquareTrade.
The original version of this one had an issue with the lid, which would warp over time and stop clicking shut properly. Since you have to shut the lid to make the machine think it's safe to operate, that would render it useless. The updated version has an improved catch design.
There are a lot of parts to clean, and there's no self-cleaning function. You especially have to be sure to clean the dripper holes well, or they could become blocked.
If you don't line up all the components perfectly when you put the whole thing back together, you can end up with a mess. It's simply not as well-designed or well-built as the De'Longhi or Miele models below. Still, it's better than anything else in its price class!
It's noisy. This one definitely isn't ideal if you sleep next to the kitchen, unless you intend to use the grinder as your alarm.
It doesn't make especially strong coffee. Like a lot of standard drip coffee makers, the results are definitely on the milder, American end of the spectrum. If you want something stronger, you'll have to pay more or go the manual route.
One annoying design quirk is that moisture can get into the grinder. That's not a huge deal if your batch of grounds is already in the basket, but it can make cleaning tricky.
It's especially annoying if you try to do two batches in succession. Sludgy grounds will keep things from working properly. Again, this is something that the more expensive models have design fixes for.
2. DeLonghi ECAM23210B Compact Magnifica S Beverage Center
This De'Longhi is significantly more expensive than the Cuisinart, but it's also significantly better-designed and better-made. It's a complete all-in-one coffee station with a built-in grinder. The De'Longhi will make you all sorts of drinks, like espresso and latte–as well as coffee!
We think it's a good midrange choice between the lackluster budget selection and the top-notch premium options that cost $1500+.
Pros:
The biggest difference between this and the Cuisinart is the versatility of the De'Longhi. It will make most caffeinated beverages, even those that require frothing and milk. Latte, cappuccino, and espresso are all options with this one.
It has a steel burr grinder, where the Cuisinart has a simple blade mechanism. Any real coffee aficionado knows that burrs provide much more consistent grinds than blade grinders. They're also longer-lasting and lower-maintenance! The De'Longhi's grinder is a conical low-pitch design which we can't find anything to complain about whatsoever!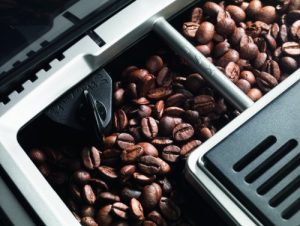 We especially like that you can adjust the grind settings to accommodate for different types of beans. It does take some fiddling to get the right setting, but being able to get some more finesse is always a plus!
It'll brew to four different cup sizes. You can pick the size you want via the button panel, and the machine will adjust its grinding and brewing accordingly! Anything up to 5 1/2" will work (5 3/4" vessels won't work well, even though the manufacturer says they should).
We also love the double-cup button! If you like a lot of coffee at once, it's a super convenient feature. Since most of us Americans drink out of mugs that have twice the volume of a European coffee cup, it's a convenient way to get that much coffee without running two whole cycles. You can make two cups at once, too!
You can adjust the strength of any cup of coffee you make! That's all via a simple dial on the front of the machine. There are 5 settings, so it's easy for everyone to find their ideal flavor level!
As with the Cuisinart, you can also brew from pre-ground.
It has a manual milk frother onboard. To use it, you simply place your milk container under the nozzle and fire away! It's fairly straightforward, and saves you the not insignificant cost of a machine with an integrated frother, like the Miele below.
The frothing wand can also be used to supply hot water for tea.
Everything's easy to fill, empty, and clean. The De'Longhi automatically rinses itself out after a cycle, and deposits the spent grounds in a compartment for easy disposal.
Like the Cuisinart, the De'Longhi has a built-in filtration system. You can switch it off if you already have filtered water in your home, or if you plan to use bottled water.
There's a decalcification indicator onboard, so the machine can let you know when you need to do some maintenance. You can program the machine according to your water hardness level, too.
It's much better-made than the Cuisinart. The De'Longhi is made in Italy, with plenty of metal parts and heavy plastic casing. You can feel the difference as soon as you get the 20-pound Italian machine out of the box. It's not far off Miele-level quality, even though it's significantly cheaper.
It's impressively quiet.
For the amount of features it has, it's quite compact and unobtrusive. You can easily fit this thing on an average countertop, without taking up much more space than the Cuisinart.
The single boiler and energy-saving switch keep the system from wasting electricity. This system saves 77% over comparable models! It automatically shuts itself off after 3 hours.
The hopper is large and easy to load. It's much better-designed than the Cuisinart's. For one thing, it stays closed without warping. The De'Longhi hopper also has a sealing lid and darkened plastic to keep beans fresh while they're in the machine. You'll get about 14 cups-worth of beans in the hopper at a time.
The water compartment pulls out for filling and washing. It holds about 60oz.
Moisture isn't an issue, with this one, so you can easily make a few different drinks back to back.
There are lots of dedicated buttons on the control panel. Pretty much every feature has its own button! This system isn't as sophisticated as the Miele's, but it's nice for folks who don't like to deal with computerized displays and menus. All the controls are push buttons or knobs.
It has a cup warmer and drip tray, which removes for cleaning. The drip tray also has a great little bobber feature to let you know when the reservoir is full.
It comes with a measuring scoop, cleaning brush, de-scaler bottle, and water softener filter
The whole thing's covered by a 2-year warranty. The company also has a pretty good customer service department if you need troubleshooting help or tips for using your machine. Most importantly, the De'Longhi's reliability record is vastly better than anything cheaper (including the Cuisinart).
Cons:
It'll cost you 7 or 8 times as much as the Cuisinart. Don't get this if you're not a daily coffee drinker who cares a lot about quality and taste.
You have to avoid oilier beans with machines like these. That's true of the more expensive Miele's, too. If you get particularly oily beans (Starbucks brand tend to be a good case in point), they won't slide well through the grinder hopper/mechanism. The De'Longhi's hopper is also shallower than the Miele's, which doesn't help.
An annoying design oversight is that it keeps brewing even though the grinder's stalled. That's something the Miele is programmed not to do (the German machine also has a simple pause button). In any case, just play around with finding the perfect roast to load in.
Other folks have recommended removing the caps to make the beans flow more easily. We don't usually suggest modifying machines, though, since it can have unintended consequences or void your warranty.
The steam wand is a manual tool, and it can be tricky to use. It's on the aggressive side, so be sure to read the manual and take care. The Miele's automatic frother is simply better, and it doesn't require any work from you.
If you want to completely cut out the manual part of brewing, go for the Miele. If you can live with doing this part manually, you'll save a lot of money by going for the De'Longhi.
It doesn't have as great a reliability record as a Miele. We'd get extended warranty coverage for one of these, even though they're fine in most cases. With such a big investment, it's always better to be safe than sorry!
It's not as easy to navigate as the Miele, either. That's mostly because it doesn't have a display. The error alerts can be tricky to decipher, since there's no text to read.
While you can easily adjust the strength of a given brew using the dial, you can't save your settings or create profiles–all things that are easy to do on a Miele. The Miele can also adjust all the different stages and elements of beverages, so it's more customizable.
You can't set any automatic/timed brews like you can on the Cuisinart.
3. Miele CM6310 Countertop Coffee System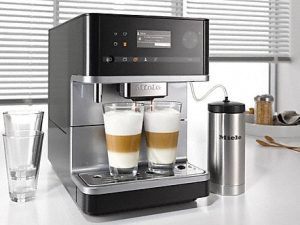 The Miele CM 6310 is our ultimate recommendation for a coffee maker with a built-in grinder. This system is actually our all-around top pick on the market right now. We think it exemplifies the best of the grind-and-brew coffee maker category!
The Miele is versatile, almost infinitely adjustable, and super user-friendly. This one is even better-designed than the De'Longhi. It makes all sorts of caffeinated drinks, and it has the best milk dispensing system that we've ever come across. The Miele is built to last in Germany, and we think it's the best that a passionate coffee lover can do for an all-in-one system!
We think it's the best coffee maker on the market, hands-down!
In black:
In white:
Pros:
It's very, very versatile. The Miele gives you 4 drink options with dedicated buttons right on the control panel: espresso, coffee, cappuccino, or latte macchiato. If you scroll through the menu, you can also have the machine make ristretto, lungo coffee, or caffe latte. It can dispense hot milk, milk froth & hot water separately, too!
You can adjust the flavor and makeup of each drink option! There are countless possibilities for the Miele, which lets you set your preferred portion size, flavor intensity, milk proportion, even the pre-heat levels. There are 10 different portion sizes to choose from, too!
It has a burr grinder, like the De'Longhi. It works perfectly, and produces very consistent grounds at whatever setting you choose. The Miele knows which setting suit the beans for each drink, so you don't have to make any of your own tweaks to go from coffee to espresso, or some other pairing. It's fully-automated!
The Miele's grinder is also the quietest of the three. Like the De'Longhi, it's immune from the moisture problems that plague the Cuisinart and other inexpensive options.
It's far more intuitive to navigate than the De'Longhi. The Miele has a multi-line display that can give you text prompts and menus instead of just flashing buttons and symbols. You have full arrow and back-button control in the computer, so it's pretty much impossible to get lost in the system.
There are also plenty of buttons, for when you want to get to something fast. Each of the 4 coffee drinks on the menu gets its own button. As long as you're set to your profile, you only have to press one button to get your beverage made!
You can create multiple user profiles to save your beverage preferences, as well as preferred settings for anyone else who uses the machine. There are 4 user slots in the onboard computer.
It's hard to express how convenient it is to be able to go to the machine, choose your profile, and click any of the drinks, knowing that the machine will make it exactly the way you want it! This is the height of luxury, and as good as automatic coffee makers get!
If you choose a certain beverage, and want to make a second one for someone else, there's a dedicated "Onetouch for Two" button. That lets you easily make two of whatever you're ordering.
While the De'Longhi is mostly automatic, the Miele is entirely automatic! It has an integrated milk frother, so you don't have to do any part of the process manually.
It's an insanely good system, too. It produces rich, creamy froth that lasts longer than what you get from most other systems. And the real kicker is that it's so good every single time, without you needing barista skills!
This is where we get to one of the Miele's smartest features: the insulated, detachable milk flask. It's essentially a stainless steel thermos, which hooks up to the machine with a simple hose. You can pop it on and off when you're making your drinks, and store it in the fridge when you don't need it. Compare that to actually having to do the frothing yourself on the De'Longhi, and you can see why we rank the Miele much higher.
The other big benefit is that the machine will dispense the milk proportionally for you. You don't have to eyeball the right amount each time. As you'd expect, you can adjust the milk/foam proportion as well! It's incredible, too. We don't think you'd get better at any coffee shop.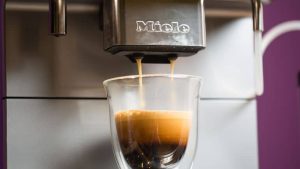 There are a lot of little design tweaks that make this worth the premium price. For instance, the bean hopper is tilted a bit more, so it tends to work more seamlessly than the De'Longhi's. You can actually adjust the height of the dispensers to fit your cups/mugs, too. Little touches like these make the Miele a system that's actually a pleasure to use.
As with the De'Longhi's grinder, the Miele's deposits all your spent grounds in a compartment for easy cleanup. It slides out with the drip tray, so you can empty the whole system at once.
You can use pre-ground beans, as with our other recommendations.
Like the De'Longhi, the Miele has built-in drip tray and cup warmer features. It lights the cups, too, so you can always see what's going on. They're adjustable as well.
There's a dedicated spout for hot water, where the De'Longhi has its combo frother/hot water spout.
You can adjust the machine to your water hardness, and the Miele even has a testing strip in the box! It'll adjust its descaling schedule to match your water supply.
It rinses itself automatically after cycles, and has pre-programmed cleaning cycles–just like the De'Longhi.
One nifty feature that the Miele has over the De'Longhi is a prep cycle for when you make a cuppa after a period of disuse. It preheats itself and gives everything a rinse before it makes you a brew. We think that's a prime example of how well thought-out this system is!
The brew unit is easy to remove and remarkably simple to clean. Best of all, nearly all the components are dishwasher-safe.
In talking about all the Miele's great features, it can be easy to lose track of the fact that it makes fantastic coffee. The brewing system works like a hybrid between an espresso pump and a french press, so it extracts far more flavor than your average coffee maker. It uses up all the grounds effectively and produces smooth, creamy, rich coffee without any sediment.
It's slightly better-made than the De'Longhi. The Miele's made in Germany, and it's a mix of metal components and thick plastic casing. It's about as sturdy as home coffee makers come.
In terms of reliability, nothing compares with a Miele. We're sure you can find one or two cases where people have run into trouble with them, but the vast majority of these machines will work well for many years. Extended warranty coverage is also available, and we think it's a smart long-term insurance policy on something so pricey.
Cons:
It's very, very expensive. They're by no means something we recommend to the average coffee drinker. The Miele is for the hardcore devotee who wants the absolute best quality and convenience at home.
As with the De'Longhi, the Miele can get bogged down by particularly oily beans. You may need to adjust your roast to find the right fit.
You'll have to get the Miele descaling tablets to do the upkeep properly. They're not all that expensive, but it is an additional cost to be aware of.
Even the best system on the market still has quite a few plastic parts, especially in the casing. The built-in Miele's are heavier-duty. Still, this is better than anything else we've come across.
Dreaming of the Miele but can't quite make the money work? If you can make do without a few of the extra features, like the cup-warmer, hot water dispenser, standby lights and milk flask, the 6110 is mostly the same, for $500 less. It also doesn't take pre-ground coffee. Still, it's a nice midway option between the De'Longhi and the Miele 6310.
In black: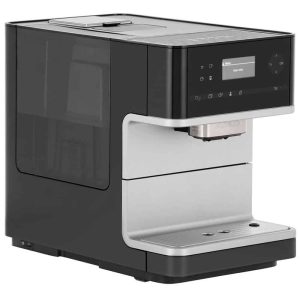 In white: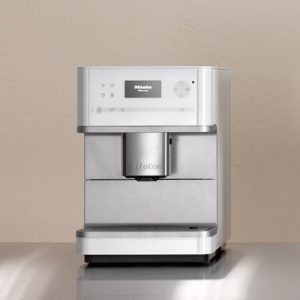 Conclusion
Which of our recommendations should you buy?
The Cuisinart is the obvious choice for someone who wants a coffee maker with a built-in grinder, but can't spend hundreds or thousands for something really nice. While the Cuisinart isn't nearly as reliable or well-designed as our other recommendations, we think it's the best you'll find in the budget category. It covers all the basics, and it's not the most expensive appliance to replace. We don't recommend it to anyone who can justify or afford the cost of the De'Longhi, though.
The De'Longhi is the best choice for most people. It's quite expensive, even if it's not as exorbitant as the Miele. With that said, it's sturdy enough to last for years of daily use. It's a better long-term investment than any of the budget options. Plus, it gives you a lot more options than a plain drip coffee maker like the Cuisinart. It only looks lackluster in comparison with the more versatile and more intuitive Miele.
The Miele will undoubtedly be out of most people's price range, but it's the absolute best coffee maker on the market to sport a built-in grinder. It's more versatile, adjustable, and user-friendly than the De'Longhi. Don't expect to get it for less than $2K, though.
Buying Guide
As you're shopping for your new coffee maker with built-in grinder, here are a few key things to consider:
Budget
You'll pay a lot more for a high-quality combo model than you would for a plain old coffee maker. That shouldn't be all that surprising, since you're getting two different appliances in one.
Like coffee makers in general, models with onboard grinders vary wildly in price. You can find some for less than $50, or pay as much as $2000 for a premium all-in-one coffee station. We don't recommend anything under ~$100, for good reason.
There are quite a few models on the market for less than $100, but they're not worth your money–not even close. They grind very inconsistently, so half your grounds are never extracted properly, and the other half end up in your cup.
They also have such terrible build quality that you'd be lucky to get a few months of use out of them, let alone a few years. For a great case in point, check out Black & Decker's affordable grind-and-brew models. They're halfway decent for about three uses, then they conk out and leave you stranded without your brew.
So, while you might be tempted by the convenience of a coffee maker with a built-in grinder <$100, you'd really be much better off buying a separate grinder and brewer. The time you'll spend grinding yourself will be a lot less than the hassle of dealing with the cheap models in this category!
We suggest that casual coffee drinkers go for something in the $100-$200 range. That's where you'll start to find machines that do work well, if not as impressively as $500+ setups. A $100-$200 model will have a decent blade grinder and drip coffee system onboard.
These budget machines aren't as well-designed as models upwards of $500, though. Be prepared for some awkward design features to work around. Anything with a blade grinder won't give you amazing grounds, either. These are coffee makers that we recommend for daily drinkers who are after convenience, and aren't after premium quality.
If you're more of an aficionado, and use nice enough grounds to justify the extra cost, you'll find that you see a big improvement in design and build quality once you pass the $500 mark. We recommend that anyone who's planning to avoid the budget models without going full-bore go for something around $700-$1000.
Models in this price range have much better burr grinders onboard. You can use them to make other drinks like espresso or cappuccino, as well as coffee. They also have heavier build quality and more user-friendly designs. Most importantly, they'll make far better coffee than a cheap drip system.
$1500-$2000 is where we suggest the most passionate coffee drinkers to set their sights. Models in this price range are quite pricey, but they can be a very reasonable purchase for anyone who drinks several coffees daily and uses premium beans. These models have superb burr grinders, lots of versatility, and fantastic build quality. They'll cost you a lot up front, but they'll make you excellent coffee and other beverages for years.
Versatility
Aside from the basic selection of drip coffee makers with grinders onboard, most grind-and-brew models will make a range of coffee drinks. So, think about which specific drinks you like, and how you like them made. The more you pay, the more versatile a machine you can expect to get. Some of the best all-in-one's will make as many as 8 or 10 different drinks!
Adjustability
This is one of the big things that changes as you go up the price scale. The more expensive the machine you get, the more different tweaks and adjustments you can expect it to have onboard. As you start to look past the $750 mark, you'll see brew strength adjustments, portion size options, and more. The very best all-in-one's will let you adjust virtually every aspect of your drink. They'll also have room for adjustment in the grinder department! That's important for getting different brews right, such as for espresso vs. coffee.
Quality
As we mentioned, the big reason we don't recommend many inexpensive coffee makers with grinders is that they're made so poorly. There's a much bigger gap between the iffy budget models and the real rockstars in this category than there is in general coffee maker land. If you want things like sturdy metal components, reliable computers, and grinders which can stand up to daily use, you'll need to pay quite a lot.
That's why there's such a big gap between the price range we recommend to folks on a budget, and folks who can afford to spend more. If you're going to go with a cheaper model, we don't think you should spend more than $200. Anything more, and you're looking at a pretty steep replacement cost if something goes wrong.
If you want to avoid dealing with unpredictable reliability, we suggest spending at least $700. That's where you'll start to find models with heavy-duty build quality and good long-term track records.
Grinder type
Be sure you know which type of grinder your new machine has onboard! There are two types of coffee grinders: blade and burr.
Blade grinders are the cheapest by a long shot. They're simple to build, and they work very quickly. They're what you'll find on any cheap canister grinder from the department store. They're also what you'll find on any combo system under $500.
The big downside is that they're incredibly inconsistent in the size of the grounds they produce. You'll find that the results can be anywhere from fine dust to larger chunks. In brewing, that means that some grounds are under extracted (wasted) and some are over extracted (producing bitter flavors). That's why most passionate coffee people avoid blade grinders at all costs.
Burr grinders are where it's at if you care a lot about the quality of your coffee. They're not quite as speedy as blade grinders, but they're far more consistent. You'll end up with far better coffee if you get something with one of these!
Burr grinders can be made with either steel or ceramic burrs. In our experience, you won't find anything with ceramic burrs in this category. They're used only on standalone grinders. Above $500, you should expect steel grinders on any all-in-one coffee maker.
Adjustable burr grinders are what you'll find on the very best coffee makers with built-in grinders. They take the consistency and durability of burr grinders, and give you a bit of extra finesse. You can use these grinders to get a consistent grind at any size you need. These are what you really want on a system that makes different types of coffee drinks, like espresso.
Extra features and conveniences
As with any coffee maker you buy, make sure your new combo system has all the features and conveniences you want! Do you want something with a built-in frother? Dishwasher-safe components? Automatic cleaning cycles? Save-able brewing preferences? Think about what would make your coffee experience as convenient and user-friendly as possible.
What's Next
If one of our recommendations looks like the perfect coffee maker for you, click on the links in our review! That's the quickest way to see current prices and all the necessary details, like size, that you'll need to check before you buy.
Maybe you're daunted by the cost of a really good coffee maker with built-in grinder? Don't worry. We can help you find the perfect coffee maker and grinder pairing to get you through until you can afford a combo system. Check out our coffee maker recommendations on our main page, as well as our guides to the best manual and mechanized grinders!