Updated: November 12, 2023 by Mary Nguyen
If you're brewing your own coffee at home, you simply have to use freshly ground coffee — if you want a decent beverage, that is. Or else, why bother?
You may complain that getting a separate appliance to grind your coffee beans is tedious, or expensive, or may just take too much additional counter space, but to that I say, just get a model with a built-in grinder and live happily ever after!
I've gone on a hunt for all-in-one coffee makers with built-in grinders which live up to the format's promise! My picks are reliable, user-friendly, and extremely convenient. In this guide, we'll introduce you to our favorites, explain why we love them, and discuss why we advise against buying so many other grind-and-brew options.
Sadly, most coffee combos aren't very good at brewing or grinding. Many of these "grind-and-brew" models are unreliable, or have key design flaws which make them even less convenient than using a separate grinder.
To get you started, here's my top pick.
TOP PICK

Even though the BLACK+DECKER Mill and Brew has the highest ratings, the Breville BDC650BSS outshines it in almost every way. From having a burr grinder and larger hopper capacity to using a thermal carafe and adopting a more sophisticated brewing process for quality coffee, part of what makes it the best high-end coffee maker with a grinder, it actually ticks all the boxes.
Reviews of the Best Coffee Makers with a Grinder
Product Image

Product Name / Pros

Primary Button

Built-in burr grinder with 6 different grind settings

Bean hopper capacity: 8 oz

Thermal glass carafe

Built-in blade grinder with one grind setting

Bean hopper capacity: 8 oz

Glass carafe

Super Automatic

Built-in stainless steel conical burr grinder

Bean hopper capacity: 10 ounces

Built-in blade grinder with one grind setting

Bean hopper capacity: 5.3 oz

Glass carafe

Built-in blade grinder with one grind setting

5. 8 oz coffee bean hopper capacity

Glass carafe
1. Breville BDC650BSS Grind Control Coffee Maker
Best Overall
Breville is a household name in the coffee industry that has always lived up to the expectations of its consumers. The Breville BDC650BSS is no different, impressing on all fronts from grinding and brewing to hopper capacity and coffee storage. It's a coffee lover's dream coffee maker.
The stainless steel burrs inside this model will crush your beans to the level you desire, from fine to coarse. It does this like a standalone burr grinder would, creating a better balance of flavors in your cup. Your freshly ground beans will then be stored in a large hopper, saving you the need to refill it often.
On its LCD display, you can see the brew strength and number of cups/shots set to be brewed. It's up to you to decide how you want your drink based on these parameters. You can also check the water level here instead of having to open the machine to check the reservoir.
Programmable auto-start means you can schedule the brewing and not have to wake up to power up the unit and brew. When your drink is ready, the thermal carafe will ensure it doesn't get cold too quickly and stays fresh.
Pros
Burr grinder with multiple grind settings for diversified brewing
Large capacity bean hopper for seamless brewing
Keeps your coffee hot and fresh for hours, saving the need to warm it up every time you want to serve
Easy to use because every function is automated and easy to figure out
Compact enough to fit in compact spaces
Cons
Relatively expensive
Can be difficult to clean until you get used to it
The Breville BDC650BSS has been around for a long time and it still evokes the same excitement it did back then when consumers interact with it today. It's the best high end coffee maker with a grinder in the market today, even rivaling the 20-pound Italian machine from De'Longhi.
Even though it is more expensive, the premium service you get in return compensates for that. Choose this coffee maker if you want the best in this class.
2. BLACK+DECKER Mill and Brew Coffeemaker
Best Budget
BLACK+DECKER Mill and Brew Coffee Maker
Key Features:
Built-in blade grinder for whole beans
Pre-ground coffee option
Glass carafe
Bean hopper capacity: 8 oz
One grind setting
Customizable drink options
12 cup capacity
Dishwasher safe carafe
Programmable start
Auto-off
Check Price
If there's a model that looks too good to be true, it's Black+Decker's Mill and Brew model. It doesn't cost much, yet nearly every function has been automated and the versatility is almost unmatched. Some features are basic but the unit surprisingly does its job way better than most of its expensive rivals. There are so many things to love about it!
No coffee connoisseur typically wants to use a blade grinder but the one built into this coffee maker is special. The grind consistency is acceptable and can make you a cup filled with enticing flavors and aromas. It's also quieter and can be turned off if you prefer to use pre-ground coffee.
Brewing with this unit is a good enough experience. You get to decide the brew time and strength using clearly marked buttons and a sleek display. There's an auto-brew feature as well that lets you set a time for the machine to start brewing.
Sneak-a-cup is another impressive feature allowing you to sip your drink before the brewing cycle ends so that you can be sure you are on the right path.
Pros
Versatile enough to work with both pre-ground and whole beans
Quieter grinder for improved brewing experience
The grinder sits inside the filter basket making for easy cleaning and maintenance
On-screen display for greater functionality
Auto shut-off helps to save energy
A bronze tone permanent filter saves you the cost and inconvenience associated with paper filters
Very affordable
Cons
One grind setting limits your brewing experience
Since its launch in 2015, this coffee maker has kept its impressive reputation, growing to become the go-to option for consumers in need of a budget all-in-one coffee maker that can rival the best in the industry. It's rich with essential features that ensure you have a delicious cup of coffee and an elevated brewing experience.
3. Jura E6 Automatic Coffee Machine
The Jura E6 is the sleek all-in-one coffee maker you want in your kitchen for improved aesthetics as well as a better brewing experience. All functions have been automated, from grinding and drink customization to brewing, but the best part for many of us is how great the machine is at making rich, flavorful coffee with a wonderful aroma.
The Professional Aroma Grinder inside this coffee maker strives for perfection. For each of the 7 settings, you are guaranteed a precise optimal grind. The unit's Pre-Brew Aroma System (IPBAS) will then evenly saturate the grind before pressure increases while the Pulse Extraction Process (PEP) gets the most out of the extraction to ensure you get the best possible flavor.
You have also been given the chance to customize your drink. The brew strength, temperature, and volume can be adjustable to your liking. The best part? You are not tied to coffee alone; you can also make espresso and cappuccino with this unit.
Operating it is easy. There is a intuitive TFT display with buttons on each side for your drink selections. You can also use Jura's app to control the machine's functions.
Pros
Super Automatic
7 grind settings to accommodate different brewing methods
Offers a variety of coffee beverages that can be customized
Rich with high-tech features that optimize the brewing process ensuring barista-quality coffee
Can be operated manually or via app, for convenience
Large hopper capacity eliminates the need for constant refills
Milk frother
CLEARYL smart water filter eliminates need for descaling
Cons
The Jura E6 has been updated recently and users have been embracing its upgrades. It may not be as affordable as many but the value you get in return makes up for the price. In its class, it offers some of the best-tasting coffee beverages and a brewing experience that's easy to love.
4. Cuisinart DGB-550BKP1 Grind & Brew 12-Cup Automatic Coffeemaker
High ratings don't lie and this coffee maker is proof. You will be immediately drawn to its simplicity of operation and brewing versatility. Despite being limited by a blade grinder, the machine compensates for that in many other ways.
Inside the Cuisinart DGB-550BKP1 automatic coffee maker, there's a blade grinder pre-set for a medium grind. It's a bit loud, but you will have undeniably good coffee to compensate for that. Turn the grinder off to activate the coffee maker's ability to make coffee using pre-ground coffee.
Brewing has been simplified. You can set the unit to start brewing on its own at your preferred time and as it does so, you can pause the process to test the drink and confirm if it's what you expected.
Sometimes you will want less than 5 cups; for that, you only need to activate the 1-4 cup settings for optimal extraction and flavor. Your coffee will then drip into a glass carafe for serving.
Pros
Elegant Italian styling makes it a great addition to kitchen decor
Easier to operate even for newbies
Separate filter and grinder chambers for ease of cleaning
Has both coffee and water filters for improved brew quality
Auto shut off to save energy
Affordable enough to fit limited budgets
Cons
Blade grinder limits your brewing experience
The Cuisinart DGB-550BKP1 is the first of its kind in the brand's lineup. Except for the grinding, the coffee maker performs exceptionally well. If you want a more versatile brewing experience, you can upgrade to the DGB-500 which comes with a burr grinder.
5. Cuisinart SS-GB1 Coffee Center Grind & Brew Plus
Cuisinart Coffee Center Grind and Brew Plus
Key Features:
Built-in blade grinder for use with whole beans
Grind off feature for pre-ground coffee
Pods for single-serve coffee
One grind setting
Coffee bean hopper capacity: 5.8 oz
12-cup glass carafe
Auto shut off
Fully programmable brewing
Check Price
We aren't done with Cuisinart coffee makers yet. Here's another all-in-one masterpiece from their line-up that's been made with convenience in mind. It lets you make coffee in three different ways, personalize your drink, and even fit a travel mug into the drip tray. That's not all; there's more.
Just like the Cuisinart DGB-550BKP1, this model uses a blade grinder pre-set to the medium setting. You will have to cope with a bit of noise, but the coffee is great; however, if you don't like it, turn off the grinder and use pre-ground coffee.
Should the two options fail to impress, you have another choice. Use pods or a reusable pod filter to make single-serve coffee in three different sizes: 8, 10, or 12 ounces. The best thing is that you can run both brewing styles (grinder on/off and pod) simultaneously to save time or make enough coffee for a large family.
It won't take you long to figure out how to operate this coffee maker. Every button is clearly marked and a digital display simplifies everything further. There's the option to schedule brewing to start at your chosen time as well.
Pros
Supports different brewing styles to match your unique tastes
Accommodates both Keurig K-Cup pods and the brand's pod filter
Lets you customize brew strength and volume to your liking
Self-cleaning feature takes away some of the cleaning labor
Auto-off saves energy
Cons
Has to be thoroughly cleaned after each use, as is the case with most coffee makers
The blade grinder can be an obstacle if you are eager to explore more brewing methods
The Cuisinart SS-GB1's brewing versatility has been its biggest selling point since it came out. It offers more than the average coffee maker with an in-built grinder. You will love it if you are eager to have an affordable unit that offers more for less.
Why Choose a Coffee Maker with a Built-in Grinder?
For many people, convenience is the primary reason for wanting to have a coffee maker with a built-in grinder. You can buy the two separately, but that will double up the work you have to do to brew a cup of coffee, not to mention the added expense and space required. In addition,  grinding coffee beans is a skill you have to learn over time.
Compare that to loading the beans into a hopper and letting the machine work its magic from grinding to brewing. The most you will have to do is choose the grind and brew settings.
Convenience aside, these units don't take up too much space. It's an all-in-one coffee maker, after all.
I know there's still a good number of us who aren't interested in purchasing a combined coffee maker and grinder, so I've got you covered too. Check these recommendations for the best coffee makers. You don't have to spend a lot on a separate grinder. For as low as $50, you can get quality stand-alone grinders.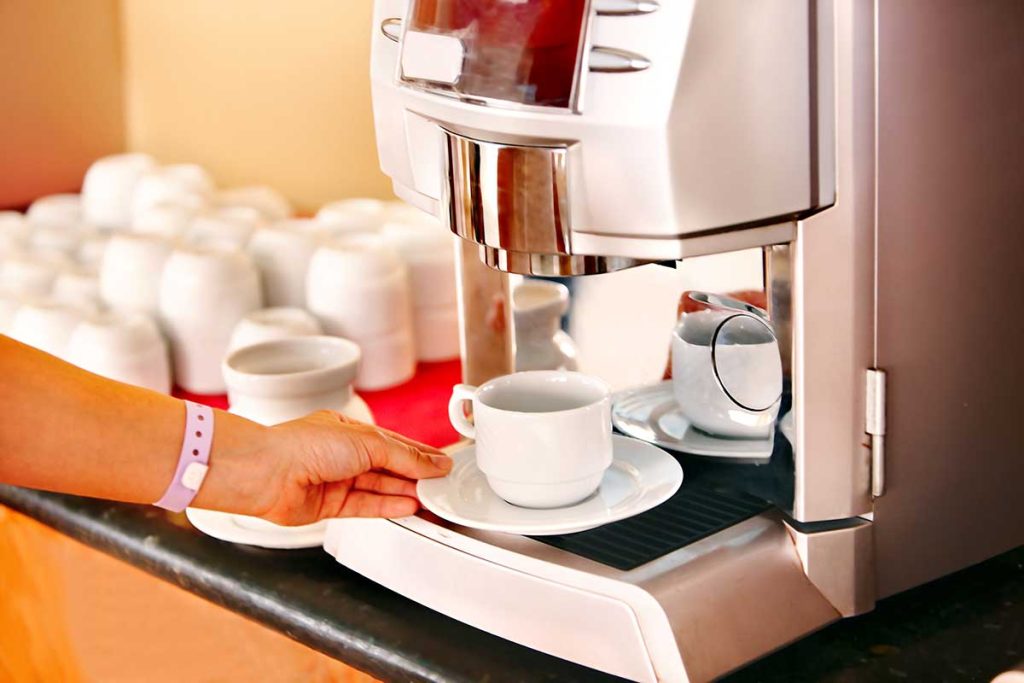 How to Shop for the Best Coffee Maker Grinder Combo
Budget
You'll pay a lot more for a high-quality combo model than you would for a plain old coffee maker. That shouldn't be all that surprising, since you're getting two different appliances in one.
Like coffee makers in general, models with onboard grinders vary wildly in price. You can find some for less than $50, or pay as much as $2000 for a premium all-in-one coffee station. We don't recommend anything under ~$100, for good reason.
There are quite a few models on the market for less than $100, but they're not worth your money–not even close. They grind very inconsistently, so half your grounds are never extracted properly, and the other half end up in your cup.
They also have such terrible build quality that you'd be lucky to get a few months of use out of them, let alone a few years. For a great case in point, check out Black & Decker's affordable grind-and-brew models. They're halfway decent for about three uses, then they conk out and leave you stranded without your brew.
So, while you might be tempted by the convenience of a coffee maker with a built-in grinder <$100, you'd really be much better off buying a separate grinder and brewer. The time you'll spend grinding yourself will be a lot less than the hassle of dealing with the cheap models in this category!
We suggest that casual coffee drinkers go for something in the $100-$200 range. That's where you'll start to find machines that do work well, if not as impressively as $500+ setups. A $100-$200 model will have a decent blade grinder and drip coffee system onboard.
These budget machines aren't as well-designed as models upwards of $500, though. Be prepared for some awkward design features to work around. Anything with a blade grinder won't give you amazing grounds, either. These are coffee makers that we recommend for daily drinkers who are after convenience, and aren't after premium quality.
If you're more of an aficionado, and use nice enough grounds to justify the extra cost, you'll find that you see a big improvement in design and build quality once you pass the $500 mark. We recommend that anyone who's planning to avoid the budget models without going full-bore go for something around $700-$1000.
Models in this price range have much better burr grinders onboard. You can use them to make other drinks like espresso or cappuccino, as well as coffee. They also have heavier build quality and more user-friendly designs. Most importantly, they'll make far better coffee than a cheap drip system.
$1500-$2000 is where we suggest the most passionate coffee drinkers to set their sights. Models in this price range are quite pricey, but they can be a very reasonable purchase for anyone who drinks several coffees daily and uses premium beans. These models have superb burr grinders, lots of versatility, and fantastic build quality. They'll cost you a lot up front, but they'll make you excellent coffee and other beverages for years.
Type of Grinder
Grinders come in many forms but the two popular options in coffee makers are blade and burr. Both can crush your beans to levels acceptable for brewing, but there's more to look at.
Although they cost less, units with a blade grinder compromise grind quality. Your grounds will be uneven and may get burnt by the heat from the fast-rotating blades. You also get just one grind setting, which ties you to very few brewing methods.
Burr grinders, on the other hand, are pricier but you get the best value for your money. From consistent uniform grounds, no matter the grind level, to more than enough grind settings, burr grinders are very versatile.
Keep all these in mind before you make your final purchase.
Cleaning and Maintenance
Compared to your regular coffee maker, an all-in-one unit has extra components. You will therefore have to carry out more cleaning and maintenance, but this will vary from model to model.
It's important that you know what to expect. Some units, for instance, are dishwasher safe. Others are not and may instead require you to do manual cleaning. Make the choice that best suits your wishes.
Hopper Capacity
A hopper saves you the need to load up coffee beans into the coffee maker every time you want to brew. Capacity varies from model to model. Even though they tend to cost more, models with large capacity hoppers are a great choice because you won't need to refill them often.
Glass or Thermal Carafe?
You will have to make a choice between these two.
Glass carafes are cheaper and lightweight. Cleaning them is a breeze, but their biggest downside is that they can't keep the coffee hot for long. Thermal carafes, on the other hand, can maintain the drink's high temperature for hours, but you will have to pay more for one.
Versatility
Some coffee makers let you personalize your drink. You get to decide the brew strength, cup size, and type of beverage, among other features. Extras include auto-off and programmable start.
Even better, all these functions are automated; it's a touch-and-go affair. Be prepared to pay higher for such a unit, though.
Models that are more hands-on cost less and are actually a great option if you would love to have more control over the brewing process.
Quality
As we mentioned, the big reason we don't recommend many inexpensive coffee makers with grinders is that they're made so poorly. There's a much bigger gap between the iffy budget models and the real rockstars in this category than there is in general coffee maker land. If you want things like sturdy metal components, reliable computers, and grinders which can stand up to daily use, you'll need to pay quite a lot.
That's why there's such a big gap between the price range we recommend to folks on a budget, and folks who can afford to spend more. If you're going to go with a cheaper model, we don't think you should spend more than $200. Anything more, and you're looking at a pretty steep replacement cost if something goes wrong.
If you want to avoid dealing with unpredictable reliability, we suggest spending at least $700. That's where you'll start to find models with heavy-duty build quality and good long-term track records.
Extra Features and Conveniences
As with any coffee maker you buy, make sure your new combo system has all the features and conveniences you want! Do you want something with a built-in frother? Dishwasher-safe components? Automatic cleaning cycles? Save-able brewing preferences? Think about what would make your coffee experience as convenient and user-friendly as possible.
FAQs About Makers with Built-In Grinders
How long do coffee makers with a grinder last?
How long your coffee maker lasts depends on how well you take care of it. Clean and maintain it as recommended by the manufacturer and your unit will serve you for more than five years without fail. For example, some users still have the Breville BDC650BSS they bought back in 2015 and are happy with its performance.
Coffee makers do inevitably start to break down after a while as components wear out. You may want to start thinking about a replacement after your coffee maker hits the 10-year mark.
What is the easiest coffee grinder to clean?
Both burr and blade grinders require the same level of cleaning in order to last longer and produce the fresh, clean coffee needed to make a delicious cup of joe.
If you make coffee every day, make sure you dust off the leftover or excess grounds and other substances each time. After a few weeks, do thorough cleaning also. Remember to wipe down the grinding chamber and bean hopper as well.
After one or two months, do deeper cleaning using the methods recommended by the manufacturer. Learn as much as you can on how to clean coffee grinders in order to take good care of them.
How long can you keep coffee beans in the hopper?
If you have a large capacity bean hopper, do not let the coffee stay in it longer than 1 to 2 days. Freshness goes away after that and the beans go stale.
Two Coffee Essentials in One Machine
Having learned all there is to know about the best-rated coffee maker with a grinder, it would be difficult not to admit that the Breville BDC650BSS outdoes itself.
Inside it, you have the best burr grinder you could want in a coffee maker. Your beans will be stored in the largest bean hopper, and after brewing the coffee will end up in a thermal carafe where it will not get cold for hours. You have extras as well, such as programmable auto-start and steep and release technology, among other features.
If the price for the Breville is too much for you, the other options have you well covered. You will definitely find what you are looking for, no matter your brewing needs and tastes.