Updated: September 20, 2021 by Owen Richardson
Pour-over coffee makers are all the rage in coffee land these days. It's easy to see why! These manual brewers are extremely easy to use, and they give you great flavor results from your grounds. They're easier to clean than french presses, and they don't leave grounds in your cup.
We think pour-over coffee makers are the perfect introduction to manual brewing for those who haven't given it a try before. They're also the ideal manual approach for folks who prefer smoother, subtler cuppas than you'd get from a french press.
In this guide, we'll introduce you to all our favorite pour-over options. We've also put together a buying guide to help you decide which to use at home!
[wpsm_comparison_table id="2″ class="center-table-align"]
What's the difference between pour-over and french press coffee?
Where french press coffee is rich, intense, and robust in character, pour-over coffee tends to be smoother, subtler, and milder. These are all subjective terms, but there are some concrete differences between the two brewing processes.
In a french press, all the grounds are immersed in the hot water for the duration of the brew. With a pour-over system, the water only stays in the grounds for the time it takes to pass through the narrow end of the filter. So, a bit less flavor is extracted.
Also, most pour-over designs use paper filters, as opposed to the stainless mesh filters used in a french press. Paper filters do a better job trapping the finest grounds, so the brew stops once the coffee has dripped into the vessel.
French presses tend to leave some of the finest grounds in the brew, so they'll continue to exude flavor as the coffee sits. That's why you can drink pour-over brews whenever you want without the flavor changing, while french press brews continue to evolve the longer you wait to drink them.
On the whole, coffee from a pour-over maker doesn't feel as thick or taste as intense as that from a french press. It's more American-style than European.
The key difference from a brewer's standpoint is that you have to time your french press brew precisely to make sure you pour coffee at its optimum flavor. With a pour-over setup, brewing is done as soon as all the water has passed through the grounds. So, these are easier for many newcomers to use. However, the results may not taste as strong, since the brewing process is much shorter.
In short, pour-over coffee makers are the best manual option for people who like smooth, mild brews without as much robustness or thickness.
Best Pour Over Coffee Maker Reviews
Hario V60 Ceramic Coffee Dripper (Size 02, White)
Hario V60 Drip Decanter Pour Over Coffee Maker (700ml)
Bodum Coffee Maker, Pour Over Coffee Maker with Permanent Filter, Black Band, 34oz
Osaka Pour-Over Coffee Dripper Starter Set
Chemex Classic Glass Coffee Maker
1.Hario V60 Ceramic Coffee Dripper (Size 02, White)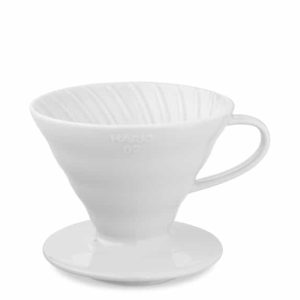 This Hario is a fantastic little coffee maker! It's super inexpensive, and it fits over your favorite mug. It's one of our favorite personal brewers for a quick, delicious cuppa. We recommend it for anyone who wants the cheapest, simplest pour-over solution for one or two people.
Pros:
It's designed to fit right over a mug, or a smaller carafe. The #2 size, which we're recommending, works well for a mug up to three smaller cups' worth of coffee. It's absolutely perfect for making single cups for yourself, or for you and your partner in a larger vessel.
There are also other sizes to choose from, if the #2 isn't the best option for your needs. If you've got a good vessel to brew into, you might be thinking about getting something larger. There's a #3 size option of the Hario that's better for making lots of coffee. Or, if you know you only want single cups, you might find that the smaller #1 is more up your alley.
It couldn't be more compact. Even the midsize V60 is very compact, and doesn't take up any more space than the average coffee mug! It's great for apartments or for anyone tight on space.
It's super simple to clean. Since you use this with a filter, you shouldn't have to do much more than rinse the cone out. There's only one piece, and it wipes clean almost instantly.
It's made of ceramic. You can get versions of this and other pour-over's in plastic, but we always like to avoid plastic when we can. Ceramic is sturdier, and won't throw off your coffee's taste the way some plastics will.
We've found that ceramic also maintains brewing temperature more consistently in the cone. That's really important with pour-over brewers. Unlike french presses, which cover and insulate the water quite well, you're pouring out a smaller stream of hot water over grounds, and water can cool pretty fast. Ceramic keeps things hot as the water travels through the grounds.
This one has a unique design that does more than just providing a cone for the filter to sit in. The channels molded inside the cone control the flow of the water, as well as the timing and temperature of the brew. It increases circulation of the water among the grounds, and allows the grounds to expand as much as possible
The results speak for themselves. With pour-over designs, few models are radically better than others. Most of the brew quality comes down to the grounds and water temperature you use. This is notably better than other inexpensive options, though! We've found that it does quite a lot to boost flavor, and it does a good job distributing water to all the grounds.
It comes in white and red color options. Both are simple but attractive. The white looks quite elegant, while the red has a funkier feel.
It's made in Japan. The vast majority of other inexpensive options are cheap imports from other Asian countries, usually sketchy factories in China. They're actually pretty dangerous, as well as being poorly-made, since many contain lead or other harmful chemicals. This one's completely safe and very high-quality.
It's super inexpensive.
Cons:
You can't use this to make very large amounts of coffee. The #3 size does hold a bit more grounds, but if you're thinking of making more than two single cups, get one of our bigger recommendations.
It won't fit over anything with a mouth wider than 4". Bear that in mind when you're thinking about the mug or vessel you're planning to use it with.
While we think the ceramic is the best option, it's not the most indestructible material known to man. You'll need to be pretty careful with it, just as you are with your mugs.
It doesn't come with any filters. You'll want to grab a few packs of the Hario V60 paper filters at checkout. That'll make it a bit less affordable, but not by too much.
2. Hario V60 Drip Decanter Pour Over Coffee Maker (700ml)
This V60 decanter setup combines a brewing cone like the ceramic V60 above with a 700ml glass decanter. It's a good choice for folks who want something with its own decanter to pour from, as opposed to brewing directly into a cup. The V60 decanter set will make enough for 3-4 people.
Pros:
This set uses the same V60 brewing cone design as the ceramic model we've recommended above. As with the standalone model, this black BPA-free plastic cone has sculpted ridges inside to create a superior brewing environment. It does a great job circulating water through the grounds and letting the coffee expand and extract as it does.
The cone fits neatly inside the glass decanter, which is simple and elegant. It has a nicely-weighted bottom to keep from tipping over (a problem with many pour-over decanters, including some expensive Chemex's!)
If you use the whole decanter, and fill the cone with grounds, you'll make enough coffee for about 4 "coffee" cups, or 3 standard 8oz cups. So, this one's a better choice for you and one or two other coffee drinkers than the standalone V60, even if it's not ideal for a larger group.
The silicone grip band that fits around the middle of the decanter protects your hand from the heat of the coffee inside. It pops on and off for when you want to wash the decanter, and is very resilient to heat over time.
As with the standalone ceramic V60, this set is made entirely in Japan. It uses food-grade plastic in the cone, and high-quality borosilicate glass for the decanter.
It's still relatively easy to clean, even if you won't be able to get your hand in the opening of the decanter. It rinses out easily, and if anything residual remains, you can use a bottle brush to scrub the bottom chamber. The plastic brewing cone is easy to wash in the sink.
It's still quite inexpensive.
Cons:
Having a plastic brewing cone isn't ideal, although it's hardly a deal-breaker for us. If you're a purist, you'll probably want to look at something more expensive. Heat retention isn't as good, and while it's safe to use, it's not as long-lasting as ceramic.
It does need the cone to work, since a paper filter won't sit by itself as nicely as it would in a Chemex. That's a key difference between the Hario and the Chemex's, which are simply a glass decanter with a filter sitting inside.
As with the ceramic V60, this glass set doesn't come with filters. Be sure to grab some when you buy it!
3. Bodum Pour Over Coffee Maker with Permanent Filter, 34oz
Bodum is our favorite manufacturer of french presses. They make all their coffee gear in Europe, mostly in Portugal. It's all super high-quality and user-friendly. We like their unique pour-over setup as much as their french presses!
The Bodum is a simple glass carafe like most pour-over designs. It has a very unique look, though, with a wide base and rounded silhouette. Unlike most other pour-over models, the Bodum uses a stainless steel permanent filter instead of paper
We're recommending the midsize 34oz. version, although the other sizes are just as well made. It makes a nice amount for an average household (8 "coffee" cups, or 4 full 8oz cups).
Pros:
It's made entirely in Europe. This one actually comes from Portugal, from the same factory that makes Bodum's superb french presses. It's very high-quality, even if it's not as premium as a Chemex.
The carafe is squatter than the decanters that you normally see. We like it because it maintains a nice, low center of gravity. It has a distinctive look, too! It's made from borosilicate glass that's heat-resistant and durable.
Inside, there's a plastic cone/filter with a lid, much like the V60 that comes with the Hario above. The Bodum fits neatly over the top of the carafe to keep it secure.
The biggest difference between the Bodum and the Hario is that the Body's brewing cone has its own permanent filter built in! It has a stainless steel mesh, so you don't need to fit a paper filter inside the coffee maker. As long as you use slightly coarser grounds, they'll stay in the filter and leave your coffee sediment-free.
The stainless steel permanent filter is ideal for those who prefer not to use paper filters. Bodum's theory is that paper filters absorb essential oils and some of the stronger taste elements of your roast. So, this should result in stronger brews.
It's true that pour-over makers tend to produce milder brews compare to french presses. So, if you like slightly stronger, more robust coffee with all the natural oils intact, but don't want to deal with the cleaning and timing demands of a french press, the Bodum is perfect for you.
It's all BPA-free and extremely resilient to hot water.
Like the Hario above, the Bodum has a wraparound silicone band to give you a safe grip on the glass carafe. It protects your hand from heat, and keeps the glass from slipping around. That can be an issue with vessels this large.
It has a nice spout on the carafe, too!
It can go in the dishwasher. The Hario's above can't, so this is a more convenient coffee maker to clean.
It's still quite a bit cheaper than a Chemex, even though it comes close to matching Chemex's in the quality department.
Cons:
Unless you're pretty good at grinding your beans consistently, you might end up with some finer grounds in the carafe. The filter is super fine, but it's not as foolproof as a paper filter. If you want something smoother and less intense, or to eliminate sediment altogether, you can always pop a paper filter inside the permanent metal mesh. That does rather defeat the point, though.
As with the Hario, you do need to use the plastic and metal filter assembly. You could theoretically use paper filters instead, but they don't stay in well or stay together. If you absolutely don't want any plastic, you'll have to go for a Chemex.
It's definitely more like a french press than other pour-over style filters. Some people might not like the Bodum's brews compared to smoother, paper-filtered coffee. However, you if you're looking for true french press-style brews, you really will need to use a press. This will always produce weaker results than a french press.
While the Bodum is supposed to facilitate stronger brews than other pour-over units, it has a larger opening under the filter basket, which makes for a somewhat shorter brewing time. So, it's not always significantly stronger than your average pour-over brewer. You'll have to experiment with your grounds to find the perfect size.
4. Osaka Pour-Over Coffee Dripper Starter Set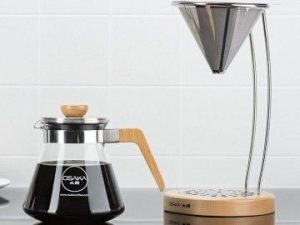 This Osaka set isn't vastly better than the Bodum or Hario in terms of build quality, but it's a worthy alternative option for two or three coffee drinkers. We like it because it makes pour-over coffee-making a bit more intuitive for the average person who doesn't have experience with manual brewing. It's ergonomic, user-friendly, and quite well-made.
Pros:
You'll see right off that the Osaka is a different format from our other picks. It's a lot like if you took the Hario V60 brewing cone and placed it over a traditional American carafe. We think this format is a little more familiar and accessible to the average American coffee drinker.
It's very user-friendly. The handle makes it quite ergonomic, the carafe design is super stable, and it doesn't feel as much of a departure from drip machines as our other recommendations.
It does a good job maintaining heat, too, since there's a lid provided for the carafe. If you're used to using a drip machine with a carafe that stays hot for a while, this is a good pour-over equivalent!
The Osaka has a unique dual filter design. It's a permanent metal component like the one on the Bodum, so you don't need to buy paper filters to use with the Osaka. You'll save money, and preserve more of the natural coffee oils in your coffee.
The double-layer filter catches more grounds than the Bodum, without losing any of the natural coffee oils that metal filters allow you to capture. Next to the mesh layer is a secondary laser-cut piece of metal which helps to reduce any fine grounds making it into your coffee. It's super effective!
Between the finer filter and the smaller drip tip, the Osaka does a good job of brewing flavorful coffee. It's not quite as robust as the french press-style Bodum brews, but it's definitely more flavorful than the average paper filter brew.
The carafe is high-quality borosilicate glass, just like our other picks. It's 600ml, which comes out to around 4 "coffee" cups, or two standard 8oz mugs. This one's a good option for two or three people, depending on how much you like to drink at a time.
The brewing components are all metal. While the handle of the carafe and the rims on each component are made of plastic, no plastic components touch your coffee during brewing. If that's important to you, this is a good choice.
You can get it with a range of plastic accents, from black to bright colors.
It comes with a scoop for your beans and grounds, as well as a little base to put your filter in after you've finished brewing. That stops the cone from dripping all over your countertop!
It comes with lots of helpful tips in the manual, and great customer service. That's one key reason we suggest this to newcomers!
Cons:
It won't make as much coffee at once as the Hario decanter or the Bodum.
While its marketing plays up the Japanese heritage of the company, it's actually made in Taiwan.
You'll have to play around with finding the perfect grind size for the Osaka. The unique filter can clog if you grind too finely. You've also got to be careful to clean it well, or you could clog it permanently. Thankfully, it can go in the dishwasher if you have one.
Osaka's customer service is super helpful with brewing and troubleshooting advice, though. If you run into issues, they'll steer you right.
It takes a while to drip through, compared to the Bodum. That's not necessarily a downside, since you can extract more flavor. You'll want to use water at the hotter end of the brewing zone, though.
The plastic handle is pretty lightweight. It's not going to break on you very easily, but it definitely feels chintzy.
5. Chemex 6-Cup Glass Handle Series Coffeemaker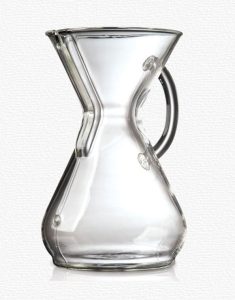 When it comes to pour-over coffee, nothing beats a Chemex. It's that simple! Much as we love our other recommendations, they just can't compete with one of these. The Chemex coffee maker has been named one of the top 100 products of modern times by the IIT, and it remains the go-to for serious coffee lovers who don't like coffee from french presses.
Chemex coffee makers are available in two configurations: a glass flask with a wood and leather collar, or a glass beaker with a handle. You can get either model in one of 4 different sizes. They're all extremely well-made, and they brew the best pour-over coffee you can get.
*You'll find that the Chemex pour-over models are all listed together. You choose your size and configuration the way you would when choosing a color and size of a piece of clothing. So, we'll be referring to both the classic models and the newer ones with handles throughout our review!
Pros:
The Chemex's hourglass flask is designed perfectly for heat retention, brewing speed, and all the other things that make a great cup of pour-over coffee. There's a reason these are such highly-praised brewers!
It works without a brewing cone, so the filters fit right inside the open end of the glass flask. That keeps plastic and metal out of the picture. It also makes for even easier cleanup! You just remove your filter with the grounds inside, pour your coffee out, and then rinse the flask.
There's absolutely no plastic. Chemex flasks are all glass, and they're made with thicker materials than our other picks. They retain heat more consistently, and are more resilient.
Some purists also think that stainless steel throws off flavor. That's not the case in our experience–after all, every good french press uses stainless steel, and you don't find many complaints. All the same, if you're on the anti-stainless side of the debate, going all-glass is undoubtedly appealing!
Everything we've mentioned so far applies to both the classic Chemex models (with the wood/leather collar) and the newer glass-handled Chemex models. Where they start to differ is the midsections:
The classic Chemex design adds a wood and leather collar around the midsection. It protects your hand against the hot glass, and adds a very classy look.
The more recent additions to the Chemex range have glass handles sprouting off the flask. They're all-glass pieces, which have a cleaner, yet slightly more ornate look.
It's a question of ergonomic preference, as well as aesthetics:
Of course, it's hard to think how to argue against the classic wood/leather collar, since it's one of the most distinctive features of the Chemex. However, if you have larger hands, you might find that it doesn't shield your whole hand against heat. The handle can be better for folks with larger hands.
The glass version is also easier to clean. You don't have to worry about removing the wood and leather collar, and you don't have to constantly try and avoid getting soapy water on it. Wood and leather are also supposed to stay out of the sun, so the all-glass one is a bit less high-maintenance.
Which should you get?
If you've got a dishwasher, the all-glass might be an easy decision. You can just pop it in the top shelf for cleaning, where the classic version has to be washed by hand.
If you're purist or a design-nerd, the classic is probably a better choice. We have a soft spot for the classic wood and leather collar. We think it looks better, and it functions well enough for most people with a little plastic. If you don't want to deal with the upkeep or the ergonomics, it's best to avoid this version.
Each version is available in a number of sizes: 3-cup, 6-cup, 8-cup, and 10-cup. That's delineated in terms of "coffee" cups, so consider a cup to be 5oz here. If you drink 8-oz cups of coffee, cut those size ratings in half to determine how large a Chemex you need.
Chemex's are made entirely in the USA.
Cons:
These cost twice as much as our other picks, if not more.
They're not exactly indestructible. There's a running joke in the coffee community that half of Chemex's income is from replacement glass flasks. While we don't think any other manufacturer is making anything much hardier, it's definitely a flaw in the award-winning design. We would love to see these made out of thicker glass.
The company is also pretty unhelpful in case of breakages. Make sure you inspect and test yours before your return window closes, because there's no warranty or satisfaction guarantee.
If you want something a little more rugged, Chemex does still make handblown models. They're way more expensive than the ones we're recommending, but they are made with thicker glass. You have to get them straight from the manufacturer, though.
Beware of knock-off's! Chemex's are expensive and extremely popular, which is a recipe for advantageous knock-off's to flood the market. Be sure to buy yours from an authorized dealer! The knock-off versions are even more fragile, and they often arrive with cracks or serious flaws.
You'll need to buy Chemex filters to use one of these. They're not grossly expensive, but they're certainly pricier than Hario filters. As for the grind, a grinder that can do a consistent medium-coarse will do awesomely.
If you want your coffee to stay hot, you'll want to get the optional glass cover. We think it's worth it if you're getting one of the larger sizes.
While the Chemex produces the best pour-over coffee we've found, people who are used to French presses may still find it weak. That's the nature of the beast with these. If you like robust, bold flavors, you may want to simply avoid pour-over's. They make smoother, subtler coffee.
Conclusion
Which pour-over coffee maker is the best choice for you?
The Hario V60 ceramic brewer is ideal for making a single cup or two for yourself. It's the best space-saving option here, since it fits over your mug/vessel. The ceramic construction is fantastic, it produces excellent taste results, and it's ideal for the solo coffee drinker. Don't get it if you need to brew for a crowd, though.
If you want something with a vessel included, the Hario V60 Drip Decanter set is a great budget option. It's actually a lot larger than it looks, with a 700ml capacity. It's ideal for making coffee for a few people. It has more or less the same brewing quality as the ceramic version. On the downside, the cone in this one is plastic. It's perfectly safe to use, but if you're a purist, you may want to spend more for something plastic-free.
The Bodum is an excellent midrange pick if you want the most bang for your buck. In terms of volume, it offers the most for your money. It's also a nice option for anyone who likes coffee on the stronger side, since it doesn't use paper filters. Like the Hario set, though, it does have a plastic brewing component. And if you're a pour-over drinker who hates grounds in your cup, this is an imperfect setup.
The Osaka is a comparable alternative to the Bodum, and is ideal for newcomers to pour-over coffee making. It doesn't require any paper filters, but it does a better job of filtering out fine grounds than the Bodum. This one's also configured a bit more like your standard American drip coffee maker, so it's easy to navigate. It's on the smaller side, though, and the handle feels a bit chintzy.
Our ultimate pick for a pour-over coffee maker is a Chemex. Whichever configuration you choose, Chemex's produce excellent taste results and look fantastic. You can get them in all sorts of sizes, and with or without a handle. Put simply, pour-over coffee makers don't come better than these. Don't expect them to be super rugged, though. They're notoriously delicate, especially for something at the top end of the price scale.
Buying Guide
Now that you've taken a close look at our recommendations, let's get you thinking about which one makes the most sense for you! There are a few key things to consider as you compare models:
Cost
Thankfully, manual coffee brewers tend to be quite affordable. That's true of French presses, and it certainly applies to pour-overs as well.
Before you shop, figure out how much you want to spend. You could put down as little as $15 on a brewing cone that fits over a favorite mug, or as much as $75 on a premium flask. You'll pay more for a larger brewing vessel, and for all-glass construction.
Remember to think about whether you'll need to buy paper filters or not!
Quantity
Figure out how much coffee you want to be able to brew in your pour-over coffee maker. You can always make several batches, but it's easiest to do one and save yourself the extra filter/time.
If you normally have your coffee solo, go for a pour-over cone that fits over your favorite mug! Or, if you like a few cups, get something that makes around 2-3.
Anyone who makes coffee for themselves and a few other people should be looking for something that makes 3+ cups at a time. If you've got the space to overshoot slightly, it's always a good idea. You'll be prepared to have an extra guest or two over, and you can always brew a slightly smaller batch in a larger coffee maker. Most people don't need any more than 10 cups at a time.
As you consider quantity, remember that cups in coffee land equal ~5oz, whereas most mugs and cups actually hold 8oz.
Ergonomics
Think about how you'd like to actually go about making your coffee. You want your pour-over coffee maker to be easy for you to use, without any frustration as you brew. Decide whether you want to have a handle on the vessel, or whether you'd prefer to grip around the vessel with a central collar. Do you want to have a lid? Is there a size that's going to be too heavy for you to deal with easily? Be sure to think through all the ergonomic elements of the design before you commit to a specific pour-over coffee maker.
Safety
There are more hazards associated with using a pour-over coffee maker than you might think. Unlike french presses, which usually have a reinforced frame of some sort, most pour-over coffee makers consist of a glass vessel with no reinforcements.
To prevent shattering and injury, make sure you're buying heat-resistant borosilicate glass from a reputable manufacturer. This is one purchase where you want to be absolutely sure you're not buying a knock-off or generic version! Shoddy glasswork can lead to scalding or worse. Don't take any chances.
Look for protection against the hot glass, as well. Any good pour-over coffee maker will have a handle that keeps your hand away from the side of the vessel or a heat-blocking collar around the middle.
Cleaning
Of course, you want any coffee maker you own to be easy to clean. Thankfully, pour-over brewers make it easier to clean up after a cuppa than any other type of coffee maker! Most have only two components: a brewing cone and a vessel.
You could also consider paper filters a component, but since you'll just be slinging the brewed grounds in the compost, it's not something you need to worry about. Some models don't even have a brewing cone to clean, since the filters sit right inside the vessel opening. If you get a Chemex, you only have to wash the glass vessel!
So, when you think about how easy yours will be to clean, look at the vessel and the brewing cone (if there is one). Make sure you know how you'll clean each. Vessels can usually just be rinsed out well. If you really want to scrub one, using a bottle brush is the best approach. If you have a dishwasher, you may as well look for a model that can go in it!
Pour-over models with permanent stainless steel filters are the trickiest to clean. You have to scrub out the mesh, to prevent permanent clogs. If you're getting one, be prepared!
Filters
As you compare models, you'll see that there are lots of pour-over brewers that use paper filters, and some that have permanent stainless steel filters instead.
Most pour-over coffee fans use paper filters. Pour-over coffee makers are generally supposed to produce smoother, subtler brews than you'd get in a french press. One big reason for the milder taste and texture is the fact that paper filters remove even the smallest grounds from the coffee. French presses tend to let the finer grounds slip through, and end up in your cup. They continue to exude flavor, which makes the brew more robust, and they thicken the texture of the coffee.
However, going for a model with a permanent filter will save you money on filters, and reduce the environmental impact of your brewing. The downside of mesh metal filters is that most don't do a perfect job keeping fine grounds out of your coffee. They're also a pain to clean.
One issue that's debated hotly in the coffee aficionado community is whether paper or stainless steel filters affect taste adversely or not. To some, paper filters are malignant, since they absorb some of the natural oils produced by the grounds when water is added. Others think that stainless steel gives a metallic tang to the brew.
Our verdict? Go with whatever's most convenient for you, and don't worry about flavor. The brewing process in a pour-over setup is too short for a stainless steel filter to impact the flavor in any noticeable way. Besides, practically every french press on the market has stainless steel components that sit inside the vessel for the whole brew, and nobody takes issue with the material there.
Likewise, we're sure paper filters do absorb some of the richness, etc. of the coffee beans. But you're not using a pour-over setup for a robust brew anyway! If that's what you're after, you should be going the french press route.
So, choose the filtration system that makes practical sense to you!
If you're buying filters, make sure you get something made with recycled and natural fibers. Bleached virgin content can give a nasty chemical taste to your beverage.
What's Next
We hope you've found this in-depth look at pour-over coffee makers helpful and informative. The quickest way to find out more about any of the models we've recommended here is to click on the links in our reviews.
If you're having second thoughts about whether a pour-over coffee maker is the right choice for you, don't worry! We have plenty of French press and electric single-serve coffeemaker recommendations too. See all your options, as well as featured recommendations in each category, by visiting our main page!