Updated: August 6, 2023 by Alex Carpenter
Glass carafes look elegant and stylish. But the carafe itself doesn't specifically contribute to the brewing process. It's more for show. On the other hand, the glass in a Chemex coffee maker guarantees a smoother, cleaner flavor in your coffee. But what's the best Chemex grinder to go with it?
If you're using freshly ground beans, the best grind setting for Chemex is a medium-coarse, meaning your Chemex texture is the mid-point on whichever grinder you use. In essence, any reliable coffee grinder will do.
That said, you should weigh the other features of your grinder in comparison to your Chemex. Chemex coffee makers are gorgeous, with those hourglass curves and the timber detail at the neck. You can even buy an all-glass version with a glass handle and no wood.
So you may want a grinder that's equally pretty as it sits next to your Chemex on the countertop. And since Chemex coffee makers are so low-maintenance, you want a grinder that's just as easy to clean and service.
Here are five grinder models you can consider.
TOP PICK

Your top two options are neck-and-neck in desirability. But the Breville is a better buy. It has a stepped grinder and electronic timer so you can use both to get the perfect Chemex grind.
Here Are the Best Coffee Grinders for a Chemex
The first thing you'll check when you're buying a coffee grinder is the number of grind settings it has. You may want a stepless grinder, but they can be pricey. The next best thing is a stepped grinder with lots of steps. And this Breville has 60 steps so it's quite versatile.
At 6.4 pounds and over 15 inches tall, it's a bulky grinder. And beyond its numerous grind settings, its timer settings are just 0.2 seconds apart. This lets you micromanage the consistency of your grind either by size, grinding duration, or both. It has three collection options.
Key Features
Stainless steel conical burrs
60 grind settings
Two portafilter cradles
After grinding your Chemex coffee beans, you can collect the powdered coffee in a canister or portafilter. This grinder has two portafilter cradles – a smaller one for 50 to 54mm doses and a larger one that's 58mm. The large LCD makes it easier to program all those functions.
Keep in mind, the grinder doesn't come with portafilters – it only has cradles. But you can still preset the doser to automatically grind in cups (for drip brewing) or shots (for espresso). The brush makes for quick cleaning. But at 165W, you may need to pause between grinds.
Pros
Comes in three colors
18-ounce hopper
Digital controls + manual dial
Cons
It's complicated so you do need to read the manual (or watch a video)
This Breville Smart Pro grinder is high in tech but low in power. It has conical burrs and a low wattage so you can't run it too long before it overheats. Its large capacity helps, though.
Take a closer look at the Breville Smart Grinder Pro.
Your Chemex has a profile of roughly 9 by 6 inches, so it doesn't hog your countertop. It'll be helpful to buy an equally space-saving, Chemex-friendly grinder. The Chemex brand doesn't make grinders, though – at least not yet. But you could try this compact Shardor instead.
The grinder is 8 inches tall, and its base is 3.7 x 3.7 inches. It's a blade grinder, so you can use it on spices, nuts, and grains in addition to roasted coffee beans. The bladed cup is stainless steel, dishwasher-safe, and detachable. And it's fast:20,000 to 24,000 rpm.
Key Features
Grinds in 15 seconds
Small footprint
Two-year warranty
On average, this Shardor takes 8 to 15 seconds per grind. The catch is, it doesn't have grind settings so you need a stopwatch to grind your beans. Eight seconds will give you a French press grind, while 15 seconds get you to espresso. Push the lid and hold it down for a pulsing grind.
The 200W motor promises longer grinding sessions, but because you have to keep your hand on the lid, you'll soon tire. And without stepped settings, you can grind automatically or pre-set your grind. It's a very hands-on grinder, pun intended. And there's no coffee collector.
Pros
Easy to use
Removable cups
Dishwasher-safe
Cons
It doesn't have a grinding dial
This Shardor grinder is cute, compact, and convenient. It takes up minimal counter space and grinds swiftly. Ground coffee stays inside the blade cup so you need a separate container.
Unless your grinder is attached to a coffee maker, you don't need a permanent bean hopper. You want the ability to remove said hopper for cleaning and storage. This maintains hygiene while freeing up counter space. Also, coffee beans need to be stored in cool, dark places.
That's why the Oxo Brew's large bean hopper with UV protection is such a strong selling point. You can store roughly one pound of beans in the hopper. And after grinding, the collection canister holds 0.3lb of ground coffee.  That's enough for 12 cups. Its metal collector is also UV-proof.
Key Features
40mm conical burrs
15 grind settings
16oz bean hopper
The conical burrs on this grinder are stainless steel so they release heat quickly to avoid burning your beans. The one-touch grinding button has a memory feature so it will retain the last grinding settings. You won't need to reprogram it the next time you turn on the machine.
The Oxo has 15 main grind settings, and its micro-settings expand your options for a total of 38 grind settings. You can also set the grinding time from 0 to 30 seconds. You'll have to turn the whole hopper to confirm your grind consistency, and it's a pleasurably tactile experience.
Pros
Large canister
Low static grinder
One-touch operation
Cons
This Oxo grinder protects your coffee beans from sun damage. It can grind a dozen cups at a time, and its coffee collector has an easy-pour lid. But it covers a big part of the countertop.
Maybe you've been grinding your coffee for a while and are seasoned in your time and texture requirements. So you want a machine with precise programming options. But everyone starts somewhere, and the manual controls on this grinder are ideal for newbies.
It has an on/off dial on the side and a grind button at the front. The hopper sits on the grinding dial, and you can turn the hopper to achieve 40 settings. Both the burrs and the bean hopper are conical, and the resultant gravity-fed process is quicker and kinder on beans.
Key Features
Alloy steel burrs
40 grind settings
One-year warranty
Baratza grinders have won multiple awards, so your coffee beans are safe in this Encore model. It has upgraded burrs, but because it's a pulsing grinder that doesn't have a timer, you have to gauge grinding consistency on an eyeball basis. The coffee collector has a boxy shape.
But this canister doesn't have a lid, so you need a separate covered dish to keep your ground coffee. Fortunately, the Baratza Encore doesn't generate much static as it grinds, meaning you won't have much coffee waste because the powdered beans won't cling to the container.
Pros
Comes in two colors
Conical hopper and burrs
Recommended for beginners
Cons
It only has manual controls
Baratza is a popular model, and their updated Encore is a firm fave. It has clean lines and simple controls, ideal for beginners and baristas alike. You can order it in white or black.
If the appearance of your Chemex is important to you, you'll probably find yourself drawn to this grinder. The Skerton Pro has a glass silhouette that perfectly complements your Chemex. And it's just as small at 8 inches tall with a 4-inch diameter at its widest.
This is a manual grinder, though, so while it saves on utility bills and batteries, it can be a chore to grind by hand when you've barely woken up. But it's good for brainstorming or study sessions and midnight mental jolts, since that grinding action will wake your lagging mind.
Key Features
Ceramic conical burrs
Detachable handle
0.2lb (100g) hopper
For added traction during grinding, the Hario has a detachable rubber boot. The crank is detachable as well, so the grinder does 'shrink down' for storage and transit. The ceramic burrs and non-slip lid create a seal while also enhancing your handgrip as you grind.
The crank attaches to the hopper lid via a reinforced hexagonal fixture so it's less likely to … fly off the handle. The glass hopper seems small, but it can hold 100g (3.5oz) of coffee beans. Since it's a manual hopper, its speed will depend on your strength. But at least it's quieter.
Pros
Light, portable design
Non-slip rubber base
No electricity needed
Cons
The Hario Skerton Pro has a cute, playful appearance that may hide its power and convenience. Its parts are detachable, and while the bowl is glass, the clear lid is plastic.
How to Choose the Best Coffee Grinder for Your Chemex
The Chemex coffee maker gets its distinguished design from Erlenmeyer titration flasks cinched at the waist and extended into a glass funnel. They've been around since 1941 and are versatile enough to make all kinds of coffee, from drip to espresso to French press.
The filter is probably the most important part of Chemex coffee, but getting the right beans, using a good grinder, and then preparing, roasting, and storing your beans correctly are also key factors.
Here are some shopping tips to help you identify the best grinder for Chemex coffee.
Grinding Style
The most basic factor in coffee grinder selection is whether it has blades or burrs. Blades are cheaper but louder, and they deteriorate faster. If you opt for burrs, decide whether you want them conical or flat, and whether you want ceramic or metal burrs. And burr size matters. It can range from 40mm in domestic models to 80mm (or more) at commercial coffee houses.
Grinding Capacity
You might be focusing on the hopper to see how many pounds of beans it can hold. But it's more important to know how many ounces you'll get after grinding. Smaller is better so you can always grind what you brew. But that can be annoying if you drink coffee frequently. Or if many household members drink coffee. In that case, a single-serve grinder won't do.
I'd recommend getting a grinder that can grind enough coffee to serve at least four people. You can always use it to grind for a solo cup, and it won't be so tedious for you if you have to grind more for when you've got company.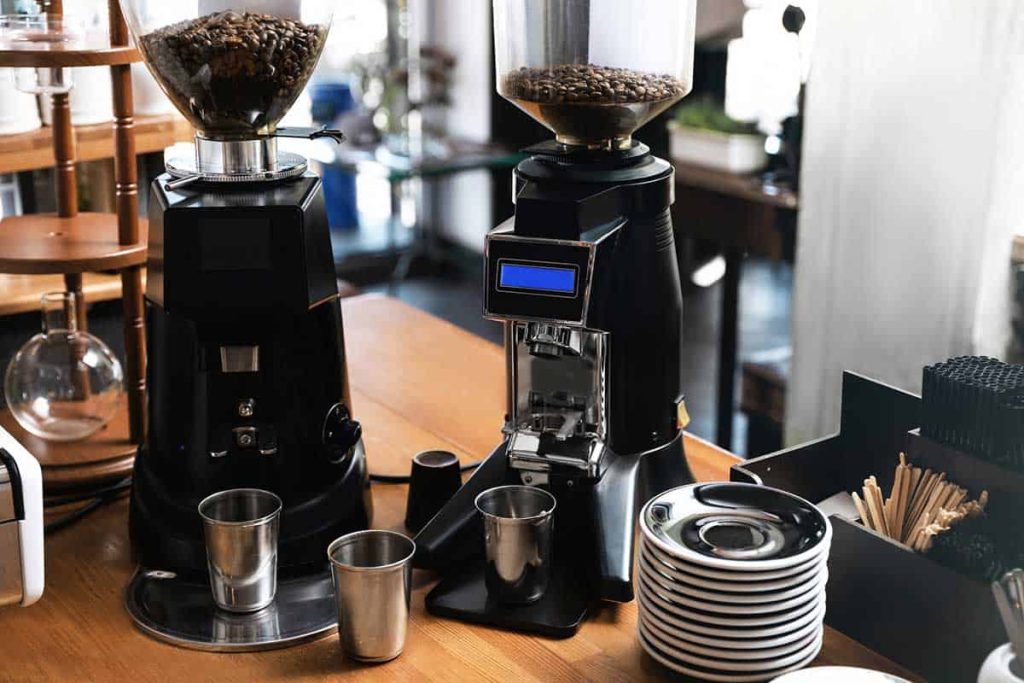 FAQs About Grinders for Chemex Coffee
You're now armed with knowledge to buy the best coffee grinder for a Chemex. But you probably still have questions. Here are a few top queries – add yours in the comments!
Do I have to buy Chemex filters for my Chemex coffee maker?
Not really. The glory is in the glass, so you don't necessarily need to use filters from the same brand. That said, Chemex filters are proven to be 30% thicker than other kinds of filters. This extra thickness helps with the clarity and quality of your pour-over coffee, so it's worth buying bonded Chemex filters, even if you prefer to use a different brand of coffee machine.
Do plastic coffee casks work as well as Chemex?
Chemex is fragile, so you may want a metallic or plastic coffee maker that has the same basic shape. But it isn't just those distinctive contours that make the Chemex popular. The glass is a big part of it. How so? Metallic hourglass drip brewers don't give you visibility and control.
And while plastic brewers can be effective, plastic can develop miniscule scratches that trap sediment, oils, or minerals. Meaning your coffee won't taste as pure as your glass Chemex.
Can I use a blade grinder for my Chemex?
Yes, you can. Chemex coffee uses a medium coarse consistency and medium to light roast, so you can grind your beans with either a blade or burr grinder. But blade grinders often result in mixed coffee textures. Blades also need to be sharpened and can be much louder than burr grinders. It comes down to preference, but generally burr grinders give better-quality grinds.
Final Word on the Best Grinder for Chemex Coffeemaker?
Based on convenience, consistency, and caffeine delivery, the best grinder for Chemex coffee is the Breville. Here's why:
It can take two portafilter sizes
You can refine your setting and timing
The backlit LCD allows for pre-dawn grinding
Its coffee canister has an airtight seal
But while this grinder offers pro-level results, it has multiple controls and is highly technical, so you do need a pre-study session. Plus, its 165W motor needs coffee breaks between grinds.