Updated: March 21, 2022 by Owen Richardson
While you might crave a steaming cup of coffee on those cold winter mornings, on a scorching summer afternoon, you need a cold, refreshing brew. This is when the icy cold brew steps up to offer you a glass full of flavor. However, making this brew correctly at home requires you to have the best coffee grinder for cold brew.
A cold brew perfectly highlights the true flavors of the coffee beans because the long brew time fully extracts the coffee flavors. To be sure you are getting the proper taste, it is important to grind your beans fresh at home with a proper coffee grinder.
If you buy pre-ground coffee beans or if you grind the beans up incorrectly, you could end up with a bitter-tasting brew. There is nothing worse than waiting 24 hours for your brew only to end up with bad coffee!. This lengthy brewing time fully extracts the oils from the coffee; if some grounds are too small, they will over-extract and ruin the whole brew.
The trick is to use a high-quality coffee grinder to ensure a consistent bean size. The best grinder for cold brew coffee is one that evenly and coarsely grinds the coffee beans. You can choose between manual or automatic, and with so many options on the market, it can be hard to find the right one. Read on to discover the right grinder for your needs.
TOP PICK
In a nutshell, the best grinder for your cold brew is the OXO Brew Conical Burr Coffee Grinder. This grinder is so simple to use with a one-touch button and has over 15 grind settings. The grounds container is also large enough to produce enough grounds for a large batch of coffee.
The Best Coffee Grinders for Cold Brew Are:
Image
Product
Features
Price
#1 OXO Brew Conical Burr Coffee Grinder


Conical burrs

Stainless steel

15+ grind settings

#2 SHARDOR Conical Burr Coffee Grinder, Electric Adjustable Burr Mill 


Anti-static technology

35 grind settings

Customizable quantity

#3 Baratza Encore Conical Burr Coffee Grinder


40 grind settings

Color options

User-friendly

#4 Capresso Infinity Conical Burr Grinder, Black


8.8-ounce bean hopper

ABS plastic

Conical burrs

#5 Hario Ceramic Coffee Mill -"Skerton Pro"


Ceramic conical burrs

Non-slip rubber base

Manual

#6 KRUPS Precision Grinder Flat Burr Coffee


Flat burrs

One-touch operation

12 grind settings

#7 Portable Manual Coffee Grinder Set Professional Conical Ceramic Burrs


Ceramic conical burrs

Brushed stainless steel

Portable
I have searched through the top grinders currently available and found a few options for you to choose from. All these grinders use a burr mechanism to produce even grinds and have the capacity to grind to a coarse grind for your cold brewing needs.
The OXO conical burr grinder is the best coffee bean grinder for cold brew because of its stainless steel conical burrs and removable top burr. This automatic grinder is easy to use with a simple one-touch start button.
The time settings are saved from the previous use, so you can simply press start and get your beans grinding away.
Key Features
Conical burrs
Stainless steel
15+ grind settings
The grinder offers 15 main grind settings with additional micro-settings letting you choose the perfect grind size for your brew method. The grounds container holds enough for 12 cups of coffee, complete with anti-static technology to keep the container and unit clean.
The company partners with 1% for the Planet to donate 1% of their annual profits to good causes. You will also be getting a precise and consistent grind at a reasonable price with the OXO grinder.
Pros
One-touch start
12 cup grounds capacity
Anti-static technology
Partner of 1% for the Planet
Consistent grind
Price is good
Cons
The bottom burr can't be removed
You can enjoy truly fresh coffee without the unwanted bitter taste as the conical burrs grind up your beans evenly. You can also appreciate the true flavors of your coffee with this grinder.
This SHARDOR grinder has been upgraded by the engineering team to improve the anti-static technology. The grounds container is now completely free from static to reduce the mess and loss of delicious coffee grounds that usually fly around due to static.
The 35 different grind settings offer a precision grind for whatever size you need for your brew. You can customize how much you want to grind with each cycle to ensure you are grinding the right amount of beans each time for a fresh brew.
Key Features
Anti-static technology
35 grind settings
Customizable quantity
The model is designed for easy cleaning with a built-in cleaning brush to help you clean out the burrs between use. Some parts are removable to enable complete cleaning. You can remove the upper burr, the bean hopper, and the grounds container to give your machine a full clean.
The SHARDOR grinder has built-in heat protection technology to prevent the machine from overheating and spoiling your tasty coffee beans.
Pros
Easy to clean
Removable upper burr
Removable bean hopper
Overheating protection
Built-in cleaning brush
Cons
The machine makes a bit of noise, but this is the case with any electric grinder. The sound is, however, quieter than blade grinders. With an easy-to-clean-and-operate machine like this, you can sip on a fresh cup of coffee in no time (or within 24 hours for your cold brew).
The Baratza Encore grinder is a great user-friendly grinder that will produce coarse grinds for your cold brew. The 40 grind settings allow you to change up your grinding needs from the cold brew to a fine espresso grind.
The slim design will fit in well on your counter without taking up too much space while adding an elegant touch to your kitchen area. You can choose between a black or a white model with this grinder to match your interior look and feel.
Key Features
40 grind settings
Color options
User-friendly
The model boasts an easy pulse button on the front for grinding up small batches of beans for single-use situations. You can also use this button if you want to keep the beans fairly coarse, which is perfect for the cold brew.
The commercial-grade conical burrs are robust enough to last you a long time. However, the company does offer a one-year warranty for any manufacturing glitches in the machine. You can't go wrong with this entry-level model, a perfect introduction to the Baratza brand.
Pros
User-friendly
Front-mounted pulse button
Commercial-grade conical burrs
One-year warranty
Slim design
Cons
Entry-level grinder
It may take a few grinds to calibrate
The first few uses might not produce the perfect grinds; it takes a few runs before the grinder calibrates itself. This gives the machine enough time to set and gain some bean oil to let the burrs run smoothly.
Capresso is well-known for their higher-end espresso machines, and that reputation now extends to their grinders. The Capresso Infinity grinder offers homebrewers a slim-designed grinder with a large holding capacity. The 8.8-ounce bean hopper holds a good amount of beans in the airtight container, while there is capacity for four ounces of coffee grinds, enough to brew a batch of your cold brew coffee.
The outer pieces of the grinder are ABS plastic with commercial-grade conical burrs inside, offering a quality grind that produces even grinds for your coffee.
Key Features
8.8-ounce bean hopper
ABS plastic
Conical burrs
The machine has 16 grind settings, giving you a coarse option for a cold brew along with other options for your guests or yourself when choosing a different brew method. The adjustable timer gives you the option to customize the grind to your needs, providing the option to give a quick grind for your coarse cold brew grinds.
The grinder has removable parts, including the upper burr and grounds container, to give you an easy cleaning solution to keep your machine prime for grinding beans freshly. The clear top cover may confuse some if they don't see the closed lid, but this can be easily fixed by marking it with a sticker.
Pros
Commercial-grade burrs
Four-ounce grounds container
Removable upper burr
Removable grounds container
16 grind settings
Adjustable timer
Cons
The top cover is too clear and easy to misplace
This model gives you a complete grinding solution for your homebrewing needs, as you can always have freshly ground coffee ready in minutes.
While not everyone would like a manual grinder, this Hario ceramic mill may just change your mind. With an easy-to-use handle, you can grind up coffee in no time.
The grounds capacity is not too big, so it will only grind enough for one to eight cups at a time, which is perfect if you are grinding for yourself and one or two others at home.
Key Features
Ceramic conical burrs
Non-slip rubber base
Manual
The grinder has robust and durable ceramic conical burrs, providing you with a lasting solution to coffee grinding. The small design and manual mechanism mean you can pop this grinder in your bag and carry it with you everywhere. Perfect for holidays or camping trips where good coffee is still a must-have.
The grinder is fully washable, so each piece can be washed thoroughly, ensuring there are no stale grinds left behind. The conical burrs ensure a precision grind for your beans and will offer a consistently coarse grind for your cold brew.
Pros
Detachable handle
Improved burr shaft
Fully washable
Portable
Small and lightweight
Cons
The rubber sleeve may slide off easily
This manual grinder may require a bit more labor on your part, but you will have full control of how your beans are ground, allowing you to control the grind size properly.
The KRUPS grinder is a great option if you are looking for a lower price tag for an automatic grinder. The mechanism includes flat burrs to grind your beans consistently and evenly while offering an easy one-touch operation.
There are 12 grind sizes to give you a wide range of options, from a fine grind to a coarse grind for your cold brew. The slim design of the grinder can easily slot in between kitchen appliances to accentuate your kitchen space.
Key Features
Flat burrs
One-touch operation
12 grind settings
This grinder is great for grinding in bulk as each grind cycle can produce enough grinds for up to 12 cups of coffee. This is great for preparations to cold brew in bulk, providing enough coffee to last through the week.
The machine consists of a removable upper burr as well as a built-in cleaning brush to create a smoother clean after you have finished grinding. The bean hopper holds up to eight ounces of beans, while the grounds container can serve up to 32 cups of coffee.
Pros
Metallic flat burr
Grind enough for up to 12 cups per cycle
Eight-ounce bean hopper
Removable top burr
Built-in cleaning brush
Slim design
Cons
There is a slight bit of static
The grinder does come with a small amount of static which may lead to a bit of a counter clean-up after grinding; however, the machine makes up for this with its precision grinding abilities.
This portable burr grinder is the best budget option for your grinding needs. With a small price tag and a small size, it is perfect for grinding up enough coffee for one or two cups at a time. This may not be great when bulk-brewing a cold brew, but it is perfect for making a cold brew while camping or traveling.
Key Features
Ceramic conical burrs
Brushed stainless steel
Portable
The ceramic conical burrs are high quality with a brushed stainless steel exterior preventing rust from forming. The base of the grinder boasts a leather sleeve to prevent slipping when grinding your beans and has a small pocket to hold the removable crank handle.
The grinder comes with two brushes to help with cleaning the inside of the grinder and offers multiple grind sizes, giving you the options from an ultra-fine grind for espresso to an ultra-coarse grind for a cold brew. The entire grinder is waterproof, so it will manage in adverse weather if you take it with you when camping.
Pros
Easy-to-clean
Water-resistant
Leather sleeve for grip
Multiple grind settings
Comes with two cleaning brushes
Sturdy
Cons
Grind settings are quite hard to see
This budget buy is a nifty option for manual grinding, great for an emergency grind if there is a power outage or when you are traveling or camping.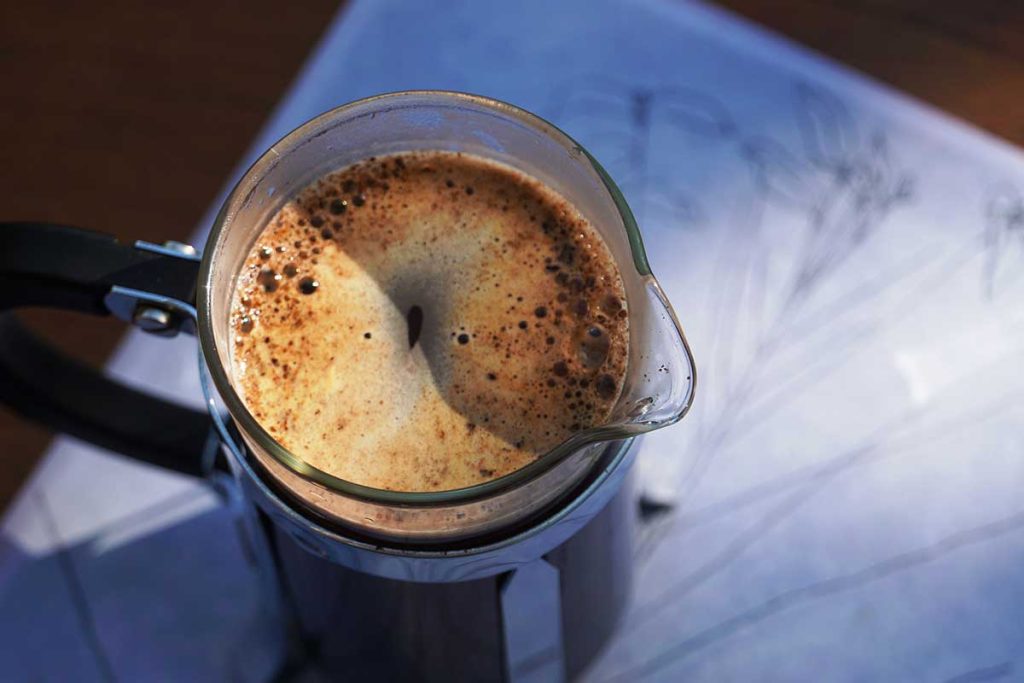 Choosing the Best Coffee Grinder for Cold Brew
Grind Size Settings
When choosing a coffee grinder, one of the first features you should consider is the grind size settings. This will help you decide what grinder will be best for your preferred brewing method. In this case, you want a grinder that can keep the beans quite coarse to prevent the over-extraction of oils and flavors.
If you are not only going to make cold brew coffee, you should look for a grinder with multiple grind settings to switch between fine and coarse grinds as you need to. Luckily, most grinders offer a wide range of grind settings to give you this freedom.
Choose a Burr Grinder
As you begin your search for a coffee bean grinder, you will notice there are two main variations: the burr grinder and the blade grinder. This can be confusing if you are new to grinders, and due to the cheaper price tags on the blade grinders, you may be tempted to choose one of those.
However, blade grinders are not the best for creating a consistent grind for your beans. The blades spin around in the chamber, and some beans may elude the blades, resulting in an uneven grind. This will lead to bitter or sour coffee.
Burr grinders, on the other hand, force all the beans through the tight burrs, ensuring each bean is crushed at the same level, producing a consistent grind to allow an even extraction of flavors when brewing.
Manual or Automatic
Another factor when choosing the right grinder for your brewing is whether it is manual or automatic. This one comes down to preference as well as space and traveling needs. The automatic grinders are faster and easier to use by simply pressing a few buttons, but they will take up more counter space and use more electricity.
The manual grinders require more effort on your part when manually grinding the beans, yet they are smaller and lightweight. This means they can easily be placed in your carry-on and move with you when you travel or when you go camping. They are also much cheaper and quieter than the electric variations.
Bean and Grounds Capacity
Coffee grinders offer different bean hopper sizes and grounds container sizes. This can also sway your decision depending on how much coffee you would like to grind at a time. Electric grinders usually have larger containers, so you can grind up a large amount at a time.
When brewing a cold brew, you will most likely do large batches at a time due to the long time it takes to brew. You will then need a larger hopper and grounds container if you want to save some time when grinding.
FAQs
Why do you need a coffee bean grinder for cold brew?
Coffee beans start to oxidize and lose their flavors as soon as they are ground. This means you should be grinding your beans at home right before you brew your coffee. Since a cold brew has a very long brew time, you want to ensure you keep the flavor of the coffee beans right up until brewing.
What is the best grind size for a cold brew?
Cold-brewed coffee is perfect for highlighting the bold flavors of the coffee beans, and this requires a coarse grind size. The larger surface of the coffee beans allows you to fully extract these flavors throughout the brewing time.
This also prevents an over-extraction of the oils from the coffee and prevents the beans from overheating, which may occur with longer grind cycles.
What beans are best for a cold brew?
There are several quality coffee beans for a cold brew, and if you enjoy the beans in your hot brew, you will likely enjoy them cold too. However, light to medium roasts really shine with this method because the subtle flavors come through during the long brew time. A dark roast may become too bitter and heavy with this method.
If you have your beans and your grinder ready, all you need is a quality cold brew coffee maker, and you are all set to start brewing your delicious summer beverage.
Get Your Cold Brew on…
The verdict is in, and I have found the best grinder for this brew method. Ensuring all the priority bases are covered, you can enjoy a flavorful brew when using the OXO Brew Conical Burr Coffee Grinder. With over 15 grind settings, you will get a precision coarse grind for your brew.
This grinder is also great for grinding up large batches at a time with the large bean hopper and grounds container. This allows you to make your cold brew in bulk for the week ahead.