Updated: August 15, 2023 by Mary Nguyen
All coffee lovers know that choosing an espresso machine is not an easy decision, especially when it comes to choosing between some of the best high-end espresso machines. There is a lot of thought that goes into the decision as you figure out what kind of machine you want to get and how much money you are willing to invest in it.
As you probably know already, espresso machines are quite expensive as it is. When you add top-of-the-line features and luxury design to the equation, things become a lot more complicated. Luckily for you, I have narrowed it down to the eight best machines from various manufacturers that you should look into.
All these machines have certain qualities that set them apart from other espresso machines currently available on the market. They are truly amazing and can brew a mean cup of coffee! To learn what they are all about and whether they are suitable for you and your home, go over this review article and then make your final decision.
TOP PICK

It's hard to go wrong with Breville's machines. As my top pick for this guide, I have selected my favorite machine from this brand to date: the Breville BES870XL Barista Express.

This machine from Breville contains a bean hopper, bean grinder, precise brewer, and milk frother. There are a lot of great features that this machine has that will help you prepare the best espresso or espresso-based beverage ever. You'll learn more about it in a bit.
The Best High-End Espresso Machines: My Reviews
The Breville Barista Express is the perfect choice for people who want to have a commercial-type machine in their homes. This machine can be your assistant in the brewing process from beginning to end. Considering the fact it comes with a bean hopper, bean grinder, and milk frother, you will never have to use another machine aside from this one!
Key Features
Semi-automatic espresso machine
15-bar Italian pump
Dose Control Grinding
Optimal water pressure
Precise espresso extraction
Manual milk texturizing
Quality design and parts
There are so many amazing things that this machine can do. You can always rely on it to brew an espresso with an irresistible body, rich and balanced taste, and strong aroma. This is all thanks to the optimal espresso extraction as well as the fact you can control the grind size, temperatures, pressure, and amount of coffee grounds used.
Pros
Razor Dose Trimming Tool
Various filter baskets are available
Cons
Some users have reported consistency issues
This is an amazing machine that you can use to make all your espresso and espresso-based beverages. Even though it might be slightly inconsistent at times, the majority of espresso shots you get will be perfect. You can try switching up the grind sizes as well as your tamping method to deal with the inconsistency.
If you know me, you know that I love Nespresso and its awesome machines. Even though the Vertuo Line comes with some benefits in comparison to the Original Line, this Creatista Plus machine from the Original Line is something else. A compact brewer with all the options you would ever need, this machine is perfect for people who are on a tighter budget.
Key Features
Automatic espresso machine
19-bar pressure pump
Adjustable drip tray
Easy controls
Milk frothing wand included
TFT LCD display
Comes with a complimentary starter set of Nespresso capsules
The thing I love most about this machine is the controls. On top of the machine, you will find one button that tells you when the machine has reached the optimal temperature and when it is time for you to start the brew. There is another button that you can use to scroll between coffee recipes so that you can easily choose the one you are craving.
Pros
Modern design
Compact and convenient
Cons
Machine might not be able to reach a very high water temperature
I think that this machine is one of the best high-end espresso machines you can find at this price. It comes with a lot of great features, and while it might not heat the water that much, the coffee you get will always taste nice. I recommend that you try it!
If you are looking for an espresso machine with a modern design, then this Jura E4 is something you need to look into. With the piano-white OR black color and smooth lines, this machine looks amazing and works quite nicely. The only buttons that you will find on it are located on the top, where you will also find a visible bean hopper and grinder.
Key Features
Super-automatic espresso machine
15-bar pressure pump
One touch preparation- grind, tamp, brew
Conical bean grinder included
Intuitive control panel
CLEARYL Smart Water Filter included
Integrated automatic cleaning and descaling
Talk about a great grinder and espresso machine in one – this Jura E4 has it all. In the machine, there is a conical burr grinder that can grind all coffee beans to perfection. It takes only a minute for the beans to be ground and ready for the next brewing process.
Pros
Double tap- brew two cups at once
Programmable recipes
Cons
A sleek kitchen needs a sleek espresso machine, and what better machine to go with than this Jura machine? For the investment it should come with a milk frother, but the machine certainly brews some quality coffee. If you are willing to go through with the investment, I recommend that you look into this machine more closely!
If you are looking for a machine that has one-touch recipes for you to choose from, then this Philips 3200 might be the perfect machine for you. Using the extra simple touch interface, you can choose between regular espresso, espresso lungo, coffee, and Americano. You can also get steamed milk to add to your coffee or some hot water to make tea with!
Key Features
Super-automatic espresso machine
15-bar pressure pump
One-touch recipes
AquaClean filter
Bean hopper included
Ceramic bean grinder included
Milk frothing wand included
Adjustable temperature settings
On top of the machine, you will find the bean hopper that has two separate sections. In the larger section, you can put whole beans that you can grind with the machine whenever needed. In the smaller section, you can put pre-ground beans that will be ready for brewing immediately.
Pros
Adjustable grind size
Adjustable aroma strength
Cons
Machine might not brew very strong coffee
With a quality build, modern design, and a lot of options and features, this Philips machine is a great choice for everyone. It comes at an affordable price when you compare it with most other machines on this list, but it still gives you that high-end feeling!
This De'Longhi machine is a bit larger than the other machines included on this list, but the size is something that you can easily overlook because the machine brews great coffee. On the front side of the machine, there is an intuitive display that you can use to scroll through the various one-touch recipes. You can also add your recipes using the suitable phone app.
Key Features
Super-automatic espresso machine
15-bar pressure pump
Intuitive TFT display
One-touch coffee recipes
Built-in burr grinder
Patented brewing unit
Automatic milk frother
The automatic milk frother is another great feature of this machine. It can clean itself, and you can also choose to put it in the dishwasher. The only thing to look out for is the fact that it can make a bit of a mess, so you might need to wipe your mug before you take it off the machine.
Pros
Option to add your coffee recipes
Smart one-touch feature
Cons
Milk frother might make a bit of a mess
This fully automatic machine will make the brewing process extra easy for you. If you are a busy person who does not have a lot of time to work with a machine, you can get this one and let it brew some great coffee by itself.
While it might not have an intuitive display with one-touch recipes, this machine from De'Longhi is still considered one of the best fully automatic coffee and espresso machines. It comes with several adjustable features including the coffee size and grind size. There is also a button that allows you to switch between a single and double shot of espresso.
Key Features
Super-automatic espresso machine
15-bar pressure pump
Quick heat-up
Stainless steel burr grinder
Adjustable grind settings
Optimal temperature brewing
Milk frother included
Sleek stainless steel design
This machine comes with stainless steel burr grinders that will grind the beans to perfection. While you can always go with whole beans, there is a bypass that allows you to put pre-ground beans in the machine as well. What type of beans you go with depends on your preference!
Pros
Easy maintenance
Various adjustable settings
Cons
Bean grinder might malfunction at times
The design of this machine might not be that modern, but the machine still comes with all the features you would ever need. All components of the machine are easily accessible, and their maintenance is as simple as it could be.
The Gaggia Anima is one of the more expensive espresso machines that I included on my list, but the features that it comes with are undoubtedly impressive. Using the stylish LCD display, you can easily choose your preferred temperature settings, aroma strength, or specialty drink recipe. On that same display, you will get notifications whenever you need to refill or clean some part of the machine.
Key Features
Super-automatic espresso machine
15-bar pressure pump
Programmable options
Temperature control
Large removable water reservoir
Bean hopper included
Removable milk carafe
Removable brew group
One of the things that I like about this machine is the adapting system. Using this system, you can adjust the features of the machine to make it brew exactly the type of coffee you are looking for. It can be any espresso-based beverage, a regular espresso, or a double shot of espresso!
Pros
Low energy standby mode
One-touch brewing and frothing
Cons
Maintaining the machine is not that simple
Even though this machine is great, it often requires cleaning and descaling. There are a lot of parts that require attention, so you might have to spend a lot of time tending to the machine. If you are looking for a machine that does not require much involvement on your part, then this machine is not the best one for you.
This Saeco Xelsis is one of the most expensive home espresso machines, so it might not fit everyone's budget. If you can get it, you will undoubtedly love the options that it comes with. After you make your user profile, you will be able to add your recipes or choose between the many ready-made recipes that the machine offers.
Key Features
Super-automatic espresso machine
15-bar pressure pump
Touchscreen control
Programmable coffee recipes
HygieSteam system
Double thermo blocks
Refined ergonomics
The Coffee Equalizer that this machine comes with leaves me speechless every single time! I love the fact that I can adjust the strength, temperature, volume, taste of coffee, milk foam amount, milk foam volume, and even the coffee and milk recipes. What else could you want from your espresso machine?
Pros
Adjustable user profile
Adjustable coffee equalizer
Cons
This machine might be amazing, but it is expensive. Nevertheless, it is worth the investment, so look into it more closely before you decide if you want to get it or not.
Another high-end espresso machine brand you should check out is Capresso, and you can view our roundup here.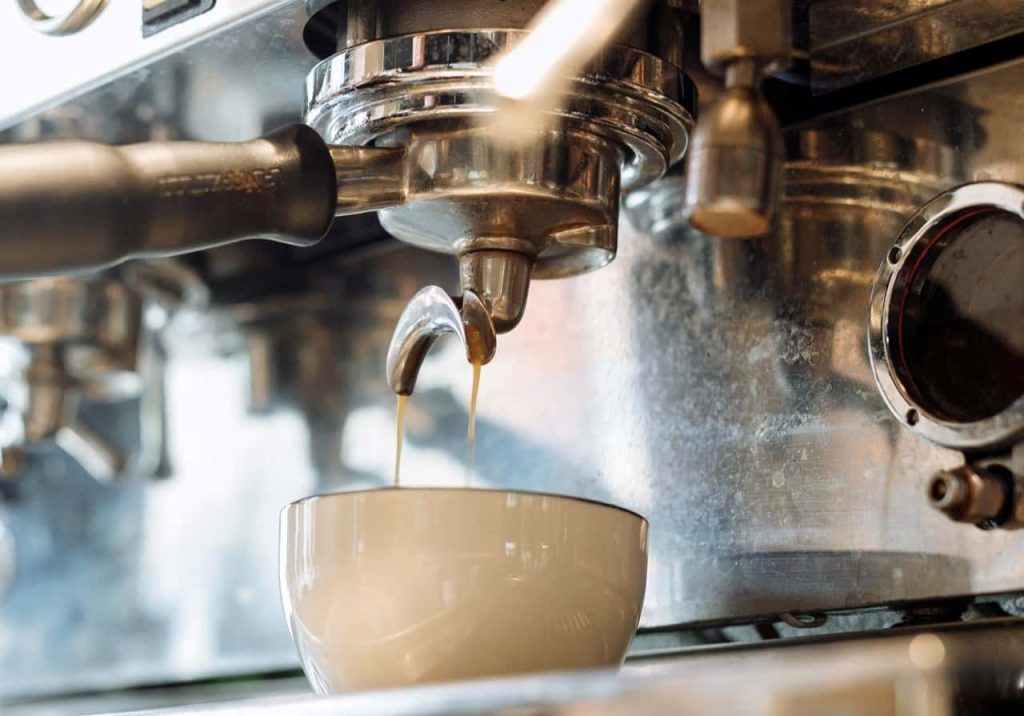 Why Choose a High-End Espresso Machine?
There are a lot of great espresso machines on the market right now, but they may require too much work on your part. If you go with one of the high-end espresso machines on this list, you are bound to get your money's worth in features and amazing espresso. But to make you realize why that is, I want to go into the details that make these machines great.
Easy to Use
High-end machines are very easy to use. Most of them come with intuitive touch displays, while some come with straightforward controls. You should have no problem using the machines on this list.
Another thing that I love about high-end espresso machines is that most of them come with bean hoppers, grinders, milk frothers, and so on. Some of them can even measure and temp the grounds for you! With a machine like that, you will be able to brew your coffee by doing nothing more than pushing a button.
Easy to Clean
Maintenance is key to making your machine last longer. Most high-end machines have easy maintenance, but I would recommend that you double-check if the machine has removable parts. To make sure that the machine is easy to clean, you should have a removable drip tray, removable water reservoir, removable milk reservoir, and so on.
Adjustable Settings
A machine with adjustable settings is a must. If you are willing to invest more in a high-end machine, then you can get one that allows you all the freedom that you want to get the drink that you want.
I would recommend that you go with a machine with premium features like an adjustable brew temperature, various cup sizes, and adjustable grind settings for the coffee nerd who wants to tinker and have ultimate control. Conversely, you can have a machine that just makes you a taste of heaven that re. Anything else that the machine comes with will be a plus!
Quality Build
As for the build of the machine, I recommend that you go with a machine that is built with quality material – possibly steel or metal. Stainless-steel machines are something that you will come across often, and I consider them to be a great choice.
However, you will also come across a lot of plastic machines. I would say that you should not go with one of those machines because they are not as durable. Also, all those plastic parts might compromise the taste of your coffee, and that is something you do not want to have happen!
FAQs on High-End Machines
Let's look into a few frequently asked questions regarding luxury home espresso machines before wrapping up this guide. I hope that these questions will help you learn a bit more about these machines and help you decide which one to get.
Does the type of espresso machine matter?
Yes, it does. There are various high-end machines, some of which are manual, others automatic, semi automatic, or fully automatic. Manual machines are generally less expensive than the high-end, fully-automatic ones, but they also come with fewer features.
There is a difference between professional espresso machines you can use at home and the ones that are meant for commercial use. The at-home professional espresso machines cost anywhere from $500 to $5,000, while professional commercial espresso machines can cost up to $30,000.
Live the Luxe Life
Whether you're born with the proverbial silver spoon or completely self-made, when you've gotten used to the best, you always want the best — and why not? You can afford it after all. If you want the best high-end machine, I recommend that you look into the Breville BES870XL Barista Express Espresso Machine as I consider it to be a great choice.
Let me know in the comments below if you liked the machines I selected for this review and if you know any other great machines that I should consider adding to it. I hope that you enjoyed reading everything.