Updated: November 8, 2023 by Mary Nguyen
The moka pot is one of the simplest coffee brewing devices there is: It doesn't have as many buttons as an espresso machine, and it does not require precise pressure like a French press. The only thing you need to make a great brew is to have the best coffee for the moka pot!
I have been drinking moka pot coffee for a while now, and I love it because of the strong aroma, rich body, full flavor, and the fact that I can brew it in a matter of minutes. I have experimented with various blends, single-origin coffees, and different brews to make my list of the top seven coffees to use with a moka pot.
TOP PICK

Illy has some amazing coffees that are suitable for various types of brewers, but the Illy Classico Moka Pot Coffee is undoubtedly the best. Instead of having to figure out the grinding part yourself, this ground coffee comes in the perfect grind size for a moka pot.

You'll also find that the packaging is good enough that the coffee will last for quite a while without going stale – you will taste the caramel, orange, and jasmine notes for weeks after you first start your batch.

Because of all this, Illy Classico Moka Ground is my top pick.
Presenting… The Best Coffees for a Moka Pot
Since the moka pot is an Italian invention, one can guess that the Italians would also have come up with the best coffee to use with it. That much is true, and you will see that once you try this coffee from Illy. They have the perfect roast, the perfect grind, and the perfect taste notes.
Key Features
Medium roast
Moka pot grind
Arabica beans only
Caramel, orange, jasmine taste notes
This blend comes in a large, recyclable container that should keep it fresh for weeks. And the container is quite nice, too.
Pros
Recyclable packaging
Sustainably-sourced beans
Cons
I do not doubt that you will enjoy the rich aroma and well-defined body of this blend.
Very often, you will find moka pots and espresso mentioned in the same sentence. This is because with the right beans (for example, these Lavazza Espresso Italiano beans), you can use the moka pot to make the next closest thing to machine espresso. Just grind and mix the coffee with some hot water, and your coffee will be ready in a matter of minutes!
Key Features
Medium roasted
Arabica beans only
Rich-bodied
Non-GMO
Fruit and flower taste notes
With the exception of my top pick, I usually recommend whole beans for any type of coffee, including this Lavazza Espresso Italiano blend, because of their longevity.
Pros
Suitable for various preparation methods
Highly aromatic notes
Cons
Poor vacuum sealing on some packages
There is nothing better than a batch of beans that are sustainably grown and non-GMO. I have no doubt that you will love the taste of the coffee prepared with these beans, so I recommend that you try them out for the moka pot as well as some other brewing methods.
If you have not tried this Cuban-style coffee, I highly recommend you add them to your shopping list. This is a blend of beans from Peru, Honduras, and Nicaragua. All beans are shade-grown, hand-picked, organic, and specialty grade.
Key Features
Dark roasted whole beans
Shade-grown
Certified organic
Hand-picked
Bold, smooth, sweet taste notes
This Cuban-style roast is the perfect thing for the moka pot. You will get a cup of coffee that has a bold taste, smooth but sweet flavor, and just enough bitterness to satisfy. Even if you keep to a kosher diet, you can make coffee with these beans.
Pros
Specialty grade beans
Slow roasted
Cons
Some batches might be too dark roasted
If you are looking for beans that are compatible with various brewing methods and will always give you coffee with a bold taste, these could be the best pick for you!
Kicking Horse is a company known for its many amazing blends and single-origin coffees. This Smart Ass coffee is one of their best, and it is also the one that is most suitable for moka pot brews. The beans are roasted to perfection, and it is up to you to do the grinding before the brew!
Key Features
Medium roasted whole beans
Sugar cane and milk chocolate notes
African, Central and South American origin
Sustainably grown
Certified organic
Shade-grown beans
All of the beans used for this coffee come from farms in Africa and Central and South America. All are grown in a socially and environmentally responsible way, and they are also kosher and fully organic. So you can rest assured that you are drinking coffee made from beans that are both good for the environment and for the farmers who grow them!
Pros
Cons
Some batches might be too bitter
These amazing coffee beans come at such an affordable price that you will have no excuse not to try them out.
The coffee beans used for Mt. Comfort batches come from international coffee farms, and they are amazing. They have a strong taste and perfect aroma, and they always arrive as fresh as possible thanks to the quality resealable packaging. You will never get a bad batch from this company.
Key Features
Medium French roast whole beans
Costa Rican origin
Resealable packaging
Beans are grown at high elevation
The fact that these beans are grown at high elevation should reassure you of their quality. Some of the best beans are grown high in the mountains, and the same goes for these.
Pros
Dark chocolate, citrus fruit, and tropical nuts taste notes
Internationally sourced
Cons      
Some batches might have an unpleasant aftertaste
Even though this coffee can be a bit pricey, I think it's worth the money. The beans are perfect for moka pot coffee and will give you an java-drinking experience like no other.
This blend from Kahwa Coffee Roasters is advertised as an espresso blend made with only the best beans from various origins. While that much is true, these beans can be used with a lot of other brewing methods, not just the espresso machine. So don't let that advertising trick into thinking that you can't use them with the moka pot!
Key Features
Traditional Cuban blend
Dark roasted whole beans
The packaging of this blend ensures that the beans will not get stale. There is a one-way valve that will keep the beans protected from excess oxygen. This means you will be able to keep the beans fresh for weeks.
Pros       
Beans have a robust flavor
Sweet finish and strong aroma
Cons
Some batches might not have the best taste
I think this is a great blend even though some customers have reported that the taste is not strong enough. Still, I recommend that you try the beans out and decide for yourself.
If you are into Olde Brooklyn Coffee, you will love this blend. It is their darkest, so it is bound to have a strong taste and a full body. It's perfect for people who like to make espresso with their moka pot.
Key Features
Dark roasted whole beans
Gourmet Italian roast
Bitter citrus taste notes
Air-tight packaging
All of the blends  Olde Brooklyn offers are roasted in small batches. They are always fresh when shipped, and the packaging helps preserve that freshness. The coffee arrives in air-tight, sealed bags with a one-way valve.
Pros
Blend of beans from Columbia, Brazil, and Guatemala
Hand-picked only
Cons
Some batches might consist of beans that are too oily
I have no doubt that you will enjoy the coffee brewed with these beans. You can expect to get a rich aroma and a strong flavor.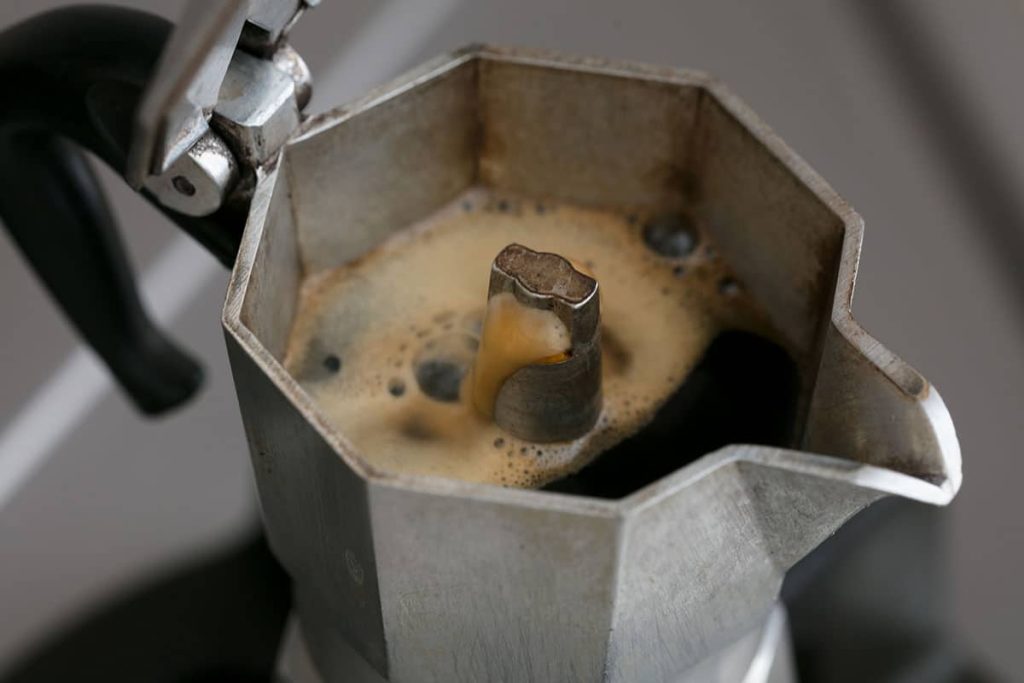 How to Pick the Best Coffee for Your Moka Pot
When it comes to the moka pot, there are specific guidelines regarding the type of coffee you should use. Once you know all about the bean, ideal roast level and grind size, you'll be able to find the perfect coffee for your pot.
Medium to Dark Roasted
Even though I would suggest that you try out all roasts, I think the medium to dark roasted beans are best for moka pots because they give the coffee a balanced, heavy-bodied taste that is not acidic. Lightly roasted beans, in most cases, will make your coffee taste too acidic.
Medium Moka Grind
When it comes to the grind size, you should know that you need a medium to medium-fine grind. If you use a grind that's too fine, you'll get coffee that is too bitter, while coarsely ground beans will give you weak coffee. Stick with medium to medium-fine grind and you will be good to go.
Ground vs Whole Beans
This is something that I usually recommend for all brewing methods: go with whole beans that you can grind whenever you need. Whole beans stay fresh for longer, so you will not have to worry about them going stale.
If you end up going with ground beans, make sure that you keep them in an air-tight container so they do not go stale too soon. If they do, you might as well throw them away because the brewed coffee will not taste good at all.
Best Coffee for a Moka Pot: Frequently Asked Questions
Is moka pot coffee stronger?
A lot of people consider a moka pot to be the closest thing to an espresso machine. It can be used for brewing both espresso and regular coffee that is very strong. Even though it will not be as strong as some espressos prepared with a quality espresso machine, moka pot coffee is quite concentrated and offers an intense, rich flavor.
Why does my moka pot coffee taste bitter?
There are several reasons why your moka pot coffee has a bitter taste. The first thing you should consider is whether the beans are stale. Or if they have a very fine grind or  are too darkly roasted. All these things can contribute to bitter taste.
You should also think about your brewing method and whether you are doing everything right. After brewing the coffee with previously warmed water, you should wait for the gurgling sound and then immediately remove the brewer from the stove. If you keep it there for longer, the coffee will be over-extracted, and that will make it taste bitter.
Final Thoughts on the Best Coffee for a Moka Pot
Thank you for sticking with me through this review guide. I hope that you learned a lot of valuable information on moka pot coffee and how to choose the best batch from all your options.
I recommend that you try the Illy Classico Moka Ground Moka Pot Coffee as it is my favorite type of coffee to use with a moka pot. If you are looking for a more budget-friendly option, you can also go with the Kicking Horse Smart Ass Whole Bean Moka Pot Coffee.
If you know any other coffees that are great for the moka pot, do not hesitate to share them in the comments below!