Updated: November 14, 2023 by Mary Nguyen
If you are someone who enjoys drinking coffee often, chances are that you have tried Starbucks coffee at least once in your life. Starbucks is one of the leading brands for all coffee-based beverages, but they have so many blends that it can be hard to decide which one to get. In today's review, I am going to go over the best Starbucks coffee beans to show you which blends you must try!
From blonde to medium and dark roasts, Starbucks offers a wide range of products that you can choose from. Depending on your preferences, you will have to decide on the details and get the blend that will please your taste buds! To allow you to choose wisely, I will give you information on their top 10 blends that you should try at least once.
If you are ready to learn more about Starbucks' amazing whole bean blends, I suggest you keep reading. By the time you reach the end, you will surely know which blend is the best one for you!
TOP PICK

There are a lot of great Starbucks coffee bean blends, but I consider the Starbucks Espresso Dark Roast Whole Bean Coffee to be the greatest one yet. With the expertly roasted beans, you can get a mean cup of espresso that will keep you going all day long. There is nothing better than having an intense but rich cup of coffee that you can mix with sugar, creamer, or maybe even some steamed milk!
Reviews of the Best Starbucks Coffee Beans
I am going to start my list off with the best coffee beans that you can use to make espresso. The Espresso Roast from Starbucks is truly one of a kind. It will give you a rich taste with enough bitterness and strength to let you be up and running all day long!
Key Features
Made from Arabica beans only
Multi-origin beans used
Also comes in ground beans or coffee pods
Did you know that espresso is one of the healthiest beverages, meaning that if you drink it daily your body will soon start to benefit from it? It is! I strongly urge you to give espresso beans a try. They are best when brewed in an espresso machine, but you can also use them with several other brewing methods to get great coffee!
Pros
Expertly done dark roast
Great for people who want strong coffee
Cons
It might taste a bit too strong for some people
If you are someone who enjoys drinking espresso, these beans are something that you have to try. Believe me, once you go to the Starbucks espresso beans, you will never want to go back!
Pike Place is another of Starbucks' famous blends that has been around for decades. Unlike the Espresso Roast, this blend is medium roasted, which means that the taste will not be as strong. Once you taste it, you will surely find that chocolate and nutty aftertaste to be amazing and refreshing.
Key Features
Made from ethically sourced beans
Blend of Arabica beans only
Blend of Latin American coffees
To prepare a great cup of coffee using these beans, I advise you to heat about 180 ml of filtered water and use two cups of freshly ground Pike Place beans. Once you stir the two up, the cocoa aroma will immediately be felt all over your house. As an idea, I would like to suggest that you pair the cup of coffee with some tasty chocolate treats or roasted nuts!
Pros
Always freshly roasted beans
Full-bodied beans
Cons
Some batches might be a bit too oily
If you are into coffee blends that are on the sweeter side, you have to try out the Pike Place blend. I bet that you will love its balanced yet smooth and rich flavor.
If you are looking for a strong, smoky, roasty cup of coffee, then I suggest that you give the French Roast from Starbucks a shot. This is another dark roast but the beans in this one are oilier and give a much stronger taste.
Key Features
A blend of Arabica beans only
Multi-origin beans
If you check out Starbucks' website, you will see that the French roast is also available in pre-ground beans, coffee pods, and instant coffee packets. Depending on which one you prefer or need for a certain event, you can choose between them all for basically no difference in price!
Pros
Intense and smoky taste notes
Explosive flavor
Low-acidity beans
Cons
Beans might produce very bitter coffee
Even though the French roast is a bit stronger than some people like, it is great when combined with a bit of sugar, creamer, or milk. Don't be afraid to get funky with it – trying it out in combination with other things can make this blend even better than it is when used straight up!
The Veranda Blend from Starbucks is the first blonde roast that I have on my list. This is essentially a light roast that makes the beans shine. They might be a bit more acidic than the beans from the previous blends, but the coffee you get from them tastes amazing!
Key Features
Short roast time
High-quality packaging
Also available as pre-ground beans, K-cups, and Nespresso pods
These beans come from several regions in Latin America. Starbucks spent years trying to perfect the blend and get the best taste possible and they finally achieved it by combining Arabica beans from various origins together. Once you taste the coffee from these beans, you will not be able to overlook the mellowness and softness that they have.
Pros
Toasted malt and baking chocolate notes
Air-tight packaging ensures freshness
Cons
This blend might not be that strong
If you happen to have a veranda, you have to try coffee made from this blend when sitting on it and enjoying your surroundings. I bet that it will be the most pleasant experience you have had in a while!
Don't you just love when winter comes and you can get cozy, wrap yourself in a blanket, maybe sit in front of a fireplace, and enjoy the time with a good cup of coffee in your hand? Why not make that coffee with Starbucks' amazing blend made especially for the wintertime?! This rich and smooth blend will make those cold winter days a bit more enjoyable.
Key Features
Beans are of Latin American origin
The blend has rich, earthy notes
USDA-certified organic beans
You might not be able to get this blend all year long, but once you try it, you will surely wait for winter to come just so you can get another bag. The organic beans used in this blend have the perfect amount of acidity and are expertly roasted, which makes this blend that much better than some of the other winter blends out there.
Pros
Arabica beans only
Gluten-free beans
Cons
You can never go wrong with organic beans, grown and prepared with nothing but love. For those cold winter days, I suggest you get this Winter Blend and use it to make yourself a bit warmer!
If you have ever been to Italy or have at least heard of Italian coffee, you must know that it is used synonymously with great coffee. The same goes for this Italian roast from Starbucks! It is one of the best blends ever created, with the perfect amount of richness, sweetness, and intensity of taste.
Key Features
Dark roast Arabica beans only
Beans from the Asia-Pacific region
Flavor-Lock packaging
Not only is the design of the packaging super cute, but it is also great for preserving the freshness of the beans. With Flavor-Lock technology, you will never have to worry about your beans going stale. Just remember to close the package well after using it.
Pros
Blend with deep flavor
Dark chocolate and toasted marshmallow taste notes
Cons
The blend might be a bit too strong for some people
If you want to start your days feeling fresh and rejuvenated, the best thing that you can do is get these beans and use them to make your coffee. Trust me, you can never go wrong with an Italian coffee, or at least an Italian roast!
This Guatemala Antigua blend from Starbucks is a part of the company's premium select collection. It comes at a relatively high price compared to the rest of the blends mentioned on my list, but it is worth every penny you spend to get it. You will not be disappointed by the balanced yet vibrant coffee you get from it!
Key Features
Beans are grown in volcanic soil
Medium roasted Arabica beans
Blend of Guatemalan and Antiguan coffees
Starbucks' premium collection features two other coffees aside from the Guatemala Antigua blend – you can also try out the Brazil and Kenya blends. If you go with the Guatemala Antigua blend, you should expect your coffee to have cocoa and baking spice notes.
Pros
Expertly blended coffee beans
Elegant cup of coffee
Notes of cocoa and baking spice
Cons
Some batches may be a bit burnt-tasting
If you want to let your mind wander off right to Guatemala or Antigua, all you need to do is drink some of this Starbucks Guatemala Antigua blend and you will be right there!
One of the best ways to get started with your morning is by having a nice breakfast and having a cup of coffee made with Starbucks' Breakfast Blend. Do not let the name of this blend trick you into thinking you can drink it only with your breakfast – this blend is so good that you will want to make coffee with it all day every day!
Key Features
Medium roasted Arabica beans
One of the lightest medium roast blends
Also available as pre-ground beans and K-cups
The beans used in this blend are sustainably grown and ethically sourced. By buying this coffee, you support a lot of great coffee farms all over the Latin American region that have provided Starbucks with only the best beans for years!
Pros
Sweet orange and brown sugar taste notes
Gives a milder cup of coffee
Cons
Beans may go stale quickly
This is a great blend for everyone looking for a rich but mild-tasting cup of coffee. Since it is also the most affordable blend on the list, I recommend that you give it a shot at least once!
This is not just another dark roast – this is one of Starbucks' oldest blends! When it was first created it was called Jake's Blend, but they decided to change it later and name it after one of the most inspirational cities in the world. That's how the Caffè Verona came to be!
Key Features
Dark roasted Arabica beans
Also available as pre-ground beans, K-cups, and Nespresso pods
Beans from the Asia-Pacific region
If you want to make a well-balanced, delicious cup of coffee using this blend, I recommend that you use cold, filtered water. While cold brew is recommended for this blend, you can also try other brewing methods and see which one you like best!
Pros
Dark cocoa and caramelized sugar taste notes
Impressive and intense taste
Cons
The taste may be a bit inconsistent
The Caffè Verona blend is just as good as the French roast and the Espresso roast, so if you are looking to switch things up a bit, look no further than this amazing blend.
I want to finish off this list by mentioning the first blend that Starbucks ever created – the House Blend. Going back to the early 1970s, this is the blend that started it all. You can imagine how good it must have been to bring Starbucks to the glory and fame it has today!
Key Features
Medium roasted Arabica beans
Always expertly roasted
Beans come from Latin America
The beans used for this signature blend are sustainably grown and expertly roasted. Every batch you get will be as fresh as possible, and if you want, Starbucks will grind the beans for you before they ship them.
Pros
Balanced body, aroma, and flavor
Cocoa and toffee taste notes
Cons
Some people may find this blend to be too sweet
You can never go wrong by buying something that is advertised as the "signature blend." I strongly suggest that you give the House Blend a try as soon as you can – you will not regret it!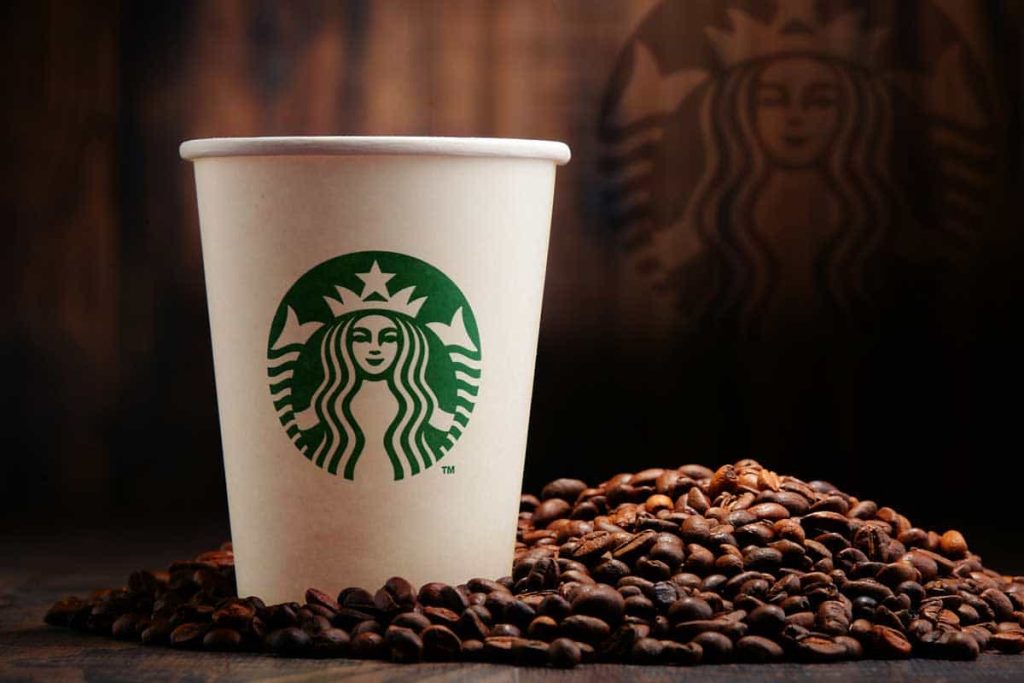 How to Pick the Best Starbucks Coffee Beans for You
It is very important to know all the facts about coffee beans before you decide which blend you want to get. Starbucks uses 100% Arabica beans in all its blends, so you do not have to think about the other types of beans.
What you do need to consider is the differences between the roasts as well as the various grinds. Let's see what you need to know before buying your first batch of Starbucks coffee beans!
Roasts
You might have noticed in the comparison chart and the detailed reviews that I mentioned blonde, medium, and dark roasts. What does this mean, and what is the difference between the three? Let me tell you a few key pieces of information you need to remember about the roasts:
Light roast beans – coffee beans roasted to the first crack. They have a light body and a light brown color, they contain more caffeine than any other roast, and they have a higher level of acidity when compared to medium or dark roasted beans.
Medium roast beans  – coffee beans roasted after the first crack and before the second one. They have a slightly darker brown color, while their body is a bit thicker. They usually have a more balanced flavor and contain less caffeine than lightly roasted beans.
Dark roast beans – coffee beans with a very dark brown color, sometimes even looking like black. They are roasted until the second crack, have quite an oily surface, and have a bold, smoky taste.
Depending on what kind of coffee you want to drink, you should decide between the three roasts and get the one you think will taste the best to you. I would also recommend giving all of them a try; you might be surprised and end up liking something you thought you would not!
Ground vs Whole
When ordering your coffee beans, you can decide whether you want them to be delivered as whole beans or as pre-ground beans. You can also choose to get a pre-ground blend as a K-cup or Nespresso pod, coarse grind or fine grind, depending on your preferred brewing method.
When it comes to whole vs ground beans, what you need to remember is that ground beans tend to go stale very quickly. If you are not planning on using all of the beans right away, I suggest you stick to whole beans. They last a lot longer and you can grind only the amount you need whenever you need!
FAQs About Starbucks Beans
Before I wrap this guide up, I want to direct your attention towards a couple of questions that you will often come across in connection to this topic. Here is what else you need to know!
Do Starbucks coffee beans expire?
Coffee beans, in general, do not expire – they just go stale and do not taste as good if you use them to prepare a cup of coffee. With that being said, Starbucks uses air-tight packaging that preserves the taste and freshness of the beans for as long as possible. If you get a bag of whole coffee beans and seal them properly, you can expect them to be fresh for at least 6 months before they start going stale.
How does Starbucks ship its coffee beans?
You can choose between purchasing Starbucks coffee beans from a local shop or ordering them from the official website and having them delivered to your doorstep. If you want to have your beans delivered, you should know that Starbucks will ship them immediately after roasting and truckers will drive them as close to you as possible.
Then the beans are sent right to your doorstep. The entire shipping process takes only a few short days, so you do not have to worry about your batch going stale before you receive it.
Starbucks Wrap-Up
Well, that's a wrap on the best Starbucks coffee bean options. Don't forget to check out the Starbucks Espresso Dark Roast Whole Bean Coffee if you are looking for a more intense cup of coffee, while the Starbucks Breakfast Blend Medium Roast Whole Bean Coffee is the best blend for those looking for something that tastes milder and will save them a couple of bucks.
Let me know if you try some of these blends out. I would love to hear which one is your favorite and which ones you can never get used to drinking. I can't wait to read all your comments!