Updated: October 28, 2021 by Owen Richardson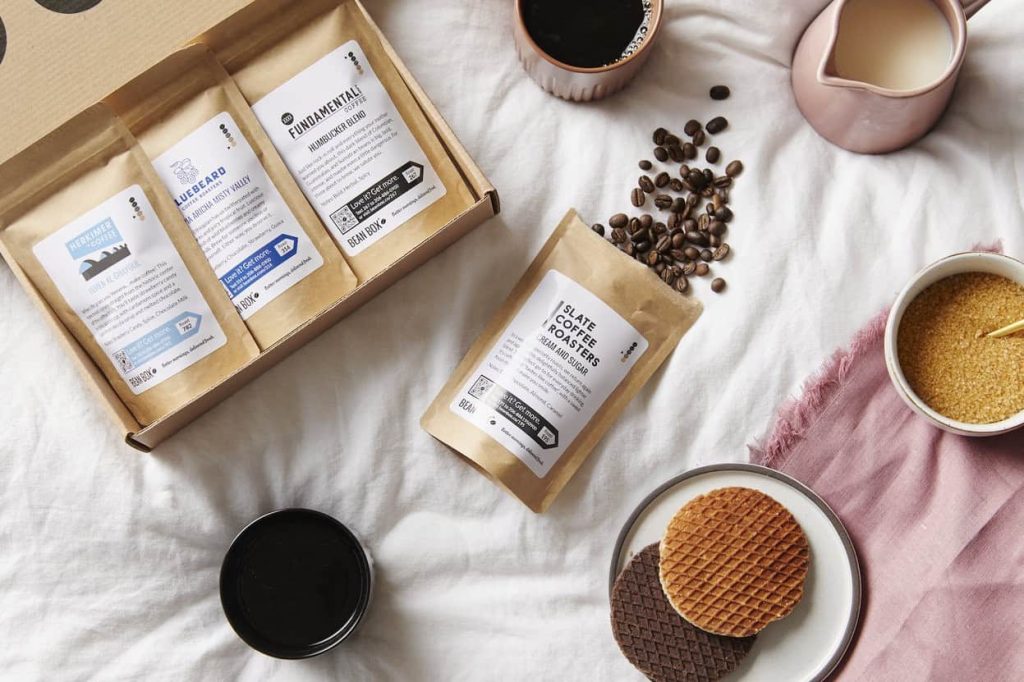 There is no doubt that coffee is one of the most popular beverages in the world, with millions of people drinking at least one cup of it every day. Coffee can help jumpstart your day, make you more energized, and even have a positive effect on your entire day. If you are looking for coffee that can give you all of these benefits, then you need to look into Bean Box coffee!
If you have not heard of this company yet, I urge you to do your research immediately because you have to know about them. Bean Box is a great US-based subscription coffee service that uses only the freshest, most delicious blends. All you need to do to place your order is go to their website and set your preferences, and your box of coffee will be delivered to your doorstep as soon as possible.
Aside from your coffee subscription, you can also use the website to purchase coffee-based gifts for your closest friends or family. The products that they offer on their website are truly amazing and have received praises and recommendations from top periodicals including The Boston Globe, Cosmopolitan, Forbes, GQ, and others.
So if you are looking to learn more about this company, its services, and its products, this is the perfect article for you. Stick with me as I tell you more about what makes Bean Box so amazing. By the end of this guide, I do not doubt that you will be eager to start your subscription!
What Is Bean Box?
Bean Box was founded in 2014 by two coffee enthusiasts who worked and lived in Seattle. As part of the tech scene at the time, they realized that coffee is an important part of everyone's day and that coffee is a great way for people to connect.
With this idea in mind, they founded the company and figured out a way to connect local roasters with coffee lovers. Over the years, their company grew, and they are currently a very popular coffee subscription company known for their specialty coffee offerings.
Founders Matthew and Ryan work together with curator and coffee expert Maryna Gray, who helps them choose the best beans and combinations of beans.
Together, the entire Bean Box team is dedicated to helping customers have the most pleasant experience ever – and we all love a company that puts the needs of customers first!
What to Consider Before Subscribing to Bean Box
There are several things you should consider before starting a subscription with Bean Box. With so many competitor coffee subscription companies, you must be wondering what sets Bean Box apart from the rest. What is it that makes this company so amazing?
All Bean Box subscription plans, as well as the one-time sampler, come at very affordable prices. You will not find another subscription service that can give you quality, versatile products for such a bargain.
This honestly shows how dedicated this company is to giving their customers a great experience, as opposed to being focused only on making money. And the fact that his company puts so much thought into their products puts them ahead of many other similar companies, at least in my eyes.
If this all is not enough to convince you to sign up for a subscription with Bean Box, I don't know what would!
My Bean Box Review
When I first started drinking coffee, I had no idea that there were so many different blends, roasts, and tastes to choose from. I wanted to try out everything that I could get my hands on before I decided what my favorite type of coffee was. If this is the case with you at the moment, I think that Bean Box can help you on that journey!
When you visit the company's website, you will see that there are two subscription plans available. For coffee newbies, I recommend the coffee-tasting subscription!
What this subscription includes is four different types of coffee each month. They come in 2-ounce bags which will give you enough coffee to last you for a month. You can choose whether you want your coffees to be light, medium, or dark roast, and you can also decide between pre-ground and whole beans.
Another thing that you will find in the box is a card that tells you more about the coffees you are getting that month as well as some information on the recommended brewing methods. Of course, you also get a complimentary chocolate bar – each month, you can expect the chocolate to have a new and exciting taste!
If you are not into tasting that many different coffees each month, then I recommend the other subscription plan for you – the coffee bag subscription! With this subscription, you get one bag of the coffee of the month which should last you the entire month.
Bean Box Features
Let's see some of the features and benefits that you can expect to get from Bean Box coffee. I think you will be shocked by all of the benefits your box will come with!
Personalization and Variety
Even though I mentioned how versatile this company is before, I need to tell you more about it. When you are preparing to make your first order with the company, they will ask you questions about your preferences.
You can choose between ground and whole beans. Then, you can decide whether you want to try all the roasts or if you would rather focus on one roast only. If you want to choose one roast, you can decide between light, medium, dark, espresso roast, and even decaf coffee beans that have been naturally decaffeinated.
You will never get tired of their coffee because they offer a lot of different blends and roasts, made of beans from all over the world. All their blends are expertly roasted and as fresh as possible, so you will not regret purchasing any of them.
Roasting Partners
With Bean Box, what you need to realize is that the company does not do the roasting of the beans. They are partners with a lot of great specialty coffee roasters. You will notice that these companies are not that famous, but they have amazing coffees that you are bound to love once you try them out. Here are the names of the partnering companies:
Broadcast Coffee Roasters
Fundamental Coffee Company
Herkimer Coffee
Keala's Hawaiian Coffee
Kuma Coffee
Lighthouse Roasters
Longshoreman's Daughter Coffee
Ladro Roasting
Seven Coffee Roasters
Slate Coffee Roasters
Caffe Vita
Zoka Coffee
Middle Fork Roasters
True North
Fonte Coffee
Vashon Island Coffee Roasterie
Velton's Coffee Roasting Company
Bluebeard Coffee Roasters
Blossom Coffee Roasters
Victrola Coffee Roasters
Dapper & Wise Roasters
Roseline Coffee
Coava Coffee
Water Avenue Coffee Company
Stamp Act Coffee
Seattle Strong
Batdorf & Bronson Coffee Roasters
Rainier Coffee Roasters
Olympia Coffee
Cup of Excellence
Cloud City Coffee Roasting Co.
Boon Boona Coffee
Tony's Coffee
Waikiki Coffee
Fiore Organic Roasting Co.
Klatch Coffee
Camber Coffee
Dragonfly Coffee Roasters
Onyx Coffee Lab
Ruby Colorful Coffees
Cable Line Coffee
You can learn more about all these roasters, their products, their tradition, and company values on Bean Box's website. Once you place your order, you can expect to get a random choice of coffee made by any of these companies. If you have a standing subscription, you can expect to try coffee from all of these roasters at some point.
Amazing Packaging
One of the best features of the Bean Box coffee that I would like to mention is the packaging. When you get the box, you will find one or four sealed pouches in it, depending on your subscription plan. These pouches keep the coffee beans as fresh as possible!
Coffee Gifts
If you want to pair your coffee with something sweet, you can always go for the special offers from Bean Box – you can get a subscription for coffee and biscotti or coffee and chocolate. In your box, you will get eight artisan coffees with eight culinary-inspired chocolate bars or handmade biscotti cookies. My mouth starts watering just thinking about it!
Bean Box always sends your subscription with something extra – it can be a little chocolate bar, but it shows the company's attention to detail and their dedication to giving customers the best experience ever. As an avid chocolate lover, I consider it a great thing to get some free chocolate that I can pair with my coffee!
Subscription Options
Last but not least, I would like to mention that your subscription can be weekly, biweekly, or monthly. By deciding the frequency of your delivery, you can make sure that you always have your favorite coffee in your home.
There is more than one subscription plan you can choose from. That makes them a better company in my eyes, compared to other competitor companies that have only one subscription plan available. With Bean Box, you can choose between the coffee bag subscription and the coffee-tasting subscription.
If you're not quite ready to commit to one of these subscriptions, you can do a one-off purchase of a Bean Box Coffee Sampler.
My Opinion of Bean Box
There are so many great features that Bean Box has that it can be difficult to remember all of them. However, I would like to briefly state what my favorite thing about this company is, as well as what I do not particularly like about them:
What I like about Bean Box is its customizability – you can choose the type of roast, the state of your beans, the frequency of your delivery, the coffee subscription plan, and so much more. Coffee will never get dull when you have so many options available to you. Another thing that I like is the packaging – they are sealed and secured so that your beans do not go stale before they arrive on your doorstep!
General Consumer Impressions of Bean Box
Ever since the Covid-19 pandemic, people have loved using Bean Box's services because the company does a great job delivering your order right to your doorstep as soon as possible. People have found their coffee blends to be fresh with a strong aroma and amazing taste.
With that being said, some people have a problem with the taste notes of some of the blends. If you do not choose the type of blend you want, leaving it up to the company to choose it for you may mean that you get something that will not satisfy your taste buds. So if you have a specific type of coffee you like to drink and you do not want to try out anything else, make sure that you mention that when placing your order.
To get back to the positive impressions of the company – if you decide to start a subscription, you will get free shipping on all your orders. You can use the company website to make changes to your subscription plan or your coffee preferences. It is so easy and everyone can do it!
Finally, what users have been impressed with is the packaging – not only is it sealed to preserve the freshness of the beans, but the pouches, as well as the box they come in, are completely recyclable. How amazing is that?!
Bean Box Coffee Review Summary
If there is anything that you can take away from this Bean Box review so far, it's that this company is truly amazing. Their coffee blends are something that you have to try out at least once. They are affordable, come in eco-friendly packaging, and offer a variety of tastes. It is everything that you would want from a box of coffee, and maybe even more!
Pros
Easily manageable subscription plans
Free shipping for certain orders
A variety of coffee options
Always freshly roasted beans
Eco-friendly packaging
Supports local roasters
Expertly curated beans
Coffee gifts for all occasions are available
Blog with friendly coffee-related tips
Cons
Tasting pouches are a bit small
Shipping is not always free
FAQs about Bean Box
There are a lot of things that I can tell you about this company, but I would not want to spoil all the fun for you. I will leave you to do your research on the coffee options available, but before that, I want to share one more piece of information I think will come in handy for you. Here it is:
How fresh is Bean Box's "Ready to Ship" coffee?
The company's "Ready to Ship" blends are all roasted one or two weeks before shipping. With that being said, the beans are not pre-ground until a person makes an order.
After the order is made, the company either grounds the beans or ships them as whole beans. You can expect to get your order within a couple of days!
Is Bean Box coffee kosher?
At this moment, the company does not have a certificate that says their coffee is kosher. However, they only use coffee beans from farms with a high standard, so the beans should be safe to use.
If you have any allergies or you follow a specific diet, you can contact the company and learn more about the coffee they offer. Their customer support service is always happy to assist customers with whatever they need.
Final Thoughts on Bean Box Coffee Subscription
If you read this review carefully, you should have a clear idea of what Bean Box is, the products this company offers, and how you can choose the perfect coffee for yourself. Considering how many different coffees Bean Box offers, I think everyone would be able to find at least one blend that suits their taste buds!
Let me know if you have ever tried Bean Box's coffee, and if you have, let me know what you thought of it and if you would recommend it to others. I would love to know more about your experience and your thoughts on the company, so make sure to share the details in the comments below!