Updated: November 11, 2023 by Mary Nguyen
Coffee purists may roll their eyes at the thought, but, we all know that flavored coffee beans are  their super-secret guilty pleasure that they indulge in to spice things up. I can swear by them, and you will too – especially after you find the perfect flavor to satisfy your cravings!
I am here to help you choose the best flavored coffee that you need to try at least once. My list contains great choices of whole beans infused with flavors that just might become your favorites, so make sure to give them all a chance and you'll see what makes them so great!
TOP PICK

As my favorite flavored whole coffee beans, I have to mention the Manatee Caribbean Delight. There are so many different flavors that I could mention here, but when I want that tropical taste and strong aroma, I always turn to these Manatee gourmet beans. They make me feel like I am on a tropical island enjoying an enormous, unreal cocktail!
Reviews of the Best Flavored Coffee Beans
Now that you have had a little introduction best flavored coffee bean picks, I want to give you a detailed review of each one and let you know why these are the ones that made the list.
Let's begin with the Manatee Caribbean Delight coffee beans which are at the top of the list for a reason!
These beans are medium roast. They have a complex flavor but practically no acidity, they are nicely packaged, and they can make a mean cup of coffee. Because of all this, I choose them as my top pick for this review, and I recommend that you give them a try as soon as possible!
These beans have an amazing tropical taste with hints of coconut, caramel, and hazelnut. You can choose to purchase ground or whole beans, decaf or regular, or even as coffee pods!
Key Features
Arabica beans only
Coconut, hazelnut, and caramel flavor blend
Medium roast
BPA-free packaging
Non-GMO beans
These beans can be used with almost all brewing methods, and the coffee pods are suitable for most coffee makers out there. You cannot go wrong with these beans, but if you want to truly get the most out of them, you need to grind them immediately before brewing the coffee. When they are freshly ground, they are irreplaceable!
Pros
Coconut flavor gives that tropical vibe
Low acidity beans
Coffee with a cause
Cons
Coconut taste may be overpowering
These beans come at a great price considering the number of beans you get and how good they taste. Every batch is freshly roasted and properly packaged before shipping, so you are bound to get great beans every time you make a purchase!
San Francisco Bay Coffee has a lot of great blends that are quite famous, but when it comes to their flavored coffee, this blend is the best one. The smooth taste comes from the wild German hazelnuts that are combined with vanilla cream. You should expect the beans to have a nutty finish as well!
Key Features
Hazelnut crème flavor
Light roast
Certified kosher beans
Arabica beans only
Also available ground
Pros
Yummy nutty flavor
Expertly roasted
Strong aroma
Sustainably-grown beans
Cons
Some batches may be too dark roasted
If you are a fan of smooth tastes and nutty finish notes, you are bound to love this blend. The hazelnut flavor only makes the coffee better and gives it very refreshing qualities!
Don Francisco is a family-owned business that has been going strong since 1870. With quite a lot of amazing blends to choose from, Don Francisco is well known among coffee lovers all over the world. For those who want to enjoy something sweeter, this vanilla nut blend of whole coffee beans is an ideal choice!
Key Features
Vanilla nut flavor
Medium roast
Sustainably sourced beans
Naturally and artificially flavored
Nitrogen-flushed coffee bags
One of the great things about this manufacturer is the packaging that they use for the beans. You should expect to get a bag that has a one-way valve that is easy to open and close shut. This bag will keep your beans fresh for weeks!
Pros
Well-balanced taste
Organic beans only
Recyclable packaging
Cons
Aftertaste may be too strong for some people
These organic, sustainably grown beans are going to blow you away. You can use them with any brewing method you like to get coffee that tastes amazing!
When it comes to flavored coffee, no one does it as well as Coffee Bean Direct. They have several great flavored blends like the Chocolate Raspberry, the Crème Brulee, the Sea Salt Caramel Mocha, and the Seville Orange. Even though they are all great and I encourage you to give them a try, the Highlander Grogg is my personal favorite.
Key Features
Buttery, spicy, whiskey flavor
Light roast
Natural and artificial flavoring
Beans from India, Central, and South America.
Also available as pre-ground beans
As part of the flavoring for this blend, you will find whiskey flavoring. However, this does not mean that there is alcohol included – it is only a flavoring! These beans are safe to use for everyone!
Pros
Whiskey flavor really gives you a kick
Light and smooth
Really great beans to begin with
Cons
If you are looking to awaken your inner Highlander, this blend can help you achieve that! This is a great blend that may come at a higher price but is definitely worth the investment.
Door County Coffee is a great drink to layer on the chocolate and cherry flavors of a black forest cake. To be honest, this coffee can taste great when combined with just about anything because of its sweet flavors. These gourmet coffee beans will make you want to drink coffee several times per day!
Key Features
Dark chocolate and cherry flavors
Medium roast
Specialty Arabica beans only
Small batch roasting
Even though these coffee beans do not contain any gluten, some gluten can be found in the flavoring that is used. If you are on a gluten-free diet, you should probably skip this blend and try another one. Luckily for you, the company has many flavored blends, so you will have your work cut out for you!
Pros
Smooth and sweet taste
Pleasant aftertaste
Always freshly roasted beans
Cons
Not suitable for a gluten-free diet
Even though these beans might not be everyone's cup of tea, they can make a great addition to your pantry. Whenever you feel the need to have something sweet, you can turn to this coffee and sweeten your day right away!
Good As Gold coffee is another family-owned business that has been producing the perfect coffee blends for years. When it comes to flavored coffee, they have some amazing blends that you have to try, but the coconut flavored beans should be first on your list. They will make you feel as if you were drinking pure coconut juice with all the benefits of regular coffee.
Key Features
Tropical coconut flavor
Medium roast
Specialty grade beans
Advanced air-roasting tech
Family-run company
This company has made its name in the way that they roast the beans. The air-roasting technology that they use gives them the chance to create beans that will have a bright and clean flavor without the added acidity. How amazing is that?
Pros
Great coconut flavor
Expertly roasted beans
Arabica beans only
Cons
Some find flavor too subtle
Strong aftertaste
If you are into the taste of coconut, then you are bound to love this blend. It is amazing and comes at a very affordable price, so I urge you to give it a chance whenever you can!
If there is one thing that Copper Moon is famous for, it is its sustainable coffee sourcing. Whatever blend you choose to purchase, the beans will be organic, fresh, and tasty. They are all hand-selected and crafted, just like the beans used for this blend with southern pecan flavor.
Key Features
Creamy caramel and pecan
Medium roast
Allergen-free beans
Kosher certified
Evenly roasted beans
If you choose to give this blend a try, you can either go to the closest store to buy it or you can order it online from the company's website. They have shipping that will get the blend right to your doorstep in no time, so I recommend you take advantage of that!
Pros
Classic pecan pie feels
Premium quality
Goes down really smooth
Part of the proceedings are given to charity
Cons
Some batches may be too dark roasted
This blend can be the perfect companion to a homemade pecan pie, so whenever you make one of those, be sure to get this blend for the coffee. I can assure you that you will not regret the investment!
Last but not least, I have another flavored blend, this time from a company called Barrie House. They have many great blends, but I recommend that you start with the salted caramel one – it will give you the perfect combination of salty, sweet, and buttery taste notes!
Key Features
Salted caramel flavor
Light roast
Fairtrade
Organic beans only
This blend has received several certifications over the years – the beans used are Fairtrade, USDA organic beans, completely safe beans, and the company was also the finalist in the race for Roaster of the Year for 2021!
Pros
Decadent and buttery
Strong flavored coffee
Wonderful aroma
Perfectly light roasted
Cons
Flavoring is completely artificial
There is nothing better than having organic beans that will give you coffee with a nice flavor and strong aroma. This batch comes at a very affordable price, so I recommend that you give it a shot!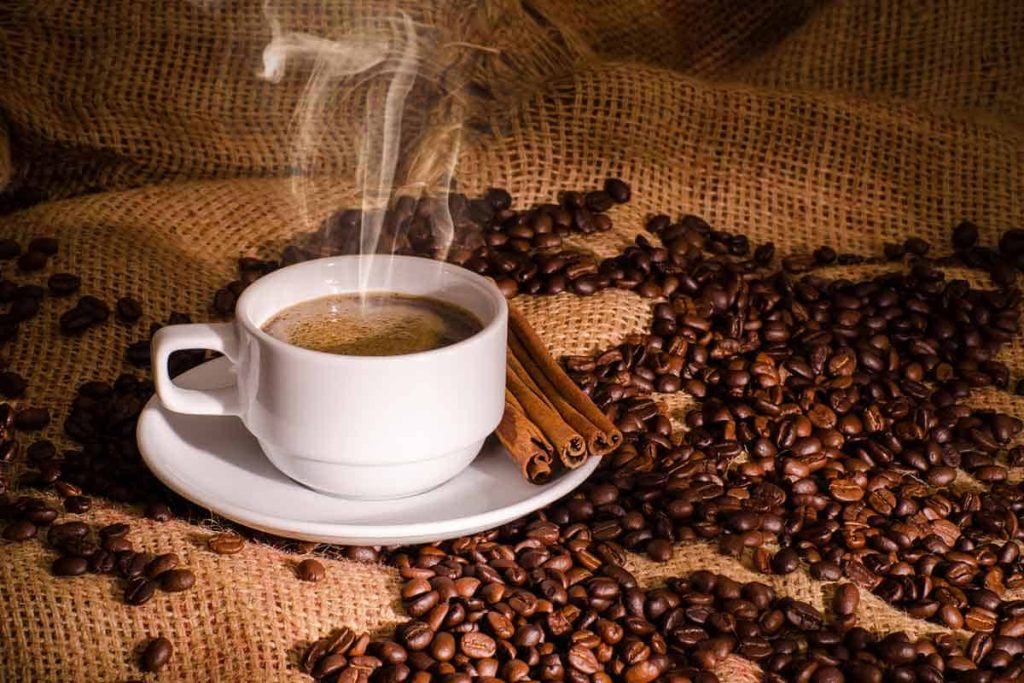 How to Pick the Best Flavored Coffee
Before you go out to buy your first batch of flavored whole bean coffee, I would like to tell you more about these beans and how you can choose ones that you won't regret buying. Let's see what you need to pay attention to!
Why Try Flavored Beans?
Regular beans usually have certain taste notes that you can notice, but they are not nearly as strong as the taste notes on flavored beans. Flavored beans for when you want flavors to be less subtle and more in your face.
There are a ton of flavors that you can choose from. I encourage you to look for your favorite one. If possible, look for a blend that has natural flavoring. That is the best type of blend you can get!
Artificial and Natural Flavors
The flavors come from oils, much like the oils used in the perfume industry. And just like those oils, they can be naturally extracted, or artificially synthesized. Examples of natural flavors include vanilla, chocolate, and spices such as cinnamon and nutmeg.
The oils are added after roasting the beans since it is at this stage that they can best be absorbed.
Quality Whole Beans
Remember that great beans make a great brew, flavored or not. Some unscrupulous coffee merchants will use flavors to mask cheap, low-quality beans. So always buy from reputable companies and read the label to check for quality. Make sure you know the types of beans used in the blend as well as their origins.
Throughout this guide, I included only whole beans. I mentioned that you can get some of them as pre-ground beans, but I do not recommend that. Pre-ground beans tend to go stale a lot quicker, so I recommend that you stick with whole beans that will stay fresh for weeks after you get them!
Roasts
Even though most of the blends on this list are medium roasted, there are a few light roasted blends. You'll observe this trend as these roasts seem to take on flavors much better. I think dark roasts may come on too strong and might need a higher proportion of flavorings added for them to really come through.
Choosing light and medium roasts can make it easier for you to avoid bad beans as high roast levels do make it easier to disguise inferior beans.
FAQs on Flavored Coffees
Before I wrap this review article up, I want to share a couple of other pieces of information regarding flavored coffee. Hopefully, the information I am about to share with you will help you decide if you want to get flavored coffee beans and which ones you should go with.
What is the most popular flavored coffee?
If you want to get flavored coffee, you are bound to have a hard time selecting between the many flavors. If you do not have any preferences when it comes to taste, there are a few recommendations that I would like to give you.
I recommend that you try out the Highlander Grogg, caramel, peppermint, hazelnut, pumpkin spice, and birthday cake. Also, you should look into flavored Kona coffee – it might come at a higher price, but it is worth every penny!
Are flavored coffee beans bad for you?
Certain coffee beans are flavored with natural flavoring, but most of them have artificial flavoring. These flavorings could contain some chemicals which can harm your health, especially if you over-consume them. I recommend that you stick with naturally-flavored coffee or drink artificially-flavored coffee in moderation.
Fun with Flavors
I hope that this guide helped you learn a lot about flavored whole bean coffee and which blends you should try first. As I already mentioned, my personal favorite is the Manatee Caribbean Delight Whole Coffee Beans, but if you are on a tighter budget, the Good As Gold Coconut Flavored Whole Coffee Beans can be a perfect choice for you!
Let me know in the comments if you like the choices of flavored coffee beans or if you know any other good blends that I should include. I cannot wait to read everything that you share!