Updated: November 14, 2023 by Mary Nguyen
Rich dark chocolate coupled with a kick of caffeine is basically the best of both worlds in one snack. Now, if you have never tried out this delightful snack, you are in for a treat, because we're immersing ourselves in the best chocolate-covered espresso beans.
A quick online search shows that there are a ton of options out there, which increases your risk of buying a product that will disappoint you. You need to know exactly what to look for. Remember, it's all about getting the best bang for your buck.
Lucky for you, this extensive guide includes all the information you need to make the most out of your purchase. It covers the main points, including price, quantity, and caffeine content. Don't worry, it's not rocket science.
In addition to this, the buying guide and FAQs section will cover any additional questions you might have about these delicious snacks.
TOP PICK

Dilettante Chocolates Bulk Chocolate Covered Espresso Beans come in so many flavors to suit your different tastes. They offer the perfect balance between both chocolate and coffee flavors, a fact that makes them the best on the list.
Presenting… The Best Chocolate Covered Espresso Beans!
Before going any further, you should realize that this choice is for hardcore chocolate coffee lovers. Coming in first on our list, this massive 5-pound bag is a giant. You might gawk at the price, but once you do the math, you'll realize you are getting a bargain price per ounce.
Key Features
Each treat contains a whole coffee bean in the center
Each bean is covered in a thick layer of chocolate
Several variations of chocolate coffee beans are available
Soft with just the right amount of crunch
There's no doubt that Dilettante's Chocolate Covered Espresso Bean Blend has a distinct and unforgettable flavor. Through the accurate balancing of ingredients, the perfect balance of sweet and bitter becomes possible.
What's more, you aren't limited to one type of chocolate. You can go for milk chocolate, dark chocolate, or white chocolate. The best part is that you can combine all four flavors in one bag if you aren't willing to settle on one.
Pros
Comes in a generous 5-pound bag
Available in a wide range of flavors
High chocolate content thanks to the thick layers covering the beans
Offers the perfect balance between both chocolate and coffee flavors
Cons
Despite the generous amount, the high upfront price might be too much if you're on a budget
The bottom line is, this is the choice for you if you can't do without your coffee beans. There's enough in one bag to keep you going for a while, and you get your money's worth with each purchase. If you are thinking the 5-pound bag is too much they also offer a smaller 3-pound jar.
Combining the bold flavors of premium espresso beans with the rich, velvety embrace of smooth milk chocolate, dark chocolate, and coffee cream this delightful treat promises a truly indulgent experience. A must try for anyone who appreciates the harmonious blend of coffee and chocolate.
Key Features
High quality arabica beans selected for their robust flavor profile
Comes with a rich coating of milk chocolate, dark chocolate, and coffee cream
Smooth sweet layer of chocolate is a nice balance to the crunchy rich flavors of the espresso bean
Indulge in the perfect fusion of coffee and chocolate with Wincrest Chocolate Covered Espresso Beans, promising to delight whether you're in need of a quick energy boost or longing for a decadent treat to relish.
With every sumptuous bite, this exquisite combination will surely exceed your expectations.
Pros
Variety of flavors- milk chocolate, dark chocolate, and coffee cream
Safe to ship in warm weather- it was packaged with ice to prevent melting
Package size is great for sharing
Ratio of coating to bean is well balanced, coating is not too thick or too sweet
Cons
Not recommended for those who are sensitive to caffeine
The alluring aroma, delectable taste, and satisfying texture make them a delightful and addictive addition to any gourmet treat collection.
If you are a coffee enthusiast who loves mint chocolate, this is just what the doctor ordered. While mint isn't the most popular chocolate flavor, it offers an interesting experience when paired with the right coffee beans.
Key Features
Refreshing mint chocolate flavor
Beans are high-grade Arabica espresso
Available in other flavors such as Pumpkin Spice, Raspberry Espresso, Cappuccino
Whether you are a coffee lover or you are just on the lookout for a mint-flavored treat, NY Spice Shop Cafe Mint Espresso Beans won't disappoint.
However, don't make the mistake of carrying the beans in your bag without taking adequate precautions. Since the mint chocolate melts easily, it will form quite a mess.
Pros
Offers unique flavors not readily available
Uses high-quality Arabica espresso beans
Great flavors
Cons
Not the best choice if you aren't a fan of green mint chocolate
Wincrest Mint Chocolate Covered Espresso Beans are your best bet if you need a mint-flavored treat that can satisfy your craving for caffeine as well.
Apart from using premium gourmet candy, the coffee beans pack quite a powerful punch. Only top-range beans are sourced when making this premium treat.
Key Features
Chocolate has a rich, lasting flavor
Bold and smooth flavor combination
High caffeine content translates to an increased energy boost
What sets Trader Joe apart is the fact that the beans are actually nutritious. Apart from calcium and iron, the beans also have fiber, proteins, and a combination of vitamins and minerals. Now, while that does translate to a slightly higher price, the package size is generous.
If rogue chemical preservatives are a concern, then these chocolate-covered espresso beans are perfect for you. Trader Joe's Dark Chocolate Espresso Beans use 100%  natural ingredients.
Pros
Use of premium ingredients guarantees a high-quality product
Refreshing and energy-packed snack thanks to the high caffeine content
Packed in a generous bag, giving you value for your money
Distinct texture and unforgettable crunchy feel
Cons
High caffeine content might not sit well with light-hearted coffee enthusiasts
All in all, Trader Joe's Dark Chocolate Beans offer an unforgettable, tasty experience that will have you going back for more.
If you are looking for the best chocolate-covered coffee beans to keep you caffeinated for the long haul, this is it. It's Delish Gourmet Chocolate Espresso Beans offer a combination of robust flavors to keep your taste buds entertained, from the bitter flavor of the whole bean espresso to the sweet dairy-free chocolate.
Key Features
Kosher
Only dairy-free chocolate is used
Bold combination of flavors has a refreshing effect
The good news is you can enjoy this caffeinated treat in spite of your dairy allergies since the chocolate is dairy-free. What's more, there is a variety of flavors for you to choose from. You can go for white, dark, or milk chocolate.
When it comes to size, you aren't limited to the five-pound option. With a wide range of sizes available, you can choose whichever one works best for you.
Pros
Comes in different sizes
Different varieties of flavors are available
Affordable price
Cons
Bitter flavor could be an issue if you have a sensitive palate
One of the best things about this gourmet chocolate treat is that it comes in a five-pound bag. There is no way you can finish such an amount in one sitting. If you like the flavors, it's no doubt a great buy.
This otherworldly blend of quality espresso beans and chocolate will blow your mind. Thanks to a stringent production process, the resulting product is nothing but the best. The coffee beans in this treat are single-grown and hand-picked by the company. What's more, they are sun-dried which adds to the distinct flavor.
Key Features
Available in four flavors: dark, milk, white, and café au lait chocolate
Beans contain a high caffeine content
Use of single-grown coffee beans ensures consistent flavor and caffeine content
With so many flavors and colors for you to choose from, you will most definitely enjoy every moment you spend nibbling this treat.
What you should know before purchasing this tasty treat is that the coffee beans contain way more caffeine content. A handful of these beans actually contain more caffeine than your regular cup of coffee. Therefore, unless you want a jittery caffeine high, exercise moderation with these chocolate-covered coffee treats.
Pros
Only high-quality ingredients are used
Rich and distinct flavor
High caffeine content gives you more kick per serving
Cons
Unless you are in the mood for a high-caffeine treat, this product might prove too much for you
It's so rare to come across simple well-priced chocolate-covered espresso beans with rich, sweet flavors. This particular package fits the bill.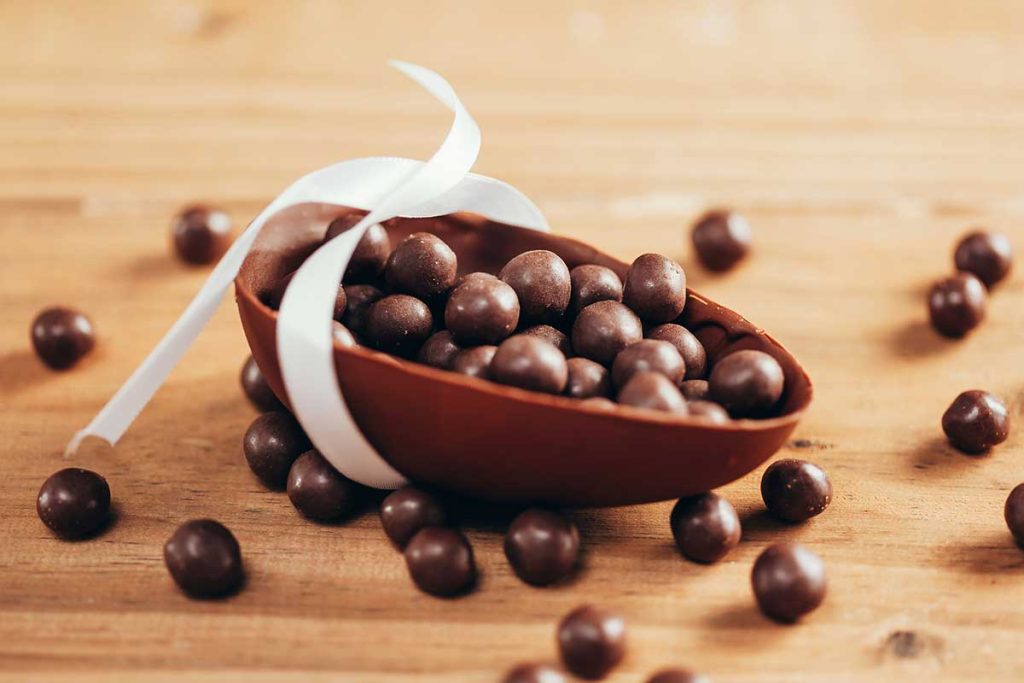 How to Choose the Best Chocolate-Covered Coffee Beans
Now that you've seen some awesome chocolate-covered espresso beans, you can simply go for what suits your tastes. But what if I told you that there is additional information to increase your chances of having an amazing coffee and chocolate bomb of an experience?
Beans
First of all, you've got to realize that there are only 2 ingredients in this creation, and they both have to be excellent. There's nowhere to hide if either of them sucks.
Without the right coffee beans, it's just going to be wrong.
There are three main options to choose from: light, medium, and dark roasts. However, most coffee lovers agree that a combination of dark chocolate and dark roast is the holy grail. Why?
For starters, the strong flavor of dark roast beans pairs superbly with the rich sweetness of dark chocolate. It's a classic bitter and sweet whopper combo.
That aside, of all the bean types, dark roasts and espresso beans have the least density. They are easier to chew, making for a crunchy snack.
Chocolate
The only other ingredient is the chocolate, baby! When you get this right, you're sure it's going to be good.
There are a number of options for you to choose from when it comes to chocolate. Depending on your tastes, you can go for either white, milk, or dark chocolate. Of course, it all boils down to preference, but again, do try the dark chocolate first: It forms an amazing taste experience when paired with dark roasts.
What's more, dark chocolate contains its share of caffeine since it contains a high amount of cacao products. The levels of cacao in the chocolate vary depending on the brand, but 55% of cacao products is the average. It's easy to see why dark chocolate is preferred among coffee lovers looking for an extra kick.
Price
Now on to the secondary considerations.
Of course, the price plays a big part in the coffee beans you'll end up purchasing. While there are premium beans on the pricey end, quality chocolate-covered coffee beans with an affordable price tag do exist.
If you want the best deals, go for bulk purchases. You'll find amazing deals for premium coffee beans ranging from 15 to 20 dollars if you opt to purchase in bulk. If you are wondering where to buy chocolate-covered coffee beans, simply follow the links to the products.
Word of advice though: These delicious snacks are rather addictive. Some chocolate espresso beans contain way more caffeine than a cup of coffee. You'd be surprised at how easy it is to get hooked on chocolate coffee beans.
Of course, once this happens, there's no telling how much you might end up spending on your favorite snack. The best way to avoid this is through moderation. Limit snacking on them to twice a day at most.
Caffeine
Having a rough idea of how much caffeine is in your chocolate-covered espresso beans is a good idea. The bottom line is that caffeine is a powerful drug. Consuming too much of it has adverse effects like migraines and anxiety.
What's more, on average, chocolate-covered espresso beans contain more caffeine than a cup of coffee. And the truth is, the amount varies from brand to brand.
But on average, a single chocolate espresso bean contains 6g to 7g of caffeine. Your caffeine consumption will vary depending on how many beans you eat in a day.
For example, if you eat 15 beans in one sitting, your caffeine intake will amount to 105 mg.
The fact that chocolate-covered espresso beans are such an irresistible treat means that the numbers can quickly rise. Again, the trick is moderating yourself. Take enough to satisfy your sweet tooth and give you a much-needed boost.
Keep in mind that you might get a sugar rush from the chocolate while experiencing an energy rush from the caffeine.
Quantity
Quantity most definitely matters. After all, you want to get the most bang for your buck. Now, most of the time, buying your chocolate-covered beans in bulk is the best option. This way, you get the best deal per ounce.
While this may cost you more upfront, if you regularly enjoy chocolate-covered espresso beans, it's the cheaper option in the long run. In addition, purchasing in bulk is a budget-friendly option if you have a family that loves chocolate-covered beans.
However, there are smaller packages if you are only interested in dabbling once in a while. It all boils down to your preferences.
Shelf Life
Shelf life is an important factor when you are buying your coffee beans in bulk, especially since it's unlikely that you'll finish them in one sitting. The good thing is that most brands pack their chocolate-covered espresso beans in resealable bags.
At most, they can stay fresh for up to 12 months. How long does it take you to go through a bag of chocolate coffee beans? Unless you have a large family that absolutely loves these tasty treats, you should only buy one bag to get you through six months. Otherwise, your batch will most likely go bad.
Health Benefits of Chocolate-Covered Espresso Beans
Don't make the mistake of writing off chocolate-covered espresso beans as a healthy snack. When taken moderately, they can do a lot of good for your health.
Did you know that both coffee and dark chocolate contain an antioxidant called flavanols? Well, they do. Flavanols play a major part in improving your vascular health and the regulation of blood sugar.
With this in mind, it's easy to see why chocolate-covered espresso beans can help combat diabetes.
Finally, the energy-packed snacks help keep you alert and attentive. Munching a handful of these snacks beforehand is the perfect way to get psyched for any intensive task.
However, these health benefits only apply to a dark chocolate and coffee bean combo. It's important to note that milk and white chocolate do not have the high percentage of cacao that dark chocolate has. This means that they both have only trace amounts of flavanols.
Also, since they have a higher concentration of sugar, it offsets any health benefits from the antioxidants.
FAQs
Can Chocolate Covered Beans Act as a Coffee Substitute?
As a coffee enthusiast, there's no beverage that comes close to your favorite drink. Really, there's no substitute for the unique flavor and stimulating effect from your cup of coffee. So what about chocolate-covered coffee beans?
Well, here's the surprising thing: the tasty snacks actually outclass regular coffee in certain areas.
For starters, getting good coffee at the office is not a guarantee. If you don't want to get your caffeine from cold and boring coffee, then these tasty snacks are the perfect substitute. Munching a handful of these will give you the energy boost to get through the day.
That said, keep in mind that coffee beans covered in chocolate actually have more caffeine than an average cup of coffee. The standard amount of caffeine in a single bean is 4-6 mg. Snacking on 30 pieces in one sitting will pump around 180 mg of caffeine into your system. How does a cup of coffee compare?
Well, a standard cup of coffee contains 100 mg of caffeine, 150 mg if it's great coffee. Doing the math shows that you'll get more bang for less with chocolate-covered beans.
In addition, dark chocolate contains both caffeine and sugar, which add to the stimulating effect.
Can You Make Coffee from Chocolate Espresso Beans?
Don't try this at home! Seriously, chocolate-covered beans are only meant for eating. If you do decide to brew using these, then prepare yourself for a train wreck.
First off, it's not a financially sound move. Chocolate coffee beans cost more than regular coffee beans. To add to this, the mess from the brewing process is not worth a cup of coffee.
Not only will the grinding process leave your grinder worse for wear, but the chocolate will definitely clog it. Plus, the brew won't taste as good as the one from standard coffee beans.
The bottom line is that chocolate-covered espresso beans are meant for snacking. Stick to brewing using regular coffee beans; you won't regret it. 
What Are the Risks of Eating a Lot of Chocolate Covered Beans?
Yes, coffee beans covered in chocolate are an irresistible snack. But you really need to track your consumption and reign yourself in. There are plenty of reasons for this.
For starters, pumping too much sugar in your system is never a good idea. Doing so increases your chances of becoming diabetic and experiencing an unhealthy weight gain.
Caffeine in large amounts also does its share of damage. Consuming more than 550 mg per day is not recommended since it's taxing to your body. Excess caffeine in your system causes uncomfortable side effects which include:
Tremors
Increased heart rate
Vomiting
Abdominal pain
Hyperglycemia
Diarrhea
All in all, tracking your caffeine consumption is the easiest way to avoid this. Eat small amounts of these beans, especially if you use other caffeine products as well.
Wrap Up
There you have it! Finding the right chocolate-covered beans should be much easier after going through this exhaustive review. Go for a product that ticks all the major boxes on your list. Unless you have very specific tastes, all the products in our review will probably satisfy your needs.
But special mention goes to Dilettante Chocolates Bulk Chocolate Covered Espresso Beans. No other treat on our list has such a wide range of sweet flavors to choose from. That's not even the best part! How it strikes a perfect balance between the chocolate and coffee flavors is what makes this treat the best. You won't go wrong with it if you are after fine and chocolate-covered beans that are extremely pleasing to taste.