Updated: January 30, 2022 by Owen Richardson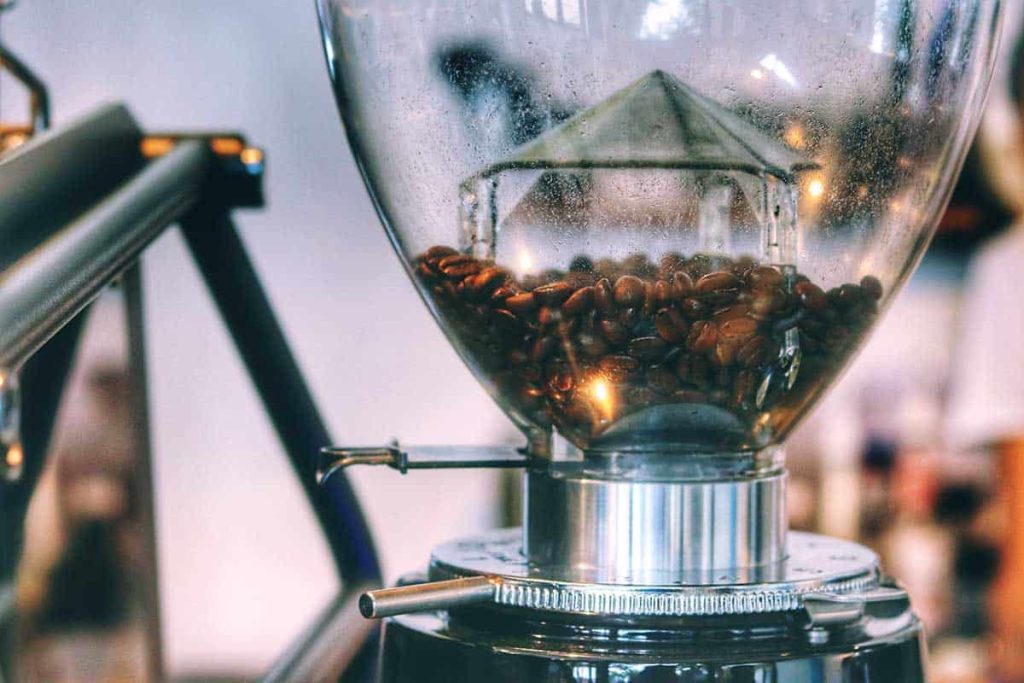 For a blissful coffee experience, you need to start right, with a good quality coffee grinder. The debate about manual and electric coffee grinders is a never-ending one among coffee lovers.
It all boils down to convenience, time, noise level, and other factors that shape your experience when choosing a coffee grinder. In this article, I'll help you understand the benefits of choosing both types of coffee grinders, and also suggest a few products for both categories.
So let's get right to it!
Main Differences Between Manual vs Electric Coffee Grinders
The main differences between a manual vs electric coffee grinder are:
A manual coffee grinder involves the use of a crank, whereas an electric coffee grinder is powered by electricity
A manual coffee grinder is relatively low-cost, whereas an electric coffee grinder costs more
A manual coffee grinder requires some effort on your part, whereas an electric coffee grinder requires no manual work
A manual coffee grinder is portable and lightweight, whereas an electric coffee grinder is heavier and takes up more space
A manual coffee grinder requires more effort and results in thicker coffee grounds, whereas an electric coffee grinder can ensure a fine consistency
Our Top Picks
Here are my top picks for manual and electric grinders. Check them about and read on to figure out which one is right for you.
If you want to buy a manual coffee grinder, I suggest the Hario Ceramic Coffee Mill. It provides you with an adjustable grind selection and a high-quality burr that produces a consistent bean quality.
For electric coffee grinders, choose the Cuisinart DBM-8 Supreme Grind Automatic Burr, which provides you with 18 grind settings and also has a higher capacity than the others.
Manual vs Electric Coffee Grinders Compared
If you're looking for the best products in each category, I've compiled a list of the 3 best manual and electric coffee grinders. You can read the review of each product and decide which one is most suitable to fulfill your needs.
Manual Coffee Grinders
The JavaPresse Manual Coffee Grinder has a brushed stainless steel construction that makes it look sleek and professional. It consists of a conical burr mill that features 18 different settings. You can decide how coarse you want your coffee to be. You can hear each click as you rotate between settings.
Key Features
Adjustable grind selector with 18 different settings
Noiseless operation
Removable hand crank mechanism
Grinds coffee for up to two cups at a time
The JavaPresse has a removable and silent hand crank mechanism. This coffee grinder comes with durable ceramic burrs. It features dual plates that provide a consistent and even grind. When you rotate the hand crank, it moves one of the plates while the other remains stationary.
Its exterior and components are made from stainless steel. Because of its low price point, it's perfect for people who are looking to buy their first-ever coffee grinder.
Its construction isn't something to write home about, so being a little careful with the hand crank mechanism will help prolong its life.
Pros
Compact and lightweight build
Doesn't make too much noise
18 grinding settings from coarse to fine
Removable hand crank makes cleaning easier
Cons
Suitable for grinding two cups at a time only
It may be better for beginners
The JavaPresse Manual Coffee Grinder is great as an introductory grinder, and its easy-to-use crank mechanism doesn't put any strain on your wrists. If you're not very particular about aesthetics and need something you can carry with you, this is the best option.
This is one of the most beautiful manual coffee grinders. The Peugeot Antique Coffee Mill isn't just for grinding all types of coffee beans—it's also a showpiece that looks amazing on your kitchen shelf.
Key Features
Adjustable burr-type mill to tailor coarseness
Made from corrosion-resistant stainless steel
Provides a consistent output
Different colors to choose from
Made in France, it's shaped like a finely crafted drawer made from premium quality beech wood, with a stainless steel hand crank mechanism on top.
There's a removable drawer on the Peugeot that holds almost half a cup of coffee beans. You can easily adjust the grind level to your liking. It doesn't retain any of the coffee grounds inside, so you don't really have to worry about cleaning it on a regular basis.
Pros
High-quality, durable construction
Can grind up to half a cup of coffee beans
Doesn't need to be cleaned frequently
Unique and refined design
Cons
More suited for home use rather than traveling
You can find cheaper options
For the Peugeot Antique Coffee Mill, the pros outweigh the cons by a huge margin. Granted, it's quite pricey, but also remember that this comes from Peugeot, the renowned car manufacturer. And it looks so lovely too!
This manual coffee grinder looks just like an hourglass, but it grinds like nobody's business! With its heavy-duty ceramic burrs and ergonomic crank handle, you can rest assured that every cup of coffee you have will be amazing.
Key Features
Non-slip rubber base keeps grinder from slipping
Easy-to-use detachable crank handle
Travel-friendly design and lightweight construction
The Hario Ceramic Coffee Mill is a compact and lightweight manual coffee grinder. It has a durable body and ceramic conical burrs that deliver a consistent grind every time.
It also comes with a stepped grind adjustment that lets you set different levels of coarseness, making it espresso-friendly too. The 100g grinding capacity makes it suitable for several cups of coffee, so it also trumps many other manual coffee grinders in terms of capacity.
I've tried hard to find something wrong with the Hario, but it stands out in all departments. You just have to be a bit more careful with the grinding adjustment at the beginning, but you'll get the hang of it soon enough.
Just beware of counterfeit grinders that look just the same, but their performance is nowhere close to the original.
Pros
Has a higher grinding capacity than others
Easy to assemble and disassemble
Can be attached to a mason jar for grinding more beans
Cons
One of the most high-priced models out there
When it comes to functionality, the Hario wins by a landslide, and it also lets you grind more coffee beans than any other manual coffee grinder out there.
Electric Coffee Grinders
If you're looking for freshly ground coffee every morning, the OXO Coffee Grinder will do the work while you get ready for work. It's one of the best-selling electric coffee grinders available.
Key Features
Can grind up to 110 grams of coffee beans
15 grind settings to choose from
Durable stainless steel construction
Large capacity hopper included
The OXO Brew Conical Burr Coffee Grinder has a tall stainless steel body with a large hopper on top. It can hold a lot of coffee beans, so you don't have to keep refilling it frequently.
Along with the 15 grind adjustment settings you get with this coffee grinder, you also get a one-touch start timer for easy control.
The OXO is equipped with high-quality 40mm stainless steel conical burrs. It works effortlessly to deliver consistent grounds with a rich flavor.
Pros
Durable and refined construction
110g grinding capacity
40mm stainless steel burrs for consistent grounds
One-button start function
Cons
Works better on non-slippery surfaces
When you buy the OXO, you can put an end to your manual grinding woes. It also saves you time in the morning. Moreover, it provides different levels of coarseness, even the super-fine consistency you need for espresso machines.
The Cuisinart DBM-8 Coffee Grinder can hold enough coffee beans to serve a community. It brings you different degrees of coarseness with its incredibly fun grind adjustment selector.
Key Features
Features 18 levels of grind adjustment
Adjustable blade position for even grinding
Durable and attractive stainless steel construction
The Cuisinart has a sleek and refined look with transparent hopper and grinding containers. You can top up the hopper once, so you don't have to refill it again and again. You can choose between 18 degrees of coarseness, making it suitable for different types of coffee.
It also comes with a sliding dial to cycle between 4 and 18 cups. You can have freshly ground coffee within minutes. The grinding chamber and hopper can be removed for cleaning and pouring. The unit also has a scoop with a cleaning brush at its end.
Pros
Can hold enough coffee for 32 cups
Easy-to-use slide dial for cup quantity
Grind selector with 18 levels of coarseness
Cons
Slightly louder operation
The Cuisinart is a solid and dependable machine for grinding large amounts of coffee beans within minutes. It also stops immediately when you press the button, so it doesn't over grind the coffee beans. This is about as good as a coffee grinder can get.
View more Cuisinart grinders here.
Here's an electric coffee grinder that looks as serious as its name! The Baratza is one of the best-looking coffee grinders out there, and its user-friendly function makes it one of the most popular choices for the home.
Key Features
Contains commercial-grade conical burrs
Sleek and unique design
40 different grind settings to choose from
The Baratza has a simple and neat design, making it easy to use. It features 40mm premium quality conical burrs, delivering consistent grounds every time. Moreover, it also features 40 different grind settings. This makes it suitable for delivering the right level of coarseness for different brewing methods.
It comes with a simple on/off knob on the side, as well as a pulse button on the front. Once you fill up the large capacity hopper to its brim, you won't have to worry about refilling it.
Whether you're new to the world of coffee brewing or have been doing it for many years, the Baratza is a worthy option.
Pros
Compact and lightweight construction
Has 40 levels of grind adjustment
Grounds container can hold a large amount of coffee
Suitable for many brewing methods
Cons
Need a little time to understand its settings
The Baratza has 40 different grind settings, so you'll need some time to figure out which ones work perfectly for you. But, once you've nailed it down, you're good for life. It offers a great and consistent grind quality that enriches every cup of coffee!
Buying Guide
Now that we've checked out the best manual vs electric coffee grinders, let's go over some of the factors that contributed to my selection of which type of grinder is best suitable for a certain aspect of grinding.
Consistency
Consistency refers to how uniform the coffee grinds are. It mainly depends on the size of the coffee beans, as well as the grinding level you have set on your machine. Consistency also affects the flavor and aroma you get from your ground coffee beans.
Even though you can get a consistent grind with a manual coffee grinder, if you're a perfectionist like I am, there is no comparison in the quality and consistency of an electric grinder's grind.
Winner: Electric Grinder
For electric grinders in terms of consistency, Cuisinart is the clear winner due to its high-quality grind consistency.
For manual grinders in terms of consistency, Hario trumps both JavaPresse and Peugeot with its highly consistent grind. Its hand crank also works more smoothly.
Capacity
The capacity of both the hopper (where the whole beans go) and the ground container (where the ground beans are deposited) matters. All of the grinders can manage one or two cups, but if you need to entertain large gatherings frequently, then you'll need something with more capacity.
Winner: Electric Grinder
Manual grinders are not known for their capacity. The maximum you do get is with The Hario as it beats the other two manual grinders by a landslide with its 100g capacity.
However, the Cuisinart is the clear winner due to its massive bean hopper and ground bin capacity. It can hold up to 227g of coffee beans, and its ground container can hold enough ground coffee for around 32 cups.
Grind Settings
Another valuable feature is the different grind levels that you can find in a coffee grinder, which helps you choose how coarse or fine you want your ground coffee to be.
This is where you get a tough competition between electric and manual grinders. Even in manual grinders you get as many as 15 to 18 grind settings. The same goes for electric grinders, but here you get a maximum of a whopping 40 grind settings!
Winner: Electric Grinder
The Baratza is the leader when it comes to grinding settings, as it offers 40 options, which is higher than any of the coffee grinders mentioned in this guide. However, if you want to go for a manual grinder, the JavaPresse brings you an adjustable grind selector with 18 settings.
FAQs
How long does it take to grind coffee with a manual coffee grinder?
The time for grinding coffee beans depends on the size of beans, the number of beans, and also the smoothness of the crank mechanism. The time can vary between two to five minutes if you're grinding one or two cups.
Is a manual coffee grinder cheaper than an electric coffee grinder?
Generally, manual coffee grinders are much cheaper than electric coffee grinders. You can find some high-end manual coffee grinders that are priced above $100, but more are cheaper, whereas electric variants usually cost anywhere between $100 to $300.
Is it alright to grind coffee beans the night before?
It's always best to use freshly ground coffee beans, but if you're short on time, you can keep your ground coffee overnight in an airtight jar.
Can I grind a whole bag of coffee beans?
A: You can grind a whole bag of coffee beans at once, especially if you don't have frequent access to a grinder. However, make sure to keep them in an airtight jar, because ground coffee starts to lose its rich taste and aroma as time progresses.
How long does ground coffee last?
Ground coffee can be kept for up to two weeks, if stored properly, before it loses its freshness.
Conclusion
All in all, when it comes to manual vs electric coffee grinders, the type that truly checks all the boxes is the electric!
However, with so much information regarding manual vs electric coffee grinders, you can easily choose the best coffee grinder for yourself. Make sure to keep the aforementioned factors in mind, and if you're unable to make a decision, I've got your back!
Simply choose one of the products that I've reviewed above. I'll pick a winner from each category to make it easier for you.
If you're a purist who wants to go old-school, choose a manual grinder, and I recommend the Hario Ceramic Coffee Mill. Although it's a little pricey, it'll deliver freshly ground coffee beans with consistent output and will also retain their true flavor and aroma.
On the other hand, if you're after a quality grind with minimum effort and maximum convenience, by all means go for an electric coffee grinder. Check out the Cuisinart DBM-8 Supreme Grind Automatic Burr. It provides you with 18 grind settings and also has a higher capacity than the others. Not to mention it's also more affordable than the others.
Here's to enjoying your coffee!