Updated: July 1, 2022 by Owen Richardson
Coffee lovers come in as many flavors as their preferred beverage. You may obsessively follow your coffee beans' journey from farm to filter, you may grab an instant cup on your way out of the house, or you may rattle out complex concoctions to the Starbucks barista. For all of us, freshness matters.
That's why even the most basic caffeine couture recommends grinding your beans immediately before you brew. Ideally, you want a single-serve coffee maker with a grinder built in so that every cup you brew will have the maximum possible freshness and will taste just right.
Unfortunately, it can be tricky to identify the best single cup coffee maker with a grinder. You have to choose between burrs and blades, cup capacity, presence or absence of a carafe, stepped versus step-less grinding dials—the criteria seem endless! To help you find the right machine for your needs, we've provided the five reviews below.
As you work your way down the list, you may notice that some of these coffee makers aren't only single-serve machines. That's not an accident; as long as you can program the machine to grind and brew a single cup, those additional multi-cup settings offer more advantages, especially for iced coffee recipes!
TOP PICK
While it only specializes in espresso, the Breville Barista BES870XL is overall the best coffee maker with a grinder built in. It has auto and manual functionality and offers extremely fine grinds.
Here Are the Best Single Cup Coffee Makers with a Grinder
Product
Features
Price

Digital temperature control

Built-in frother and doser

Brews singles and doubles

LED + touchscreen

Compact silhouette

Fully automated

Cuisinart SS-GB1 Coffee Center Grind-and-Brew Plus

Segregated brewing options

24-hour automated brewing

Permanent filter

Twin brewing

Customizable memory

Hot water dispenser

(Best Budget)

6 to 16 oz capacity

Grinding bypass option

Filter is dishwasher-safe
If you like your coffee sharp and frothy, you'll love the Breville Barista. With a built-in grinder, frother, and filter-selector, it's the most precise cup of coffee you'll ever brew, and this extra-large coffee maker has a massive 4-pound capacity even though it shoots espresso.
The user-friendly buttons and dials on this coffee maker give you immense control and seemingly endless options. You can press a button to choose single or double shots, and another pair of buttons lets you pick a double or single filter. It has conical burrs and a portafilter.
Key Features
Digital temperature control
Built-in frother and doser
Brews singles and doubles
What's your preferred grinding style? Do you hold the button down in a single, intensive spurt, or would you rather mix and pulse? The Breville has both options; you can press once for automated grinding or use its push-and-hold manual mode to pulse your coffee grounds.
This coffee maker has a steamer and a safety lock; when you're not brewing black coffee, tea, or soup, you can engage the hot water dispenser without caffeine. The 'clean me' button makes it easy to maintain the machine; plus, that pressure gauge is so cathartic to watch!
Pros
Grinds + brews in less than a minute
Self-cleaning feature
15 bar Italian pump
4lb bean hopper
Cons
It can only grind fine consistencies (e.g. espresso, ristretto, or Turkish)
Enjoy third-wave coffee via Breville's four keys to caffeine—richness, balance, body, and mouth-feel. Every cup is frothy, foamy, and your full fix is ready is less than sixty seconds!
German engineering (and German beer) have undeniable reputations, so if you're going to trust an imported device, it's this one. It's designed with typical German efficiency; for example, single cup coffee makers with grinders typically have a two-step brew-and-grind system, but the Tchibo stands about a foot tall and has a single-step process.
Load your beans, touch the right icon, and your coffee maker will grind and brew your single serving in one seamless step. If you want your coffee more concentrated, push the 'boost' button for extra strength.
Key Features
LED + touchscreen
Compact silhouette
Fully automated
This coffee machine offers elegance and convenience. It's perfect if you want your coffee high in complexity and low on fuss, but the controls are pretty basic so you can't craft fancy drinks using complicated settings. You just choose the right size and your preferred intensity.
While you can achieve a bean-to-brew double shot in seconds, you can still collect your grounds in the removable underbody canister. The water reservoir and drip tray are removable as well, and with such a small serving, you're sure of an ever-fresh coffee cup.
Pros
Removable reservoir and drip tray
Patented Aroma-Protect technology
German engineering
Cons
No option to brew larger volumes
Tchibo is Europe's largest coffee chain. Their coffee maker emphasizes scent with its Aroma Protect feature, and it helpfully compacts used grounds into eco-friendly pucks for disposal.
Understandably, you want a little more out of your single cup coffee maker with a grinder than just a single cup of coffee. That's why many manufacturers will give you the option to brew more than one cup, and most machines will have a numbering system so you can select a single cup or a whole carafe.
This Cuisinart goes a step further by separating its single-serve side from its multi-cup side. The single-cup coffee section has a 40-ounce reservoir while the multi-cup side has a 64 oz reservoir. The gold-tone coffee filter also lets you fit adaptors for K-cups and coffee pods.
Key Features
Segregated brewing options
24-hour automated brewing
Permanent filter
You can program the coffee maker to shut off automatically after 4 hours, and the 24-hour timer means you can pre-set it to turn on and start brewing. The "grind off" button allows you to use pre-ground coffee if you've run out of fresh beans, and the shelf folds away.
This isn't just for storage convenience; folding creates space so you can fit a larger mug onto the tray. The coffee maker overall is bulky, though—well over a foot tall—so you'll need a lot of counter space plus overhead clearance to access the grinder and the canisters.
Pros
Offers pod, carafe, and grounds brewing
Has two water reservoirs
Drip tray is removable
Scoop has a cleaning brush
Cons
Cuisinart's SS-GB1 is versatile enough to work with whole beans, powdered grounds, or branded pods. It has two charcoal filters and a brush, plus a built-in self-cleaning feature that Cuisinart coffee makers have.
If you're spending hundreds of dollars on a kitchen appliance, you want it to multitask, especially if it's bulky enough to hog the counter. This De'Longhi is close to 15 inches square, and yes, it does a lot.
It has a plain hot water button that you can use without caffeine, and while it has a frother, it's not restricted to espresso. It can grind and brew five coffee varieties in 13 grind sizes, but this single cup coffee maker with a grinder needs preheating time, usually 60 to 75 seconds. This coffee maker has a removable reservoir that holds 60 oz.
Key Features
Twin brewing
Customizable memory
Hot water dispenser
The bean hopper at the top of the coffee maker carries 8.8 oz, but that coffee chamber is divided into two separate sections, with one side holding whole beans (ready for grinding) and the other side holding powdered grounds when you want a bypass or a cup of decaf. The steam wand is manual.
This coffee maker has lots of presets and a memory function, so when you turn off the machine it retains those same settings the next time you start it. The brewing unit, drip tray, water tank, and waste canister are all removable for convenient cleaning and maintenance.
Pros
Steel burr grinder
Built-in frother
Bypass option
13 grind settings
Cons
It looks fancy but has no touch screen
With this De'Longhi coffee maker, you can pick a single or double espresso at the touch of a button. You can just as easily adjust foam levels, brewing intensity, and cup concentration.
When you think of a single-serve coffee maker, you're probably thinking of something that uses K-cups or coffee pods. Keurigs in particular have hundreds of flavors ranging from coffee and hot chocolate to tea and soup, but this coffee maker comes with its own cup.
The thermal mug carries 16 oz when full, so technically this is a single-serve machine, but it can brew as little as 6 oz per serving when you want an espresso or ristretto. This compact coffee maker won't take much space on the counter, and it comes apart for cleaning and storage.
Key Features
Although it's a single cup coffee maker with a grinder, it takes some getting used to since it only has three control buttons. The grinder is intuitive though – just move the handle into or out of the locked position. These are helpfully marked with open and closed padlock icons.
While it's ideally a single cup machine, the foldable drip tray lets you brew smaller or larger servings, and because the brewing basket is removable, you could fit an adaptor in the basket and use it for K-cups or coffee pods. You're not restricted to grinding your own beans.
Pros
Dismantles easily for cleaning
Adjustable drip tray
Comes with a scoop and two filters
Comes with a thermal mug
Cons
It has a blade grinder so the texture is uneven
Whether you want to roast and grind beans from scratch or grab a pre-packed pod of coffee, PowerXL Grind & Go does the trick. The thermal mug has an insulated sleeve, too!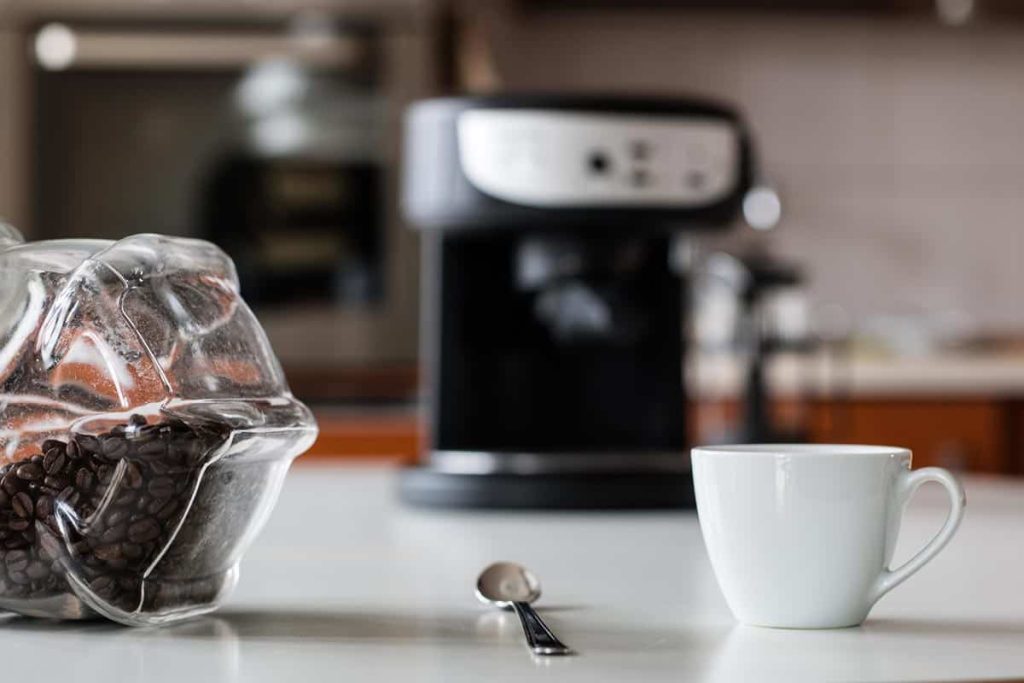 How to Choose a Single Serve Coffee Maker with a Grinder
You may be tempted to buy a coffee maker with a bigger coffee canister, but ground coffee oxidizes instantly. That oxidation weakens the taste and texture of your coffee, so if you can grind immediately before brewing, that's ideal.
Now that you're sold on a single-serve coffee maker with a grinder built in, here are a few more factors to consider when you're shopping for a grinder that doubles as a coffee maker.
Physical Size
Coffee makers often stay on the countertop, so the size and shape of your ideal coffee maker will depend on your kitchen layout. Pay special attention to vertical height, because the grinder and bean hopper often sit at the top or back of your coffee machine and need clearance.
If you have overhead cabinets, check that you can reach the hopper, grinder, and water tank on your single cup coffee maker. You can also check whether any of its parts—especially the hopper—can be removed for cleaning and storage. This is key since you'll only brew one cup at a time.
Brewing Versatility
A single-serve coffee maker is the ultimate convenience, but there will be times when you have an overnight guest that needs their morning dose of java, or you want a bigger batch for an extended commute, an early meeting, a picnic, a hike, etc., so it helps to have a large carafe available as well.
It can also be useful if your coffee maker has multiple brewing options like adaptors, K-cups, pods, removable filters, or pour-over mechanisms because there might be times you want a cortado instead of a latte, or maybe your house guest brought a large stash of K-cup soups!
Type of Grinder
Coffee grinders can have burrs or blades. Blade grinders are generally cheaper and have rotary blades that spin like propellers. They grind unevenly, so a true coffee lover may be put off by the inconsistent size which leads to mixed flavors, aromas, and concentrations.
Blade grinders are also quicker, but they tend to overheat which can burn your coffee beans and change their flavor. Burr grinders can cost more but are often quieter than blade grinders and provide a more even grind. They also last longer. They can be ceramic or stainless steel and come in flat and conical designs.
Bonus Features
Some coffee makers with a grinder might have a keep-warm feature in the form of a hot plate, but this plate will 'cook' your coffee further, so its flavor will change. Others have a freshness meter to tell you how long the coffee has been standing since you brewed it.
Various individual coffee makers have timers, auto-on, and auto-off features, brew strength selectors, hot water dispensers (without caffeine), night-light functionality, or self-cleaning buttons. All these add-ons will raise the buying price, so prioritize your must-haves and stay on budget.
FAQs About Single Serve Coffee Makers
Grinding a single cup of coffee may seem like overkill, but it can be a good way to grab your quality caffeine fix on demand. Here are a few more coffee questions you might have:
Is a single-serve coffee maker enough for my caffeine kick?
By the time you decide to buy a coffee maker, you're probably a regular caffeine user; otherwise, a quick trip to Starbucks would suffice. Sometimes, though, you need a quick jolt to hot-wire your brain during a late-night study session or midnight baby feeding.
You might even want a dose of your favorite Keurig flavor. In such cases, yes, a single cup will do. If you're more in the 50-cups-a-day crowd, you want a single-serve machine that can do bigger batches too.
Can I make a double espresso in my single-serve coffee maker?
Yes, you probably can. The difference between espresso and regular coffee isn't about cup size, it's about grind size. Espressos need fine grinds while a latte can have a coarser grind, so as long as your grinder has fine or extra-fine settings, you can grind and brew double or even triple espressos. Plus, many single-serve coffee makers have a multi-serve section too.
Is a manual grinder better for single-serve coffee?
Coffee makers with grinders are often electronic because of how their mechanisms are designed. It wouldn't make sense to have a manual grinder on an electric brewer, so if you're buying a dual machine that brews and grinds, you're restricted to electric grinders.
Alternatively, you could buy a small portable manual grinder that fits in your pocket or purse. Then pair that with a portable single-serve coffee maker, whether it's a small Moka or an Adir for camping. Which is better depends on your coffee needs.
Can I make iced drinks using a single-cup coffee maker with a grinder?
Yes, you can. Iced coffee drinks don't usually come out of coffee makers. Typically you'll brew the coffee using your normal method then pour it over ice cream or freeze it. You might even make ice cubes from black coffee and then melt them into milk—or vice versa, melting milk cubes into hot coffee.
The other key differences between hot and cold coffee beverages are temperature and intensity; iced coffee may have a smaller but more concentrated dosage of coffee grounds. Ultimately, making iced coffee isn't about the coffee machine itself, it's about mingling intense coffee with icy ingredients.
Final Word — Coffee on Demand
After all this unwinding, grinding and percolating, it's clear that the Breville BES870XL Barista is the best single-serve coffee maker with a grinder built in. Its steel conical burrs deliver espresso grounds directly to a portafilter doser that's an ideal 19 to 22 grams, its digital PID monitor gives the perfect temperature and pressure, and its milky microfoam is unmatched!