Updated: August 13, 2023 by Mary Nguyen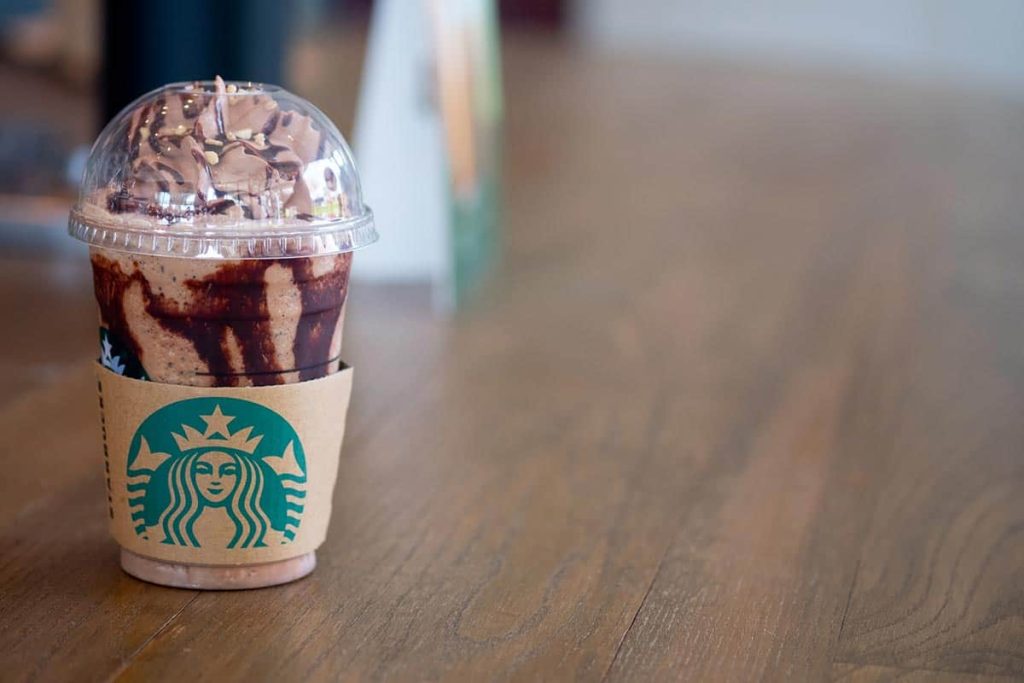 Fancy a taste of Java Chip Frappuccino? I bet you do! But here's the part you may not like: The store-bought drink will cost you so much in the long run. Plus, you could be miles away from the closest Starbucks. Now, this leaves you with only one option: You have to learn how to make a Java Chip Frappuccino yourself.
Is it possible? The answer is yes! And the best part is that even if you consider your kitchen skills to be abysmal, there is no way you can mess up.
In fact, I have made the recipe for a copycat Frappuccino as short as possible. With simple ingredients and a short preparation time, this is the best recipe there is.
Few things beat a refreshing Frappuccino to cool you down during a hot summer day. So keep reading to find out how you can quickly make this tasty drink for yourself.
What's a Frappuccino?
Before you can start whipping up homemade Frappuccino, you must understand how this chocolatey beverage is made. The Java Chip Frap is a cold, blended coffee drink. While the term Frappuccino is trademarked by the Starbucks Coffee Company, the ingredients that make up this popular beverage are well known.
A Starbucks Java Chip Frappuccino contains the legendary mocha sauce, coffee, ice, milk, Frappuccino syrup, Frappuccino chips, and whipped cream. That's it.
Following this homemade Java Chip Frappuccino recipe, you will be able to create the copycat version with easily accessible ingredients.
My Java Chip Frappuccino Recipe
Here's what you need:
Ingredients
A cup of ice
A cup of whole milk
A cup of whipped cream
1 oz shot of Java dark roast espresso
5 tablespoons of chocolate syrup
Chocolate chips
Using this list of ingredients will give you the best results, and here's why:
Java Dark Roast Espresso
Strong coffee is the best choice when making your homemade Java Chip Frappé. Remember, your drink will have a generous serving of milk and chocolate. Using Java dark roast espresso means your Frappé will have the distinctive flavor of coffee.
But then there is this challenge: What if you don't have an espresso machine? Well, I've got you covered. Keep reading and you will find out how to make espresso at home without a machine.
If you do not have the time to make a homemade espresso, these are the alternatives:
Use instant coffee mix (make sure the mix is highly concentrated by diluting it with less water)
Whole Milk
When diluted with ice, whole milk will retain its flavor, unlike reduced-fat milk. While you can use either non-fat milk or almond milk, you should still throw some heavy cream in your mix. It will make your beverage thicker.
Chocolate Syrup
Chocolate syrup is perfect for giving your beverage that amazing texture you get from a store-bought Frappuccino. The best part is, you can use your homemade version of chocolate sauce as well.
What's more, chocolate syrup also adds a burst of chocolate flavor to your homemade Frappé.
Ice
The amount of ice you decide to use will determine how your Frappuccino turns out. For a creamy drink, you should use less ice. But if you prefer a thicker drink, then you should add more ice.
Chocolate Chips
You are better off using sweet and semi-sweet chocolate if you like your drink sugary sweet. However, you can control the sweetness level by using dark chocolate chips.
Remember not to skimp on quality. Using cheap chocolate chips will ruin your whole experience. High-quality chips will blend better with your Frap, vastly improving the taste.
How to Make a Java Chip Frappuccino: The Procedure
Now that you have all your ingredients set up, it's time to make your Java Chip Frappuccino at home.
Step 1: Brew
Brewing your coffee is the first thing you should do. Remember, the stronger your coffee is, the better your frappé will taste. But be careful while brewing. Use the right mixing ratios. Otherwise, your coffee will come out bitter, ruining the taste of your drink.
Espresso is better for this recipe, but regular coffee will work as well. Once you are done, let your coffee cool down to room temperature.
Chilling your coffee guarantees the best results. Putting it in your refrigerator should do the trick.
Step 2: Blend
Get your blender and add your coffee or espresso, the chocolate syrup, and the chocolate chips. Turn the blender on, then blend on slow mode for about 40 seconds. After that, ramp up the speed and let it blend for about 15 seconds. At this point, your frappé should have a chunky texture.
Step 3: Add Ice
This is where you add the ice to your blend. It is up to you to decide how much ice your drink will need. However, you should add at least one cup. Once this is done, secure the lid and blend until the drink is smooth.
Step 4: Pour and Finish
At this point, your Frappuccino is basically ready. Get a tall glass and pour your drink inside.
For the finishing touches, top off your glass with a scoop of delicious whipped cream and then drizzle some chocolate syrup to finish it off.
It's now time for you to enjoy your Java Chip Frap. Remember that you can sprinkle some chocolate shavings if you are feeling adventurous!
How to Make Java Chip Frappuccino Variations
With this simple homemade Java Chip Frappuccino recipe, you can enjoy a delicious chocolate and coffee Frappé from the comfort of your kitchen. The beauty of this recipe is that you can tweak it to produce different Java Chip Frap variations.
With a little creativity, you can change the recipe to better work with your diet or lifestyle. Take a look at the following examples:
Kiddie Frap
There is a good reason why Java Chip Frappuccinos are not served to kids: They contain caffeine. The good news is you can replace the coffee to create a kid-friendly version of the drink.
For example, you can use chocolate milk instead. Go further and check out more kid-friendly versions of the drink. A great choice is the Vanilla Bean Frappuccino.
Grown-Up Frap
If you feel like unwinding while enjoying your Frappuccino, then give your drink more punch with these adjustments:
Add a splash (or two) of your favorite liqueur. You can go for Kahlua or Baileys Irish Cream; it's really up to you. Go ahead and add hot fudge over your whipped cream if you feel like spoiling yourself further.
Healthy Frap
Honestly, Frappuccino is not that high on the healthy food charts. However, there are changes you can make to the Java Chip Frappuccino recipe if you aren't comfortable with the original version.
For starters, you can reduce the amount of chocolate syrup you use. While the cocoa powder is not as strong, it is the perfect substitute. It will give the drink a chocolatey flavor while reducing the amount of sugar in it.
For the milk, you can try skim milk or almond milk. They contain fewer calories.
Finally, you can kill two birds with one stone by incorporating fruits into your recipe. Topping your drink with strawberries or raspberries improves its aesthetic while contributing to the flavor and nutritional value.
Some Pro Tips on Making Java Chip Frappuccinos
If you like your frap creamy, then you can use heavy milk instead of whole milk. Using half-and-half also produces the same effect.
For aesthetics, you can decorate your tall glass with chocolate sauce. Drizzle small amounts of chocolate syrup on the sides of your glass as you slowly rotate it. Once the sauce is set in place, you can serve your drink.
When it comes to ice, you can first start with small amounts. This makes it easy for you to control how your beverage turns out. Less ice produces a thinner drink. Slowly add more to make it thicker depending on your preferences.
Only use chilled coffee for your Frappuccino. Brew it first, and then place it in your refrigerator as you go through the rest of the recipe.
To get the smooth Frappuccino texture with your drink, you should try using homemade Frappuccino base syrup. It consists of xanthan gum and simple syrup. Of course, you can use simple syrup since it will add a rich sweet flavor to your drink, but you will lose out on the texture.
FAQs on Making Java Chip Frappuccino
Is there a difference between java chips and chocolate chips?
It all boils down to ingredients and taste. Frappuccino chips are made up of a good number of different ingredients that include:
Palm oil
Palm kernels
Unbleached wheat
Frappuccino chips give your frappé a distinct texture since they are covered in chocolate and sugar. You can buy Frappuccino chips on Amazon, but finding them is not easy.
The good thing is that when it comes down to it, chocolate chips present the perfect substitute. Actually, chocolate chips are preferred in most homemade recipes since they add a unique and authentic taste.
Should I make my frappuccino base syrup?
While you can use regular syrup to make your Frappuccino, your beverage will turn out better if you use Frappuccino base syrup. You have the option to buy it on Amazon or make your own at home.
All you need is xanthan gum powder, sugar, vanilla extract, and water. In my experience, this is the way to go. Not only do you spend less money in the long run, but you also get to rest easy knowing your syrup doesn't have any additives and preservatives.
Can I drink java chip frappuccino daily?
Well, you could have this delicious drink every day if you wanted to. But like with most good things in life, you should practice moderation.
Since it has a lot of sugar, the Java Chip Frap should be considered a treat. Sugary foods can have negative effects on your body. For example, drinking a Frappé every day may lead to serious weight gain.
What's more, you are at risk of developing diabetes if you don't watch your Frappé consumption. That's in addition to acne, joint pain, and a poor digestive system. You could develop these conditions over time if you drink a Java Chip Frappuccino every day.
My advice? Take it easy on the Java Chip Frap. Use it as a treat or a feel-good drink. You will enjoy it more knowing you aren't risking your health.
Frap Up!
Java Chip Fraps are the best. It is the perfect drink for a hot summer day, especially when you need something refreshing with a kick. And now that you know how to make a java chip frappuccino, you can enjoy it whenever you want and not spend a fortune.
You can clearly see that it is not difficult to brew. You just need to make sure you have the right ingredients and are using the right amounts and procedures at every step.
What are you waiting for? Hit the kitchen, set up your ingredients, and start blending!