Updated: January 26, 2022 by Owen Richardson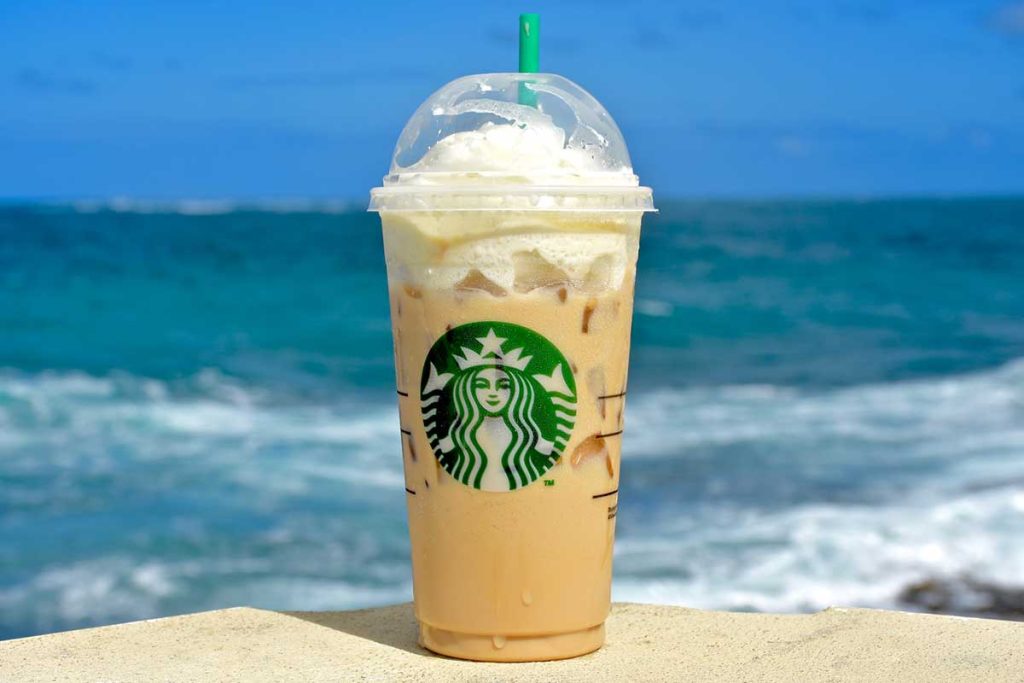 Starbucks has so many different flavors, brews, and toppings to choose from that it can sometimes be difficult to pick just a few of them – especially when it comes to iced coffees. It can take a while before you decide what you want to get with it. To make that decision easier for you, I thought I would put together an easy guide to teach you how to order the best iced coffee at Starbucks!
There is no doubt that Starbucks is one of the most famous beverage companies. They have a lot of stores all over the world, so it is quite easy to find one of them in your neighborhood. Then, you can order your favorite coffee, no matter what brew or topping you want!
When ordering an iced coffee, you do not want it to be just any kind of iced coffee – it should be fantastic iced coffee ever! By the end of this guide, you'll be incredibly Starbucks-savvy and you'll be getting the most pleasure every time you order something.
How to Order Iced Coffee at Starbucks: Step-by-Step Guide
You might think that ordering coffee is a simple task that does not require much thought, but when it comes to Starbucks coffee, it is not that simple. There are so many things you have to take into consideration, including cup size, flavors, toppings, sweeteners, and the various add-ins!
This guide will largely focus on all of the things you should consider before ordering your iced coffee. I will give you a brief overview of the options you have and maybe give you a few recommendations to try! Let's get right into the guide.
Step 1. Figuring Out a Cup Size
The ordering process starts with you deciding on the cup size you want. Starbucks currently offers four different sizes that you can choose from.
First, there is the Tall cup that is 12 oz. Then, you have the Grande cup that is 16 oz and the Venti cup that is 24 oz. If you are looking for an extra-large coffee, you can also go with the Trenta which is a 30 oz cup.
Take into consideration how thirsty you are, and how sweet and rich your coffee will end up being (sweet and rich can be sickening if you have too much of it), and bathroom access within the next hour or two.
Step 1. Choosing From the Options
First of all, you will have to decide what kind of coffee you want to get. I know that sometimes when I go to place my order, I get anxious trying to go over all of my options in my head. Luckily for you, there is a way to avoid this!
If you do not want to go to a Starbucks store to make your order, you can also do it online from the comfort of a stress-free environment like your home or your car. The company offers you the option to go to their online store and place your order, but you can also download the app and use it to make the order! I do not doubt that the process will be extra easy for both options.
There's a good chance you'll find something fabulous in the menu, and you can be done with it. However… if none of the options sounds good at the moment, you can move on to step 3 and start with a basic iced coffee, and build your drink from there.
Step 3. Type of Coffee
When it comes to ordering an iced coffee, you have to be aware that you are about to get freshly brewed coffee on ice. That coffee does not necessarily have to be an espresso shot. It can also be a decaf shot, ristretto shot, or maybe a shot made with blonde or medium roasted Starbucks espresso beans.
If you do not specify which one you want, there is a good chance that the company will go with the regular dark roasted espresso beans that they use for all espresso-based drinks. Another thing you should think about is whether you want a single or double shot, or maybe you want to go further to a triple shot coffee.
Step 4. Add-ins
As mentioned before, there are a few add-ins you have to decide on when ordering your iced coffee. Even though it is called iced coffee and you expect it to come with some ice, you can choose to have extra ice, light ice, or regular ice in the drink. If you feel like it, you might even throw out the ice.
Another add-in that I want to mention here is the powders. You usually get some chocolate malt powder in the iced coffee, but you can specify whether you want to get the extra, light, or regular amount, or you can throw out this powder altogether. If you want, you can have one or several scoops of vanilla bean powder added to your drink.
Step 5. Creamers
What makes Starbucks coffee special in comparison with other coffees is the many great creamers that they offer. When ordering an iced coffee, you can choose between the regular, light, or extra amount of any sweetener the company has on the list.
Here are the creamers you can choose from: Splash of Oatmilk, Splash of Sweet Cream, Splash of Non-fat Milk, Splash of 2% Milk, Splash of Whole Milk, Splash of Cream (Half-N-Half), Splash of Heavy Cream, Splash of Almond Milk, Splash of Coconut Milk, and Splash of Soymilk. After you choose your creamer, you can move on to the next step!
Step 6. Syrups and Sauces
The next thing you should think about is all the flavors available and which ones you would want to use on your iced coffee. Under flavors, you will find both syrups and sauces. Under both categories, there are quite a lot of options to be considered.
Let's start with a list of the sauces currently available: Caramel Brulée Sauce, Mocha Sauce, Dark Caramel Sauce, Pumpkin Sauce, Toasted White Chocolate Mocha Sauce, and White Chocolate Mocha Sauce. You can choose how many pumps of the sauces you want to get.
Then, you need to look at the syrups and see if you want any added to the coffee. Here is a list of them as well: Apple Brown Sugar Syrup, Brown Sugar Syrup, Caramel Syrup, Chestnut Praline Syrup, Cinnamon Dolce Syrup, Hazelnut Syrup, Irish Cream Syrup, Peppermint Syrup, Raspberry Syrup, Sugar Cookie Syrup, Toffee Nut Syrup, Vanilla Syrup, and Sugar-Free Vanilla Syrup.
Just like I mentioned with the sauces, you get to choose how many pumps of each syrup you want. Make sure that you specify to the baristas exactly which syrup or sauce you want and the exact amount you want from each so that they can give you your perfect drink!
Step 7. Sweeteners
When it comes to the sweeteners, you have two things to consider: Do you want some of the sweetener packets or some of the liquid sweeteners? Let me tell you what your options are!
Under sweetener packets, you will find Sugar, Sugar in the Raw, Honey, Splenda, and Stevia in the Raw. You can choose how many packets you want for each of these. Then, you can move on to the liquid sweeteners.
Under liquid sweeteners, you have Classic Syrup, Cane Sugar, and Honey Blend. You can decide how many pumps you want of them. The only thing I would like to note is that Cane Sugar is recommended for iced teas, so you might want to skip it if you are ordering coffee.
Step 8. Toppings
Last but not least, you have many topping options to choose from. You can decide if you want cinnamon powder, whipped cream, caramel drizzle, mocha drizzle, or spiced apple drizzle. You can choose between the light, regular, or extra amount of each of these!
Then, there is the cold foam to think about. You can choose between the regular cold foam, Irish cream, pumpkin cream, salted caramel cream, and vanilla sweet cream cold foam.
Finally, there are the topping options! There are quite a lot, but they are so amazing that you have to add some to your coffee. You can choose between Barista Cocoa Powder, Caramel Brulée Topping, Chestnut Praline Topping, Chocolate Curls Topping, Cinnamon Dolce Sprinkles, Holiday Sugar Sparkles, Pumpkin Spice Topping, and Red and Green Sprinkle Topping.
FAQs on Starbucks Iced Coffee Orders
Before wrapping up this guide, I want to share with you a couple of frequently asked questions regarding this topic. I hope that these questions will help you get a great coffee from Starbucks!
How much caffeine is in a Starbucks iced coffee?
As mentioned before, there are four different cup sizes that you can choose from when ordering an iced coffee. The Tall cup usually has about 120 mg of caffeine, the Grande cup has about 165 mg of caffeine, the Venti features 235 mg of caffeine, and the Trenta has around 300 mg of caffeine. Keep these numbers in mind when you are ordering your next iced coffee at Starbucks!
What iced coffee should I get from Starbucks?
If you do not want to customize your coffee, you can also order something from the menu or you can ask the baristas for some advice on what you should get. Starbucks baristas have recommended a few drinks, so I would like to share these recommendations with you:
Iced Chocolate Almond Milk Shaken Espresso
Iced White Chocolate Mocha
Iced Starbucks Blonde Caffè Americano
All these recommendations taste amazing, and I hope that you will give them a try as soon as you can!
If you want to try making your own icy treat a la Starbucks at home, check out our recipe for the famed Java Chip Frappuccino.
That's How You Order Iced Coffee at Starbucks!
Thank you for sticking with me throughout this guide! I hope that you learned a lot and that you are now prepared to order your first custom-made iced coffee from Starbucks. Again, I encourage you to try all flavors and toppings before deciding on your favorite one. You can even ask some of the Starbucks baristas for some recommendations – after all, no one knows the menu better than those guys!
In the comments below, let me know your favorite Starbucks coffee of all time and which flavors you are looking forward to trying out. I cannot wait to read all about it!